The Juggernaut MMA News Report 10.18.12: What Happens When UFC Signs Big Free Agents?
October 18, 2012 | Posted by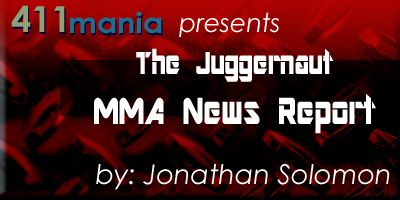 Big Names Sign With the UFC…Then What?
Last week, former Bellator lightweight champion Eddie Alvarez knocked out Patricky "Pitbull" Freire with a first round head kick (see picture above). The win marked the end of his contract with the promotion and he now entered a period of several months where CEO Bjorn Rebney can choose to match any offer he receives. Once that period concludes, he would be free to sign with any fight promotion he chooses. While majority opinion has Alvarez finally signing with the UFC in 2013, there is still something of a chance he could re-sign with Bellator and be one of their big stars as they move to Spike TV in January. Nevertheless, the lightweight has always been one of the top names fans and media have tossed around over the years as among the best non-UFC fighters int he world.
With this topic back in the news, of the possibility UFC signs a big free agent down the road, we should take a look back at examples of when the promotion was able to sign or acquire big talent. Why? Well, these are top-notch fighters or guys with big names, but what happens after they finally get to or return to the number one promotion in the world?
Below, I have listed 10 examples of fighters moving to the UFC and why only 20% of the list have remained undefeated since signing with the organization. Those are horrible odds and something to consider when looking ahead at fighters like Eddie Alvarez.
#10 – Maximo Blanco (2012)
Perhaps this is a bit of a stretch because Blanco's name was only known to hardcore fans who saw his incredible knockout wins in Sengoku. Still, he had something of a name as an entertaining knockout artist leading to his American debut in 2011 for Strikeforce. He was originally scheduled to fight Josh Thomson who turned up injured and instead, MAXI fought Pat Healy. Blanco lost by submission in an uninspired showing but decided to drop from lightweight to featherweight and he was offered a deal by the UFC.
As a sign of how his star had fallen from that loss, his debut at UFC 145 aired live on Facebook and what followed was a split decision loss to Marcus Brimage.
The days of Blanco knocking out opponent after opponent seem like a decade ago as any intrigue attached to his name has quickly dissipated.
#9 – Takanori Gomi (2010)
The Fireball Kid was once considered the best lightweight in the world during his prime in Pride. Over four years ago, Gomi hit a wall in what many people associate with a period where he took a lot of things for granted in his career. He lost a pair of fights in Sengoku including one to Sergey Golyaev, considered one of the biggest upsets of 2008. Still, rebounded with two wins to conclude 2009 and on New Year's Day, news broke of his signing with the UFC.
For long-time MMA fans and especially the Pride diehards, this wasn't akin to Fedor Emelianenko signing, but it was still exciting news to see Gomi compete inside the octagon. His record at this point was 31-5 plus the no contest resulting from the Nick Diaz fight.
He main-evented a UFC Fight Night on Spike TV against Kenny Florian in his debut and lost by submission in a match he was clearly outclassed in. Next up, on Versus, he knocked out Tyson Griffin in 64 seconds in a sign of what made Gomi so popular back in Pride. The good times ended there because in 2011, he was submitted by both Clay Guida and Nate Diaz leading to his release days after he turned 33-years-old.
Gomi preserved his UFC career earlier this year in the promotion's return to Japan when he knocked out Eiji Mitsuoka, earning himself another fight against Mac Danzig next month.
#8 Jason "Mayhem" Miller (2011)
Mayhem, one of the most popular MMA fighters at one point thanks to his television work on MTV's "Bully Beatdown", previously fought in the UFC once in 2005 when he lost to Georges St. Pierre. In the mean time, he fought in Hawaii, in Japan and made his Strikeforce debut in 2009 against middleweight champion Jake Shields. Miller nearly choked Shields out, but the end of a round ended that chance, and ended up losing a unanimous decision. Finally, 2011 came and Miller signed with the UFC to not just fight but to coach opposite Michael Bisping on season 14 of "The Ultimate Fighter."
For a fighter not in title contention, you can't find a much better spot than on weekly television in a rivalry with the often-hated Bisping. Many people expected Mayhem to do well if not outright win and become a sizable star in the UFC like never before.
Nope. For reasons only he knows for certain, Miller had perhaps the worst performance of his career. He looked tired, hapless and confused as Bisping picked him apart ending with a third round TKO finish. He returned this past spring and lost a unanimous decision to CB Dolloway before he was cut.
Of course, it appears now that Miller has more serious mental issues that need professional help following a run in with the law and overall abnormal behavior despite having a featured role in the major Kevin James movie, "Here Comes the Boom."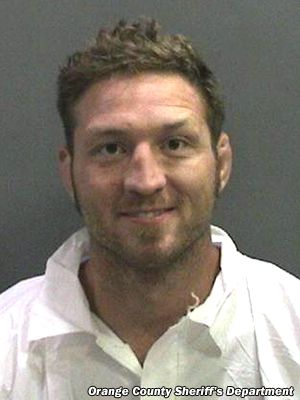 #7 Ian McCall (2012)
Known as one of the top flyweights, McCall signed with the UFC at the end of 2011 to compete in the inaugural flyweight tournament to crown a new champion. You couldn't find a flyweight in the world with more momentum. Not only was he on a four-fight winning streak but he was the Tachi Palace Fights champion and earned a win over the previously universally recognized #1 flyweight in the world, Jussier Formiga da Silva.
Aside from his career, there's the great story of Ian overcoming depression and dealing with an addiction to painkillers. At one point in 2009, he overdosed on a combination of prescription drugs and died before being revived.
Combine all of that and there isn't much more of a touching story in the sport this year. He made his UFC debut in March with the fight against Demetrious Johnson and after it was initially announced as a win for Mighty Mouse, it came out the legit decision was a draw. Their rematch in June was declared a win for Johnson and McCall's year so far has not been too rewarding aside from receiving a fight of the night bonus.
Right now, McCall is out of action with an injury and expected back as soon as early next year.
#6 Hatsu Hioki (2011)
In the featherweight division, the top dog is Jose Aldo and has been for some time. The argument over who the second best fighter in the division is has usually included names like Marlon Sandro, Joe Warren, Pat Curran and Hatsu Hioki.
The former three names all managed to end up under the Bellator banner while Hioki signed with the UFC in the summer of 2011. The reigning Sengoku champion at the time, he vacated the belt to come to America.
His debut at UFC 137 against George Roop was a close fight that ended in a split decision win for the Japanese star. Next up this past February, he had a more decisive decision win against Bart Palaszewski. After being offered a title fight with Jose Aldo, he declined deciding he needed another fight before agreeing. Instead was given a fight with Ricardo Lamas in June and lost a unanimous decision. It was his first loss in almost three years and just the fifth of his career (26-5-2).
Now, Hioki is barely a top 10 featherweight and any hope to challenge Jose Aldo is gone in a division bustling with contenders.
#5 Dan Henderson (2011)
Hendo left the UFC in 2009 on the heels of his awesome knockout of Michael Bisping at UFC 100 wanting a more lucrative deal. He immediately challenged Jake Shields for the Strikeforce middleweight championship on CBS and lost in one of the years big upsets. He returned to light heavyweight where he knocked out Babalu Sobral and Feijao Cavalcante to become the champion in that decision.
Next on tap was a summer meeting with heavyweight legend Fedor Emelianenko and again, he won by knockout and became a free agent.
He agreed to return to the UFC in the fall and was booked to fight Shogun Rua. What transpired at UFC 139 happened to be not just one of the best fighters of the year (in a twist of fate, Bellator's lightweight title fight between Eddie Alvarez and Michael Chandler that week was also a FOTY contender) but perhaps the greatest fight in MMA history. By the end of the five-round war, both men bloodied and exhausted, it was Henderson's arm who was raised in victory.
Since then, Henderson was booked to challenge champion Jon Jones but his knee injury prevented the fight from happening in September. Now, the plan is for him to fight Lyoto Machida at some point with the title shot first going to middleweight Vitor Belfort and now new light heavyweight Chael Sonnen.
Hendo is one of the two men listed here who has yet to fall flat since signing with/returning to the UFC.
#4 Jake Shields (2010)
It may seem incredible now, but Shields was one of the best fighters in the world just over two years ago. Not only was he a dominant welterweight for years, but when he moved up to middleweight, he was equally successful against the likes of Robbie Lawler, Mayhem Miller and Dan Henderson. For years, he spoke about wanting a shot at the UFC champion, Georges St. Pierre. 2010 began his descent to make that dream a reality.
He debuted in the UFC with a 14-fight consecutive win streak and against Martin Kampmann, had one of the worst performances of his career despite winning. It was the result of a bad weight cut which left him with almost no energy, although Kampmann played too much of a cautious foe when a more aggressive style probably would have won him the fight. Nevertheless, Shields was bounced directly into the big title fight with GSP and it ended up setting the attendance record for the UFC as they put over 50,000 people into the Rogers Centre in Toronto.
Shields benefitted from an incidental eye poke which prevented the champion from seeing clearly for most of the fight. Shields even had some success boxing because of it although he was never close to finishing St. Pierre or winning on points. Shields suffered his first loss in under seven years and all of a sudden, was just another fighter thanks to his long winning streak ending.
He returned last September to fight Jake Ellenberger and was knocked out in just 53 seconds. It was his first KO loss in over 11 years. He was able to turn the tide in February with a win over Yoshihiro Akiyama before deciding to return to the middleweight division. Despite defeating Ed Herman via decision, he tested positive for a banned substance (it is still not confirmed exactly what as of today) and he's been suspended.
So far, Shields is the only man on this list who earned a title fight in the UFC (not counting Henderson's previous run in the UFC), but his career has been on a downward trajectory ever since.
#3 Hector Lombard (2012)
Universally recognized as one of the best of the fighters who never made it to the UFC, the former Bellator middleweight champion finally signed when his contract expired earlier this year. Taking his 31-2-1 record with him, he was booked to fight Tim Boetsch in his debut this summer.
Remember, Lombard has an entire highlight reel full of violent knockouts. Since he fought Kyle Noke to a draw in 2007, Lombard finished 13 of his opponents by knockout or TKO. When he beat Jared Hess to become Bellator champion, Hess' face was a bloody mess.
So, Lombard's signing brought a ton of excitement to finally see the explosive Cuban fighting what many interpreted as better competition.
For whatever reason at UFC 149, Lombard was in some kind of prevent defense kind of mode against Boetsch. For three rounds, the aggressive striker and grappler that we had come to expect out of Hector was nowhere to be found. Boetsch went on to win the split decision and most of the buzz behind the former champion's name is gone.
On the bright side, Lombard cannot have a much worse performance unless he gets knocked out in 30 seconds. He returns to the cage in December to fight Rousimar Palhares as one of the big stars in Australia.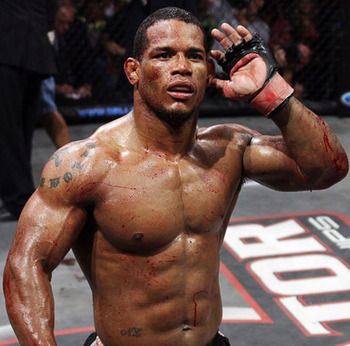 #2 Nick Diaz (2011)
Diaz's previous run in the UFC ended in 2006 and he made a nice career for himself fighting between Elite-XC, DREAM and Strikeforce. He won the Strikeforce welterweight championship when he knocked out Marius Zaromskis and he defended it against KJ Noons, Evangelista Santos and Paul Daley in some of the more entertaining fights of the day.
After Strikeforce was sold to Zuffa, Diaz became one of the hot properties and within several months, ended up with a UFC contract. He was supposed to fight Georges St. Pierre at UFC 137 but after missing press conferences, as punishment, the UFC pulled him out of the fight and switched him with Carlos Condit. Eventually the Condit/GSP fight never happened because of injury and Diaz was brought back to fight B.J. Penn in the main event. For three rounds, Diaz outclassed Penn, leaving the legend a battered mess who talked of retirement after the fight.
With St. Pierre suffering an ACL tear and out for a year, the UFC made an interim-championship match-up for their annual Super Bowl show between Diaz and Condit. During the five-round fight, Condit spent most of the time not engaging Diaz but countering all of his attempts. Nick grew frustrated at his ineffectiveness while Condit's game plan worked to perfection and he won the unanimous decision.
Following the fight, we learned Diaz's drug test came back positive for marijuana metabolites (this being his second positive drug test in Nevada following 2007) and he was abruptly suspended for one year. In the meantime, he claimed retirement, but he'll be back next year and the UFC will still look to book the title fight between him and St. Pierre at some point in 2013.
#1 Alistair Overeem (2011)
Physically, the biggest man mentioned on this list, the former Strikeforce heavyweight champion has been one of the most talked about fighters in recent years. The infamous Strikeforce Grand Prix went anything but smoothly following Overeem's first round win over Fabricio Werdum. He was kicked out of the tournament and then cut by the promotion over schedule squabbling and a beef with his previous management. The Reem ended up signing with the UFC to fight Brock Lesnar at the final 2011 show in Las Vegas.
By this point, Lesnar made the decision to retire from the sport after multiple health problems and fighting Overeem was just a formality to get paid. Reem knocked him out in the first round and was pegged to challenge Junior dos Santos for the championship in the spring.
The problem?
Overeem failed the pre-fight drug test and was suspended for all of 2012. JDS wanted to fight him but the Nevada State Athletic Commission would not work with Alistair or the UFC to shorten the suspension. Instead, JDS will fight Cain Velasquez in December while Dana White says Overeem's first fight back next year will be against whomever the champion may be.
---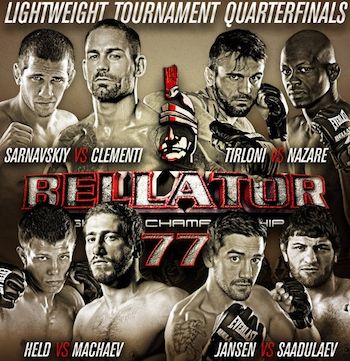 #77 Preview
Bjorn Rebney's Bellator Fighting Championships is back tomorrow night from Reading, Pennsylvania with the start of the season seven lightweight tournament. Each of the four quarterfinal match-ups will take place featuring three Russians, a Pole, a pair of Brazilians and a couple Americans all vying for a $100,000 check and a guaranteed title shot against either current champion Michael Chandler or number one contender Rick Hawn.
Alexander Sarnavskiy vs. Rich Clementi
No Love Clementi is back at it in his second attempt to make it through the Bellator tournament. Two years ago, he lost a split decision to Carey Vanier and missed out on qualifying. Since then, he's bounce back an forth around the world on the grind, going 5-4 including a submission win over Derek Camps earlier this year at Bellator 70. He also took a fight in Japan last year which saw him suffer a submission defeat by neck crank at the hands of DREAM champion Shinya Aoki.
The UFC veteran is fighting arguably the favorite of the entire tournament in the form of 23-year-old Russian Alexander Sarnavskiy (doesn't it seem like there are a dozen Russians fighting in Bellator's tournaments this season?) who has massed a perfect 20-0 record since his pro debut at 19. He has fought in America twice before under the M-1 Challenge banner, both on Showtime. In those fights, he choked out Beau Baker and Sergio Cortez. He last fought in May and knocked out his opponent with a brutal knee in Russia.
Clementi has not knocked an opponent out in nearly seven years, relying almost exclusively on his grappling prowess. Of his 44 career wins, 27 have come by submission. Sarnavskiy is a Master of Sport, has trained under Alexander Shlemenko and with B.J. Penn's team out of Hawaii in the past. He's considered one of the best prospects in the world so his debut in Bellator tomorrow is something to check out.
Murad Machaev vs. Marcin Held
Marcin Held made his American/Bellator debut last March when he was choked out by Michael Chandler in the first round of the season four tournament. He was only 19-years-old then and is looking to take the next step just over a year later. He has bounced back with a pair of wins in the Bellator cage over Phillipe Nover and Derrick Kennington. His strength is grappling, a brown belt in Brazilian Jiu-Jitsu, over half of his 13 wins were due to submissions.
Another Russian making his BFC debut is Murad Machaev, a 26-year-old from Moscow who fights out of California's Reign Training Center. So far, he's undefeated with nine wins with five submissions of his own. There's not a ton of information on him other than he participated in the Fedor Emelianenko Cup last year in his home country. Check out one of his fights below.
Rene Nazare vs. Ricardo Tirloni
Talk about Bellator's attempt to create stars and Rene Nazare is one case where such an attempt has stalled. He debuted in Bellator last spring with a perfect record and reeled off three finishes by the summer. Unfortunately, he suffered his first career defeat one year ago this week in a decision to Jacob Kirwan. Nevertheless, he ended up in the season six tournament (Kirwan did not) and lost again via split decision to Thiago Michel. So, he has not won a fight since last summer but is getting his second opportunity at a Bellator tournament tomorrow night. The BJJ black belt has been unable to force his pace on his past two opponents, something he had little trouble doing in the previous 10 fights he had.
Opposite Nazare is a fellow BJJ black belt out of Brazil, Ricardo Tirloni. Before Bellator, he was 13-1 with the lone loss happening thanks to Benson Henderson in 2008. Still, along his way to Bellator, he choked out Brian Cobb (one of the more successful non-UFC lightweights in recent years) and was on a 10-fight win streak when he debuted in Bellator last year. He choked out his opponent, Steve Gable and earned a spot in the tournament earlier this year. In a bad twist of fate, he was matched up with former U.S. Olympian Rick Hawn who knocked him out in under three minutes (Hawn went on to win the tournament).
Here we are with Tirloni coming off his first knockout loss and Nazare hoping to end a two-fight losing streak.
Dave Jansen vs. Magomed Saadulaev
The final quarterfinal match-up features a Russian who trains out of Greg Jackson's camp in New Mexico, Magomed Saadulev. The former welterweight fighter has fought almost exclusively for ProFC in his native country and brings his 14-1 record to Bellator. His one loss occurred two years ago when he was choked out by a fighter named Arni Isaksson in the Ukraine.
The second American in the field is 33-year-old Dave Jansen out of Team Quest. You probably best know him from his lightweight fights in WEC from 2009 and 2010. After losing to Kamal Shalorus and Ricardo Lamas, he signed with Bellator and has reeled off three consecutive wins. The biggest of the three was his last, in March. In the prelims of Bellator 62, he defeated Jacob Kirwan by unanimous decision (the same Kirwan who handed Rene Nazare his first loss) and off that win, he's earned a spot in this tournament. With a 17-2 professional record, Jansen has a clear opportunity to run the gauntlet and come out with the prizes.
---
WEEKLY ULTIMATE FIGHTER SINKING SHIP UPDATE
They May As Well Call It, TUF: Titanic
Remember last week when there was some good news thanks to the live UFC lead-in? Shattered. All gone. Finite. Like it never happened. Why do I say this in the most negative tone?
Last Friday, TUF on FX scored the lowest audience in the history of the series since 2005. Ever. If you've sunk your toe in the waters at various points in the history of the series, you know there have been some pretty boring years. It seems like UFC fans, MMA fans and the absolute most casual viewers have had enough.
Overall Viewing Audience: 624,000 (lowest of the season)
Rating for 18-49 Demographic: sub-0.3
Those numbers were so bad for Friday that TUF wasn't even one of the top 100 cable shows that night. Seriously, old Food Network programming past midnight had more viewers than first run UFC programming on FX. A TBS movie at 4 AM had over 800,000 viewers. You can't make this stuff up.
Now you know why the UFC made the decision on coaches for next season as they did (all that in the news section below).
Source: Sherdog.com
---
– The big news of the week came Tuesday afternoon when the UFC announced the coaches for the next season of The Ultimate Fighter set to begin shooting at the end of the month. Light heavyweight champion Jon Jones and Chael Sonnen will coach the season and have their title fight on a PPV, April 27. Why such a long break between shooting (they should be done filming by January or February)? Jones' right elbow suffered a ligament strain is in need of physical therapy and he will not be prepared to fight until the spring. This means the previously planned fight between Sonnen and Forrest Griffin for December is now off with no word on a replacement.
– Dan Henderson is not happy Chael Sonnen is getting the next shot at Jon Jones for no other reason than trash talking.
– MMA Insider @FrontRowBrian (he gets more stuff correct than he gets wrong) broke news Wednesday morning that the Jones/Sonnen TUF season will move to Tuesday nights on FX. Of course, the UFC says while the show is moving from Friday's, the official confirmation of the new day in 2013 will not come for another month.
– We later found out courtesy of MMAFighting.com that Anthony Pettis was originally scheduled to coach the next TUF season opposite Cowboy Donald Cerrone but Showtime's shoulder is still on the mend following surgery. He said he expects to fight by January.
– In a follow up to the previous note, MMAWeekly.com reports that in fact, Pettis and Cerrone have agreed to fight and are in the process of waiting to hear from the UFC as to when and where it will happen. The preliminary plan is for it to take place in "early 2013."
– On UFC Tonight, Rashad Evans said he now may not be returning to the cage until March. In reference to dropping down to 185-pounds, he said he would do it but only for a "special" fight (perhaps Anderson Silva). Otherwise, he seems to have a preference on fighting Lyoto Machida, the man who handed him his first defeat and ended his short title run in 2009.
---
JUGGERNAUT VIDEO OF THE WEEK
With it now official that Chael Sonnen is challenging Jon Jones next year (likely in New Jersey), let's go back in time and see why he received the opportunity. Listen to Sonnen unleash one of his famous promo's, this after the UFC canceled UFC 151 a couple months back.
TWITTER
http://www.twitter.com/411mania
http://www.twitter.com/411wrestling
http://www.twitter.com/411moviestv
http://www.twitter.com/411music
http://www.twitter.com/411games
http://www.twitter.com/411mma

comments powered by Disqus