The Juggernaut MMA News Report 11.08.12: China's First UFC Experience
November 8, 2012 | Posted by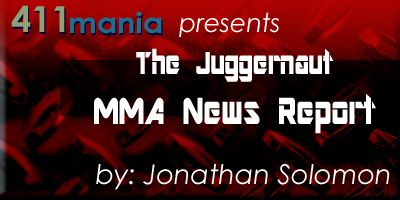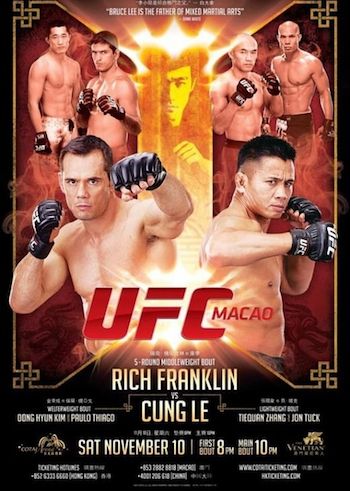 UFC Meets China
Cung Le vs. Rich Franklin
The main event Saturday on Fuel pits Rich Franklin against Vietnamese-American Cung Le in what will prove to be both men's professional fight debut in China. Franklin last fought in Asia in 2003 on the Antonio Inoki show in Japan where he was knocked to by Lyoto Machida. In fact, for "Ace" Franklin, this weekend will mark the seventh different country he'll have fought in (joining the U.S., Canada, Ireland, Germany, Brazil and Japan). International Rich Franklin, perhaps?
Cung Le turned 40-years-old in the spring and then he earned his first UFC win when he beat Patrick Cote at UFC 148 with the help of his patented kick arsenal. It also marked the first time that Cung fought to a decision in his MMA career, tying in time (15 minutes) his previously longest fight when he defeated Frank Shamrock after three rounds in their Strikeforce title fight in 2008.
Le has been talking in recent weeks about a particular injury he's suffering from, sure to point out that if it was any other fight besides in China, he'd have pulled out by now. It's a bone bruise in one of his feet that is causing him a great deal of pain when he kicks without the aid of pads. Clearly, he knows if he's able to withstand the pain, there will probably be a great deal of it when he goes to throw kicks at Franklin Saturday. If he cannot fight through it when he must, could we be in store for a short night?
Surprisingly, Franklin has fought older opponents more often than you may imagine in his UFC career. Of his 19 career fights in the octagon entering this weekend, eight have placed Rich in the role of the younger fighter (two bouts with Evan Tanner and single fights with Jorge Rivera, Ken Shamrock, Nate Quarry, Travis Lutter, Dan Henderson and Chuck Liddell for a 7-1 record). At 38-years-old, Franklin is returning to the middleweight division he was once champion of until a guy by the name of Anderson Silva decided his time was through. That was over six years ago but Franklin has been fighting at catch weights and in the light heavyweight division since 2008 because of his two disastrous losses to Silva.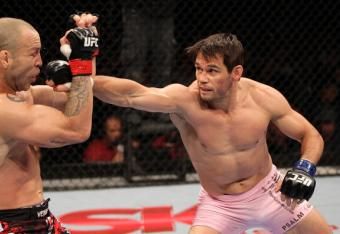 Franklin last competed in June when he defeated Wanderlei Silva for the second time by decision.
Cung Le has only two losses in his career (8-2), an upset knockout at the hands of Scott Smith and the TKO loss to Wanderlei Silva in his UFC debut almost exactly one year ago. Clearly, even at 38-years-old, Rich Franklin is the best fighter he'll have ever fought in a cage. Not only is Franklin well rounded and an effective striker, he's noticeably bigger at 6'1 and with a 76″ reach (Cung is 5'10 with a 69″ reach).
In the UFC, Franklin (29-6, 1 NC overall) has only been knocked out three times, twice by Anderson Silva and once by Vitor Belfort. All three times were especially violent in hindsight and it's difficult to foresee him being finished by Cung Le and his striking, no matter how fun he is to watch. Franklin should be able to bully Le against the cage and land whatever types of strikes he wants. Plus, even though Le's takedown defense is notably good, if the former UFC champion should persist, don't be surprised if he puts the former Stirkeforce champion on his back.
Franklin is a smart fighter so don't expect to see him revert to engaging Cung in a straight-up brawl like so many of his previous opponents have. It doesn't matter that this is a new market with what should be a rabid fan base cheering Le. Franklin can dictate the pace of this fight and I find it hard to believe Cung will find a way to prevent him from doing so.
Stanislav Nedkov vs. Thiago Silva
If you want to talk about a pair of men who are just thrilled to be back in the cage above all else, look no further than Saturday's co-main event between Thiago Silva and Stanislav Nedkov. Between both, they have spent a combined 30 months out of action between 2011 and this week. Silva was suspend for a year following his drug test failure in January 2011 while Nedkov has been out of action since last summer because of a multitude of injuries and visa problems.
All that is in the rear view mirror and somebody is getting knocked out in China, guaranteed!
Nedkov is a Bulgarian just weeks away from turning 31-years-old, and looking to add to his impressive 12-0 professional record. He made his UFC debut last August when he knocked out Luiz Cane in the first round in Brazil. The finish added to his prior record which consisted of nine wins by submission or knockout. While he is a heavy handed striker, Nedkov is also a Brazilian Jiu-Jitsu black belt.
Thiago Silva, also a BJJ black belt, may boast the most powerful hands of the two. However, he's been in some bad situations over the past four years. In January 2009, he was knocked out by Lyoto Machida (which launched Machida into the title fight with Rashad Evans months later). A year later, he lost a decision to Rashad Evans and another year after, his original win by decision against Brandon Vera was overturned to a no contest because he tried to pass fake urine off as his own to pass the Nevada State Athletic Commission's drug exam. When Thiago returned to the UFC this past spring, he fought Alexander Gustafsson in Sweden and was soundly beaten for three rounds leading to a unanimous decision loss. With the exception of a quick summer 2009 knockout against Keith Jardine, he is 0-3-0-1 since January 2009.
Unlike his fight with Gustafsson, Silva will be the larger man in the cage Saturday. He is 6'1 with a 75″ reach compared to Nedkov's 5'11 stature and 71″ reach. From what we know of Nedkov, he likes to be an aggressive fighter, walking forward and engaging his opponent. If he continues that path against Silva, he may find himself eating more shots than he'd prefer. In brawls, the Brazilian enjoys engaging and swinging for the fences (he has 11 career wins by TKO or KO) and when he's the more physically dominant fighter, it works to his advantage even more.
Plus, you always have to wonder about cage rust when a fighter returns after such a long layoff, even if Stanislav has been training a lot over the past year. Cage rust is a legitimate factor for fighters and it's not something you want to deal with against a powerful striker like Thiago Silva.
Takanori Gomi vs. Mac Danzig
It's amazing how once amazing fighters hit that point in their careers where they simply lose it. Whatever it is that made them among the best in the world is no longer there and they look very human from that point forward. It happened to Takanori Gomi, at one point the greatest lightweight fighter in the world, around 2008. Gomi is 3-5 since the fall of 2008.
The betting odds have Mac Danzig as a favorite and you will see plenty of people picking him to win this fight and rightfully so. While he's in no way an explosive fighter, he is simply one of the more consistent mid-level fighters in the lightweight division. He has never beaten anyone you may consider to be a top lightweight (in the UFC, his losses came against Clay Guida, Josh Neer, Jim Miller and Matt Wiman). When he knocked out Joe Stevenson in 2010, it was his first KO win since 2006. Most recently, he beat Efrain Escudero to a decision in April and when he's able to implement his wrestling and girding style of fighting, he's at his best.
Such a style is what poses a significant problem for Takanori Gomi. The man known as the "Fireball Kid" famously has the potential to knock out any man with the power packed into his hands. However, he just as easily can be found succumbing to good grapplers like Kenny Florian, Clay Guida and Nate Diaz. He's been criticized time and again for seemingly losing focus and not fighting up to his competition. We've seen glimpses of what made him great since he signed with the UFC, too. His 64-second knockout of Tyson Griffin made a lot of former Pride FC fans happy to no end. When the UFC returned to Japan in February, Gomi finished Eiji Mitsuoka in the second round (becoming the first man to knock out Mitsuoka since he lost a fight on cuts to John Alessio in Pride in 2002).
Another problem for Gomi in this match-up is the fact that Danzig has a notably great chin. The Ultimate Fighter season six champion is 21-9-1 overall and has been knocked out just once in his entire carer, by welterweight Mach Sakurai at Pride 33 (at 164 pounds). Sure, Danzig has fought a lot of wrestlers in the UFC, but to go 10 fights in the octagon without being knocked out once is impressive no matter who you are.
If Gomi cannot be the first in the UFC to knock Mac Danzig out, his chances to win are few and far between. His lack of endurance is famous so the odds he outlasts him for a 15-minute decision do not seem likely. Plus, the Fireball Kid has not submitted an opponent since 2006 when he choked out David Baron.
It would be a great story if Takanori Gomi can win consecutive fights in the UFC (he has not won consecutive fights since 2009 in Japan) and look great, but on paper, it does not look good for the former Pride champion.
Stun Gun Kim vs. Paulo Thiago
The last fight I'll cover is an intriguing welterweight scrap between Dong Hyun Kim and Paulo Thiago. Both men were at one point rising stars in the UFC with impressive winning streaks, but both are now looking to avoid furthering a streak of ill performances.
Paulo Thiago at one point was 3-1 in the UFC including wins over Josh Koscheck and Mike Swick. Then, he ran into losses to Martin Kampmann and Diego Sanchez and he has not been back in the mix in the division since. After he beat David Mitchell by Decision last summer, he returned this spring to be knocked out in 42-seconds by Siyar Bahadurzada (his first knockout loss, ever).
Stun Gun Kim at one point was 14-0-1 (with 1 No Contest) including five wins in the UFC before he was knocked out by Carlos Condit last summer. Remember the flying knee? You should since it's been all over the place on Condit's highlight reel. Kim bounced back with a win over Sean Pierson but in his first fight this year at UFC 148, he suffered a rib injury and lost to Demian Maia.
As you can see, both men need this win pretty badly.
Stun Gun is a fourth degree Judo black belt while Thiago is a Judo black belt and a BJJ black belt. Grappling wise, it's tough to look at either man and say with a lot of confidence that they'll be able to dominate the other. On paper, this is a pretty even fight between men who haven't been able to knock many opponents out and rely on their grappling to earn them wins.
Whomever wins can breathe a little easier but this is a complete toss-up of a match-up and tough to predict.

---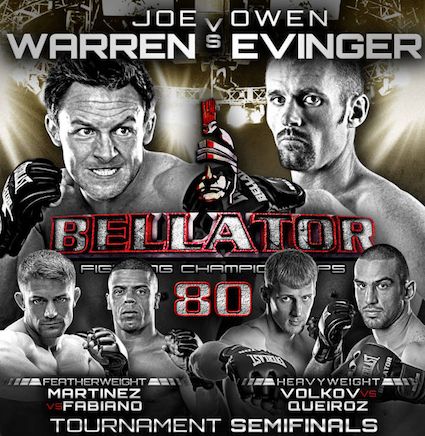 #80 Preview
Joe Warren vs. Owen Evinger
Bellator's tournaments take a back seat this week for the return of former featherweight champion Joe Warren in his first fight since March. He is set to take on Owen Evinger in a bantamweight bout.
Both men are on two-fight losing streaks, Warren having lost by knockout to both Alexis Vila and Pat Curran while Evinger has been submitted by both Aaron Ely and Allen Gibson. In a bit of a confusing turn of events, Evinger gets this main event spot despite being 0-2 in his Bellator career (he lost his debut by submission in 2011 against Brandon Shelton). Thanks to this bit of info, you would be inclined to think this fight was set up as such so Joe Warren can get a win and look impressive before the company moves to Spike TV in January.
Owen Evinger is a submission specialist but all three of his losses have come by submission (two by rear naked choke). He started his professional career with a 6-0 record and is 1-3 since 2011.
Warren has the great wrestling background, he was at one point in his life a step away from being a Greco-Roman competitor for the U.S. Olympic team in 2008 before he failed a drug test for a substance normally found in marijuana (Warren said he used marijuana for medicinal reasons). With his amateur career hitting the wall, he turned to mixed martial arts in 2009 and debuted in Japan with a pair of wins over Chase Beebe and Kid Yamamoto. He lost by armbar to Bibiano Fernandes before making his Bellator debut the next year. He won the season two featherweight tournament and knocked out champion Joe Soto to take control of the belt.
Warren's Greco-Roman background should be able to control Evinger here and he has shown some power in his strikes, too. While the former champion's chin can be questioned, Owen has never knocked out an opponent in his career. You should be able to read the tea leaves in this match-up.
Featherweight Tournament Semifinal
Wagnney Fabiano vs. Rad Martinez
In the second of the two featherweight tournament semifinals, Wagnney Fabiano meets Rad Martinez. The winner moves on to the finals with $100,000 and a guaranteed title shot on the line where they will fight Shahbulat Shamhalaev (he knocked out Mike Richman last week).
Fabiano is the 37-year-old Brazilian submission specialist out of the Nova Uniao team. In his first fight since losing to Joseph Benavidez two years ago, he finished Akop Stepanyan via armbar in the Bellator quarterfinals last month. Ironically, for such a great Brazilian Jiu-Jitsu practitioner, it was his first win by submission since 2008 when he choked out Akitoshi Tamura at WEC 37.
Looking to fend off Fabiano's ground attack is Utah's 25-year-old Rad Martinez out of Victory MMA. He is now 3-0 in Bellator (13-2 overall) following his decision win over Nazareno Malegarie last month. Rad was a Division-I All American wrestler at Clarion University and maintains good takedown defense which will be key in this fight. He has only been submitted once in his career, in 2011 when he was choked out by Brian cobb.
Wagnney wants to get the fight to the ground where he is capable of smothering Martinez. If Rad can keep the fight standing, which he was able to do against another BJJ fighter in Malegarie in the quarterfinals, he has the edge and should be able to dictate the pace of the fight.
Heavyweight Tournament Semifinal
Alexander Volkov vs. Vinicius Queiroz
Like the tournament fight above, this heavyweight semifinal will determine who gets the chance to fight Richard Hale for the heavyweight tournament crown (and potentially the vacant heavyweight championship, although Bellator still has not confirmed one way or the other) and $100,000. Hale knocked out Thiago Santos last week after surviving an early flurry, we'll see whether Volkov or Queiroz can manage a similar feat tomorrow evening.
Vinicius Queiroz is a 6'7 Brazilian out of the Chute Box camp and has a 6-2 record including his win last month in his Bellator and American debut when he submitted Mark Holata via armbar. Looking to finish him will be 6'7 Russian Alexander Volkov for the Red Devil Sport Club in Stary Oskol. He is 17-3 overall including his decision win against Brett Rogers in the first round of this tournament.
Queiroz may have more power in his hands but the big question to look out for is whether or not he can close the distance against the enormous reach Volkov possesses. The Russian has a 1.5″ reach advantage with his 81 inch length and implemented that reach to perfection in his fight with Rogers where the former Strikeforce star could not muster up prolonged offense because he kept getting hit when he tried to move forward.
If Volkov is capable of a similar game plan, it's his fight to lose.
Brett Cooper vs. Darryl Cobb
This non-tournament middleweight bout may serve up the winner for a season eight tournament spot. Brett Cooper out of Kings MMA in California is 16-7 overall and has been on quite the run of late, he's 5-1 nice September 2010 with the one loss occurring by decision against Alexander Shlemenko. Cooper is on a three-fight winning streak including knockouts of Valdir Araujo and Joe Doerksen and a decision win against Jared Hess.
Darry Cobb is representing Andre's MMA in Illinois and looking to get over the 500 mark with his 5-5 record entering tomorrow night. He was 5-1 at the end of 2010 including two wins on the undercards of a pair of Strikeforce shows. However, since 2011, he's been unable to get back on the winning streak. He's been submitted four consecutive times including in his Bellator debut against "The Arm Collector" Giva Santana (by said submission hold) last year.
---
WEEKLY ULTIMATE FIGHTER SINKING SHIP UPDATE
Something must be in the drinking water because TUF last week scored the most viewers of the season without the aid of a live UFC event as a lead in. It was up 57% from the previous week's number (over 600,000). The episode did great in the males 18-49 demographic, third in its time slot according to MMAFighting.com's Dave Meltzer.
There's no logical reason to explain the sudden jump in viewers for the episode other than somehow, new people saw a preview for the episode (which featured crazy Julian Lane flipping out and the coaches competition between Shane Carwin and Roy Nelson) and decided to tune in. FX didn't invest more in advertising and there was no new UFC show earlier in the week anywhere to promote the episode, so it seems like a case of happenstance.
Now if tomorrow's episode can do anywhere close to one million viewers, FX and the UFC have to be ecstatic that the series is showing any signs of life. If it should drop back down to the 500,000-650,000 range, it will look like a one-time situation that will not repeat.
Overall Viewing Audience: 1,061,000
Rating for 18-49 Demographic: 0.6
There's life on Friday nights for TUF? The next thing you'll tell me is the New York Knicks are undefeated after three games for the first time in over a decade. Don't toy with me.
Source: TVByTheNumbers
---
– Former UFC middleweight Drew McFedries received minor wounds after being stabbed by Calvin Hammock during an altercation at a nightclub in Iowa over the weekend where he was working. According to reports, Hammock threatened a bouncer and when he tried to return to the club, McFedries intercepted him and the altercation began. Hammock took out a knife and struck McFedries in his shoulder before he was stopped by security. Police arrived and arrested the man and is facing multiple charges.
– The UFC on FOX 6 is set for Chicago on January 26 and already has three big fights attached to the show. The main event will feature the next flyweight championship fight between champ Demetrious Johnson and John Dodson. The co-main event will see Rampage Jackson in his farewell bout take on Glover Teixeira plus the long awaited awesome lightweight match-up between Anthony Pettis and Cowboy Donald Cerrone is also confirmed.
– Last Saturday's World Series of Fighting on NBC Sports drew 198,000 overall viewers. WSOF bought the TV time and it's believed they are looking for a long-term deal with NBC Sports or any other cable network that is willing to negotiate. Current plans are to run a second show in January in Las Vegas. The only fight expected so far would be the bantamweight bout between Tyson Nam and Marlon Moraes (Moraes upset Miguel Torres on Saturday).
– FightersOnlyMag.com translated an interview conducted by Estado with Anderson Silva in which the pound-for-pound king said he is preparing to film a cop movie alongside Steven Seagal with photography expected to kick off shortly in the United States.
Oh hell yes.
– On UFC Tonight, Ariel Helwani relayed word from Ed Soares that Anderson Silva will be front row in Montreal next week for the Georges St. Pierre fight with Carlos Condit. Since then, Dana White has said publicly he expects Silva will challenge GSP if he welterweight champion is able to beat Carlos Condit.
– Josh Barnett says he expects to fight in January for Strikeforce in what would be the final fight on his contract with the company. It remains to be seen whether he may return tot he UFC after years (and years) away from the company he was once champion in.
---
JUGGERNAUT VIDEO OF THE WEEK
These are always fun so check out Dana White's first video blog this week heading into the debut in China, backstage footage from UFC 153 in Brazil is included.
TWITTER
http://www.twitter.com/411mania
http://www.twitter.com/411wrestling
http://www.twitter.com/411moviestv
http://www.twitter.com/411music
http://www.twitter.com/411games
http://www.twitter.com/411mma

comments powered by Disqus