The Juggernaut MMA News Report 11.15.12: Don't Call it a Comeback!
November 15, 2012 | Posted by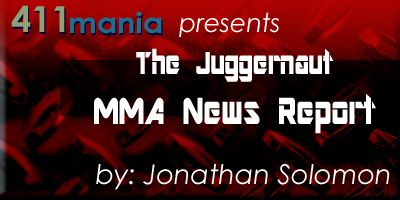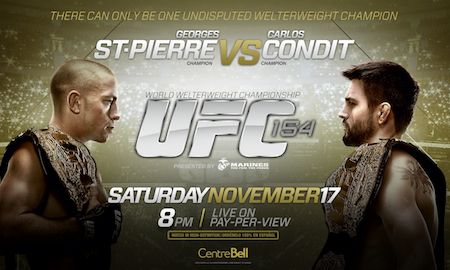 UFC 154: St. Pierre vs. Condit Preview

UFC Welterweight Championship Fight
Geroges St. Pierre vs. Carlos Condit
It sure seems like we have been talking about a Georges St. Pierre fight that never happened for the better part of 18 months. At first, he was set to fight Nick Diaz before Stockton's most famous figure refused to participate in the UFC's press conferences promoting the fight. Next, he was scheduled to fight replacement Carlos Condit last year but then his ACL failed him, tore and now the greatest welterweight in MMA history is prepared to step back in the octagon.
Condit ended up fighting Diaz in February and scoring the upset with a sound strategy to keep moving and prevent the former Strikeforce champion from being able to attack him at will. It sounds incredibly smart on paper but at the time, many were annoyed with it because it resulted in Condit spending as much time backing away from Diaz and landing counters than standing directly in front of him and swinging away. For the UFC's sake, it was a good thing Condit won because Nick failed another drug test for marijuana metabolites and won't be able to fight until after February 2013.
That's how we found ourselves anticipating UFC 154 and the UFC welterweight title fight between GSP and Condit.
The first aspect about this match-up which is massively different than Condit/Diaz is the wrestling background belonging to the champion. St. Pierre developed himself into arguably the best wrestler in the division over the years to the point that nobody can take him down. Other tough wrestlers like Jon Fitch and Josh Koscheck both tried in their combined three fights with GSP but failed on every attempt only Koscheck was able to score two takedowns in his fights. Carlos is not nearly as good a wrestler as those two so don't expect him to have much success in getting the fight to the ground with your classic shots. Conversely, you have to assume if Canada's favorite fighter wants to go to the ground, he'll get what he wants.
This poses an incredible problem for the challenger, how does he go about doing damage to the champion without ending up on his back? Carlos will need to use leg kicks to confuse St. Pierre's game plan. If he can land effective strikes to his legs, perhaps he'll be (even if it's only slightly) hesitant to shoot in for double-legs or single-legs. Plus, if Condit is successful at keeping the fight at a distance early on, perhaps GSP's rust (from not fighting since April 2011) will kick in and pose struggles for him.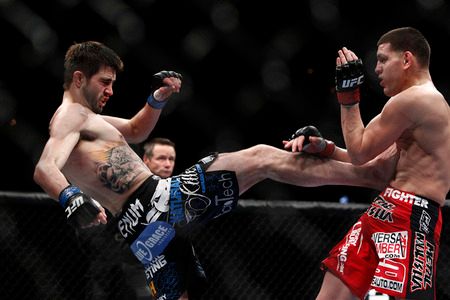 It's almost cliche at this point but whenever St. Pierre fights someone with any history of knocking opponents out, someone will always bring back the cloud of Matt Serra's 2007 win by KO (GSP's last loss). Yes, anyone can be knocked out on any given night and there's no logical way to predict when we'll see someone fall because of that. Carlos Condit has shown a great ability to finish fights (93% of his 28 wins have come by knockout or submission) but he'll have to catch GSP off guard with a knee or a big hook. The New Mexico native can certainly find an opening at some point during their 25-minute battle, but will he risk being slammed on his back if he misses a chance?
If you're Condit and your chance at fighting the best happened to come up at a point when he's just getting back from a series injury, why not go for broke right off the bat? I'm not saying Carlos should pull his best James Thompson impression, but push the pace of the fight from the moment the bell sounds and rarely let up. Force the pressure to GSP's shoulders and make him fight your game. It's easier written than actually done but I assume if you allow an intelligent and "safe" fighter like Georges to get into his groove, your odds of beating him greatly diminish.
While some may be thinking ahead for Georges to what may or may not happen involving middleweight champion Anderson Silva, don't take Carlos Condit for granted. His body of work in the cage for years deserves more because he is capable of stopping the GSP legend.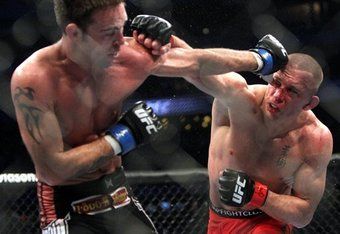 Fight to Determine #1 Contender in Welterweight Division
Martin Kampmann vs. Johny Hendricks
Aside from what stakes are on the line, it's worth noting that Kampmann and Hendricks trained together in the past. Whether that history has an impact on what transpires in the cage Saturday night remains to be seen.
What's not debatable is the fact both men are on quite the roll. Hendricks has won his past four fights including a knockout of Jon Fitch and a decision over Josh Koscheck. Kampmann is on a three-fight win streak including a knockout of Jake Ellenberger and a clutch submission win over Thiago Alves (Alves was literally 48 seconds from winning a decision).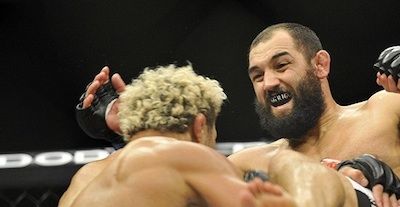 The intriguing aspect of this match-up is the fact that while Martin Kampmann is a prolific striker, Johny Hendricks boasts serious power in his hands and has an elite wrestling background, too. The Oklahoma State University product was a four-time All American wrestler and a two-time Division I NCAA national champion. Plus, as you could tell from his wins over Fitch, TJ Waldburger, Charlie Brenneman and Amir Sadollah, he has one punch knockout power.
Kampmann has a penchant for getting involved in brutal brawls in which he takes plenty of damage (the fights with Diego Sanchez, Rick Story and Thiago Alves were each such fights). If he resorts to that same old trend against Hendricks, it may come back to bite him. He must control the fight and keep Hendricks guessing on the feet. Everyone can remember his two knockout losses in the UFC when Martin was finished by Paul Daley and Nate Marquardt and the same is capable of happening Saturday in Canada.
It's only three rounds so a strategy of stick and move could benefit the Denmark native. At some point, he'll have to defend takedowns in that scenario and this could decide whether or not he wins enough rounds to be named the next championship contender.
In my mind, that's a lot that needs to happen for Martin Kampmann to win Saturday. Hendricks' only loss remains to be the decision to Rick Story who simply out powered him around the cage in 2010. I'm not sold that Kampmann can keep the fight standing and stay away from Johny's power for 15 minutes.
Francis Carmont vs. Tom Lawlor
"Filthy" Tom Lawlor had just four wins in six fights when he joined the cast of The Ultimate Fighter in 2008. Now, he's a bonafide UFC veteran with a record of 8-4 (1 No Contest). He has struggled at times with losses to Aaron Simpson, Joe Doerksen and Chris Weidman, but he's not one to have boring fights. In just under 50% of his UFC fights, he has received a bonus for best submission, best knockout or best fight. He last fought in May when he knocked out Jason MacDonald in 50-seconds.
France's Francis Carmont is 3-0 in the UFC and 19-7 overall. In his two fights in 2012, he choked out both Karlos Vermola and Magnus Cedenblad via rear naked chokes.
While Lawlor has the potential to put his opponents to sleep with his punches, his takedown defense will have to be strong to keep Carmont standing. The Tristar fighter enjoys taking the fight to the ground and unleashing his powerful ground and pound or fight-ending submissions on opponents. Lawlor could take advantage of his penchant for getting sloppy striking on the feet, however.
In his 26-fight career, Carmont has been finished with strikes just once (in 2004 in a fight with Ross Pointon) so he has proven to be extremely durable. If he can remain in such a way, Lawlor may end up struggling on the ground to keep the Frenchman from finishing him with a submission.
Nick Ring vs. Costa Philippou
It's a battle of successful mid-level middleweights when Nick Ring (13-1) fights Costa Philippou (11-2 [1]).
Since recovering from another knee injury in 2010, Ring has gone 3-1 in the UFC. The loss was a decision to Tim Boetsch last fall. He competed last in July when he earned a unanimous decision against Court McGee.
Philippou lost in his UFC debut at a 195-pound catchweight against Nick Catone but has been nothing short of perfect since. His consecutive win streak of four includes fights over Jorge Rivera, Jared Hamman, Court McGee and Riki Fukuda (who Ring earned a controversial decision win against).
Nick Ring is a well-skilled striker (experienced in boxing, kickboxing and Muay Thai) but Costa Philippou may be considered the more technical striker. Plus, the Serra-Longo fighter out of New Jersey has boasted ever improving takedown defense in his fights. In the event Ring is getting the worst of their exchanges on the feet and shoots for takedowns, he has to be successful. If Ring is stuck standing, this should be Philippou's fight.
Mark Hominick vs. Pablo Garza
Remember when Mark Hominick was giving Jose Aldo everything he had in front of over 50,000 fans in Canada last year? That sure seems like a decade ago, doesn't it?
Hominick has not won a UFC fight since he knocked out George Roop to earn that shot at Aldo. Since he lost a unanimous decision to the featherweight champion, he was knocked out by the Korean Zombie and he lost a split decision to Eddie Yagin. I wouldn't say he is now at risk of being cut by the UFC if he should lose his fourth consecutive fight, but he certainly rather not find out for himself.
Pablo Garza himself has been struggling of late thanks to a submission loss to Dustin Poirier and a decision loss to Dennis Bermudez. Like Hominick, Garza burst into the UFC looking like a million bucks: he knocked out Fredson Paizao with a flying knee and then choked out Yves Jabouin via flying triangle choke.
With both men in badly in need of a win, this could be an action packed fight. Of course, they could decide to be more cautious.
Garza has a five-inch height advantage and a four-and-a-half-inch reach advantage. Hominick fought a similarly sized opponent in Roop but he did an extremely poor job of protecting his chin. If Garza can keep the Ontario native at the end of his reach and work around that distance, you have to like his chances.
---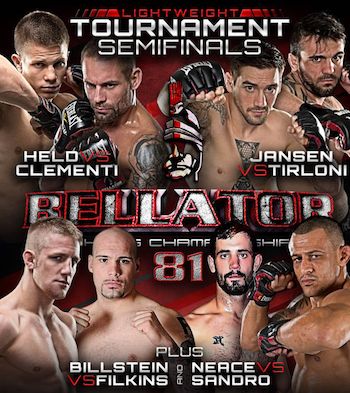 #81 Preview
BFC goes on break next week for the Thanksgiving holiday so following tomorrow night, Bellator 82 will hit MTV 2 on November 30. Can you go 14 days without your Bellator fix?
Rich Clementi vs. Marcin Held
This is a staunch image of youth and experience. On the one hand, you have 20-year-old Marcin Held out of Poland and then his opponent, 35-year-old Rich Clementi fighting out of Louisiana.
"No Love" Clementi surprised many by being the man to hand Alexander "Tiger" Sarnavskiy (20-1) his first loss last month via split decision. It wasn't as close as the split decision suggests, either. Rich is now 2-1 overall in Bellator and has won his past three fights.
Held also handed an undefeated Russian fighter his first loss in the quarterfinals when he bested Murad Machaev (9-1) by unanimous decision. Since leaving Poland, he is 4-1 (the one loss coming by submission against reigning champion Michael Chandler in the season four quarterfinals) including three straight wins in the Bellator cage.
Marcin is a Brazilian Jiu-Jitsu brown belt and has won two FILA grappling championships. Meanwhile, Clementi has been fighting professionally since 1999 (when Held was 7-years-old) and has submitted 27 opponents.
Dave Jansen vs. Ricardo Tirloni
In the second lightweight tournament semifinal, Brazil's Ricardo Tirloni meets Portland's Dave Jansen.
Jansen (18-2) is a wrestler who has reeled off four consecutive wins in the Bellator cage (including a submission win in the quarterfinal against Magomed Saadulaev). His only pair of losses came against strong grapplers in Kamal Shalorus and Ricardo Lamas.
Tirloni is a Brazilian Jiu-Jitsu black belt who has been outstanding in his career with the exception of two fights. In 2008, he was choked out by Benson Henderson and in the quarterfinals of the season six tournament, he was knocked out by eventual winner Rick Hawn. Take those losses out of the equation and he's 15-0 with eight submissions and five TKO's or KO's. Last month, he used a D'arce choke to finish Rene Nazare, a fellow BJJ black belt who had never been finished before in his MMA career.
You guessed it, this is your classic match-up pitting a strong wrestler against a high level submission artist. The winner of this fight has to be assume the role of favorite in the finals over the elder Clementi and the 20-year-old Held.
Marlon Sandro vs. Dustin Neace
Look, it's the return of former top featherweight Marlon Sandro! The 35-year-old Brazilian from Nova Uniao has had quite the eclectic run in Bellator since coming over in the summer 2011. He has been able to make it to two different featherweight tournament finals but lost to Pat Curran in one and Daniel Straus in the other. Aside from those losses, he's looked good (even though two of his wins came by split decision against Popo Bezerra and Genair da Silva) against Nazareno Malegarie, Rafael Dias and Roberto Vargas.
His opponent is 26-year-old Dustin Neace, with a record of 23-18. You may know him from his stint on The Ultimate Fighter season 14 (the Cruz/Faber season on FX) or from his submission loss to Bryan Caraway on the finale last December. He was one-and-done in the UFC and will try to make his mark in the Bellator cage with an upset of Sandro.
Jonas Billstein vs. Perry Filkins
This middleweight fight will see (10-2) Jonas Billstein take on (6-1) Perry Filkins.
Billstein is a 21-year old German fighter who has one legitimate loss when he was choked out by light heavyweight Attila Vegh in June 2011 in a foreign promotion. He debuted in Bellator one year ago but was disqualified when he kicked Herbert Goodman with a soccer kick. Bouncing back in 2012, Jonas choked out Mike Seal at Bellator 70 in May.
Perry Filkins fights out of New Hampshire and has fought most often out of his local fight promotion, Combat Zone. He has finished each of his wins by TKO including his last four fights. His one loss happened in January 2011 win he lost a decision to a fighter named Cornelius Murray.
---
WEEKLY ULTIMATE FIGHTER SINKING SHIP UPDATE
A week after The Ultimate Fighter jumped up to over 1 million overall viewers, the good news is TUF retained a large portion of said audience. They lost about 80,000 viewers and dropped a tenth of a percentage point in the 18-49 demographic.
Why are losses good news? Easy. Instead of hovering around the 600,000 mark, they have found some way to keep the number as close to a million as they can. Is it because producers, FX as a network or UFC as the promotion are doing something? I doubt it. We as viewers are fickle people and I refuse to believe there is any scientifically explanation for the viewing patterns of TUF this season.
Overall Viewing Audience: 921,000
Rating for 18-49 Demographic: 0.5
Source: TVByTheNumbers
---
– Shane Carwin blew his knee out this week according to UFC president Dana White and is out of his December fight with Roy Nelson. No replacement has been named yet. This latest injury is especially troubling because Carwin had just returned from a back injury.
– The Las Vegas Review Journal reports Alistair Overeem will fight Antonio Silva at UFC 156 in February in Las Vegas. But first, Overeem will have to apply for a new license in Nevada after December 27, when his current suspension ends. He failed a pre-fight drug test in April before he could fight champion Junior dos Santos the following month. Frank Mir ended up with the title shot and was abruptly crushed by JDS.
– MMAWeekly.com reports Cris Cyborg recently spoke with her doctors recently and her cardiologist specifically said he could not allow her to cut to 135-pounds because of the toll it would take on her body (including her ability to have a baby later in life). According to the report, Santos will not carry that risk and will stick to fighting at 145-pounds.
It's worth noting that we're led to believe when the UFC absorbs Strikeforce next year, they will feature only one women's division at 135-pounds under current champion Ronda Rousey. If it's true that Cyborg cannot and will not drop down, she may be looking for fights elsewhere. Rousey has been adamant that Cyborg, who is coming off a failed steroid test, come down to her weight and not vice versa.
– Gray Maynard is injured and will not compete at UFC 155 next month against Joe Lauzon. Taking his place will be Jim Miller.
– UFC featherweight Eddie Yagin experienced headaches and vomiting after a recent training session. When he went to the hospital, he was diagnosed with swelling on the brain. Although his doctors do not believe surgery will be necessary, he is expected out of action indefinitely. He was scheduled to fight Dennis Siver on December 8 at the UFC on Fox show, but Siver will now fight Nam Phan.
– Legend Fighting Championship out of Hong Kong has signed a television deal with ESPN International and will air across 109 countries. The first show under the new deal will be Legend FC 11 at a yet to be confirmed date.
– Two new UFC shows confirmed Tuesday: UFC 157 in Anaheim, California on February 23 and UFC on Fuel 8 in Saitama, Japan on March 3.
– Bellator light heavyweight champion Christian M'Pumbu returns to the cage at Bellator 84 on December 14 to fight Attila Vegh in the first defense of his championship. He has not fought since he lost a non-title fight to Travis Wiuff by unanimous decision last year. Vegh won the 2012 summer series tournament including a fight in which he finished Wiuff.
– For what it's worth, Tatame reports Anderson Silva told them he will not fight again until late-2013. He's not injured but Silva apparently wants time away from the cage to spend on other business ventures as well as his family.
Before this news came about, we assumed Silva would be fighting GSP (if Georges wins Saturday) early next year in a huge money fight. If Silva is true in his intentions to wait, you'd likely see an interim-championship in the middleweight division develop between some combination of the many challengers (including Chris Weidman, Tim Boetsch, Michael Bisping, Vitor Belfort and Alan Belcher).
– Scotty Nelson of On The Mat (OnTheMat.com) posted the following letter (.PDF file) he received from the Culinary Workers Union. Nelson's business includes MMA-related stores in California, Nevada and New Mexico and is friends with many professional fighters. The Culinary Union has been waging war against Station Casinos (the Fertitta brothers' family business) and the UFC (majority owned by Lorenzo Fertitta) because the casino does not employ union workers. As a matter of fact, the significant reason MMA has not been decriminalized in New York State can be traced to the Culinary Union's political reach.
Nelson received this letter requesting he cut all ties with the UFC and its fighters (listing specifically incidents Ian McCall, Chad Mendes and Jason Miller had with the law as well an insensitive tweet and video from Dana White and Quinton Jackson, respectively). Realize that the C.W.U. has been doing this for years to little success other than be a pain in the butt to non-Zuffa businesses and the consumer.
– According to Jon Jones' manager Malki Kawa, the next season of The Ultimate Fighter will air Wednesday nights on FX.
---
JUGGERNAUT VIDEO OF THE WEEK
This video may have been produced for UFC 137 before all the changes, but the principles remain the same for this week. NickTheFace's trailer for GSP vs. Condit, like all his other work, is awesome.
TWITTER
http://www.twitter.com/411mania
http://www.twitter.com/411wrestling
http://www.twitter.com/411moviestv
http://www.twitter.com/411music
http://www.twitter.com/411games
http://www.twitter.com/411mma

comments powered by Disqus