The Juggernaut MMA News Report 11.22.12: Thanksgiving Edition
November 22, 2012 | Posted by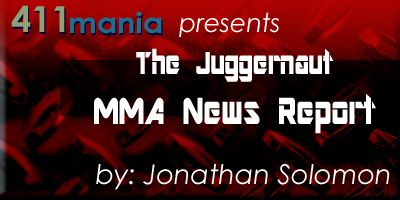 It's an MMA Thanksgiving, 2012
With this column a Thursday staple of the 411mania MMA zone, each November it falls on Thanksgiving. Because every major fight promotion is taking the weekend off, there's not a lot to talk about in the way of previews or even significant news. Look at it like the calm before the storm with 8 shows between the
UFC, Bellator and Dream's return to fill the void before the calendar flips to 2013.
So, what better to talk about than what we can be thankful for as MMA fans. Here's to it.
Dream Fights in the UFC, Closer Than Ever?
Over the past handful of years, we've seen several of the best fighters in the world come back to earth and appear human. Chuck Liddell, Fedor Emelianenko, Urijah Faber, Miguel Torres, Rampage Jackson, B.J. Penn, Minotauro Nogueira and I'm positive you can name more. As is necessary for the health of the sport, new top fighters have emerged such as Junior dos Santos, Jon Jones, Dominick Cruz and Benson Henderson with others seemingly one or two steps away from joining the discussion.
But, there are two fights, two in the UFC in particular, that have been talked about like a legend from past generations. We speak about it but never do we actually expect to be able to witness them for ourselves.
Georges St. Pierre and Anderson Silva have been the only champions in the company to maintain their spots atop their respective divisions. Both are getting older, despite the fact each persist to be outstanding fighters. When spring rolls around, St. Pierre will be 32-years-old and Silva is looking at 38-years-old. GSP specifically just returned from nearly two-years on the sideline because of a serious injury to his right knee.
Some are not as Gung-ho about this match-up because of the perception that Silva is not a fair fight for GSP due to his size. It's accepted that if they were to fight, by the time they step inside the octagon, Anderson would boast a weight advantage in the range of 30-40 pounds. Plus, for the first time in recent memory, neither man has to struggle to find legitimate challengers for their respective championships. Based on his actions, Silva refuses to fight Chris Weidman and most certainly has little interest in fighting Tim Boetsch or Alan Belcher. Certainly, Silva's manager Ed Soares has brought up Michael Bisping's name in the past but I surmise the reason is among these names, he's the one who has any semblance of a large following and who could bring something of a nice payday (assuming that fight happens in the U.K.). Meanwhile, Georges has a potential title fight with new number one contender Johny Hendricks who has knocked out Jon Fitch and Martin Kampmann in under a minute among two of his last three fights. Then, there's always the possibility that Nick Diaz doesn't fail a drug test for weed, wins a couple fights and he doesn't piss off UFC brass.
After you're done talking about all those challengers, how about the fresh additions Strikeforce will bring to the equation beginning in two months? Middleweight champion Luke Rockhold is fighting Lorenz Larkin on January 12 and welterweight champion Nate Marquardt will compete against Tarec Saffeidine. Whomever the two titleholders will be after that night, but especially if both champions retain, they theoretically walk into the UFC as immediate top-of-the-line contenders.
So, with all of this in the forefront, why should we be excited at the possibility that 2013 is finally THE year we'll see St. Pierre and Silva clash?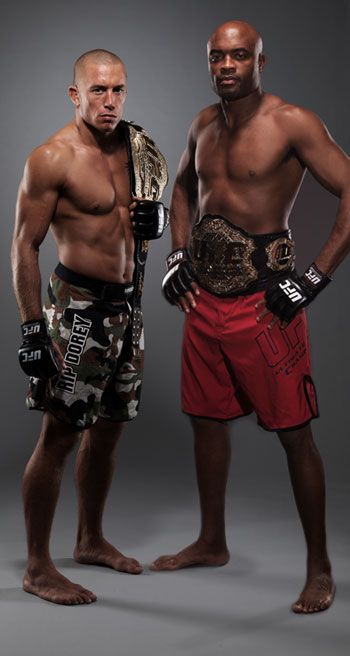 Simply, they're the two best fighters of a generation who amazingly are still in their prime. We don't have to be fickle, what's wrong with just enjoying the moment that doesn't come around too often? Hell, boxing has been torturing fans for years because its top two megastars Floyd Mayweather Jr. and Manny Pacquiao (thanks in large part to that clown Bob Arum) cannot come to terms to fight and perhaps earn the biggest payday in history.
Then there's Jon "Bones" Jones. He catches a lot of flak for all sorts of things. Less than a month ago, his stance on potentially fighting Anderson Silva did not seem so rigidly negative. At one point, Anderson and he were incredibly quick to shoot all that down. All of a sudden, Silva seems willing to talk with the UFC and negotiate (ie. the man wants to get paid!!!). Jones? While he says he does not believe he's required to fight Anderson for the purposes of a legacy (he's correct) and he does not want to be the man who beats or loses to the middleweight champion (that's reasonable), at some point the moment has to grip the guy, no?
Jones is 25-years-old and has defended the UFC light heavyweight championship four times in impressive fashion each time. He's been hurt by a punch about one time in his fight with Lyoto Machida and came so close to having his arm snapped by Vitor Belfort just two months ago. Yet, nobody has been able to consistently maintain a level of offense that would suggest he's in any kind of danger over the long haul of losing. Do you know what GSP and Silva were doing at 25? St. Pierre was just coming off his first win against B.J. Penn that would set up his rematch and second title fight with Matt Hughes at UFC 65. Silva just started his professional career with a pair of wins in Brazil and a month after his birthday, he ended up losing his first fight to Luiz Azeredo.
The point is, he's so young in the sport and hopefully he can fight for another 7-10 years if he's healthy and willing.
Who knows what kind of personal relationship Jones and Silva have at this stage. They're respectful of one another, fans of each other, but this is the fight business. I can only imagine the vast majority of fighters would look at a possible fight with arguably the greatest of all-time and jump at the opportunity to test themselves. Although he's currently participating on the next season of The Ultimate Fighter and will fight Chael Sonnen in April (and perhaps Dan Henderson or Alexander Gustafsson or rematches with Shogun Rua or Lyoto Machida down the road), not only is the biggest money fight for him with Silva, it's also the biggest challenge.
Well, the biggest challenge until he decides to move up and fight at heavyweight…
Spike TV

For 7 years, Spike TV was the home for MMA in the United States. Thanks to Vince McMahon's permission, the UFC's first presence on television led way to the biggest boom period in the sport's history. Not only did we see a live UFC fight for the first time on television, but eventually we also witnessed the first live UFC championship fight on television, too. The success the network had led other companies to want their own taste of the pie and led Showtime, CBS, NBC, Fox Sports, My9, MTV and others to air first-run MMA programming. Even ESPN eventually got into the fray (well, ESPN Deportes, but still…) including multiple premature dances with the UFC that always ended up without consummation. Hell, even HBO negotiated with the UFC over the years but were not able to come to agreeable terms, either.
Yet, it all started thanks to Spike TV and 2012 has been a throwaway year with the exception of their attempts to counter-program Ultimate Fighter themed programming with what they're allowed to show from the old UFC library. That, and their MMA Uncensored news show that has had mixed reviews.
On the bright side, just a few more weeks and Spike is back in the game. The first time since December 2011, when they last aired a live MMA show, is what Bellator Fighting Championships will assume for themselves. Rumored to be on Thursday, January 10, 2013, Bellator will finally have the power of a network who knows how to market their product.
It's not about competing directly with the UFC so don't get the wrong idea. In fact, besides possibly competing to find the next great young prospect of a fighter, the two promotions couldn't be on any more of a different level. The UFC is rumored move their reality show to Wednesday nights and obviously, their bread and butter remains pay-per-view and to a much lesser extent, their shows on broadcast television. Bellator's reality show (with limited details at best available at the moment) will get some timeslot during the week we're led to believe but unless Spike executives really want to stoke the flames between them and their old buddies, I would imagine a Tuesday or weekend airing would be fine.
For Bellator, almost 100 million homes is a lot better than 80 million homes. Plus, being treated like your hot stuff is pretty important as well.
The 48 States Who Consider MMA Legal and the 47 States Who Actively Regulate The Sport
It is 2012.
The 21st century.
We are now down to two states that insist on considering mixed martial arts an illegal act such as my state, New York and Connecticut.
There are only three states who do not regulate the sport and they are in addition to the two above, Alaska (although MMA cards do take place). This year alone saw Vermont and Wyoming join the "progressive" communities who have issued legislation allowing their local governments the right to regulate the sport.
I cannot speak for the politics of the situation in Connecticut but in New York, it's been almost comical as to the fact that year after year, the push to legalize the sport (illegal since 1997) has come to a screeching halt thanks to State Assembly Speaker Sheldon Silver. In fact, each of the past three years, a bill for legalization has passed through the State Senate without so much as a dirty look but once it goes to the next step in the Assembly, it goes over like a fart in church.
This past spring, Speaker Silver "conducted a closed-door informal vote. Afterward, he determined that there is not enough support to pass the mixed martial arts bill," according to an Associated Press account of the matter. What we found out after the fact through Democratic sources, in the closed-door meeting, despite overwhelming pro-MMA stances from members, the bill was still thrown under the bus.
The movement in New York will begin again next year and once again, for the fourth consecutive year, the pro-legalization bill will ease through the State Senate. Whether 2013 is "the year" or not, you won't find anyone willing to go on record and say yes because it's like the boy who cried wolf at this stage.
What's obvious is that the moment MMA is legal in the state and the New York State Athletic Commission is able to take the necessary steps to prepare their staffers to intelligently regulate the sport, the UFC will jump into Madison Square Garden faster than you can spell Khabib Nurmagomedov. Then, perhaps up in Buffalo or Syracuse or over in Long Island or down in Brooklyn…you get the point (because obviously, Sheldon Silver is too busy listening to the anti-MMA special interests at the cost of fresh new revenue streams and tax dollars).
So, for all the state officials outside New York and Connecticut, at least you're able to move past the obvious on this issue. Alaska? Well, you're a special beast all onto yourself. Stay original.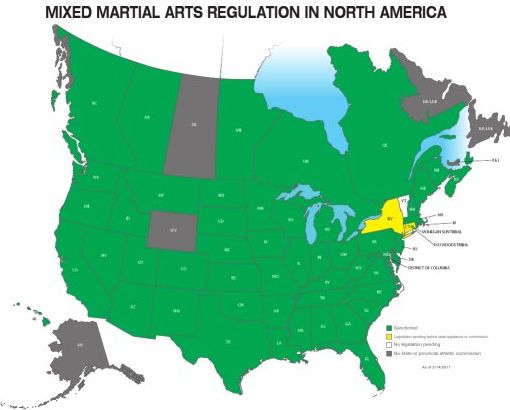 This map is from 2011
RONDA ROUSEY
Entering this time last year, Ronda was days following her second Strikeforce win when she submitted Julia Budd in under 40-seconds. Miesha Tate was the reigning Strikeforce champion at 135-pounds while Cris Cyborg was weeks away from her next fight and positive drug test.
2012 has been nothing but the year of Ronda Rousey as she has emerged as not just the preeminent female fighter, but one of the most popular fighters in general. She beat Tate to become champion in March (the first and only time she's fought professionally past the one-minute mark) and defended the belt against Sarah Kaufman with sixth consecutive professional win by armbar over the summer.
Now, Ronda has already signed with the UFC and is the first ever UFC women's bantamweight champion and the powers that be are planning for what to do with her company debut in 2013. According to Dana White, she will fight on PPV (I figured a Rousey fight on Fox would be tremendous for both the promotion and the sport, but it doesn't matter what I believe) and could potentially headline a card depending on how the rest of the show turns out (if a second title fight is booked, she would co-headline).
Certainly part of her allure is based on her looks, other aspects include her straight-talking personality and oh yeah, she's a bad ass when it comes to actually fighting. There's almost a Royce Gracie aura with her when she fights because when he became the gold standard 19 years ago, it took him seven fights before he won without choking someone out or using a comparable submission hold. Of Royce's first 12 fights (all in the UFC), 10 ended with a submission hold, one with a submission from strikes and the last was the draw in his rematch with Ken Shamrock.
Building on the lessons from her mother, given to her as a child, Ronda is the ONLY professional fighter with a bonafide finishing move. Everyone who may pay attention to her knows she is going for armbar's when she fights and counting her amateur record, none of her nine opponents have been able to stop her. When you train to fight Ronda, you drill armbars but then again, nobody can drill them as much as Ronda has throughout her life.
Ronda walks into the UFC with a ton of hype, sure, but people will flock to watch her. Plus, there's no doubt in my mind that just by the simple fact she'll be fighting in a cage with the letter's 'UFC' on the mat, a new audience will be introduced to the equation.
Women fighting in the octagon has been a controversial topic ever since Gina Carano made her name in Elite-XC. Unfortunately, it never worked out where she could come to terms with the UFC and by now, she has foregone her fighting career for a run in Hollywood (she's appearing in the next 'Fast and the Furious' sequel).
With Ronda, there's no concern that she'll leave the sport anytime soon. She's been competing in Judo since she was a kid and won the bronze medal at the 2008 Olympic Games. If there was money in remaining an amateur and trying to win a gold in 2012, Rousey almost definitely would have gone that route. For MMA's gain, there is no money in that venture so she turned to MMA and undoubtedly has not regretted it for a milli-second ever since.
We have heard Mauro Ranaullo go nuts calling her fights, soon, we'll get to hear Joe Rogan flip his lid at the first sight of a set-up for the famed armbar. If Gene LeBell is in the octagon afterwards with his stopwatch, it's all icing on the cake.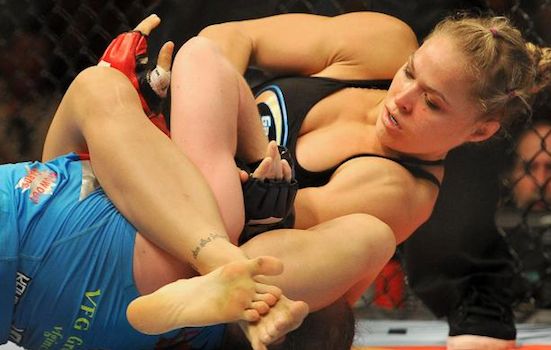 ---
WEEKLY ULTIMATE FIGHTER SINKING SHIP UPDATE
The Ultimate Fighter audience returned to normal numbers one week ago in a dramatic drop. Two weeks ago saw 921,000 overall viewers and six nights ago, 643,000 people watched the latest episode. With a break in the schedule tomorrow, the series returns next week with two more episodes left.
Colton Smith and Neil Magny have already advanced to the semi-finals. On the next episode, the final two spots will be determined in the welterweight tournament.
For those still around who care about TUF, we're led to believe the next season (Jones/Sonnen) will air Wednesday nights beginning in 2013. It has not been confirmed by the network or UFC but Jon Jones' manager Malki Kawa let it slip in an interview with John Pollack of The Fight Network recently.
Overall Viewing Audience: 643,000
Rating for 18-49 Demographic: 0.4
Source: TVByTheNumbers
---
– In breaking injury news yesterday, Chris Weidman has pulled out of his bout at UFC 155 next month against Tim Boetsch due to a shoulder injury. Taking his place will be teammate Costa Phillipou will now fight Boetsch on December 29. Ariel Helwani reports he may need surgery which could keep him out of action until summer at the earliest.
– Tatame.com reports the light heavyweight bout between Dan Henderson and Lyoto Machida will now take place at UFC 157 on February 23 instead of UFC 156 earlier in the month.
– UFC president Dana White told Inside MMA he plans to begin talks with Anderson Silva and Georges St. Pierre about a potential dream fight within the next month.
– Andrei Arlovski has signed to fight Mike Hayes on December 16 in Russia. The Pitbull last fought on the World Series of Fighting show earlier this month and knocked out Devin Cole. Hayes is coming off a decision loss to D.J. Linderman in June.
– MMAFighting.com confirmed the prelims for UFC on Fox 5 on December 8 will air on FX and NOT Fuel. Beginning at 5pm eastern, six fights will air leading into the main broadcast on Fox. Prior to that, Facebook will host three fights beginning at 3:45pm eastern (including Scott Jorgensen vs. John Albert and Mike Easton vs. Bryan Caraway….how in the world does Mike Easton get pushed to Facebook?!?!?).
– Heavyweight Todd Duffee, infamous for getting approval in Nevada for testosterone replacement therapy at 24-years-old, will return to the UFC to fight Phil De Fries at UFC 155. De Fries was originally slated to fight Matt Mitrione but he's moved to fight Roy Nelson on the TUF Finale to replace the injured Shane Carwin. Two weeks away from his 27th birthday, Duffee last fought in the spring when he knocked out Neil Grove in India.
– Jay Hieron will fight Erick Silva at UFC 156, the Superbowl show in Las Vegas. Both are coming off decision losses, to Jake Ellenberger and Jon Fitch, respectively.
– Based on a video filmed by Mike Kyle, he is expecting to fight Gegard Mousasi on the final Strikeforce show in January. If this is accurate the card as it stands today looks like this:

Lightweight Title Bout – Gilbert Melendez © vs. Pat Healy
Middleweight Title Bout – Luke Rockhold © vs. Lorenz Larkin
Welterweight Title Bout – Nate Marquardt © vs. Tarec Saffiedine
Daniel Cormier vs. Dion Staring
Gegard Mousasi vs. Mike Kyle
Ryan Couture vs. KJ Noons
---
JUGGERNAUT VIDEO OF THE WEEK
A career retrospective featuring tons of clips from Anderson Silva's past, the man has put it on a lot of fighters. Is Georges St. Pierre next?
TWITTER
http://www.twitter.com/411mania
http://www.twitter.com/411wrestling
http://www.twitter.com/411moviestv
http://www.twitter.com/411music
http://www.twitter.com/411games
http://www.twitter.com/411mma

NULL
comments powered by Disqus