The Juggernaut MMA News Report 11.29.12: The Teammate Problem in MMA
November 29, 2012 | Posted by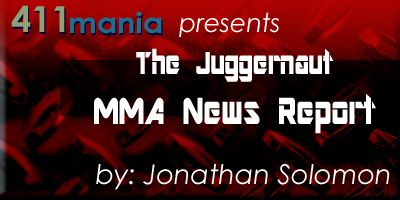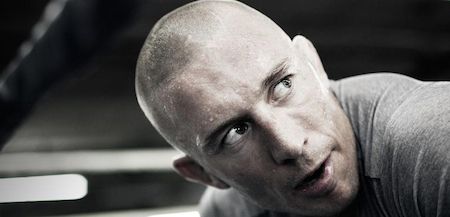 Teammates Refusing to Fight May Plague 2013
One of the alluring aspects of mixed martial arts is the fact that at its core, it is "mano a mano." There is something intriguing to know that once the bell rings, fighters cannot rely on coaches or training partners, siblings or spouses and they are forced to display their skills (or in some cases, lack thereof). It's a variation on the flight or fight phenomenon where although the best professional fighters spend copious amounts of time to prepare, it all comes down to only a few minutes and a very humbling few minutes, too.
When people tried to modify MMA as we are used to it and promote a team format as the International Fight League did several years ago, it did not catch on. That does not necessarily mean that it cannot, period. The IFL ran into plenty of problems (some, self inflicted) but basing an entire promotion around a team of fighters winning enough fights was a bit weird.
Today fight camps, teams, super training centers have become the norm. The Jackson/Winklejohn camp in New Mexico, Tristar in Montreal, American Kickboxing Academy in San Jose, the Blackzilians in South Florida, Cesar Gracie Fight Team in California, American Top Team in Coconut Creek, Xtreme Couture in Las Vegas, Team Quest in Oregon and so many more (WAND Fight Team and SITYODTONG to name two).
With so many fight teams establishing close relationships amongst themselves, high quality fighters and emerging fighters spending so much time training and becoming friends, it has in the past and continues to pose issues when it comes to fights. The famous example caused the relationship between Rashad Evans and Jon Jones to degenerate and Evans ended up leaving Greg Jackson's team and he eventually helped form the Blackzilians. However, there are some relationships which are much tighter a la the friendship between Jon Fitch and Josh Koscheck.
The issues that come along with all of this appear to be on there way to the forefront again in 2013. Based on reports (still, not officially confirmed) the UFC will absorb Strikeforce next year and most of their top fighters. With the fact that women's bantamweight champion Ronda Rousey has already signed with the UFC, the two biggest stars still associated with the brand are lightweight champion Gilbert Melendez and heavyweight Daniel Cormier.
Melendez has been a top lightweight for years and has always talked about his interest in going to the UFC to compete with their top stars (a guy can fight Josh Thomson so many times, right?). However, there's one potential problem with that plan right now. Of course, Gilbert almost certainly does not think of it that way. One of his closest training partners and friends is Nate Diaz who on December 8 will challenge Benson Henderson for the UFC lightweight title.
What is Melendez to do if Diaz wins the title?
Sure, he could remain in the lightweight division and take fights but knowing he would never agree to fight his buddy, the UFC is in a pickle and unable to book him in fights against potential contenders (at the risk he knocks them off). Melendez would probably seriously consider a move up to welterweight in that instance, even though his other close friend Nick Diaz is a top contender in that division, too. One thing is for certain, there's no way in hell Gil is trying to drop down to 145-pounds.
That's potential problem number one.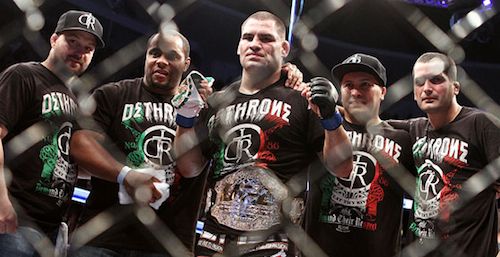 The second is also thanks to Strikeforce being stripped of its bearings and eventually falling six feet under the earth. The UFC took their heavyweights earlier this year with the one exception of Daniel Cormier, because Showtime insisted on retaining him since he was the winner of the long Strikeforce Heavyweight Grand Prix. So, he's scheduled to fight Dion Staring on January 12 before making his way to the octagon.
What's the issue here? Cormier's friend and training partner at American Kickboxing Academy in California is Cain Velasquez, who ironically, will challenge UFC heavyweight champion Junior dos Santos at the end of December in their rematch. Daniel has already talked about what he may do because of course, he assumes Velasquez will be victorious and regain the championship.
Cormier has publicly sought a fight with UFC light heavyweight champion Jon Jones (although so far, at least publicly, Jones has not been very keen on that idea). From a weight cutting standpoint, in theory it shouldn't be much of a problem for the big man. He said he was walking around at nearly 230 pounds before his last fight with Josh Barnett. The willingness to do it (although that's likely out of necessity here) is half the battle with the other half coming down the pike when he actually attempts to do it under proper supervision.
I even wonder what he may do if Cain Velasquez loses to JDS for a second time, rendering his time in title contention done for the foreseeable future. There's no way Cain is cutting weight to drop a division, so is Cormier planning a drop no matter what?
Perhaps, this one is not even a problem at all depending on your perspective. If you feel you rather see Cormier fight Jones than dos Santos, you're likely going to be a happy guy by this time next year (unless the UFC gets its wish and Anderson Silva fights him first).
Lastly, there's our Canadian friends. How we've missed talking about Georges St. Pierre since he was out of action for nearly two years, it now seems like everything is about Georges.
If GSP decides not to move up in weight, not to fight Anderson Silva, he'll probably continue fighting at 170-pounds for several more years. What does this mean for 23-year-old Rory MacDonald?
MacDonald is a member of the Tristar Gym in Montreal led by Firas Zahabi and whose most famous member is GSP. Both fighters have publicly said they have no interest whatsoever in ever competing against one another. Without hesitation, although Georges sometimes comes off like he's uncomfortable even talking about it.
Short of Johny Hendricks, the biggest up-and-comer/prospect in the UFC's welterweight division is Rory MacDonald. On the bright side for both him and the promotion, he appears to have fights lined up through next summer. Up first is his national television debut in America when he fights B.J. Penn on Fox on December 8. Win or lose, logic would have it that his next fight could come against Carlos Condit who just suffered his first loss in years thanks to St. Pierre. Remember, MacDonald's 13-1 record is imperfect because of his 2010 loss by TKO to Condit at UFC 115. For argument sake, let's assume MacDonald beats Penn and goes on to avenge the loss to Condit. That's quite the impressive stretch of wins and he would instantly be in talk for a title shot. Well, he would as long as Georges St. Pierre leaves the division, which as of today (more on that in the news section below) appears unlikely in the immediate future.
If he continues on the path of winning and winning impressively while GSP remains atop the division, I have no idea what the UFC could do with the young fighter. A fight with Nick Diaz is almost certainly out of the question. He is perhaps left to fight the likes of Josh Koscheck or Jake Ellenberger and not Nate Marquardt or the Jon Fitch/Demian Maia winner (because you don't want realistic contenders knocked off the heap by a guy who won't fight the champion). Perhaps he could move up to middleweight if GSP refuses to or does not retire by the time Rory reaches his prime.
WHAT DANA WHITE VISUALIZES WHEN TEAMMATES REFUSE TO FIGHT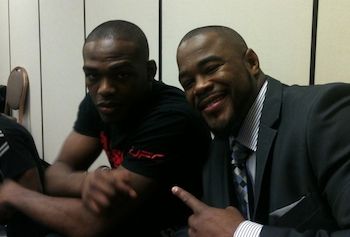 ---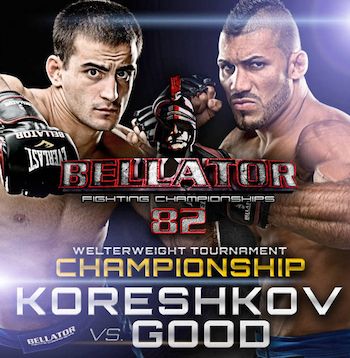 #82 Preview
Bellator is back this week for #82 and with two more shows left in the season, be sure to watch or set your DVR. After December 14, the promotion is taking several weeks off before the massively anticipated jump to Spike TV in January. Tomorrow night on MTV 2, a tournament concludes and other opportunities are a plenty for fighters both young and old to lay the groundwork to earning potentially more lucrative fights in 2013.
Lyman Good vs. Andrey Koreshkov
Friday's main event will see the season seven welterweight tournament conclude with either New York's Lyman Good or Russia's Andrey Koreshkov become $100,000 richer while receiving a guaranteed title fight (against either champion Ben Askren or current top contender Karl Amoussou).
Good has been on a tear this year beginning with his win to qualify for the tournament when he knocked out LeVon Maynard in 13 seconds. In round one, he bested Jim Wallhead by decision and one month ago, he knocked out Michail Tsarev (by referee stoppage). The former Bellator champion has not lost since April 2011 when he was on the losing end of a split decision against Rick Hawn in the season four semifinals.
On the other hand, there's Koreshkov who remains undefeated since making his American debut back in March. He knocked out his first two Bellator opponents leading to this tournament. In round one, he earned a decision victory against Jordan Smith and followed that with a knockout win against Marius Zaromskis.
Lyman is the stronger man but he'll give up the most effective striking skills to the Russian who has knocked out 67% of his 12 career opponents. The Tiger Schulmann representative out of Harlem is perhaps best known for his physical style which can overwhelm opponents. So far, in his professional career, the only men who have been able to get the better of him have been outstanding grapplers in (two-time NCAA Division I National Champion wrestler) Ben Askren and (Olympic judoka) Rick Hawn.
For Koreshkov to remain undefeated and earn a fight with either the American Askren or Frenchman Amoussou, he will almost certainly have to keep the fight moving from a distance. He will not want to be forced into a clinch battle or a wrestling match with Good for fear of losing rounds (this fight is only scheduled for three) or taking damage.
If the season one champion is able to win, this will mark the first time in Bellator history that a former title holder has earned a second opportunity to fight for a title. Obviously, he has wanted a rematch with Askren ever since their first fight over two years ago. Otherwise, Koreshkov could prove to be the youngest tournament champion in the promotion's history (he's just 22-years-old).
Alexander Sarnavskiy vs. Tony Hervey
If at first you don't succeed, try, try, try again.
Alex Sarnavskiy came to Bellator last month with a bit of hype surrounding his 20-0 record. The 23-year-old is one of the several proteges of Alexander Shlemenko (a middleweight title contender) and is someone we've seen fight before (if you're an MMA nerd, at least). Unfortunately, reality interfered and "Tiger" suffered his first loss thanks to, of all people, Rich "No Love" Clementi. The split decision should not have even been a "split" because quite simply, Clementi got the better of him.
Everything's okay now. Why? Bellator is trying again to give the man another opportunity to score his first win in the Bellator cage.
His opponent is Tony Hervey who boasts a 15-12 professional record. He started 2012 by losing a decision to Mike Ricci (in Ricci's last fight before going through The Ultimate Fighter process in which we'll see him fight on tape for a spot in the finals tomorrow night). Since then, he has rebounded with a pair of wins around the country against Buddy Clinton and Jorge Britto. The point is, Hervey (on paper) should not beat Sarnavskiy unless he is a total creation of the Russian MMA system.
Aside from Ricci, the only names you would recognize from Hervey's professional fight history are Takanori Gomi and Pat Curran. They defeated him by decision in 2009 and submission in 2008, respectively.
Doug Marshall vs. Kala Hose
This middleweight fight pits MMA veterans against each other who have names you may recall from years ago. Former WEC champion Doug Marshall is back on television for the first time since he was knocked out by Brian Stann at WEC 33 over four years ago. Kala Hose fought on the undercard of the EXC show in Hawaii in 2008 which nearly ended in a brawl between the Diaz brothers and KJ Noons (and his father). His last significant win came right before then when he finished Phil Baroni to win the final ICON Sport championship before that company went out of business.
What you know when you see Hose fight is there won't much of a lull in the action. With the exception of his very first fight (11 since then), he has never gone to a decision. That includes the Baroni fight which lasted for nearly 22-minutes before it concluded.
Why Marshall has never caught on with a bigger promotion than Tachi Palce Fights or most recently the Super Fight League, I'm not precisely sure. All I can assume is based on age (he is now 37-years-old) or he decided not to travel much outside California (he's fought only once elsewhere since the summer of 2008). Since he dropped down to middleweight, he is 5-3 with losses to Kyacey Uscola, Giva Santana and Zelg Galesic.
So, between these two experienced fighters, I will suggest someone will be knocked out. The winner will get another fight with the promotion and the other? They'll likely continue on the road searching for more fights anywhere they can find them.
David Rickels vs. Jason Fischer
A welterweight and lightweight round out tomorrow evening's show as David Rickels takes on Jason Fischer.
Rickels was part of last season's 170-pound tournament but his hopes were dashed when he lost a split decision to eventual winner Karl Amoussou. He knocked out Jordan Smith in the quarterfinal in just 22-seconds and was undefeated heading into the semifinal.
Lightweight Jason Fischer is moving up for this 160-pound catchweight bout and putting his 4-0 record on the line. He made his professional debut in 2011 and has finished each of those four fights since then. He made his Bellator debut in the spring and has choked out both opponents in the the third round.
I'm not sure what Fischer's intentions are after this fight, whether he will return to lightweight or if he's considering a permanent move up to welterweight. However, this is a big opportunity for him to defeat a guy in Rickels who has proven to be a tough matchup.
---
– At last check, each of the four UFC on Fox fights scheduled for 12/8 are still on and everyone is healthy. Benson Henderson, Nate Diaz, Shogun Rua, Alexander Gustafsson, B.J. Penn, Rory MacDonald, Mike Swick and Matt Brown are all on tap to fight. *INJURY CHECK-UP*
– Jose Aldo has talked about his possible jump up to lightweight in the future, saying his upcoming fight with Frankie Edgar over the UFC featherweight title is a litmus test in his mind.
– Luke Rockhold says he was never in condition to fight in January and despite knowing that, Strikeforce officials went ahead and promoted him as one of the main stars scheduled for 1/12. His wrist has not healed fully and he only gave verbal word that he would fight. There were never any papers signed between he or Lorenz Larkin. Expect the Strikeforce middleweight champion to fight next in the octagon sometime in the spring.
– Also off the 1/12 Strikeforce card is lightweight champion Gilbert Melendez whose shoulder injury is also not completely healed. In his place, Pat Healy will fight Jorge Masvidal.
If Strikeforce were an animal, it would have been put down a long time ago.
– The GSP/Anderson Silva saga took an interesting turn this week courtesy of comments from St. Pierre. Paraphrasing, Georges said he wants to fight Anderson but only when it's the right time for him. He understands Silva weighs about 50-pounds more (at their walk-around weight), too. Plus, he is aware that there are still sound fights for him at welterweight (although he did not mention names, you count Johny Hendricks and Nick Diaz as possibilities) while if/when he fights Silva, he will not return to welterweight because of the added size he will have to put on.
Whether this is just gamesmanship for the upcoming negotiations or whether GSP seriously prefers to remain at welterweight for the next year AND THEN fight Anderson is up for debate.
– Bellator CEO Bjorn Rebney announced a change in booking philosophy for the promotion. Beginning next year on Spike TV, championship rematches will be possible. In the past, the absolute only way to earn a title fight was to win a tournament (three successive fights) which was a significant reason Jay Hieron signed with the UFC. It was also a consideration for current free agent and former lightweight champion Eddie Alvarez. Now, in 2013, Bellator will allow for certain entertaining title fights to be rematched.
– GLORY out of the Far East has reached an agreement with One FC (today, the leading MMA group in Asia) to allow both promotions to cross promote with each other's talent. Already, this deal will allow certain MMA fighters to compete on the MMA/kickboxing super show on New Year's Eve in Saitama, Japan. Shinya Aoki and Bibiano Fernandes are likely to compete on the show against opponents yet to be confirmed. The 12/31 show will feature a heavyweight kickboxing tournament in addition to other MMA fights featuring Phil Baroni, Mach Sakurai and Tatsuya Kawajiri.
– Dave Meltzer's Wrestling Observer Newsletter reports the early estimate for the UFC 154 buyrate stands at 700,000 buys. Considering the Georges St. Pierre fight with Carlos Condit did not have a ton of hype surrounding it in the final week before the fight, the number has to be considered a success. The UFC may now put together a link of good PPV business before the end of the year with UFC 155 hosting the much anticipated rematch between Junior dos Santos and Cain Velasquez.
– Fox President Eric Shanks has publicly said he is trying to get Dana White and UFC brass to have their annual Super Bowl show in early-February to New Jersey in 2014. The idea behind that plan is that although Las Vegas has been the home to the show for years, the NFL's Super Bowl will be played that Sunday at MetLife Stadium in New Jersey. If the UFC can piggyback the massive event with a Saturday show in either Newark or East Rutherford, they would likely be able to get more publicity than they otherwise would from the New York market.
Of course, it would be even better if the UFC was able to run Madison Square Garden that Saturday in 2014, but for that to happen, next year must be the time MMA is legalized and regulated in New York.
---
JUGGERNAUT VIDEO OF THE WEEK
Check out the trailer for UFC on Fox: Henderson vs. Diaz, next week cannot get here soon enough.
TWITTER
http://www.twitter.com/411mania
http://www.twitter.com/411wrestling
http://www.twitter.com/411moviestv
http://www.twitter.com/411music
http://www.twitter.com/411games
http://www.twitter.com/411mma

comments powered by Disqus