The Juggernaut MMA News Report 12.06.12: UFC on Fox 5 Preview
December 6, 2012 | Posted by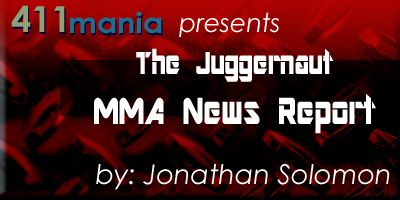 The UFC on Fox 5 Will Be Awesome Preview
Not only is the card for Saturday evening's UFC on Fox 5 outstanding on it's own basis, but it's bigger than that. No debate about it, this is the best fight card that has ever been booked for network television (this spans EXC, Strikeforce and UFC history) and I wouldn't bat an eyelash if you said it's the best show of 2012. If you couldn't tell, I'm plenty excited to see each of the fights below and there's plenty to think about in the top three fights as to who you may want to see win (and who you believe actually WILL).
Benson Henderson vs. Nate Diaz
Five rounds of non-stop back-and-forth kick ass action.
That's what I expect between these two lightweights who routinely fight at 100% energy in the cage and are always looking to inflict damage or improve their own position. This is why you love divisions like 155 or 145 and it just so happens that this title fight will be in the headlining spot where hopefully more than six million people will tune in and be amazed.
Benson Henderson, the UFC lightweight champion, has been on a tear since moving to the UFC (on the heels of the famous loss to Anthony Pettis courtesy of the showtime kick at the final WEC show). Yes, each of his fights in the octagon have went to a decision, but with the exception of his two championship bouts against Frankie Edgar, none were close. Some of you may feel Edgar deserved one if not both of those decisions, but judges felt differently (now, Edgar dropped to featherweight where he'll soon challenge champion Jose Aldo).
Henderson's style has not changed in any dramatic way since he began making a name for himself in 2009 in the blue WEC cage. He has an endless gas tank, he is a strong wrestler, tremendous in scrambles, sick submission defense, technically sound striking, a good chin and a dangerous guillotine choke. All qualities we've seen stamped into our heads time and again. The one fight he's lost in nearly five years, against Pettis, was because it was an even fight entering the fifth round and Anthony pulled off the amazing jump-off-the-cage kick to seal it in the eyes of the judges. We witnessed Henderson in tight submissions time and again only for him to calmly persevere and find a way out. It's an uncanny ability to remain calm in those situations, almost like it's just another day at training camp.
Then, there's Stockton, California's Nate Diaz.
The Cesar Gracie student made his UFC debut in 2007 when he won season five of The Ultimate Fighter (on the same night that fight took place, Henderson fought in Utah, winning his third professional bout). With time spent at both lightweight and welterweight, his one weakness has proven to be stronger grapplers (Clay Guida, Joe Stevenson, Gray Maynard, Dong Hyun Kim and Rory MacDonald each won decisions against him). With the exceptions of Cowboy Donald Cerrone, Josh Neer and Rory Markham, he's submitted each of his other opponents inside the octagon.
Since returning to 155-pounds last year, he finished Takanori Gomi via armbar, he beat Cerrone to the punch, winning a unanimous decision and in May, he choked out Brazilian Jiu-Jitsu black belt Jim Miller at UFC on Fox 5.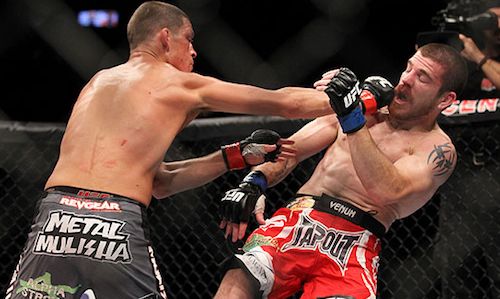 Against "Bendo," Diaz has a six-inch reach advantage and a four-inch height advantage.
The problem for Nate is that unlike some of his previous opponents, Benson Henderson does not become flustered when he's in the cage. Cerrone let the heat of the moment get to him when he fought Diaz and instead of fighting smart, he let the action devolve into a wild brawl and lost.
For Nate Diaz to win, he will have to prove that his takedown defense has improved. If he cannot, he has very little chance to beat Henderson. Sure, he may be able to find success in fighting from a distance, but the champion is a master at finding openings and engaging. On the chance that he can either stay on his toes or sweep and get better positioning, this fight becomes even more intriguing.
The Cesar Gracie black-belt going for submission after submission as Benson Henderson does all he can to defend them and get back to his feet will make for tremendous television.
Based on what we have seen from both men in the past, I don't see a way to pick Diaz.
Shogun Rua vs. Alexander Gustafsson
Between this fight and the next one below, it's almost like the best fighters of yesteryear are collectively trying to bat down the young studs who want what they have.
Shogun Rua is now just 31-years-old, but this will be professional fight number 28. The issues that have plagued him for years continue to do so. He has not been a consistent fighter since before he arrived in the UFC or if you want to debate it, his three-fight string against Chuck Liddell and (two with) Lyoto Machida. This is just a three-round fight so it's possible the infamous sight of seeing Rua tired and fighting himself as much as his opponent won't be an issue Saturday. The last time he went deep into a fight that wasn't for the UFC title or in the main event (five rounders), was his 2009 win against Mark Coleman and even that was hardly impressive.
The potential problem for the Brazilian is that his opponent is a guy who many peg as a threat (to some degree) to light heavyweight champion Jon Jones.
25-year-old Swede Alexander Gustafsson's birthday is in just over a month and with the wacky way this division has bounced around, he could impress enough to earn a title shot in 2013. With the exception of his one loss against Phil Davis in 2010, he's been perfect. He has won five straight in the UFC. Of his 14 career wins, all but two have come by submission or TKO/KO.
Ironically, although Gustafsson is four-inches taller than Rua, the reaches between both men are practically identical. However, Shogun must not get lazy in the cage and leave himself open to a brawl. He must mix up his offense and when opportunities present themselves, shoot for takedowns. Even though he's not a wrestler by trade, if he can mix combinations with takedowns, he could be well on his way to success.
Still, there is always the chance Shogun tires out by the second round or in the third. Because Alexander has proven to be a dangerous striker with good movement and improved takedown defense, perhaps Rua will be picked apart in a way we've only see when he fought Jon Jones.
If you are one of the many huge Shogun Rua fans out there, you'll be cheering like you always have for him. But, this is not a match-up where he can toe the line (like he did with Brandon Vera and Dan Henderson). Against Jones, he tried his best but couldn't make it work. On Saturday, he'll have to prove he can still hang with top quality lightweights with a diverse offense. Otherwise, he's a sitting duck.
B.J. Penn vs. Rory MacDonald
He's back!
B.J. Penn will turn 34-years-old one week from today and he's looking for an immensely important win Saturday night. He has been out of action since the drubbing he took against Nick Diaz in October 2011. Spending time with his family (including his second daughter who was born in January) and essentially taking a break from training camps and fights, he recharged his batteries. When the UFC went to him with an idea to fight budding superstar Rory MacDonald in September, he agreed. MacDonald suffered a cut during training and the fight was pushed back to December 8 which allowed Penn to ramp up his training and if you've listened to any of his interviews the past two weeks, he's more than ready.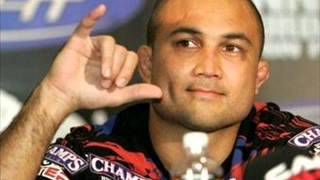 If he doesn't want to let a young up-and-comer use the Penn name to launch his career, B.J. better be ready.
Rory MacDonald is just 23-years-old and already has people talking about him like he's the "next" Georges St. Pierre. While he talks of moving up to middleweight down the road, or being a champion at welterweight depending on GSP's future (the two publicly say they won't fight because they both train at Tristar and are friends). His one loss remains the TKO stoppage suffered against Carlos Condit in 2010 with just seven seconds remaining in the fight.
Since the loss to Condit, MacDonald has appeared dominant with wins against Nate Diaz, Mike Pyle and Che Mills.
Rory is about three or four inches taller than B.J. with more than a six-inch reach advantage, too.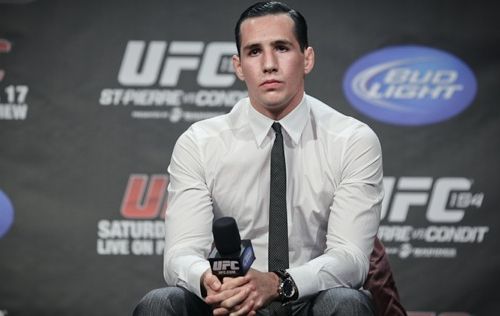 Like many of you I'm sure, part of me doesn't want to see Penn fed to the wolf. He's B.J. Penn! With the lone exception of his 21-second knockout of 'ol Matt Hughes in 2010, we haven't seen a dominant performance from the Hawaiian since he destroyed Diego Sanchez as a lightweight the year before. Ironically, Penn has not been finished since that performance. He's lost two decisions to Frankie Edgar, he fought Jon Fitch to a draw and then came the Diaz fight.
However, for B.J. to bound back to relevance, he's going to need to somehow outgun Rory MacDonald. How he does it, I'm not sure. The Canadian is bigger, stronger and has the killer instinct B.J. was famous for displaying for so much of his career. There's no reason to believe Penn can take him down and show off his BJJ, nor is their reason to believe he'll unleash powerful combinations and take MacDonald out.
This has all the makings of a fight where Penn gives it 100%, the fans in Seattle, Washington trying to will him on. But, this is Rory's time now.
Mike Swick vs. Matt Brown
It must feel great to be Mike Swick right about now. After practically two years on the sidelines because of an assortment of injuries, he returned this summer with explosive results. He knocked out DaMarques Johnson at UFC on Fox 4 and was awarded the knockout of the night bonus. Now, he's looking for his first winning streak since 2009.
Matt Brown has never been anywhere near a title shot or even contention, but he's been a staple of the UC since 2008 because he has exciting fights. He's 8-5 in the UFC (15-11 overall) and only three of those fights in the octagon went to a decision. He has won his past three fights including a knockout of Luis Ramos in June on FX.
The fact remains that "Quick" Swick has only been knocked out once in his 19-fight career, in 2004 at the hands of Chris Leben (which you may recall the two arguing about it during the first season of The Ultimate Fighter). When he's actually able to make it to the cage, he's been an incredibly durable fighter. He's only been submitted once, courtesy of Paulo Thiago in 2010 and the brabo choke. It may seem like an eternity ago, but Swick at one point was even up for a title shot at Georges St. Pierre. Unfortunately for the American Kickboxing Academy product, he lost a unanimous decision to Dan Hardy and the GSP fight went to the Brit.
Brown's 11 losses? Nine came by submission and two by decision. This tells you a lot of what you need to know about this match-up.
Expect fireworks but if Swick is taking some shots, he will look to take this fight to the ground and exploit Brown's ground game.
This is Mike Swick's fight to lose and if he does pull it off, his successful return will make for one of the better stories of 2012.

---
#83 Preview
Bellator is presenting the season seven penultimate show tomorrow night from Atlantic City, New Jersey on MTV 2. It features the featherweight tournament final and the TV return of 115-pound women's champion Zoila Gurgel.
Note that next week is the final show before they move to Spike TV in early January and features a heavyweight title fight plus the final of the lightweight tournament.
Rad Martinez vs. Shahbulat Shamhalaev
The featherweight division is the strongest in Bellator with plenty of top contenders all vying for champion Pat Curran's throne. The winner of this fight will join Pitbull Friere and Daniel Straus among the men guaranteed a title fight and whom became $100,000 richer courtesy of the Bellator tournament format. Remember that Curran is still on the mend from a broken orbital bone and it's still unknown when he'll return to the cage to fight Friere.
You may have heard of Rad Martinez since before he even signed with Bellator last year, thanks to a piece produced by ESPN's Outside the Lions covering the relationship between him and his disabled father. Rad and his brother Levi tried their best to get the attention of promotions but it wasn't until the ESPN piece that Bellator signed him. In this promotion ,he's been perfect with a 4-0 record (14-2 overall) and as we have seen throughout this tournament, he's a self-proclaimed "grinder."
He defeated Nazareno Malegarie and Wagnney Fabiano, a pair of submission specialists, in the first two rounds but has a different match-up on tap for tomorrow evening.
Enter Shahbulat Shamhalaev, the 29-year-old Russian has proven to be a dangerous striker since his company debut in October. He has knocked out both Cody Bollinger and Mike Richman in the first round to earn this opportunity.
Martinez would love nothing more than to turn this into a grueling contest in which he is able to take advantage of dirty boxing, maintaining a close gap so the Russian has little opportunities to land a massive punch. If he can get the fight to the ground, even better. Whether he'll be able to keep Shamhalaev on his back, I'm not sure, but this is only a 15-minute fight across three rounds.
Shamhalaev needs to keep moving in the cage, not as much as Dominick Cruz was famous for, and look for openings where he can step forward and hurt Rad. Plus, when the Utah-native looks to close the gap or shoot low for a takedown, move, push off and make him pay for it. We have not seen Shamhalaev tested too much against guys who are as persistent as Martinez is to get the fight to the ground. If he can stay standing, the odds are we'll see Shahbulat with the giant check and a bright 2013 on the horizon.
Zoila Gurgel vs. Jessica Eye
For the first time since she defeated Megumi Fujii to become the first Bellator 115-pound women's champion over two years ago, Zoila Gurgel will fight live on television tomorrow. She's taking on flyweight Jessica Eye (12-1) in a 125-pound match-up as both women look to settle an apparent beef.
According to Eye, it was a misunderstanding some time ago that caused Gurgel to overreact and led to Zoila and husband Jorge Gurgel to hurl insults her way via Twitter. Okay…
Gurgel just returned from over a year out of action due to a torn ACL (before October, her last fight was in March 2011) and she defeated Casey Noland at Bellator 78 via decision. This fight will be her third time at 125-pounds since she won the first women's tournament in Bellator in 2010.
Eye, like her opponent, is also fighting out of the Ohio area. She boasts an 8-1 professional record including an active five-fight consecutive win streak. In her two previous fights in a Bellator cage, she defeated Casey Noland and Anita Rodriguez. Since her first loss against Aisling Daly in 2011, each of her wins have come by decision (a similar quality for Gurgel who has not finished a fight since June 2010).
On paper, Eye may have the advantage if the fight goes to the ground while Gurgel wants to display her striking. Of course, you cannot underestimate the reigning 115-pound champion because after all, she was able to beat grappling wizard Megumi Fujii when that fight went to the judges two years ago.
Zach Makovsky vs. Anthony Leone
Speaking of a returning champion, here's former bantamweight champ Zach Makovsky. We have not seen him compete since he was choked out by Eduardo Dantas and lost the 135-pound title in April. The loss brought an end to his eight-fight win streak including six straight in Bellator.
His opponent is a veteran of many promotions, Anthony Leone. The Long Island, New York native has competed in WEC (submission loss to Renan Barao), Strikeforce and twice in the Bellator cage. Between the summers of 2010 and 2011, he went 1-5. However, he's mended course this year with a pair of wins including a split decision victory against Claudio Ledesma in May at Bellator 68.
An interesting twist to this fight is Leone recently spent several months training in Thailand to improve his Muay Thai skills. He is a purple belt in Brazilian Jiu-Jitsu so he's trying to fine tune the other aspects of his game. Of course, Makovsky is a former Division-I wrestler who routinely overpowered opponents throughout his run as champion. Note that Zach's three career losses have all come by submission, perhaps a foreshadowing of what's to come?
---
WEEKLY ULTIMATE FIGHTER SINKING SHIP UPDATE
The Ultimate Fighter is down to the final episode of the 16th season tomorrow evening and there is no rhyme or reason to the number of viewers they have had throughout the past three months.
Last week's penultimate episode drew 800,000 viewers and the same 0.4 rating among those aged 18-49 as it did two weeks earlier before the Thanksgiving holiday. For example, here's the list of overall viewers for each episode (safe for tomorrow's finale) with a hat tip to MMAJunkie.com for collecting it.
#1 – 947k
#2 – 872k
#3 – 775k
#4 – 1.1M
#5 – 624k
#6 – 811k
#7 – 676k
#8 – 1.1M
#9 – 921k
#10 – 643k
#11 – 804k
#12 – ?
What we can discern is that TUF on Friday nights is a death knell which is THE reason why the series will move to Tuesday nights on FX beginning in late-January. In fact, three of the lowest rated episodes in the over-seven-year history of the series were in the current season
Overall Viewing Audience: 804,000
Rating for 18-49 Demographic: 0.4
Source: TVByTheNumbers
---
– Based on a report from MMAJunkie.com, Cris Cyborg is talking with the UFC about a potential fight with UFC women's bantamweight champion Ronda Rousey. Cyborg told the website that she could make the weight (135-pounds) but she just needs time.
This is a complete 180 from her prior stance which was she physically could not drop the weight.
– News broke this week revolving around the fact UFC bantamweight champion Dominick Cruz had to undergo a second surgery to repair his torn ACL because his body did not accept a ligament from a cadaver. Because of this, Cruz is not expected to return to the octagon through late-2013. Now the talk has centered around whether the UFC should strip Cruz of the championship and award it to the winner of a yet-to-be-confirmed fight between Renan Barao and Michael McDonald. (On the basis that Cruz will not fight until that long, the UFC should make that move to keep the weight class moving ahead because right now, the 135-division is the most stale division in the company)
– Tuesday night, the UFC announced Barao and McDonald will compete in 2013 for an interim championship. At least for now, Cruz's title is safe.
– Forrest Griffin is off the UFC 155 card later this month where he was to fight Phil Davis because of an MCL tear and an ACL sprain.
– Aside from January's UFC flyweight championship fight on Fox (Demetrious Johnson vs. John Dodson), the next biggest bout in the weight class has been agreed to this week. Joseph Benavidez will take on Ian "Uncle Creepy" McCall on February 2 in Las Vegas for UFC 156 based on their verbal agreements.
– Ryan Bader and Vladimir Matyushenko are expected to fight on the undercard of the UFC on Fox 6 show in Chicago next month.
– Bellator's Spike debut and premiere episode for season eight is expected to take place Thursday, January 10 in Atlantic City, New Jersey based on their application to rent a local building that night. Plus, MMAFighting.com reports King Mo Lawal will make his debut in the promotion the following week in the opening round of the light heavyweight tournament.
– Contrary to Tatame.com reports weeks ago, Urijah Faber will fight Ivan Menjivar at UFC 157. Good, because that's an infinitely better fight then Faber against Vaughan Lee.
– Stefan Struve and Mark Hunt have verbally agreed to fight on the next show in Japan, UFC on Fuel 8 on March 2.
---
JUGGERNAUT VIDEO OF THE WEEK
A highlight video of Benson Henderson and Nate Diaz to wet your appetite for this weekend's festivities.
TWITTER
http://www.twitter.com/411mania
http://www.twitter.com/411wrestling
http://www.twitter.com/411moviestv
http://www.twitter.com/411music
http://www.twitter.com/411games
http://www.twitter.com/411mma

NULL
comments powered by Disqus