The Juggernaut MMA News Report 12.13.12: Six Fights You MUST Watch This Weekend
December 13, 2012 | Posted by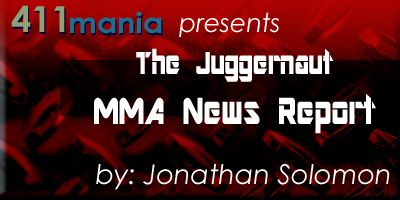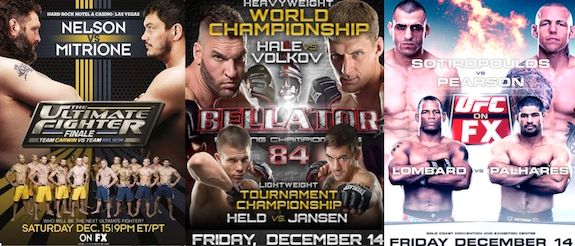 The Six Fights You MUST Watch This Weekend!
Hector Lombard vs. Rousimar Palhares
UFC on FX: Sotiropoulos vs. Pearson – Friday Night
A man travels multiple continents making a name for himself, becomes one of the top middleweight fighters around and only a segment of the MMA audience could have told you who Hector Lombard was this past spring. His dominance in Bellator for the previous three years saw some of the fiercest knockouts and especially one blood bath (shout out to Jared Hess). So, you could imagine the anticipation that surrounded the Cuban-Australian when his UFC debut was set for UFC 149 against Tim Boetsch.
Unfortunately, based on comments after he lost to Boetsch, Hector competed with a fractured sternum. Either way, he did not have an impressive debut and his chance for redemption in the eyes of the UFC is just 24 hours away.
He will fight famous heel hook submission artist Rousimar Palhares, himself looking for a bit of redemption following his last fight. The Brazilian Top Team fighter had a ton of momentum going into his fight with Alan Belcher on the third Fox show in may. He was not injured going into the fight, he was just overwhelmed by Belcher who beat him on the ground and finished the fight with strikes for the TKO.
With both men looking to bounce back from losses, what can you expect? Well, they have eerily similar bodies considering there aren't too many stocky 5'8 middleweights walking around in major MMA promotions. Their reaches are practically the same (Palhares has Lombard beat by an inch) and both are Brazilian Jiu-Jitsu black belts (although Hector is also a black belt in Judo).
While Palhares is perhaps most comfortable fighting on the ground, going for submissions, while Lombard is well versed on that front, he loves to get into a kickboxing match. Since 2009, he's 14-1 with two wins by submissions and 10 wins courtesy of KO/TKO/doctor stoppage. Meanwhile, Rousimar has NEVER finished a fight with strikes and if he's getting hit hard with shots, he's going to do whatever he can to get the fight to the ground. Considering Lombard's the more well rounded fighter and certainly not fighting a guy like Boetsch (a Division I wrestler) who did his best to fight from a distance, you have to like his chances in this fight.
Will this be the first time your average UFC fan witnesses the brawler in Lombard, capable of dropping any opponent with one punch? I wouldn't bet against it.
Colton Smith vs. Mike Ricci
The Ultimate Fighter: Team Carwin vs. Team Nelson Finale – (FX) Saturday Night
Finally, the conclusion to the 16th season of The Ultimate Fighter is upon us with this welterweight fight where the winner earns a long-term UFC contract. Ironically, both men were portrayed as villains at various points this season so for some viewers, you may have a difficult time picking a favorite.
Colton Smith is a 25-year-old U.S. Army Ranger who fights out of Virginia and has a 3-1 professional record. Before the show was filmed, he was knocked out in February on a show in Florida.
Mike Ricci is 26-years-old and has been fighting professionally since 2008, amassing a 7-2 record. He has had three fights against opponents you should know. He defeated Jordan Mein in 2009, followed by a brutal knockout loss at the hands of Pat Curran in the 2010 Bellator lightweight tournament. Last October, he lost a decision to Daron Cruickshank (in one of Daron's final fights before entering the TUF house last season). In Ricci's final fight before being picked for the show, he defeated MMA-veteran Tony Hervey.
As a wrestler, Smith steamrolled his competition by using takedowns and top control although he didn't do a whole lot of damage throughout the tournament. There's no doubt he'll need to show some improved striking skills or at the least, a submission game, to defeat Ricci.
Mike is out of the Tristar Gym in Montreal and won his opening fight and the semifinal fight with nasty knockouts. In fact, in the episode that aired last week, he blasted Neil Magney with a devastating pair of elbows that left him completely out cold.
Based on what we saw during the season, Mike Ricci is the next 'ULTIMATE FIGHTER' and another soldier sent by Firas Zahabi to take over the UFC.
Rich Hale vs. Alexander Volkov
Bellator 84 – (MTV 2) Friday Night
The vacant Bellator heavyweight championship will be crowned tomorrow night in the main event when Richard Hale and Alexander Volkov square off in the tournament finals. The belt was dropped by Cole Konrad earlier this year when he decided to retire from the sport to pursue in a "normal" career.
This will be a rare match-up for Hale who will actually be looking up at Volkov, something that he's not use to being a 6'4 fighter in Bellator. The Russian is listed at 6'7 and his usual lengthy reach advantage will only be marked at half-of-an-inch because of Richard's long limbs.
Volkov is just 24-years-old and a black belt in Karate. He's 18-3 overall which includes his tournament wins against Brett Rogers and Vinicius Quieroz. What you learned from those two contests was Alexander knows very well how to use his reach and bombard opponents with combinations.
Hale is a former light heavyweight who was finished by Christian M'Pumbu in the 205-pound tournament finals last year. He entered this heavyweight tournament and set aside any questions that he would struggle with the power of the bigger opponents. He quickly finished Mike Wessel with strikes in the quarterfinals and persevered through big shots from Thiago Santos, only to finish the big Brazilian inside the first round in November. Especially with that win, he's going into this weekend's fight with a ton of confidence that he can hang with any heavyweight.
Who has the most dangerous power in their hands? Rich Hale has proven to be as dangerous as any other fighter in Bellator, considering his last four wins (all by TKO or KO) have lasted for a combined total of five minutes and 46 seconds. While both men are blue belts in Brazilian Jiu-Jitsu, you can guarantee Volkov does not want to be on his back with Hale dropping bombs above him.
Alexander will have to keep moving throughout the fight, never stay in one place and leave himself at risk of being taken down. If he can persist with a similar strategy, Hale's search for the big knockout blow may go unfulfilled. Otherwise, there's a good chance the brand new heavyweight champion is the man below.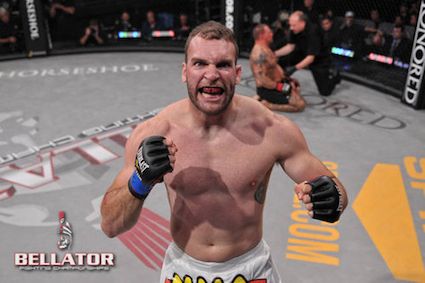 Dave Jansen vs. Marcin Held
Bellator 84 – (MTV 2) Friday Night
In the seventh season finale's co-main event, the lightweight tournament will reach its conclusion with the winner receiving $100,000 and a guaranteed title shot next year. The competitors are at vastly different points in their respective careers, although they share plenty of similarities heading into the big contest.
Out of Oregon, 33-year-old Dave Jansen was a big prospect entering 2010. He was 14-0 and earned a win in his World Extreme Cagefighting debut a pair of months earlier. Then, he lost consecutive decisions and was shown the door by the promotion. He signed with Bellator and debuted last year and is now on a five-fight win streak including three by way of submission. He choked out Magomed Saadulaev via guillotine in the first round and took a narrow split decision from Ricardo Tirloni last month.
From Poland is 20-year-old (his birthday is next month) Marcin Held who made his professional fighting debut when he was just 16. He debuted in the United States in Bellator's season four tournament when he was 10-1. He drew Michael Chandler, the current champion, in the opener and was close to pulling off a submission but fell short. Chandler ended up choking him out, moving on and winning the tournament. Since then, Held is also on a five-fight win streak. In the first round of this tournament, he bested Russia's Murad Machaev and then finished Rich Clementi with a devastating toe hold in the semifinals.
Jansen is successful with his strong wrestling base and he's never been finished so it's been difficult for most opponents to even beat him standing. For Held, his strength is completely based on his grappling. He hunts for knees and legs and if opponents decide to fight him on the ground, it's a risky proposition. Still, it's safe to assume Dave Jansen will be on top at some point, doing his best to control Held.
Whether Marcin's ability to get off his back against a fighter with the ability to grind out decisions has improved remains to be seen. Still, there is always the chance that Jansen spends too much time on the mat, allowing the Pole to stay alive with one hold. This is essentially what led to Clementi's downfall last month as the two rolled around for the better part of two rounds.
On the feet, Held uses all of his strikes to set up takedowns, as he did frequently in the quarterfinals against Machaev. With Jansen's wrestling background, if he can successfully defend all of his shots, it may be a long night for the younger fighter. It's a stretch to think Marcin will be able to hurt him standing, so he must get creative to set him up for submissions (Jansen may not respect his boxing and completely dedicate his offense to defending takedowns and landing strikes when Held gets close).
As mentioned above, the winner will meet the lightweight champion down the road and that belt will be on the line come January 17 when Michael Chandler defends against Rick Hawn (more on that later).
Pat Barry vs. Shane del Rosario
The Ultimate Fighter: Team Carwin vs. Team Nelson Finale – (FX) Saturday Night
What do you get when you have a pair of former professional kickboxers-turned-MMA fighters? Awesomeness.
Saturday on FX, we'll see a heavyweight bout pitting Pat Barry against Shane del Rosario months after they were each knocked out in their last fights (by Lavar Johnson and Stipe Miocic, respectively).
Will Barry be shown his walking papers if he loses his sixth UFC fight? There's a chance, after all he'll be 2-4 since 2011 in that case. But, you can never say 'HD' doesn't have a chance. Although he's one of the shortest heavyweights in the company at 5'11, his leg kicks have done a lot of damage over the years. He was also on the verge of finishing Cheick Kongo until the Frenchman came back from the dead to finish Barry over a year ago. Of course, the big criticism of his game is his lack of growth as a grappler. He's worked hard on doing so over the years, but we have not been able to see anything of note in his fights. If he's fighting anyone with an effective ground game, as long as they can avoid eating a big leg to the face, odds are they can outlast and finish him with a submission.
SDR was 11-0 and a budding force in Strikeforce's heavyweight division last year when he was sidelined in a car accident thanks to a drunk driver. He did not return to a cage until 15 months after his previous fight, when he debuted in the UFC in May and was finished by Miocic's elbows. While Stipe is a wrestler with power in his hands, clearly, Shane does not have to worry about that going against Pat Barry.
The California native is a BJJ blue belt and has shown the ability to finish fights on the ground throughout his MMA career. However, at 6'4, I expect him to look to impose his will standing against Barry. If it should turn into an all-out brawl, shooting for a takedown he shall go. Plus, if he gets it to the ground, the fight is as good as done. Yes, I have little confidence in Pat's submission defense, but until you see something, how can you?
Aside from the general desire to win, both men must be even more antsy than usual before a fight. With Barry's job potentially on the line and del Rosario coming off his first loss, someone is leaving Las Vegas this weekend extremely bummed out while the other can breathe a sigh of relief.
Melvin Guillard vs. Jamie Varner
The Ultimate Fighter: Team Carwin vs. Team Nelson Finale – (FX) Saturday Night
Not to be a downer here, but this is another fight where both combatants are searching to right their proverbial ship. Both Melvin Guillard and Jamie Varner have had the very definition of up-and-down careers and for one, there will be yet another turning point found after they square off Saturday.
Think back to early October last year before UFC 136. At that time, Melvin was on a five-fight win streak and he looked like one of the more dangerous fighters having linked back with Team Jackson in New Mexico. Then, he was choked out by Joe Lauzon under a minute. Three months later, he was choked out again by Jim Miller, that time in two minutes. In August of this past summer, not only was he knocked out by friend "Cowboy" Donald Cerrone, he missed weight the night before. If not for a decision win against Fabricio Camoes at UFC 148, the company may have already said goodbye to the potential-rich fighter.
Then, there's Jamie Varner (who's actually YOUNGER than Guillard, by a year). The former WEC champion shocked the MMA world in May when he made his UFC debut by knocking out the undefeated Edson Barboza in a fight he took, on short notice. Next, he was granted a spot on the August Fox card and gave all he could in a losing effort to Joe Lauzon (the three-round war was named 'Fight of the Night'). Ironically, if Varner should lose this weekend, it will mark just the second losing streak of his career.
While Varner is best known for his technical boxing and wrestling, Guillard is known for his wrestling and powerful hands. The most glaring weakness among both men has to be Melvin's submission defense: Nine of his career 11 losses have come by submission. For Varner, the one detriment that immediately comes to mind is his propensity for running out of gas late in fights. Five of his last six losses each came during or after three rounds in the cage and he was noticeably tired in his final round against Lauzon in August.
If both men stand in front of each other and trade strikes, I have no idea who will drop first. Can Varner get Guillard to the mat and look for a submission? Otherwise, if Melvin can stay out of trouble on the ground and his chin is back after being blasted by Cerrone in August, he could take a decision here.
---
[THE FINAL] WEEKLY ULTIMATE FIGHTER SINKING SHIP UPDATE
The Ultimate Fighter, season 16 is complete as far as the taped episodes with just the live finale left for tomorrow night on FX. You can argue whether the season lived up to expectations from the perspective of the fights, but clearly, it did not when concerned with the number of viewers. You can see the data below, for each episode, how many overall viewers this season collected.
The average number of viewers comes in at 829,250. Point? Tuesday, January 22 at 9 pm eastern, Jon Jones and Chael Sonnen cannot get here soon enough.
#1 – 947k
#2 – 872k
#3 – 775k
#4 – 1.1M
#5 – 624k
#6 – 811k
#7 – 676k
#8 – 1.1M
#9 – 921k
#10 – 643k
#11 – 804k
#12 – 678k
Overall Viewing Audience: 678,000
Rating for 18-49 Demographic: 0.4
Source: TVByTheNumbers
---
– Bellator and Spike finally confirmed the start of their TV relationship beginning on Thursday, January 17. Bellator 85 takes place that night following TNA Impact at 10 p.m. eastern with a double main event. Here are the announced line-ups for #85 and #86 the following week:
Bellator 85 – 1/17/13
Michael Chandler © vs. Rick Hawn for lightweight championship
Pat Curran © vs. Pitbull Freire for featherweight championship (opening the show)
Babalu Sobral vs. Mikhail Zayats in light heavyweight tournament quarterfinal
Seth Petruzelli and Mike Guymon will also be in action
Bellator 86 – 1/24/13
Ben Askren © vs. Karl Amoussou for welterweight championship
King Mo Muhammed Lawal vs. Przemyslaw Mysiala in light heavyweight tournament quarterfinal
Ben Saunders vs. TBA in welterweight tournament quarterfinal
Douglas Lima vs. TBA in welterweight tournament quarterfinal
– Bellator's season seven featherweight tournament final between Rad Martinez and Shahbulat Shamhalaev has been postponed to sometime during season eight in 2013. It was canceled last week because Shamhalaev was suffering from food poisoning and could not gain medical clearance from doctors. Initially expected for tomorrow night's season finale, CEO Bjorn Rebney confirmed Tuesday the fight is delayed further because Martinez's schedule at home did not provide him with the time to compete this week.
– Raphael Assuncao scored a big win last weekend against Mike Easton, but he suffered a broken arm in the process. According to an interview with MMAJunkie.com, he says surgery is likely necessary to repair the fractured ulna.
– Rory MacDonald and Carlos Condit have agreed to fight according to MMAJunkie.com with the fight expected for the UFC's return to Montreal in March.
– Meanwhile, MMAFighting.com reports the UFC has officially offered Nick Diaz the welterweight championship fight with Georges St. Pierre in March. All he has to do is sign the required paperwork and it will be agreed upon.
– UFC featherweight Mark Hominick announced his retirement yesterday following four consecutive losses. The 30-year-old will leave with a 20-12 record. He challenged champion Jose Aldo in 2011 in front of over 50,000 fans in his native Ontario and fell short to a unanimous decision.
– The UFC's return to London has a new co-main event as Dennis Siver will battle Cub Swanson in a featherweight bout in February. The main event will see interim bantamweight champ Renan Barao defend against Michael McDonald on Fuel TV.
– More confirmed fights from the UFC, this time for their 3/2 return to Japan. The main event will feature Wanderlei Silva and Brian Stann in a light heavyweight bout. Heavyweights Mark Hunt and Stefan Struve will finally compete after a year of having injuries prevent them from doing so. Takanori Gomi fights Diego Sanchez, and Stun Gun Kim battles Siyar Bahadurzada is one of several other bouts announced.
For those wondering (hopefully, I was not the only one), this event will mark Wanderlei's first fight in Japan since he was knocked out by Mirko Cro Cop in Pride's 2006 Openweight Grand Prix.
---
JUGGERNAUT VIDEO OF THE WEEK
Here is an interview the guys at Inside MMA shot with Johny Hendricks this week where the red hot welterweight spoke about his anger at Georges St. Pierre. We understand GSP chose to fight Nick Diaz because it's a bigger pay day and less of a risk to a potential fight with Anderson Silva down the road, but it still doesn't mean Hendricks isn't the rightful #1 contender. Unfortunately, it doesn't mean anything to the business of the sport.
For what it's worth, Hendricks says he's sitting out until he gets his title shot.
TWITTER
http://www.twitter.com/411mania
http://www.twitter.com/411wrestling
http://www.twitter.com/411moviestv
http://www.twitter.com/411music
http://www.twitter.com/411games
http://www.twitter.com/411mma

comments powered by Disqus