The Juggernaut MMA News Report 12.20.12: Judging Psychic Abilities Edition
December 20, 2012 | Posted by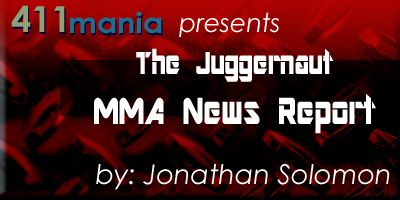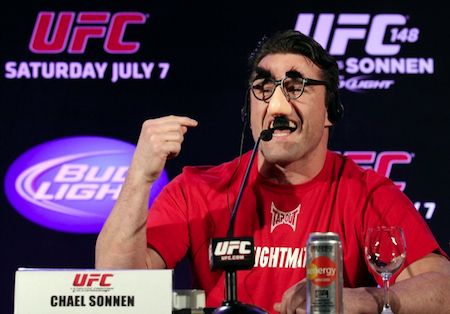 Nearly one year ago to the day, I wrote in this space predicting what the biggest moments of 2012 would be. The five ideas I pushed ranged from simple to outrageous and in the end, reality had its way with my hypotheses. Considering next week, I'll run down the big shows in Las Vegas (UFC 155) and Japan (DREAM), now is as good a time as any to point and laugh at my psychic abilities.
12/29/11 Prediction: Chael Sonnen challenges Anderson Silva in Brazil.(a/k/a the interwebz explodes)
12/20/12 Fact: The U.N. Rio +20 event pushes the UFC out of Brazil, Silva fights and defeats Sonnen on July 7 in Las Vegas.
The internet exploded at the end of summer and it had nothing to do with Anderson Silva, how about that?
The UFC originally booked the Sonnen/Silva rematch for Brazil but logistics got in the way and without the proper space for tens of thousands of fight fans, the powers that be brought the show home to America. Before the switch, half of the anticipation for the biggest fight in UFC history revolved around how well security could keep Chael Sonnen safe in the country he had dished so much trash talk about for over a year. In fact, after the switch, Sonnen talked about having his own concerns although he was happy to see people so passionate about their homeland. Still, it makes you wonder what would have happened in the event Chael beat Anderson Silva in the middle of a soccer stadium in Brazil. It's a good thing we didn't find out for ourselves.
The UFC middleweight champion knocked out Chael Sonnen in the second round of their rematch and their beef was washed away as Oregon's "O.G." had to stand in the cage and accept his opponents celebration.
Was it the end of Sonnen as we knew it? Hell no! Not two months later, he found himself in the middle of a brand new controversy in the promotion. UFC 151, scheduled for September 1, was suppose to feature Jon Jones defending the light heavyweight championship against Dan Henderson. "Hendo" informed the promotion he was injured about two weeks earlier and they scrambled to find a replacement. The problem was Jon Jones' refusal to fight Chael Sonnen on short notice. The UFC then offered the Jones' fight to Lyoto Machida and Shogun Rua in late-September but both Brazilians shot it down, wanting a full fight camp to prepare. It was not until middleweight Vitor Belfort jumped at the opportunity that Jones had his fight, which he ultimately won (albeit, he came close to losing an arm before doing so).
For his trouble, Chael was quickly announced as Jones' next contender once his arm heals up (no structural damage) in 2013. Plus, both men were named the coaches on the next season of The Ultimate Fighter which premieres next month, leading up to their fight on April 27 in Newark.
A word for would-be thieves in Jersey that day, with Jon Jones AND Chael Sonnen in town, watch your back!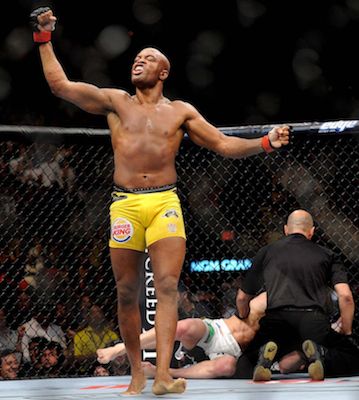 12/29/11 Prediction: Urijah Faber fights for his last opportunity to be the best against Dominick Cruz.
12/20/12 Fact: Dominick Cruz tears his ACL two months before third fight with Faber, Urijah loses to Renan Barao.
At the start of the year, Urijah Faber was fresh off his guillotine choke victory against Brian Bowles and earned his second shot against bantamweight champion Dominick Cruz. The two were confirmed for the first (and last) live edition of The Ultimate Fighter on FX and with 13-weeks of television to promote their grudge match, it was thought to be one of the bigger fights of the summer. In fact, it was planned to be in the co-main slot of the Silva/Sonnen show in July.
Unfortunately, Cruz tore his ACL in May and he is still expecting to be out well into 2013. With the champion out, the UFC booked Faber against undefeated Brazilian, Renan Barao for the interim-championship. "The California Kid" fell short in his fifth consecutive title fight, losing the unanimous decision.
The loss puts Faber in a tricky spot because he's no longer in title contention. His next fight is scheduled for UFC 157 in February against Ivan Menjivar. As I mentioned last year, the former WEC champion has no intentions to drop down to flyweight and featherweight does not appear to be any more realistic of an option now.
He's only 33-years-old and remains the most popular fighter among the 145, 135 and 125-pound weight classes. The fact remains, the last time he had his arm raised after fighting for gold, he beat Jens Pulver in their famous fight at Arco Arena in 2008. A win over Menjivar is not earth shattering, but he is a tough fighter who has finished two of his last three fights. This is in no way a gimme fight for Faber and he's at risk of falling even deeper into MMA's version of the pit of despair.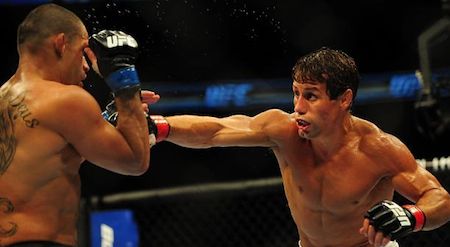 12/29/11 Prediction: Jon Jones must finally stare down Rashad Evans and fight.
12/20/12 Fact: Bones Jones defeats Rashad Evans in April, in third title defense.
Tickets for UFC 145: Jones vs. Evans went on sale in February, weeks after Rashad beat Phil Davis on Fox to earn the spot. Previously, the big fight had been delayed due to injuries sustained by both men.
For some, this was a fight that was literally years in the making stemming from the background everyone knows. Heading into that April weekend, the big thinking was whether Rashad could make it a fight at all. He didn't. Jon Jones did not necessarily have as simple a fight as he did against other opponents, but Evans struggled to keep up throughout their five round fight (the first decision Jones went to as champion).
For the record, two of the three judges gave Rashad one round.
Jones ended up beating Vitor Belfort five months later. Rashad has yet to return to the cage, although he is scheduled to fight Antonio Rogerio Nogueira at UFC 156 on the Super Bowl weekend show.
It's worth noting that the build for Jones/Evans was all about their personal beef. The UFC has done their best to give Jones the opportunity to become their biggest draw (surpassing Georges St. Pierre), but so far, no such luck. Hence, one of the reasons he was picked along with Chael Sonnen to coach TUF (the big reason was to bump up ratings of the series which hit record lows in the season that just concluded).
Plus, Jones has a weird dynamic about him. He's not a bad person, although he can come off a bit aloof, arrogant and even phony. He was seen as the villain to most fans heading into the Rashad fight because of the perception that he played his former friend (not true) and then didn't want to ultimately face him (not true). Then to conclude the summer, he was portrayed by his employer as the villain who caused the cancellation of UFC 151 (not true) and it wasn't until months later that all those bridges were patched up. But, at UFC 152 in Canada, it was Jones being booed.
Perhaps this will change when he gets to play off of Chael Sonnen, leading up to their title fight in the spring. More than likely, Sonnen's personality will blow up with the help of the weekly television format while Jones struggles to keep up. Ironically, you can argue whether it means one thing or another. If they are able to make it to fight night, there is absolutely no reason to believe Jon Jones will not crush Sonnen. He should continue his path to becoming the most dominant champion in UFC history whether he fights Dan Henderson, Alexander Gustafsson or a rematch with Machida.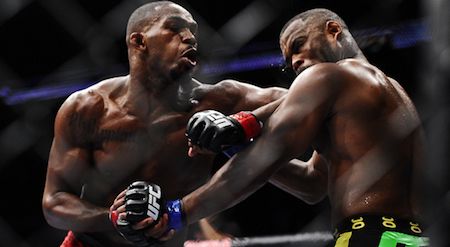 12/29/11 Prediction: Fedor Emelianenko debuts in the UFC against Brock Lesnar.
12/20/12 Fact: Not only did Fedor retire from MMA, so did Brock.
Yes, this proved to be the biggest strikeout of them all for my psychic "powers." Indeed, the night after I wrote that column a year ago, Brock Lesnar retired from mixed martial arts. He was knocked out in over two minutes by Alistair Overeem and thanks in large part to his health issues with repeating cases of diverticulitis, he had had enough.
Lesnar ended up returning to WWE (about eight years since he left) the night after Wrestlemania in April and has had a part-time schedule with them ever since.
Fedor Emelianenko knocked out Satoshi Ishii on New Year's Eve last year but apparently wanted to fight one last time in Russia. He took a fight with Pedro Rizzo in St. Petersburg and knocked out Pedro Rizzo in 84 seconds at the start of the summer. Following the fight, he confirmed his retirement from professional competition and there went the greatest heavyweight fighter in the history of MMA.
It's a shame his people were never able to reach an agreement with the UFC between 2008 and this year. You would have figured there was too much money to be made for businessmen to flush it down the drain. But, they did. As to who is to blame, I'm sure both the UFC brass and M-1 Global representatives can share some percentage of it. Me? I'm more inclined to lay most of it at the feet of Fedor's representation with M-1. They gambled because of their own greed and lost out on the biggest pay day.
They did not want to give up control of their biggest meal ticket, Fedor, and instead, watched as he suffered three consecutive losses in 2010 and 2011. One mistake by Fedor in his decision to go to the ground against Fabricio Werdum in June 2010 and it was all up.
It sucks, but sometimes, the magic doesn't line up. In nine days, we'll get to watch the two best heavyweights in the world today, Junior dos Santos and Cain Velasquez square off and somewhere in Russia, Fedor will be living his life furthest away from the sport he once dominated.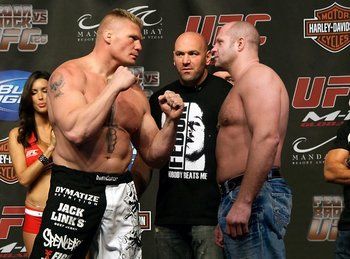 12/29/11 Prediction: Daniel Cormier is officially crowned the best heavyweight in MMA
12/20/12 Fact: Maybe next year.
Thanks to the slow death of Strikeforce this year, Daniel Cormier fought just once. In the finals of the infamous Strikeforce Heavyweight Grand Prix, he dominated Josh Barnett en route to a five-round decision win. He was suppose to fight Frank Mir, but the former UFC champion was injured and Strikeforce canceled a show here, a show there.
Cormier's final fight inside the Strikeforce cage will take place on January 12 against Dion Staring. Barring a monster upset, he'll jump to the UFC where he will have a big decision to make. Pending on what happens in the JDS/Velasquez fight, Cormier will either stick at heavyweight and join the picture that involves Alistair Overeem and Fabricio Werdum. If not, he may drop to light heavyweight and look to the join the heap of 205-pounders including Dan Henderson, Alexander Gustafsson and Lyoto Machida searching for a way to get to Jon Jones.
Either way, Cormier has the ability to be a force at either weight. He has never been close to defeat and has been in the cage with veterans like Barnett and Antonio Silva, only to make winning look easy.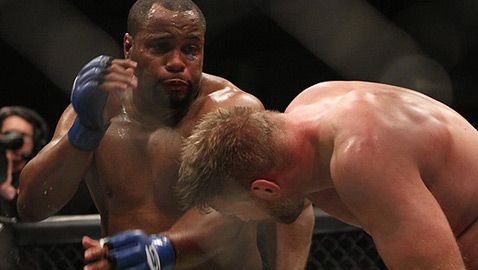 ---
– Official for March 16, 2013 at Montreal's Bell Centre is UFC 158: St. Pierre vs. Diaz. Three bouts have been confirmed, all significant welterweight fights. GSP will defend the UFC welterweight crown against Nick Diaz in the main event. Fellow Tristar fighter and Canadian Rory MacDonald will face Carlos Condit in a rematch of their 2010 fight which ended with Condit winning by TKO with seven-seconds left in the fight. The last of the three fights announced will feature Johny Hendricks and Jake Ellenberger.
The thought process of booking the three fights on the same card stems from past issues with Nick Diaz (ie. in case he does something to get kicked off the card, they can replace him with Hendricks).
– Chris Leben returns at UFC 155 in nine days and will now fight former Strikeforce middleweight Derek Brunson because Karlos Vermola sustained a recent injury.
– Court McGee will now compete at welterweight with his 170-pound debut occurring at UFC 157 on February 23 against Josh Neer. In his past two fights at middleweight, he suffered consecutive losses to Nick Ring and Constantinos Phillipou.
– Patrick Cote is also dropping to welterweight and the UFC hopes to found an opponent for him on the UFC 158 show in March. Cote was going to have a rematch at middleweight with Alessio Sakara but the Italian was diagnosed with kidney problems and was removed from the card.
– Loretta Hunt reported Tuesday courtesy of Bellator CEO Bjorn Rebney, the promotion has received the UFC's offer for free-agent lightweight Eddie Alvarez. Rebney now has under two weeks to decide whether he will match the offer and re-sign Alvarez, the former champion.
– The United States Marine Corps sponsorship of the UFC expired on November 30 and has not been renewed due to budget constraints according to the USMC.
– M-1 Global cut Aleksander Emelianenko earlier this week due to a breach of contract. Yesterday, the Russian announced his retirement via Facebook due to injuries over the years. Fedor's younger brother, Aleks finishes his career with a 21-6 record and in his last fight, he was submitted by Jeff Monson last month.
– Last Sunday, Andrei Arlovski scored a unanimous decision win over Mike Hayes at Fight Nights Battle of Moscow 9. It's his second win in as many months, having knocked out Devin Cole in World Series of Fighting's premiere card in November.
– The New Year's Eve DREAM/Glory card in Japan will stream live on the internet for $20. Check out GloryWorldSeries.com for more information
---
JUGGERNAUT VIDEO OF THE WEEK
Junior dos Santos is in the middle of an incredible run and looks to finish his series with Cain Velasquez in nine days. If he's successful, potential fights down the road with Alistair Overeem, Daniel Cormier and a rematch with Fabricio Werdum may introduce JDS into discussion among the best of all-time with Fedor and Antonio Rodrigo Nogueira. Here's a highlight reel of his handy work.
TWITTER
http://www.twitter.com/411mania
http://www.twitter.com/411wrestling
http://www.twitter.com/411moviestv
http://www.twitter.com/411music
http://www.twitter.com/411games
http://www.twitter.com/411mma

comments powered by Disqus