The Juggernaut MMA News Report 12.27.12: Can Cain Velasquez Regain Gold at UFC 155?
December 27, 2012 | Posted by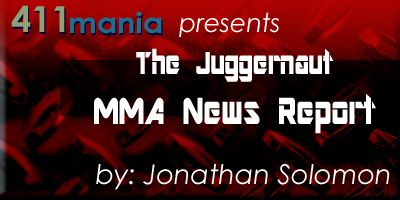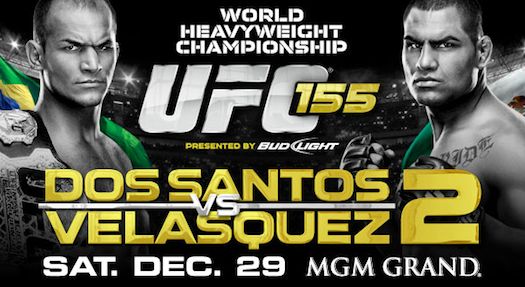 UFC 155: dos Santos vs. Velasquez 2 Preview
The year in major American MMA is officially over in 48 hours with Las Vegas setting the stage for UFC 155. In an almost eerily sense, a heavyweight championship rematch featuring the undisputed two best fighters in the division has practically snuck up on us. Perhaps, it's because it's only natural with the holidays along with the big Fox show earlier this month. On the other hand, perhaps it's because there's plenty more anticipation for what 2013 is bringing us with GSP/Diaz 90 days away, Strikeforce's last gasp, Bellator's rebirth and 13 weeks of Jon Jones being outwitted on television by Chael Sonnen. Maybe, its just me.
Despite all of that, the fact remains that not too long ago, Cain Velasquez was considered the unbeatable monster in the heavyweight division. From the stories of his emergence in the gym at American Kickboxing Academy in San Jose, California to the fact that nobody wanted to fight the man. Unfortunately, the aura of invincibility came to a crashing halt in large part because he suffered a knee injury while preparing to fight Junior dos Santos last November. While he returned earlier this year to absolutely destroy Antonio Silva, that aura of invincibility has seamlessly transferred to dos Santos.
In 48 hours, Cain has his opportunity to prove to the world that his quick TKO loss in 2011 was something closer to fluke than a serious comment on his skills or ability take a punch. Flip the coin and it's JDS' opportunity to show the world that he has no equal when he steps inside the octagon and in case anyone doubted, we're smack dab in the middle of the most dominant run at heavyweight since Fedor Emelianenko. Barring a freak occurrence, one or the other will be the main talking point going into the new year.
JUNIOR DOS SANTOS VS. CAIN VELASQUEZ
What many forget is the fact dos Santos tore his meniscus the week prior to the first Fox show, fought with the injury, won, then underwent surgery the next month. With both men hobbled for their first fight, it would have been a sight if the fight lasted longer than 64 seconds.
Cain's strategy last year probably will not have changed for this weekend's bout. In the span of the 64 seconds, he landed a few leg kicks and shot for a takedown when he caught a kick from Junior. The takedown proved unsuccessful and moments later, the big knockdown punch landed and then Big John McCarthy stopped the fight once the champion stopped defending himself.
JDS has proven to be a master striker in the cage, technically sound and sometimes he gets into brawls. His superior combination of speed, movement and power has been unmatched in his UFC career. His game is predicated on not being bullied or not dedicated on playing defense. We still have yet to see him spend any length of time on the ground let alone on his back. As I've written for the majority of his fights, he's supposedly something of a dangerous fighter having studied under the Nogueira's for years. We can assume his takedown defense is better than most probably give him credit for.
All of this means Velasquez cannot sit in the pocket and remain a sitting duck for the champion, as he did in November. Can he overpower dos Santos and take him to the mat based on pure strength? We do not know. The best method is to force him to move backwards at the threat of punches, charge in and put the big man on his back. Of course, from there, the game turns into whether Cain could keep the Brazilian on the mat and dish out some punishment.
Cain attempted to implement leg kicks in their first fight, a strategy meant to prevent JDS from standing comfortably and teeing off. Ideally, these kicks get the champion moving backwards, allowing Velasquez time to move his attack to another level. Whether it's the clinch or perhaps a combination leading to a takedown attempt, it provides options.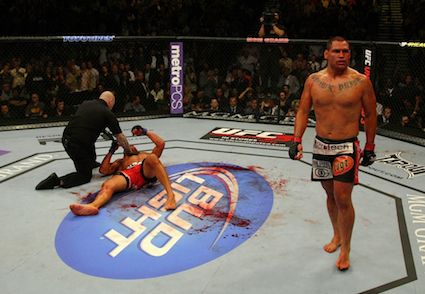 Junior dos Santos has finished the majority of his opponents (the two exceptions being Roy Nelson and Shane Carwin, both have ridiculous chins) and we know Cain's chin can be touched. He cannot stop changing levels and attempt to take the fight to the ground, because every exchange in which JDS freely throws a combination or a jab is a potential significant blow. Not that Velasquez has to do his best Dominick Cruz impression, sticking and moving like a fly in the cage, but force dos Santos to exert an immense amount of energy.
The champion has never been blown up to the degree it brought him trouble but he was noticeably tired in the third round against Roy Nelson. That was strictly from engaging a fellow beast in a brawl. In his next fight, he fought Shane Carwin to a decision. In their three rounds, Junior dominated from bell to bell, defending takedowns and even landing some of his own in the third round against a bloodied Carwin. What does this potentially mean for a rematch with Cain? I wonder whether Velasquez can push the pace so much that he overwhelms the champion by the third round or later. It's the issue of never seeing JDS have to defend on the ground or fight off his back, let alone have a guy on top with dangerous ground and pound like Velasquez.
Whether Velasquez can land a big punch standing, it certainly seems as though his only method of winning (throwing out the possibility these two behemoths compete for 25-minutes) is with ground and pound. Meanwhile, JDS has one-punch power that can change the entire course of a fight and make his challenger see stars. Perhaps it's too cut and dry but on paper, it is the map to this fight.
JOE LAUZON VS. JIM MILLER
If you were to break down the lightweight division into different levels based on where fighters stand in the title picture, both Lauzon and Miller are a step below the top. Lauzon lost to Anthony Pettis in spectacular head kick fashion in Japan earlier this year while Miller was overwhelmed by Nate Diaz on Fox in the spring. A win over the other on Saturday will go a long way in stabilizing the winner going into next year where they may be able to put themselves into the title picture by Christmas 2013.
Joe Lauzon may be one of the most likable fighters in the entire sport of MMA, and he's never been involved in a boring fight in his entire career. What more could you ask for? Well, besides a title contender, but if you're not, he's practically the perfect recipe of a professional fighter. In his 13-fight UFC career, he's 9-4 with 10 bonuses for KO/submission/fight of the night. Joe has always struggled at random points in his career and depending on your perception of 2006 Jens Pulver, he has never beaten a top ten fighter. Lauzon's killer instant is strong and he can swarm opponents whose grappling game is not as strong, but unfortunately, he is not matched up with a fighter you can describe in that way.
Jim Miller is another one of the most likable fighters, a quiet, hardworking man who doesn't have an ounce of diva in him. Like his brother, they take whatever fight is available without regard for anything else (with the LONE exception of when Dan Miller's son was finally able to undergo a kidney replacement operation). So, when Jim became one of the top contenders in 2011, he was a fun fighter to watch. His seven-fight win streak ended with a loss to Ben Henderson and after choking out Melvin Guillard, he himself was choked out by Nate Diaz. The problem in Miller's career has come against better wrestlers (Frankie Edgar, Gray Maynard, Ben Henderson) and Nate Diaz who beat him standing and then did the same on the ground.
Looking at each man's strength, it's tough to put anything in the column for Lauzon. Miller has never shown poor conditioning, his striking is crisper and he's a BJJ black belt. For Lauzon to win, he will have to strike early, overwhelm his opponent and finish the fight inside the first round. Otherwise, he's walking into the deep end against a guy who tends to get stronger as the fight goes on.
TIM BOETSCH VS. CONSTANTINOS PHILIPPOU
Originally, Boetsch signed to fight Chris Weidman in what perhaps would have crowned the leading contender for Anderson Silva's UFC middleweight crown. After suffering an injury, Philippou replaced his teammate Weidman and he's now in position to earn the biggest win of his career.
Talk about some of the names who have had tremendous years and Tim Boetsch is on your tongue. Sure, he was well on his way to losing a decision to Yushin Okami in Japan, but when the third round started, who was the one being knocked out? "The Barbarian" built on the upset win by upsetting UFC newcomer and former Bellator champion Hector Lombard this summer. Now, on a four-fight win streak, Boetsch doesn't have the flash or mouth of some of his middleweight peers, but he's a physical beast. He remains undefeated at middleweight and the former Division-I wrestler has his eyes set up bigger things in 2013.
Philippou made his UFC debut as a late replacement at UFC 128 (this was when Dan Miller moved up to fight Nate Marquardt on short notice) and lost by decision to Nick Catone at a catchweight of 195-pounds. Since then, he's settled in with four consecutive wins against Jorge Rivera, Jared Hamman, Court McGee and Riki Fukuda.
Boetsch is the bigger fighter with a strong wrestling base while Philippou has not distinguished himself in any particular area just yet. He has only won one fight by submission so you're led to believe he will have to overcome his opponent's strength advantage and there's no reason to believe on paper he will succeed.
ALAN BELCHER VS. YUSHIN OKAMI
Belcher has been screaming for bigger fights going on three years and he deserves them. Unfortunately, the middleweight division is not exactly on the up-and-up thanks to Anderson Silva's antics. So, the UFC takes the slow build with Belcher by providing him a fight against Yushin Okami who is in no way contending for his second championship shot.
Belcher has won his past four fights with plenty of time off because of a serious eye injury included between the second and third fight. Since returning last year, he's looked phenomenal with a quick finish of Jason MacDonald and a TKO win against Rousimar Palhares. What made the win against the Brazilian so amazing was Belcher's insistence on fighting him in his strong suit, the ground. Belcher rolled with Palhares and not only lived to talk about it, but knocked him out.
Okami was on the way back down the UFC ladder with a pair of TKO losses to Anderson Silva and Tim Boetsch. At UFC 150 this summer, he rebounded by beating Buddy Roberts who dropped to middleweight two months earlier. Does Yushin have one last great performance inside of him in the octagon?
These two men fought in 2006 in both men's UFC debut and Okami pulled the win out by decision implementing a strong wrestling game.
The thing to look for is how Okami comes out boxing, because in his last two outings, he's been blasted thanks to some poor showings. If the fight stays standing, you like Belcher's chances to win considering his recent performances. However, if Okami can set up takedowns with his boxing, this will be a much closer fight than some may believe.
CHRIS LEBEN VS. DEREK BRUNSON
"The Crippler" returns after serving a year-long suspension for abusing painkillers and the UFC contender hopes to have put that side of his life along with alcoholism to sleep. This is his first fight back since his November 2011 loss to Mark Munoz in which he could not come out to fight after the second round due to a cut above his eye. His last win was at UFC 132 when he knocked out Wanderlei Silva.
His opponent will be former Strikeforce competitor, Derek Brunson. The Renzo Gracie Jiu-Jitsu & Team Jackson product was a Divison-II wrestler and a prospect before he suffered consecutive losses this past summer. He was 9-0 when he accepted a fight outside the promotion against Kendall Grove and lost a split decision. In August, he fought Jacare Souza in Strikeforce and was knocked out in 41-seconds.
Brunson has not knocked out an opponent in nearly two years and his overall boxing is not known as a major strength. He's at risk of being cut by the UFC without a good performance or win, so he may be pressing. His bread and butter is his wrestling game so don't be surprised if he immediately aims to put Leben on his back.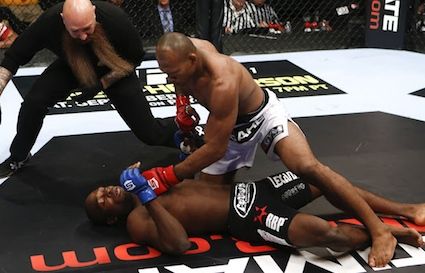 Brunson on the losing end of his fight with Jacare Souza this summer
---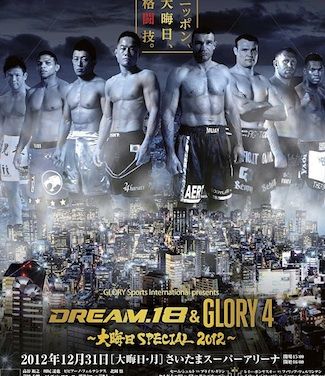 QUICK HIT PREVIEW – DREAM 18
I included the pertinent information below but to glance over it, DREAM/GLORY takes place on New Year's Eve and airs on their website live (for $20). In America, you can watch a tape delay version on Monday night (the kickboxing part) and Tuesday night (MMA), both at 10 pm eastern on the CBS Sports network. Here is a quick rundown of the latter group of fights.
SHINYA AOKI VS. ANTONIO MCKEE
Aoki is only 29-years-old (seems older since I first saw him in Pride in 2006) and has lost a bit of his luster since being considered one of the best lightweights in the world. The TKO loss to Eddie Alvarez at Bellator 66 did the trick on that front, but he rebounded to choke out Arnaud Lepont in October for OneFC. Since 2009, he's 12-3 including two losses in America and one at welterweight. Of course, he's still one of the most dangerous fighters in the sport thanks to his killer instinct on the ground.
McKee will turn 43-years-old in three months but the American does not appear to be slowing down anytime soon. His split decision loss to Jacob Volkmann at UFC 125 almost two years ago remains his only blemish since the summer of 2003. This year, he's earned a pair of decision wins against Brian Cobb and Chad Dietmeyer, although he was cut by MFC in Canada for not making weight for his own championship defense. McKee has only been submitted once in his career, in 2001 when Ray Cooper caught him in an armbar.
HIROYUKI TAKAYA VS. GEORGI KARAKHANYAN
The reigning featherweight champion, this will be his first fight of the year following his New Year's Eve win one year ago. Since his upset defeat at the hands of Robbie Peralta in Strikeforce last year, he has defeated both Kazuyuki Miyata and Takeshi Inoue to retain his title.
Karakhanyan is a Russian living in California who has run through the majority of his opponents. He's 19-3-1 overall with two losses to Joe Warren and Patricio Freire in Bellator, but he's been outstanding ever since. He became the Tachi Palace Fights champion last year and defended the title against Micah Miller in September. He has only been finished once in his career (by Pitbull) but this is a perfect opportunity for him to make a statement on the world stage in Japan. Takaya is a warrior who does not back down from brawls so this should be an exciting fight.
TATSUYA KAWAJIRI VS. MICHIHIRO OMIGAWA
After losing in his bids to win the DREAM and Strikeforce lightweight titles in 2010 and 2011, respectively, Crusher Kawajiri dropped down to featherweight. Since the move last year, he has choked out each of his opponents with a triangle choke including Joachim Hansen, Miyata and Donald Sanchez. Quite simply, he's been a man possessed at 145-pounds.
Omigawa is on his last breaths as a professional MMA fighter because he has won just one of his last five fights, all in the UFC. Granted, each of the five went to a decision, so perhaps he'll run into better luck back in Japan. Odds are, he won't do it by fighting the bigger Kawajiri.
SATORU KITAOKA VS. WILL BROOKS
Kitaoka is a black belt in Brazilian Jiu-Jitsu and Judo, and he's been up and down the MMA scene in Japan in recent years. When Sengoku opened up shop, it was Satoru who became lightweight champion three years ago by submitting Takanori Gomi. He lost his belt later on to Mizuto Hirota (he who was broken and flipped off by Aoki) and was also knocked out by Jorge Masivdal to finish his 2009. Since then, he's been 4-1 with the lone loss occurring by decision to his pal Shinya Aoki.
"Ill Will" Brooks makes his Japanese debut with a 7-0 record fighting home in America. The 26-year-old has been an exclusive fighter in the midwest but has shown some power, although clearly, Kitaoka will be his toughest opposition to date. With the tough test, also comes the opportunity for big reward as it's been his first major opportunity to get his name out and about.
PHIL BARONI VS. HAYATO SAKURAI
"The New York Bad Ass" is back! Baroni may be 15-15 as a professional, but the numbers don't do him justice. Certainly, he's been a bit too stubborn at times for his own good, but how many .500 fighters do you know remains as popular with fans on multiple continents? He last fought in the Philippines this summer when he knocked out Rodrigo Ribeiro, ending a two-fight losing streak.
Mach Sakurai is a warrior, fighting 50 times as a professional in Japan, the United States and France. Back in 2005, he was knocked out by Takanori Gomi in the finals of the PRIDE lightweight grand prix, much like he was knocked out by Matt Hughes when he challenged for the UFC welterweight title in 2002. In recent years, he struggled through a four-fight losing streak which ended on New Year's Eve 2011 against Ryo Chonan. The four losses between 2009 and 2010 came at the hands of Marius Zaromskis, Akihiro Gono, Nick Diaz and Jason High.
BIBIANO FERNANDES VS. YOSHIRO MAEDA
The reigning DREAM bantamweight champion, Fernandes has been a rock since moving to 135-pounds after losing the featherweight title to Takaya two years ago. He made his OneFC debut in August with a win over Gustavo Falciroli and should find his way in the mix for their championship some time next year. Remember, he surprised some by turning down an offer from the UFC this year to sign with OneFC and through the talent exchange, was able to be included on the show this weekend.
Maeda, the reigning DEEP bantamweight champion, is another one of the many fighters on this card who always finds himself in entertaining fights. You may best remember him as one of Miguel Torres' challengers during the champion's prime in WEC. Their 2008 fight was outstanding, although Maeda lost thanks to a doctor stoppage in the third round. In 2009, he returned to Japan and has amassed a 7-5 record since then. He's been fighting in DEEP of late, scoring two rear naked choke wins this year.
MELVIN MANHOEF VS. DENIS KANG
It's no party without Manhoef! I don't care who you are or what types of fighters you enjoy watching, everyone loves them some Melvin Manhoef. The Dutch kick boxer always goes for broke in MMA, usually without much regard for his own defense. Sure, he may have been knocked out by Robbie Lawler in Strikeforce nearly three years ago, but the memories from that fight still rumble through my mind. After his unsuccessful stint in Strikeforece, he returned overseas and has been fighting in Asia. This year, he's won two fights including his last in October by knockout against Ryo Kawamura.
Kang is 35-years-old and at one point was considered among the best middleweights in the world. Then, he finally debuted in the UFC only to lose to Alan Belcher and Michael Bisping (he did beat Xavier Foupa-Pokam to be fair) in 2009 and was cut. Since then, he's been 3-3-1 spending time around the world. This weekend marks his first fight in Japan since he was choked out by Gegard Mousasi at DREAM 2. He last fought in June when he knocked out a .500 fighter named Hae Suk Son in South Korea.
---
– Paul Daley is at it again. ESPN's Josh Gross reported on Christmas that the British welterweight has been charged with assault in the U.K. (after a bar fight) and cannot enter the United States. So, he's been removed from Bellator's upcoming tournament. Daley is facing up to two years if convicted.
– Daley later commented on Facebook that he has to wait until April for a decision on whether or not he will receive the necessary visa into the United States. He denied any involvement in a bar brawl and confirmed he is out of the January Bellator tournament, although he plans to fight in the interim in Britain to stay in shape.
– Kazuo Misaki retired over the weekend following an exhibition kickboxing match against friend Akihiro Gono at Korakuen Hall. His pro MMA career ends with a record of 25-11-2 and 1 no contest. His last pro fight was in March when he beat Paul Daley in Strikeforce. The last loss of his career was in the summer 2010 when he lost in the fifth round to Sengoku middleweight champion Jorge Santiago in what was one of the year's best fights.
– Former Strikeforce lightweight prospect Caros Fodor will make his UFC debut at February's UFC 157 against Sam Stout. Fodor was last seen losing by submission to Pat Healy, ending a five-fight win streak. Stout lost last month at UFC 154 by decision to John Makdessi.
– According to an interview with MMAJunkie.com, UFC featherweight champion Jose Aldo believes he is capable of fighting at a high level at 155-pounds as well as at 135-pounds. His dream is to win three titles but says the timing is up to trainer Andre Pederneiras before his plans can become a reality. Aldo does not believe he'll have significant problems maintaining his weight regardless of where he fights.
– Last week in this space, you found out that the New Year's Eve DREAM/GLORY show in Japan would air live over the internet via GloryWorldSeries.com for $20. Also announced yesterday, the kickboxing portion of the show will air on a delay at 10 pm eastern on New Year's Eve on the CBS Sports Network. On New Year's Day at 10 pm eastern, the MMA part of the show will air.
– Daniel Cormier told BJPenn.com he feels he has unfinished business with Frank Mir stemming from their canceled fight (Mir was injured while training). Cormier believes if he beats Dion Staring at the final Strikeforce show in two weeks, a fight with Mir in the UFC could set him up for a potential heavyweight title fight later in the year. Of course, that ultimate goal would be moot if Cain Velasquez becomes champion this weekend as the two friends and training partners have expressed absolutely no desire to fight one another.
---
JUGGERNAUT VIDEO OF THE WEEK
So bad, it's good? Michael Johnson took some time to shoot this parody video for his opponent this weekend at UFC 155, Myles Jury. It's "Fist in a Box," featuring the Blackzilians.
TWITTER
http://www.twitter.com/411mania
http://www.twitter.com/411wrestling
http://www.twitter.com/411moviestv
http://www.twitter.com/411music
http://www.twitter.com/411games
http://www.twitter.com/411mma

HAPPY NEW YEARS!

comments powered by Disqus