The MMA 5 & 1 04.25.12: The Faster and Furiouser Edition
April 25, 2012 | Posted by
Well, hello again faithful friends and welcome to another weekly MMA 5 & 1! I'd love to say there's a lot for us to get through, but at this point in time, I'm not sure what will make up the 5. The only thing I do know is that if you make it to the end, there'll be boobies!
Deal? Excellent. While you're reading, here is the new edition of the 411 UK MMA Podcast. It's a little bit acronym heavy, so if you want to suggest a new name for it, please feel free. Nothing racist, unless it's racist against the English guys.
You know something is good when your own mother describes it as "mediocre at best."
Nah, I'm only kidding. She didn't listen to it at all.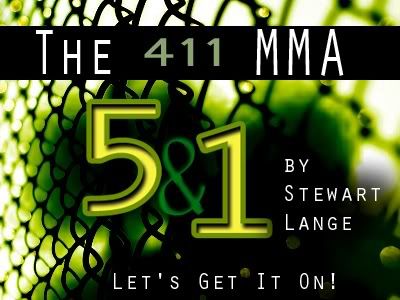 ---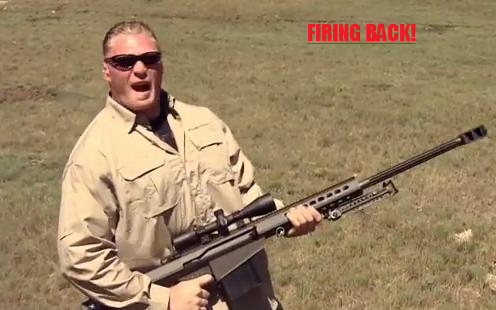 I return fire on last week's comments!
I think UFC 145 will do a pretty sizeable buyrate, over 450,000 at least. UFC 135 did I think over 500K. UFC 140 did 480K. So 145 I think will make in that range.
Posted By: Jeffrey (Registered) on April 18, 2012 at 12:06 AM
Stewart, thanks for another great column. I even enjoy the writing between the pictures. I have seen Kenda Perez hosting "The Best of Pride," but who knew? Wow!
I was glad to do my part to help The Natural put GSP in his place. I disagree with your prediction of a low buy rate for UFC 145. I wish you would have elaborated on why you feel that way. UFC 146 however, is in mortal danger if Overeem is not granted a license.
Posted By: Shawn (Guest) on April 19, 2012 at 04:58 PM
The reason I expected UFC 145 to do a low buy rate is that outside of the main event, it was a fairly uninspiring card, on paper at least. Sure, it turned out to be a pretty solid night of fights, but there wasn't anything really there for a casual order. As it turns out, this prediction has grown legs and turned into a full on bet with Jeremy Lambert. If the show does less than 500k buys, I have to issue him a written apology- presented in photograph form from somewhere busy. Like a Wal-Mart (Asda to my UK friends) or the High Street. Check in soon.
Where were you thinking for the ufc to be held in Edinburgh? I know they have a policy of no open top arenas, But I just think probably thee coolest setting for it would be at the castle either just before or just after the military tattoo season. I think it would be so awesome for the fighters to come out of the castle and over the drawbridge, almost as if they were coming out to defend it. The scottish crowd would, without a doubt be the the most nuts that the ufc has ever seen too.
Posted By: Guest#9731 (Guest) on April 18, 2012 at 06:15 AM
That would be awesome. I must say though, "Guest#9731," that you should identify yourself. Mainly so I can tell if people in Edinburgh are reading this that I don't know already. Chances are though, we work/went to school/are married but still, it'd be nice to know.
Gotta agree with Jeff here, buddy. Bones is a solid 500K buy rate draw, and with this being a grudge match, I can actually see it doing 550-600k buys. Also, Rashad wins zero rounds against Bones this weekend.
Also, it's rubbish that GSP is even in the finals, as Bones would MDK his midget French-Canadian ass with elbows in about 4 minutes. At least Randy is beating GSP as I type this.
Just when I thought the MMA Virgin couldn't get any worse for having zero appreciation for the ground game, now we find out she's a Diaz fan? *shudder* I blame you, Stew, for poor fight selection, and I recommend your next choice be Diaz vs. Condit, just so we can see if Jules is an incurable case and a plague on the site, or if it's just because she's new to the sport and doesn't know any better.
Also, I love some brunettes, so thanks for Kenda Perez.
Posted By: Wyatt Beougher 2 (Registered) on April 18, 2012 at 08:06 AM
No problem, Wyatt, Kenda may even make a return in the inevitable Versus Tournament. I need a Hall of Bang, after all.
While we may know the buy-rate by next week, I'd still be shocked the show doing as well as even 550k, but I'll get to that a little later.
With regards to the MMA Virgin comments, I'll let her answer those personally. Take it, Jules.
As it goes, wyatt this is the second fight I've been given including Diaz and I really was not a fan. I find him irritating to watch BUT I won't let personal feeling get in the way of what I consider to be an awesome fight and it was made brilliant by both participants. Its nice not be so jaded.
Stew another great column and a little awkwardness aside the podcast is great and Will get better in time.
I also think you're right about Edinburgh's chances but a virgin can dream.
Posted By: MMAVirgin(Guest) on April 18, 2012 at 09:53 AM
So, yeah. While we can blame my fight selection, it's pretty hard for someone with literally no MMA experience outside of this column to have feelings for a fighter. Hell, I find Diaz exciting to watch. I like watching him, but that doesn't stop me from finding him to be an abrasive dick. Still, what would you rather Wyatt, she was cheering for Paul Daley in that fight? Watch this space for Condit Versus Diaz, though, very good call.
---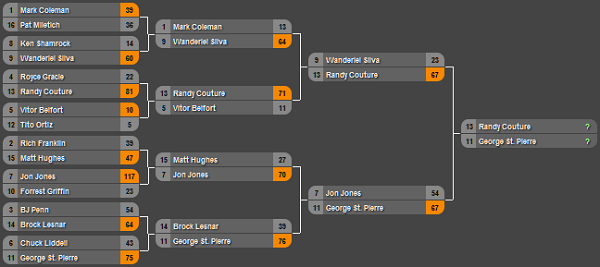 Guys, for the first time ever, by the time voting closed, we had a draw. I shit you not, Randy and GSP went 45-45 and tied for the Superfight title. So, like all good promoters, what do you do when a massive fight goes to a tie? That's right, we have an immediate rematch. Thanks to everyone that voted, but this time, there can be no risk of a draw.
There will be NO click button vote this week- COMMENTS WIN THE FIGHT! If you want to see either of these guys on the banner above this text, then get involved. It's that easy, folks!
Let's do this again!
---
The Junk Punch Rant Zone!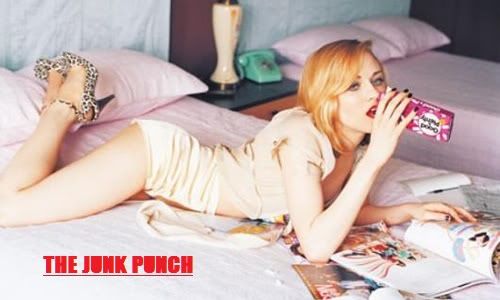 The MMA Dick-Tionary
Dick-tionary (adj)- An irrelevant look at MMA terms that annoy our hero for no real reason.
This week:

Friend and Training partner
A fairly relevant Dick-tionary this week, as not only did we have Rashad Evans taking on Jon Jones on Saturday, we've also been treated to a load of talk about Rory MacDonald not wanting to fight GSP for Welterweight gold. Now, I get that you don't want to have to fight your friends, but seriously, MMA isn't a team sport (future entry right there…..) and I have no doubt that all of these guys knew that. Hell, the closer I was with someone, I actually think the less trouble I'd have being able to fight them, because then I'd know there were legitimately no hard feelings.
In both the cases of Jones/Evans and GSP/MacDonald, however, you will notice that in both cases, there is an absolute phenom of an up-and-comer, taking on the veteran who doesn't want to lose his spot? Perhaps, then, we've just unlocked the secret of this particular fight-dodge.
Don't be Scared, Homie!
Do you have a nominee for the MMA Dick-Tionary? Be sure to share it in the comments!
Douche Of The Week

Marcus Brimage and Maximo Blanco
A tie for Douche of the Week, this week, as Maximo Blanco and Marcus Brimage decided to wait until after their fight to make the effort to be entertaining. The first time I saw this, I actually laughed, but here I sit, typing this three days later and it kind of annoys me. Come on, guys. What next? A dance-off to settle a draw? A game of slaps in order to determine who gets the red corner? Displays of unnecessary "machismo" like this piss me off so yeah, both of these guys can take the prize this week.
---
Another week, another fight for the MMA Virgin to watch!
Week Seven: Chandler Vs Alvarez- Bellator 58
So far it's been quite rare for me to have a multiple round fight to watch in which I can do a round by round account. I'm grateful for this one because I'm beginning to really want to KNOW what I'm watching and I won't get there in four minutes or less. So, for me this fight is a lesson and I have my notepad and pencil at the ready.
The first piece of information I find myself paying heed to is "elbows to the head are allowed." Hadn't occurred to me they weren't. But before I can take note the fight has begun in earnest. It's a an accelerated start from both fighters but after yet another trip up (it's happened in almost every fight so far) another advantage is gifted by the faller and the same advantage relished by its receiver, this time Chandler, who wastes less than no time in beating Alvarez to an almost early call time. Eddie gets out of this predicament just in time and my relief is unadulterated. Watching through the first round I realise both are fast, both are talented and both are extremely equal in what they can bring to the cage. THIS is the kind of fight that excites me. Antics are all fine but pure ability is something else.
Into the second round and it might be sheer determination that gives Chandler an edge here. He gets Eddie in a hold in which they both use their legs in an effort to injure the other. I'm mildly disturbed by how distracted Eddie looks as he stares off into the distance. An awesome take down from Chandler provides Alvarez with a further challenge to get out of it and carry on. Carry on he does, right into a hold that has momentarily relinquished Chandler of the ability to get on his feet. Strength and technique bubble from Eddie and at this point I'm dumbfounded as to who will be the victor.
Round three and Alvarez takes centre cage and we're back to what has been a mostly prevailing even keel between the two opponents. I must have blinked though because now Eddie is owning a very red, bleeding and beaten Chandler who is but a teetering roadblock to Alvarez's win. There must be a few out there who watch these fights with some kind of blood lust and if so then this is the fight for them. Both are covered in shared blood but it's Chandler I question as there is no let up from an newly energised Alvarez.
And so begins the fourth round and suspense isn't the word to describe how I feel right now. I know this close to the end that all it might take is the right hit and someone's going down. Could it be I'm getting a feel for this sport? Chandler is the one to get the right hit and Eddie is more than down, bleeding profusely and Chandler is the all over him to finish this thing. And he does.
Unexpected, deliciously awesome and complete with a new champion. Class dismissed.
---
Dana Versus!

Roy Nelson!
Yeah, it's true that Dana has not said anything detrimental about Nelson, nor has he been vocal in his disdain for the man, but White has surely shown the world in the most subtle of ways that he hates "Big Country." Why is that? I hear you ask, well, allow me to explain.
Since winning the Ultimate Fighter, Roy has hardly been a shining beacon of Heavyweight excitement, with a fairly sketchy record within the Octagon. This poor record may become the end of his UFC tenure when he loses to everyone's favourite, Gabriel Gonzaga.
Okay, so there was a little sarcasm there, but I genuinely feel that Nelson could lose this fight and instead of a loss to Cain Velasquez being "acceptable" at this point, a loss to Gonzaga would no doubt be the final nail in Nelson's coffin.
---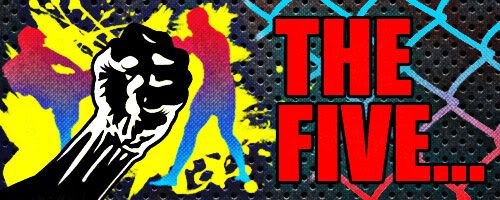 Jones Versus Evans- Over?
Now, hopefully you all remember, but last week I made some outlandish predictions on the events of the Pay Per View. Let's take a look at how those went.
1: The show will do a horrible buy rate.
Now, while there is no evidence either way just yet on this one, early pointers don't look great for me. Now, bearing in mind if the total comes back as below 500k, I'll eat humble pie to Lambert. Don't worry, you'll all get to see that picture. Jury is still out.
2: Rashad Evans will win two rounds against Jon Jones. But still lose.
Now, a lot of you will be sitting there now, thinking "Hey! Evans didn't win any rounds!" But actually, I've received an exclusive email from Cecil Peoples on the matter. Now, Peoples was scoring the fight at home and he actually had Jon Jones LOSING 50-45 on the night.
I should point out that he scored the fight in favour of Leonard Garcia instead of Rashad Evans, but hey, I'm taking that as me going 2-0 predictions.
3: There will be no submission of the night bonus awarded.
Another one I got right! We all know that despite Travis Browne getting $65,000 for his finish of Chad Griggs, we all know an official Fight Night Bonus can only be given to someone who is fighting an actual sanctioned fighter, not just some guy the UFC plucked from the crowd at cage side. Sure, I was wrong, but only on a technicality. I go 3-0.
4: Miguel Torres will not fight for the UFC by the next 5 & 1.
Wow! Another one. Since Saturday night. Miguel Torres has actually not fought again for the UFC. Clever wording, huh? I go 4-0 on accounts of being a cunning linguist.
5: Mark Bocek Vs John Alessio will be Fight of the Night.
Well, I'll not even try and fabricate this one. I thought it was a pretty horrible fight, as neither man actually looks like he'd do anything in the upper levels of the division. Not even on opinion alone can I argue this one, but I still have a respectable 4-1 on my prediction hit-list.
6:Radulich will enjoy Rothwell Vs Schaub MORE than he does Browne Vs Griggs.
Fact: Shit, wrong column. Anyway, Mark Radulich did indeed enjoy Ben Rothwell smashing Brendan Schaub more than he did Browne and Griggs, so there.
That wraps up my UFC 145 coverage, since you'll find a lot more content by better writers than me elsewhere on the site. Still though, I'm impressed I was able to go a respectable 5-1 on my outlandish predictions, did any of you do any better?
---
Finish Of The Week
1:20 for the awesomeness. Sorry about the quality, but I can watch this over and over again. But you all knew that.
---
Aoki: Top 5 LOLZ

He even looked scared…..
There has been an awful lot said, shouted, tweeted and emailed between the staff members of 411mania with regards to Shinya Aoki being ranked as a Top 5 Lightweight. While I haven't thought of Aoki being ranked that high in sometime, I also don't give quite so much of a rats ass as some of my esteemed colleagues here. Either way, Aoki proved his doubters completely right, as he was smashed convincingly by Eddie Alvarez at Bellator 66 on Friday night.
This now, in my opinion, drops Aoki out of my Lightweight rankings altogether, as once it hits #15, I stop caring counting who is ranked where. His time is probably up with regards to getting a fight in the UFC, as I actually don't think he'd get a winnable fight against anyone who isn't an Ultimate Fighter semi-finalist.
Alvarez, on the other hand, is bouncing back in style from losing the title to Michael Chandler and despite his losing the title, remains the hottest commodity Bellator have under contract. Alvarez has one fight left on his deal and the rumours are now rife regarding him moving to the UFC. I'd absolutely LOVE to see Alvarez take on Gilbert Melendez, so if the UFC were to time things well, it could happen.
Make it so, Dana.
---
The 411 MMA Podcast
Don't forget, the original 411 MMA Podcast goes out every Sunday, with the added benefit of accents that American people can understand!
---
Ultimate FIGHTER!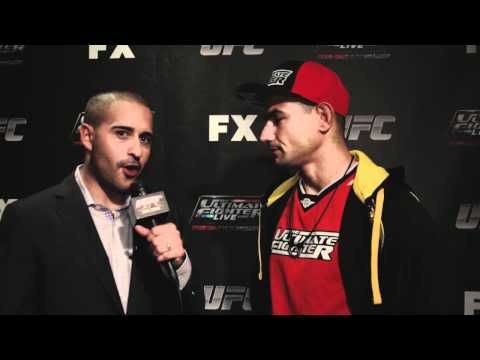 As he's known in my house, it's Jon "Fucking" Anik
I think it says an awful lot about this weeks installment of TUF that I had to look up Wyatt Beougher's coverage to even remind myself if I had watched it or not. Turns out that I had, it just wasn't particularly memorable.
This week, Vinc Pichel (who?) took on John Cofer (huh?) in a battle that needed a third round to determine a winner. I think this week was always going to struggle, as neither man has done an awful lot to "announce" himself on the competition, having flown under the radar, so to speak. Either way, Vinc Pichel won and advances, blah blah blah.
What I got to thinking during this week's write up, though, was what happens in the weeks running up until the final? Normally, the competition, being pre-recorded, reaches a natural "fever pitch" in the episode before the finale, but hey, it's okay because we only have a few days to wait! This means both competitors are fresh in our minds, we're still invested in the show and who the winner will be. What happens this year though? It's not like they'll be able to do this a few days apart, so there could be problems with ratings for the finale, since at that point, nobody is likely to remember who even made it to the last fight. Thoughts?
---
Like Facebook? Like MMA? Like the 5 & 1? Click Like on the box below to add the 5 & 1 to your Facebook timeline and get all the upcoming gossip and so on!
---
Gina= Makin' Movies!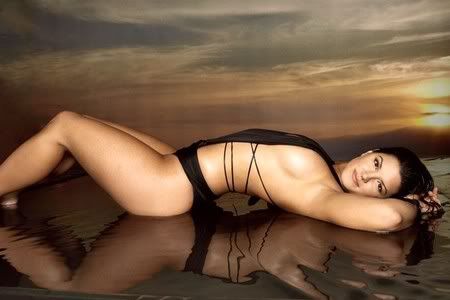 Exposure for Carano
Gina Carano continues her long-winded departure from MMA by announcing she is aiming for a role in the new installment of the Fast and the Furious franchise, likely titled "Faster and Furiouser" or something like that. Gina will join Academy starlets Vin Diesel and Dwayne Johnson (fun fact: Johnson used to be in the WWE. Didn't know that? He used to appear under the alias "The Rock." Talk about failed gimmicks, huh?) along with series stalwart Paul Walker. While details on the plot are not being announced, industry insiders expect the movie to play out a little bit like this:
Diesel and Walker are laying low, until one of them meets a girl (Carano) who inadvertently brings Johnson back into their lives. Our heroes must get back behind the wheel in order to save their own lives, reputation and get the girl! In theatres Fall 2013!
Seriously though, good for Carano. If she's serious about getting into acting full time, she could do no wrong than join the cast of a well established franchise. While The Fast and The Furious titles are no Lethal Weapons, they're enjoyable popcorn flicks for what they're worth and will likely bring her some exposure.
And if there's one thing we love here at the 5 & 1, it's exposure for Gina. Yes indeed.
---
Twitter Break!!
Follow @StewartLangeMMA
Follow @411mania
Follow @411wrestling
Follow @411moviestv
Follow @411moviestv
Follow @411games
Follow @411mma
Got a twitter? Click the above links for up to date news from across the 411 spectrum, plus, be sure to follow me for ongoing fun and shenanigans!
---
Silva & Sonnen go to Vegas!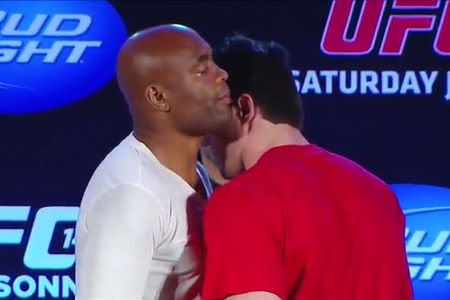 See? Best of friends.
In yet another 5 & 1 deadline busting exclusive, it was yesterday confirmed that the Chael Sonnen and Anderson Silva rematch would be moved to the Vegas card on July 7th, officially making that the fight card I am most looking forward to. More hi jinx was had by Sonnen at the press conference, who, donning a fake nose and glasses, claimed to have been mistaken for a Noguiera brother. It's probably a good thing Sonnen doesn't fight in Brazil, I doubt he'd make it out alive.
The good news though, seemed to be that UFC 147 doesn't have a venue yet, so may very well take place in the courtyard below the "Christ the Redeemer" statue. Hell, that's not a bad idea. Dana was adamant about it being open air, wasn't he? This could be his chance. There seems to be a possibility we'll have Jose Aldo appearing in Brazil too- now that excites me.
---
A blast from the past and the possibility she's been a & 1 Model before, but who cares when it's….
Logan Stanton!
---
The 5 & 1 End Zone!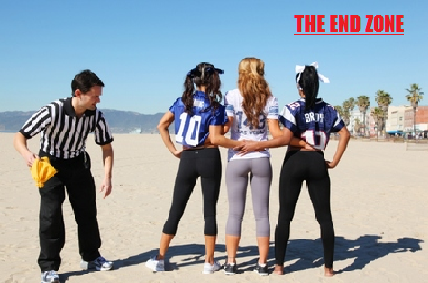 That's it for another week here in the 5 & 1, so I hope you enjoyed the column! Please, leave a comment below and be sure to check some of the other amazing work here on the 411.
Alex Watt: "Thoughts From Across The Pond"
Jeffrey Harris: "MMAs 3 R's"
Dustin James: "The Ultimate Writer"
Robert Winfree "Locked In The Guillotine"
Jonathan Solomon: "The Juggernaut MMA News Report"
Wyatt Beougher: "Five Quick Rounds"
Scott Kuczkowski: "The View From The Cheap Seats"
Dan Plunkett: "The Greatest MMA News Column"
Jon Butterfield: "MMA on Tap"
Patrick Mullen: "The Blueprint"
Jeremy Lambert & Samer Kadi: "Occupy The Throne"
Don't forget the other 5 & 1 columns on the site either!
Steve Gustafson: Movies
Jeremy Thomas: Music
Greg De Marco: Wrestling
Well, there we have it for another week! Be sure to add a comment to decide the Superfight winner, that's the decider this week! A big farewell to Todd Bergman, too. He will no longer be writing MMA anymore, so I'd like to wish him all the best. His MMA Soup column is the spiritual father of the5 & 1 here in this zone, so we all wish him the best.
On that, rather sad, note, have a great weekend and I'll……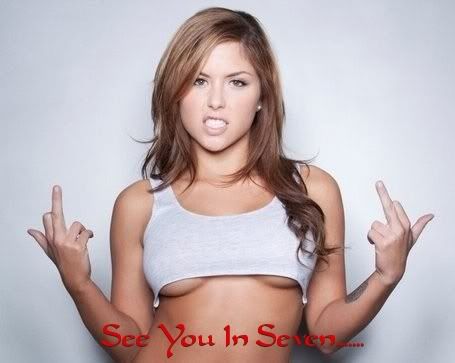 NULL
comments powered by Disqus