The MMA 5 & 1 10.10.12: The Team Bonnar Edition
October 10, 2012 | Posted by
Well hello, faithful traveller and welcome to another loaded edition of the MMA 5 & 1! I start with an interesting nugget of fact from none other than Wyatt Beougher of the Five Quick Rounds, a column you'll be familiar with as I copy, paste and add boobs to it. He tells me that this will be BOTH TUF 1 finalists fighting in Brazil while their wife is expected to drop. What about that! Isn't that interesting? Well, it is, but I'm not quite skilled enough to make it not seem like a sarcastic dig at Wyatt, so buddy, if you're reading, I'm sorry. Thanks for the info.
But Hot Fuzz still sucked balls.
Oh and before I forget, I've decided to scrap What If….. due to a lack of people giving a shit. It's fine though, I hate image editing anyway. So, thanks. Now, back to plagarizing.
BANNER!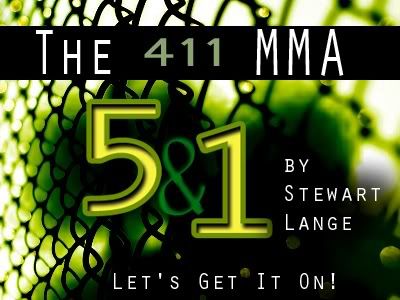 ---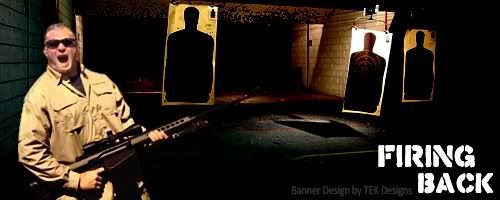 I return fire on last week's comments!
The hot new comment section must be scaring you, as there was a distinct lack of comments last week. Come on guys, give it a shot. It's fun. Like punching a stranger.
ChrisJP: The comment Dana made about Mitrione wanting to fight at 205'er was in reference to his media beef with Rampage. They have both publicly stated that they would want to fight each other. Which is why Dana was knocking Mitrione for publicly offering to fight Rampage, but turning down Cormier.
That's good to know, shows how out of the loop I've been.
Todd Vote: I can watch Kate Upton do the Cat Daddy dance all day.
As for What If… If the Serra upset hadn't happened, we would still be looking at Carlos Condit getting ready to whip GSP's ass come November.
Controversial statement there, Todd. I'm still on the fence about this one, but I feel myself swaying towards Condit. We shall see. There's still plenty of time for either of them to get injured.
---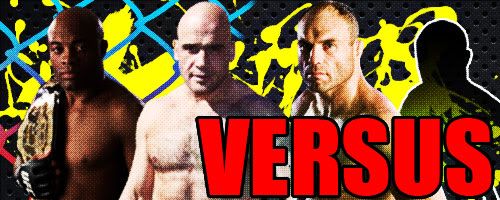 Last week saw Jeremy Horn oust Michael Chandler and progress onwards in the tournament. Did you vote? Make sure you do so your favourite doesn't miss out!
This week we have my wife's two least favourite fighters. Jens Pulver and Matt Hughes are both BJ Penn enemies but never faced off against each other due to being just too far away in weight, but that's not a factor here! So- who takes it?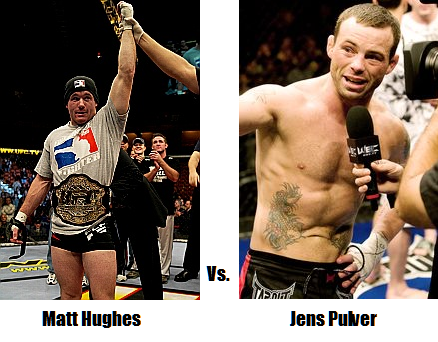 ---
The Junk Punch Rant Zone!
The MMA Dick-Tionary
Dick-tionary (adj)- An irrelevant look at MMA terms that annoy our hero for no real reason.
I can't be bothered coming up with something this week. Have some boobs.
Do you have a nominee for the MMA Dick-Tionary? Be sure to share it in the comments!
Douche Of The Week
Jason Miller.
In yet another section requiring minimal work by myself, check out this video of Jason Miller flipping his shit on the MMA Hour and making himself even less relevant in the world of MMA. Knob.
On a side note- "Here Comes the Boom" looks like the worst film since Bucky Larson. Or Hot Fuzz.
---
Dana Versus LOVES!

Random Twitter users. Again.
Do you know what's pretty good fun? Tweeting Dana White. About anything. Because he'll probably tell you to fuck off. In no uncertain terms. Hell, it's almost WORTH following him, or even HAVING a Twitter account for. He's normally in a blocking mood.
---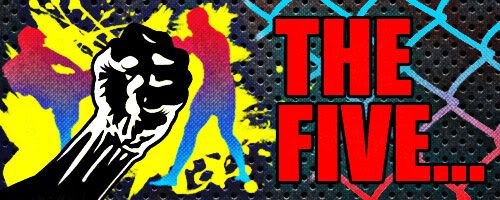 UFC , blah blah blah.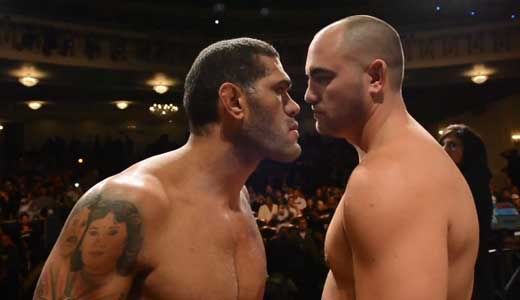 Exciting staredown, apparently.
This past Friday night saw the UFC take to FX with a hugely un-promoted card  headlined by Travis Browne and Antonio Silva. With Browne having tweaked his knee and the fight being in doubt a couple of weeks ago, it was pretty elementary that Bigfoot would win this one. He looked pretty good against an injured opponent but this isn't really good enough in the UFC. It's a shame as I think the UFC could set him up against Stefan Struve which would potentially derail the Skyscraper, but surely a loss against Struve and you'd have to question what future Bigfoot has in the organisation?
The co main event had possibly the most uneventful flyweight round in recorded history as John Dodson and Jussier Formiga pawed at each other or five minutes before Dodson eventually pulled the trigger and finished the Brazilian to earn a shot against Demetrious Johnson. It's scary to think that Dodson is one win away from being one of the few title winning TUF winners. While he seems to think a fight against Johnson would be a thrilling, fast paced affair, I can't say I agree with him and the only reason I'll "be sure to DVR the fight" is to fast forward it if it sucks.
Which, incidentally, is exactly what I decided to do with Jake Ellenberger vs Jay Hieron. While I like both of these guys, I shouldn't have read the live report before watching as I couldn't bring myself to watching them go at it. Professional until the end, I am. My shock of the night was Justin Edwards choking out Josh Neer without expending an awful lot of energy. While I have no idea how far he's going to go at welterweight, Edwards looked impressive on Friday. Overall, it was a good enough free card but ultimately forgettable. Nothing really of note went down, short of the Dodson win, but lets be honest- how many people really care about the flyweights at this point?
---
The 5 & 1 Soundtrack
I've been enjoying a bit of a look back this past week, at one of the best live DVD's I've ever seen. Directed by Jonathan Demme, the Talking Head's "Stop Making Sense" is non-stop awesome. Enjoy.
---
STRIKEFORCE IN TROUBLE!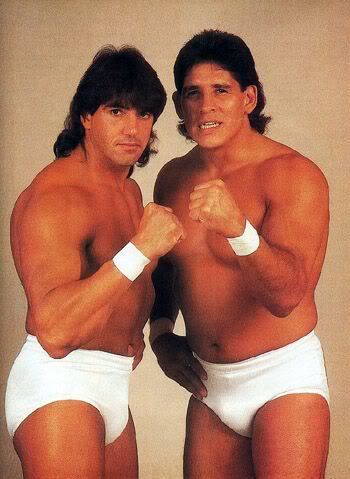 Seriously, how good a team were these guys?
A couple of weeks ago, we were all set to enjoy Gilbert Melendez take on Pat Healy for the Strikeforce Lightweight championship. When Gil got himself injured, Strikeforce were forced to call off the event as Showtime weren't prepared to broadcast the show without its main event. Now, with Frank Mir and Daniel Cormier off of the November card, the whole event was riding on Luke Rockhold, the proven draw that he is, taking on Lorenz Larkin. Now though, Rockhold is out and while Strikeforce are adding fights as of yesterday, the whole event is up in the air, but it's much more serious even than that.
So, while details are still no more than "rumours" at the moment, Showtime have said they're probably not going to air any more Strikeforce cards which not only puts the November event in serious danger, but also the promotion's future as a whole. The long and short of it is that we could be here next week talking about Strikeforce being no more and while it would flood the UFC with it's remaining talent (you would imagine), it does pose a few problems, like what happens to the women's division? Will the champions get put straight into unification bouts? Can the average fan name more than four Strikeforce fighters?
---
The 411 MMA Podcast
Mark and the gang with another great show this week!
---
Big Dave is Victorious!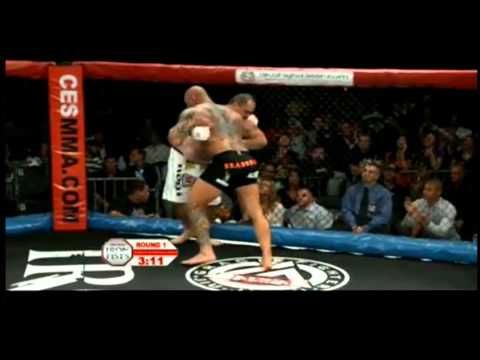 It looks like men cuddling? WRONG. More boring.
Well, the fight of the year has come and gone and well, if Dave Bautista Vs Vince Lucero didn't tick all of your boxes, then there's something well wrong with you. Two big men going at it? Check. A "big name" fighter against an opponent he should crush? Check. A first round finish? Check. The making of a new MMA star? Check again. So why the hell did it suck so badly? Well, first off, Big Dave looked terrified. Hell, I don't think I'd have been that afraid to try and hit Lucero and I probably weigh half of his fat ass. Second, it's pretty hard to feel any investment in a career that is clearly going to go nowhere. Will the UFC sign him up? Doubtful. Definitely not after that performance, anyway. So, with such a poor MMA debut, what will be next for the former Deacon?
I'd probably recommend he goes and asks Vince for his old job back because at 46 years old, it's going to be pretty difficult for Bautista to build any sort of in cage momentum and probably risks doing himself some real damage. Any other suggestions?
Otherwise, it just remains the worst thing a former pro-wrestler has done since "Backdoor to Chyna."
---
Knockout of the Week!
Don't ask why this is mirrored. It's still awesome regardless.
---
Jon Fitch: Money Needed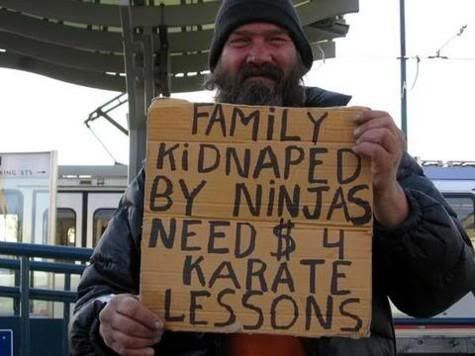 Fitch grows his beard between fights
With us currently in the midst of a recession, with the world market all up the left and house prices blah, blah, blah, we need a glimpse of reality now and again. If we thought it was hard for us having to turn up to work a menial job for buttons, spare a though for poor Jon Fitch. He's upset that since moving to California, things are too expensive. Now, having never been to California, I can neither confirm or deny that being true or not, but given that Brendan Fraser played a caveman that quickly became the smartest man in his town, I believe that prices there can be whatever they like. ANYWAY, poor Jon is having to struggle onwards as he's not able to do autograph signings for as little as $500 because he'll not be able to increase his price from that. While I'm yet at the point in my life that I've had to worry about how much I'm paid to sign my name for an hour, I'd think that $500 is pretty reasonable, unless your last name is St. Pierre, Couture, Eastwood or Obama.
He says if you don't fight, you don't get paid. I ask him then, did Hendricks punch you so damned hard you needed time off? Even if you hadn't been injured, you still weren't going to fight until July. Don't worry, we haven't missed you.
And if you're really that eager to fight, you should have stepped up to fight Jon Jones. Or Daniel Cormier. Jon Fitch= clearly scared to fight. He doesn't want to be a fucking fighter, obviously.
---
Twitter Break!!
Follow @StewartLangeMMA
Follow @411mania
Follow @411wrestling
Follow @411moviestv
Follow @411moviestv
Follow @411games
Follow @411mma
Got a twitter? Click the above links for up to date news from across the 411 spectrum, plus, be sure to follow me for ongoing fun and shenanigans!
Image credit: The Five and &1 banners-
Follow @bossmew
Image credit: All other artwork-
Follow @TEK_Designs
---
UFC IN BRAZIL!

"Don't try and stand with him….."
The UFC is back in Brazil this weekend and I have to get something off my chest. I know I laugh and joke about fights being exciting and so on, but since this event was changed to Silva and Bonnar, I've become genuinely, hand on heart excited for it. Yes, I've been a bit stupid about it, with my #TeamBonnar hashtag and all, but I promise, this is one I'm really looking forward to. I've already written a portion for this weeks All The Kings Men column, which may be up already, but in it I explain my reasoning for being excited. I'll not ruin it, but I can be a bit more open and so on in my own column.
On Saturday night, the greatest MMA fighter of all time will step into the cage to fight someone that has helped shape ALL of our MMA watching experiences. Whether you agree or not, Stephan Bonnar will likely be inducted into the UFC Hall of Fame purely for his part in the TUF 1 final against Forrest Griffin, a fight I can all but guarantee you've shown to at least one other person in a hope to get them excited about your new found passion, MMA. Hell, it was probably shown to you by someone and it's what hooked you. It's nothing to be ashamed of. Now, I'd been watching casually before then, but it was around the TUF "boom" I really fell for MMA and have always felt quite attached to Bonnar, with him being part of a certain group of fighters, the ones I watched debut and go on to fight for, and win, world titles.
While it may seem overly romantic, I don't think it's that much of a stretch to think that Bonnar can upset the world. Don't get me wrong, I'm picking Anderson, but there is a part of me that wants to lay some cash on "The American Psycho" just on the off chance he lands that one fight changing punch.
And don't say I didn't tell you so.
---
Who wants another hot girl from a 90's TV show? I sure do. Especially if it's
Yasmine Bleeth!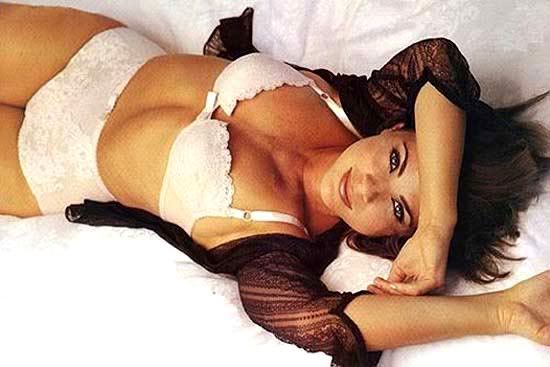 ---
The 5 & 1 End Zone!
That's it for another week here in the 5 & 1, so I hope you enjoyed the column! Please, leave a comment below and be sure to check some of the other amazing work here on the 411.
Alex Watt: "Thoughts From Across The Pond"
Jeffrey Harris: "MMAs 3 R's"
Robert Winfree "Locked In The Guillotine"
Jonathan Solomon: "The Juggernaut MMA News Report"
Wyatt Beougher: "Five Quick Rounds"
Scott Kuczkowski: "The View From The Cheap Seats"
Dan Plunkett: "The Greatest MMA News Column"
Jon Butterfield: "Monday Morning MMA"
Patrick Mullen: "The Blueprint"
Jeremy Lambert & Samer Kadi: "Occupy The Throne"
Alex Rella: "MMA Top Ten"
Don't forget the other 5 & 1 columns on the site either!
Jack McGhee: Movies
Greg De Marco: Wrestling
I know I've been running the domestic abuse hotline for a few weeks now, but I'm changing my good cause. Friend of the column and 411er Steve Gustafson has recently set up a website to aid those affected by suicide and having been affected personally, I'll be linking to it for you here from now on. Please, if you need to, visit the site and remember, don't suffer alone.
We're all done here for another week and be sure to leave a new, funky comment. Hell, send me a tweet or an email if you'd rather. Especially if you're an attractive lady. If your not, I'd still like to hear from you, I just don't want to look at you. No offence. Hopefully, with none taken, you'll be back to read my Stephan Bonnar victory column, so with that in mind, I'll…………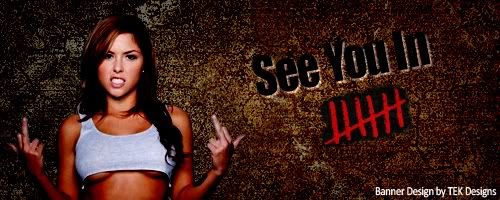 NULL
comments powered by Disqus