The MMA 5 & 1 10.17.12: The Doing it for Wylun and Shawn AKA The UFC 153 Edition
October 17, 2012 | Posted by
Hello and welcome to another edition of the MMA 5 & 1! It seems this week I have quite a lot of making up to do as not one, but TWO of you decided to let me know you were disappointed in me last week so I've decided that this week, I'm going to give you what will hopefully be the most enjoyable 5 & 1 in a long time. While I'm not going to give you excuses or anything, I was on day two of a sixty five hour, 6 day week last week and was feeling pretty run down. I have this week off, with absolutely no plans other than recharging my batteries, watching some movies and playing Borderlands 2.
And writing this. Which has to be brilliant or you'll leave me.
So no pressure, then.
So like every week,
Without further adieu……. (come back Dustin James, all is forgiven)
BANNER!
Oh, I should also add this is a UFC 153 special. That's all.
BANNER AGAIN!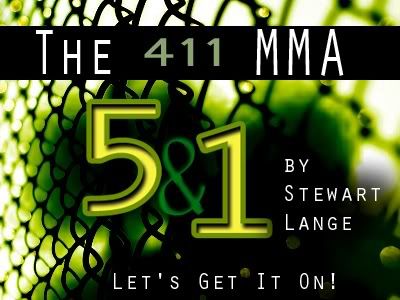 ---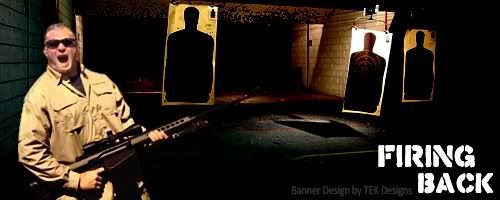 I return fire on last week's comments!
Like I said above, I took a bit of a beating in the comments section last week, so let's take a look at the main theme of the vitriol.
Jeffrey: Stewart, I really hope you were joking about Hot Fuzz being bad and lumping it in with Bucky Larson.
Todd Vote: The man has a severe hatred for Simon Pegg, who I guess is shoved down throats in the UK like Channing Tatum to us in the U.S.
Ryan Haseldine: I know right, Hot Fuzz is quite possibly the best British comedy in a decade, other than Shaun of the Dead.
Michael S: As alluded to by Jeffrey, I'm assuming the fact that 90% of this weeks column is loaded sarcasm means you were being sarcastic about Hot Fuzz being bad
Wyatt Beougher: No, he hates Simon Pegg. Poor little fella.
Right. Time to straighten this out. Pretty basically, last week, the column was pretty heavily loaded with sarcasm, but I do feel like it's only fair to mention that I actually don't like Hot Fuzz. But allow me to explain….
When Spaced came out, there had been very little like it and it was and still is one of my favourite comedy series ever. Shaun of The Dead was a great movie too, it came out of nowhere and was a really enjoyable twist on a stale genre of film. Now, having enjoyed those things so much, I had extremely high hopes for Hot Fuzz and as a result, left disappointed. For me, it was too self-aware compared to the duo's previous work. Couple that with the face that Simon Pegg (not so much Nick Frost) had become a big star and was being forced down the throats of the UK public at any given opportunity, I had no desire to watch it again and see if I was wrong.
So, there we have it. I haven't always hated Simon Pegg, I loved Shaun of the Dead and only dislike Hot Fuzz because I expected too much.
Powers: Lange, it's a shame you've decided to scrap 'What if?' because I just though of a good one. I'm watching 'The UFC: 100 Greatest' DVD and I'm up to the Penn/Serra fight. The commentators discuss how Penn has changed and talk about his loss to Pulver; apparently had Penn beaten Pulver he'd have considered the division 'cleaned out' and retired. I wonder what would have happened if Penn had retired from the sport at such a young age and never come out of retirement?
Good shout, Austin. Assuming that is your first name. What If? returns below.
Wylun: wow stewart.. honestly i have to say… i've been a fan of our columns.. but this is probably the worst of them all.. so much damn negativity and criticisms for no reason.. and its like un-necessary criticisms and shots you're taking too… =
Shawn: It's like you didn't even try this week! The sad decline has begun. Pretty son you will be losing weekly battles to the up and comers in fact or fiction. Nice pictures though. Just in case you decide to decide to rebound next week: Hughes destroys Pulver 99 out of 100 times, The viewing public would love a "return to Buffy" with some Eliza Dushku, and for the record; Here Comes the Boom looks like the kind of classicly bad movie that always makes it to the Spike TV hitlist!
Now, I'm really glad you guys were able to leave these comments and they weren't seen as worthy of deletion by the new moderating system. You two guys have been among my most regular commenting and favourite members of the 411 community (Thoughts from Wylun's corner, anyone?) so it bothers me that you aren't enjoying the 5 & 1 as much as you were.
Wylun, I'm assuming you mean my talk about Jon Fitch from last week, I'll address that further later on but believe me, a lot of what I say has to be taken with a pinch of salt. I'll try and not be too negative, though.
Shawn, if I wasn't too busy for Fact or Fiction at the moment, I'd take more exception to that! Eliza Dusku is an absolute SHOUT for this weeks & 1 model, though. There's no decline around here, onwards and upwards!
Thanks for all the comments as usual, hopefully the new comments section is up and running and a great way to let me know what you think.
---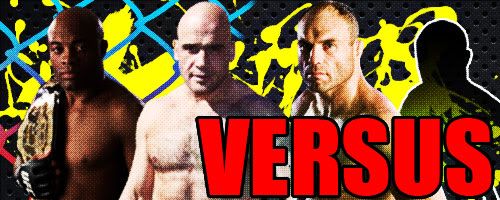 Matt Hughes and Jens Pulver went at it last week and to be fair, it was always going to be slightly lopsided as Hughes Pulver-ised Jens with a mammoth 62 votes to 5. I can't say there has been as big a victory as this one in Versus history, so thanks to everyone for voting!
This week, former WEC champion and current UFC 155lb king Benson Henderson takes on the dangerous submission artist Shinya Aoki. Will Aoki be able to wrap up Henderson and do what so many others have failed to and make "Smooth" Ben tap out? Or will Benson be able to outwork Aoki and break his spirit on route to a victory? Only you have the say, so make sure you vote below!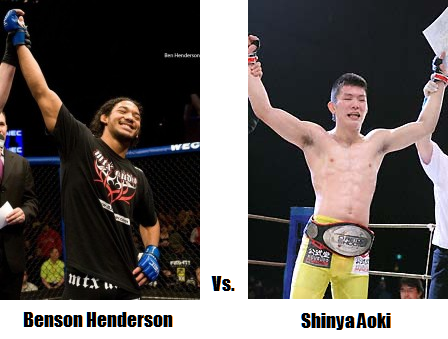 ---
The Junk Punch Rant Zone!
The MMA Dick-Tionary
Dick-tionary (adj)- An irrelevant look at MMA terms that annoy our hero for no real reason.
This week:

HERE WE GO!
Bud Light pay a lot of money to sponsor the UFC. The tag line is all over everything, the logo is the centre of the majority of fight cages these days and the mat the fighters stand on to be checked by the medical  staff is the Bud Light preparation area. It's a good thing the UFC have such a big sponsor, but does Mike Goldberg get a commission to say "Here…….. We go" like Chandler Bing after he says Bud Light? Part of me wants to know that he's actually having some fun and trying every different possible way of saying those three words. "Heeeeeeere wego" and "here we……….. GO" are other personal favourites.
Do you have a nominee for the MMA Dick-Tionary? Be sure to share it in the comments!
Douche Of The Week
UFC 153 Referees!
In keeping with the UFC 153 special, it's a good thing I can pluck this weeks Douche straight from the event. Man, what was with the refereeing on Saturday night? If it wasn't Fernando Yamasaki getting fighters to stand up after 10 seconds of active ground work, it was Mario allowing Glover Teixeira to turn Fabio Maldonado's face into mince meat. While the second was debatable, it was pretty brutal but more on it later. Another moment I was a bit shocked nobody mentioned was Phil Davis punching Wagner Prado full force in the back of the head. The crowd saw it and reacted, but neither Marc Goddard or the commentary team caught it. Not a great night for the third men.
---
Dana Versus!

DaMarques Johnson
While this may have just been a little further back than I'd have liked news-wise, it bears discussing that the UFC cut DaMarques Johnson last week. Well, he did lose once again, I hear you say. True, but let's look at it another way. Only a couple of weeks prior, he'd been knocked out but received medical clearance to take a last minute fight. He wasn't able to make weight and was cut. So, what is fair about that, I hear you ask? He only wanted to be a fucking fighter, I hear you shout! Don't worry, I hear you. This smacks of hypocrisy from White and Joe Silva, as they're always quick to commend fighters for stepping up late on but the fact they've essentially cut Johnson for missing weight here is pretty appalling. Whether or not they could have agreed to a catchweight before a weight cut is pretty irrelevant since now there's just one more unemployed fighter out there.
Unless he's already signed to Bellator.
---
What If…..?
Last week: St. Pierre had never been defeated by Matt Serra.
I know, it was two weeks ago that this one was put to you, but since you never got an answer, I'll hit it here.
Pretty basically, if St. Pierre never lost to Matt Serra, he'd have just dominated everyone else at welterweight and been in exactly the same situation as he is anyway. Well then. Let's get more inventive, then, shall we?
Thanks to Powers from the comments section for this weeks suggestion.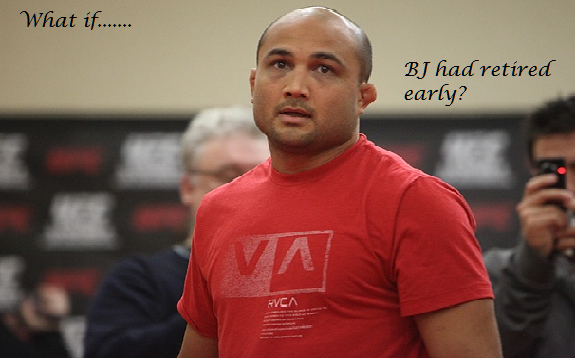 What if BJ Penn had done what he'd wanted to if he'd "cleared out" the UFC after UFC 35? What would have happened to the shape of the lighter weights in the UFC without the "Prodigy" around to shape the landscape?
What happens next?
---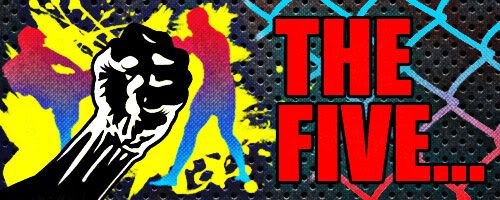 UFC 153: Silva Vs Bonnar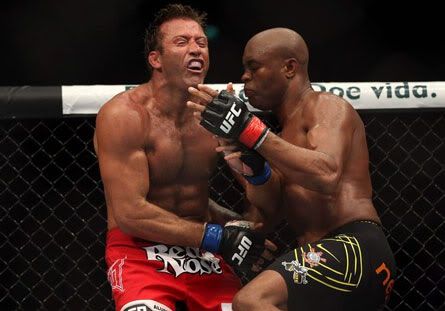 It's not often you see the "Psycho" go down like this.
So, UFC 153 is in the books and I decided that because I enjoyed it so much, I'm dedicating the whole 5 & 1 to the event this week, one fight at a time. We'll start at the top of the card and look at the greatest fighter of all time, Anderson Silva, winning what was always likely to be a one-sided affair against original TUF finalist Stephan Bonnar. Silva put Bonnar down within five minutes, landing a big knee to the body of the "American Psycho" that called time on proceedings in Brazil.
Here at the 5 & 1, I've been pretty vocal about my support for Bonnar during this whole period and quite honestly, I don't think he has anything to be ashamed of. He stepped up to take on the most dangerous fighter in the world at really short notice and he went in to win. Tying Anderson up against the cage seemed to be working until Silva realised he could actually get his ever dangerous plum locked in and actually didn't want to leave the cage. I think you could physically hear Bonnar deflate, as you can only imagine how demotivating it is to see your opponent WANT to be in the position you thought you were so dominant in.
My wife was pretty upset at this, as she thought Anderson was being fairly unsporting by not coming into the centre of the cage to engage Stephan, but then, she doesn't seem to take any enjoyment out of watching Silva embarrass Forrest Griffin either. I just told her she should be thankful that Bonnar never ran crying from the cage afterwards, although if rumours are to be believed, that is how he left Brazil after the fight.
Bonnar will no doubt slink back into semi-retirement after this, with there not being an awful lot left for him to achieve within the cage, but as for Silva, I have little doubt he's going to wait and see what happens with the GSP fight in November. While the UFC seem adamant for him to face Jon Jones, surely at this point the St. Pierre fight is far more likely and should be what they concentrate on. Failing that, I'd love to see what Anderson would do to Lee Murray these days. Who wants to pay his bail? Dana? You're all about trying to get people out of jail, after all.
---
The 5 & 1 Soundtrack
I had a pretty long drive to make on Sunday, but it was made all the better by listening to White Zombie the whole way along the motorway. To settle an argument, though, what do you guys think: is it "Welcome to the Planet Motherf*cker" or "Welcome to the Planet, Motherf*cker?"
---
UFC 153: Nogueira Vs Herman

Any bets his chin doesn't hurt as badly as his pride?
Feel good moment of the year, anyone? Is there really much better in the MMA world than watching someone you think is an ass getting their mouth shut for them? That was exactly what happened in Saturday night's co-main event, as Dave Herman took on Antonio Nogueira in a bout that Herman was in "no way going to lose by submission." Well, the funny thing about that, though, is that lose he did. By submission. Despite assurances that Jiu Jitsu doesn't work on him.
411's very own Mark Radulich had Dave Herman winning the first round, but I didn't really see where he took that score from. If anything, I though Big Nog had shaken Herman enough on the feet that "Pee Wee" may have entered the second round a bit less eager to stand and trade with him. He still stayed up until Nog put him down with a great shot and managed to use his Jiu Jitsu to prove a point to Herman, Chael Sonnen and anyone who thought he was done. Nogueira looks practically unbeatable in Brazil and as much as it pains me to say it, he should probably stick to fighting there in bouts such as this. There doesn't seem to be much higher up in the ladder for him other than vicious knockouts and broken arms so maybe, just maybe, we'll have seen the last of Nogueira in the UFC cage?
As for Herman, I'd be inclined to say the same thing. He's now 1-3 in the UFC with his other losses coming at the hands of Roy Nelson and a pre-beast mode Stefan Struve. He's not exactly the most exciting fighter and I'm pretty sure the majority of fans could give a damn if he wasn't around. Perhaps the lack of real depth at heavyweight will save him but to be totally honest, I'm one of those guys who could give a damn.
---
The 411 MMA Podcast
Mark and the gang are back with a review of UFC 153!
---
UFC 153: Maldonado Vs Teixeira

This one got UGLY.
What is it with these guys all having names that really upset my spell checker? It's making life pretty difficult. What will also make life difficult for you is having a 205lb savage sitting on your stomach trying to reach the other side of your head with his elbow. Sound familiar? If it doesn't, then that means that you are lucky enough to NOT be Fabio Maldonado. Actually, given the beating he received, you might actually BE Fabio Maldonado as I'm pretty certain he's not going to remember an awful lot of Saturday night. Anyway, 205lb newcomer Glover Teixeira once again proved he's not a man to be messed with as he laid a 10 minute beating on poor Fabio, who somehow stayed conscious throughout it. Yes, Mario Yamasaki could have quite easily stopped the contest long before the doctor did, but at least Maldonado impressed Dana White by being exactly the sort of punch bag the UFC wants on the pay roll.
Teixeira now looks very likely to face Rampage Jackson in the bout that was initially scheduled for this card, so I'm wondering what exactly old Quinton saw on Saturday that makes this guy seem like a good opponent for him. He's stronger on the feet, has excellent wrestling and a sound submission game. He also looks like he weighs about 260 pounds, so he has that going for him too. It's actually a good thing that Jackson has already said he wants this fight as at this rate, it's going to be even harder than before for the UFC to book fighters in opposite Glover.
The target for him will obviously be a fight against Jon Jones and it could very well be a fight that we see in 2013. Do you guys think that Jones wins against someone as strong as Glover or do you think that once "Bones" gets hit by one of those bombs we'll see a new king at 205?
---
Knockout of the Week!
Further proof that Glover Teixeira has been wrecking fools long before stepping into the UFC. Sorry about the quality.
---
UFC 153: Fitch Vs Silva

Fitch in Fight of the Night? Surely not?
The man with the best "mean face" in the business, Jon Fitch, stepped into the Octagon and was able to do exactly what I, as well as many others, predicted he would and defeat Erick Silva by judges decision. What we didn't predict, though, was that Fitch would go bonus hunting and drag a fight of the night performance out of Erick Silva. Despite Silva having a decent choke locked in on him in the second round, Fitch held on and taught the disrespectful youngster that you can't be too careful against a seasoned veteran. Last week, I was pretty harsh on Jon Fitch talking about how he needed to fight more to get money and you know, he totally shut me up. I've always liked Jon Fitch, in theory, but he's never been that exciting to watch, but if this guy is coming not only to fight, but to win in a way that he can add at least $60,000 to his pay check, then I'm on board with having him fight as often as possible.
Erick Silva has to go back to the drawing board though, but both Jon Fitch and Dana White have compared this bout to GSP losing to Matt Hughes all those years ago. It does bear similarities, such as the youngster looking to unseat the veteran and take his place in the division, not to mention the result. Silva also has to start acknowledging the fact that he's not an unbeatable fighter, so keeping your hands down against a guy who is a perennial top 5 welterweight isn't that smart. What exactly would have happened if he'd fought Nick Diaz like that? Now, that's actually a fight I'd love to see. Now, to teach Erick Silva English so the trash talk can begin.
---
Twitter Break!!
Follow @StewartLangeMMA
Follow @411mania
Follow @411wrestling
Follow @411moviestv
Follow @411moviestv
Follow @411games
Follow @411mma
Got a twitter? Click the above links for up to date news from across the 411 spectrum, plus, be sure to follow me for ongoing fun and shenanigans!
Image credit: The Five and &1 banners-
Follow @bossmew
Image credit: All other artwork-
Follow @TEK_Designs
---
UFC 153: Davis Vs Prado & Maia Vs Story

The rest of the card!
Since there seems to be one fight too many for my UFC 153 special, I'd better cram two into the last section, hadn't I? Just a good thing that it's the two I have the least to talk about, isn't it? Next up, we have Phil Davis taking on Wagner Prado in a rematch after Davis tried to perform surgery on Wagner's brain through his eye. Prado was never in huge amounts of danger before being submitted, but Davis was always safely in control against someone he was probably pretty over matched against. Certain websites are reporting Glover Teixeira and Phil Davis as a potential title eliminator, which would suit me just so we can see Davis away from title contention again. I have nothing against the guy, but he's just a pretty uninspiring fighter.
Opening the card and completing our backwards walk though UFC 153, Demian Maia continued to look fantastic at 170lbs by totally outclassing Rick Story and making the former "next big thing at 170″ look like he'd never fought an MMA bout before in his life. The neck crank finish was sweet as a nut for Maia who has made the best decision of his career cutting down to 170. Perhaps we'll get Fitch and Maia next? Jon will certainly not risk trying to lay and pray on Maia so by taking that fight, Fitch could find himself a little bit richer with another fight of the night. That to me is the biggest surprise of 153, though. Could you imagine saying anything like that about these two guys even two years ago?
All in all, UFC 153 has been the card I've enjoyed the most in 2012. Despite there being no real "meaningful" fights as far as titles go, almost all of the fights were relevant to their divisions and some old names proved that they are still not to be taken lightly by up and comers wanting to add their name to their win column.
I'll also add, in closing, that Big Nog's armbar was the first time I've marked out at MMA since Tito beat Ryan Bader.
---
So, I gave this away earlier. I've inadvertently wound up doing a Buffy series in the & 1, but who's complaining? Nobody, especially when I give you…..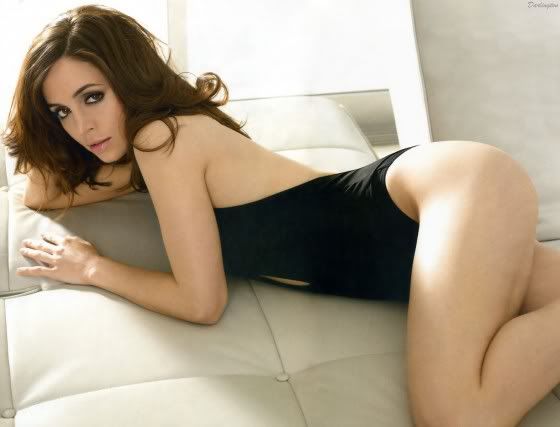 Eliza Dushku!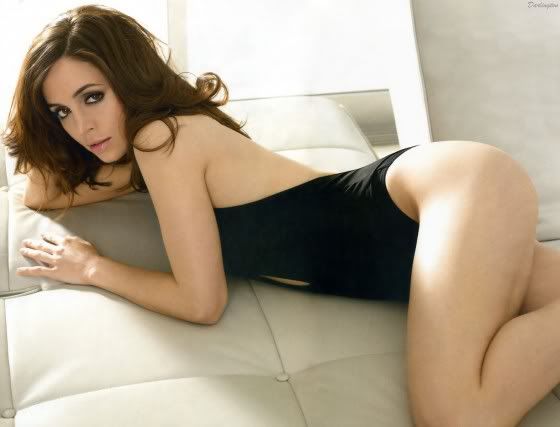 ---
The 5 & 1 End Zone!
That's it for another week here in the 5 & 1, so I hope you enjoyed the column! Please, leave a comment below and be sure to check some of the other amazing work here on the 411.
Alex Watt: "Thoughts From Across The Pond"
Jeffrey Harris: "MMAs 3 R's"
Robert Winfree "Locked In The Guillotine"
Jonathan Solomon: "The Juggernaut MMA News Report"
Wyatt Beougher: "Five Quick Rounds"
Scott Kuczkowski: "The View From The Cheap Seats"
Dan Plunkett: "The Greatest MMA News Column"
Jon Butterfield: "Monday Morning MMA"
Patrick Mullen: "The Blueprint"
Jeremy Lambert & Samer Kadi: "Occupy The Throne"
Alex Rella: "MMA Top Ten"
Don't forget the other 5 & 1 columns on the site either!
Steve Gustafson: Movies (Big Screen Bulletin)
Greg De Marco: Wrestling
Friend of the column and 411er Steve Gustafson has recently set up a website to aid those affected by suicide and having been affected personally, I'll be linking to it for you here from now on. Please, if you need to, visit the site and remember, don't suffer alone.
Well, we've made it to the bottom of the screen once again and the sun is setting on another MMA 5 & 1! Well, I hope that the feedback you guys have is much more positive this time but I really look forward to hearing from you all either way. Remember and make sure to vote for your winner in Versus but also, play along with What If and I'll feature the best responses next week! As always, thanks for reading and I'll…………………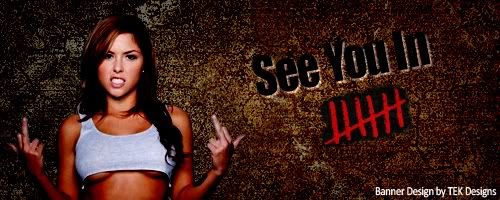 NULL
comments powered by Disqus