The MMA 5 & 1 11.07.12: The VOTE 5 & 1 Edition
November 7, 2012 | Posted by
Hello everybody and welcome as we are LIVE with yet another fully loaded, action packed, wheelin' dealin' kiss stealing MMA 5 & 1 Why the Ric Flair intro, you ask? Well, why not. There's absolutely nothing wrong with using a little bit of "Naitch" to get you into the groove. Especially as it's been a sad week here at 411. Mathew Sforcina has decided to call it a day doing Ask 411 games and despite my awesome covering shift a couple of months ago, I've not been asked to take over. I wouldn't take that gig, though as it would mean having to give up this one and I just know that you three readers would be really upset.
Speaking of Sforcina, though, here is something I've unashamedly ripped from his resume.
BANNER!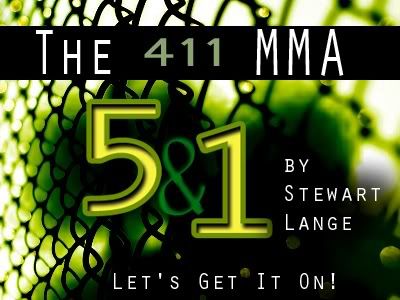 ---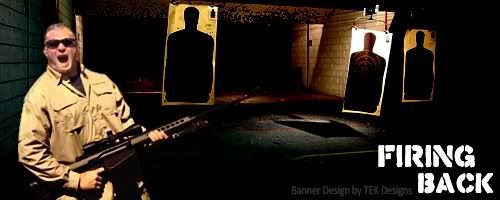 I return fire on last week's comments!
Last week saw a heavily abridged 5 & 1 with a Halloween flavour!
Shawn: Great column. I really enjoyed the Halloween themed change of pace!
Thanks, Shawn. It was fun to write, I'll maybe stray from the path more often.
Todd Vote: whatever happened to 50 shades of Gray Maynard?
I'm not going to lie. I think that 50 Shades hit a bit of a wall as far as creativity was concerned.
DoubleAgent74: Korn and Emily Browning? OK, I'll bite. Korn, Emily Browning, and Skrillex? Not so much. Actually, I'd argue that mixing dubstep with anything is like washing down a meal with a quart of spoiled milk.
Each to their own. I have my issues with Skrillex as far as his own material is concerned, like he seems to overuse a lot of the same samples but I do think he helped create probably the best Korn album since "Follow The Leader."
And Emily Browning? Dem cheekbones.
---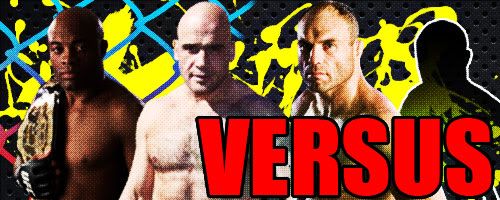 It's been two weeks since the last installment of Versus but it was a pretty good match up. Frankie Edgar defeated Urijah Faber, advancing him on to the quarter finals of the tournament. A few of you went so far as to say they'd want to see them go for real. Who knows, if Edgar loses to Aldo then a Faber fight may very well happen at some point if he moves back up. I'd love to see it too.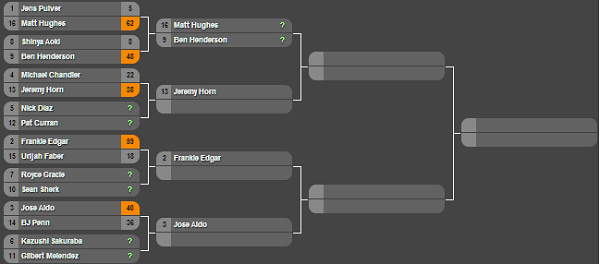 This week, we have a match up between two greats who have both had their share of controversy, as Royce Gracie, the man who brought Gracie Jiu Jitsu to the world, against the "un-submittable" Sean Sherk. Would Gracie be the only man in over 40 fights that would be able to defeat Sherk by submission? Vote with your fingers, everyone!
---
The Junk Punch Rant Zone!
I'm not angry enough to punch junk this week, but I am in the mood to post a picture of Emily Browning's back. It's amazing that you forget what annoys you about MMA when there's been so little of it easily accessible.
That's right, I'm not breaking laws just to see Andrei Arlovski knock out a guy who may or may not, for all we know, look like Samer Kadi.
On that note, if anyone has information on what Samer actually looks like, Dustin James is willing to trade a (soiled) Oregon Ducks jersey and three of his "special" brownies. Picture evidence required.
---
What If…..?
Last week: Randy Couture had fought Fedor?
Shawn came up with the best suggestion, although maybe it asks more questions than it answers. He's definitely correct with his first few words.
The What if might be the biggest what if in the MMA world. I can't formulate a clear opinion on who I think would have won that fight! I think Fedor probably had a slight speed advantage at that point in their careers, but I think that fight is too close to call. I think the biggest effect of that fight happening under UFC terms is how it might have affected Affliction. If one assumes that the UFC would have only allowed the fight if Fedor was under contract, then he would have been unavaivable for co-promoted fights with Affliction. Without Fedor, maybe there is no Affliction experiment at all. I wonder what you and my fellow 5&1 fans think?
My coin would have probably been with Emelianenko, but who knows.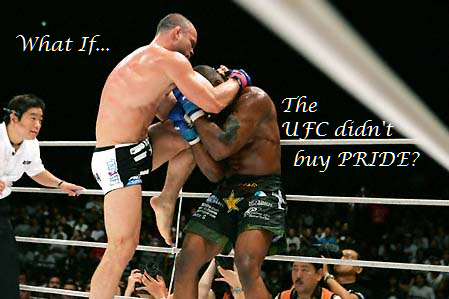 This time, we look at what would have happened in the MMA world if PRIDE had never fallen upon the harder financial times that eventually culminated in them being taken over by Zuffa.
Any thoughts? Share them in the comments section!
---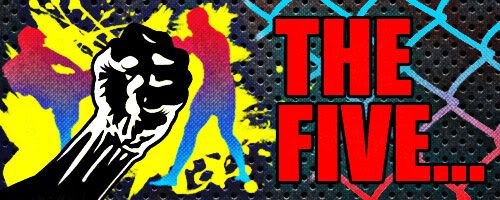 Oh, Sandy.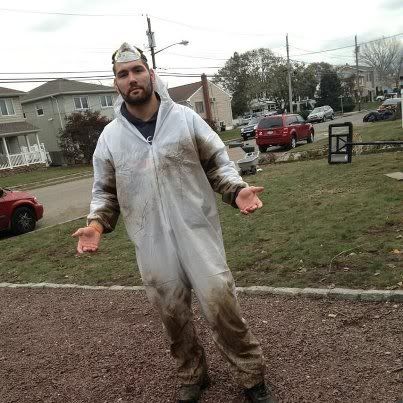 Chris Weidman rips off my Heisenberg Halloween costume.
While I have no intention of making light of Hurricane Sandy, it has led to some fairly interesting , sometimes amusing and incredible news stories. While I've found most of these on Reddit and therefore totally irrelevant to an MMA based news column, there was one that I could thankfully use to pad my word count, which was that of UFC Middleweight contender Chris Weidman. With such a wide area of damage, some people of note were bound to be affected but nobody in the MMA world seems to have been affected quite as much as Weidman. Living with his wife and two kids in Long Island, his home was all but wiped out by the storm but thankfully, nobody was hurt.
The sights of his home during the aftermath were terrifying, especially to someone like myself who is lucky enough to live somewhere that isn't susceptible to storms of this magnitude. While Weidman is now living with his parents as he tries to rebuild, some other of the residents of the north east coast were actually going training in the conditions, as reported by Fighters Only. Matt Serra (remember him?) was also keen to get back to Long Island as back to teaching BJJ.
I hope that everyone reading this that was affected is safe and are able to get back to normal as soon as possible.
---
The 5 & 1 Soundtrack
I'm excited for "Koi No Yokan" being released, so I'm doing some major catching up with the Deftones. You should be excited too.
---
Mo' drugs, Mo' problems.

Retired psycho suspended for one year
While I was right at the front of the train cheering on Stephan Bonnar against Anderson Silva recently, I didn't really expect him to win. There was in fact only one man in the world who thought Bonnar was going to do the job against Silva, but mainly because he was supplying Bonnar with anabolic steroids. While this news will always put a damper on a fight, I will concede to enjoying it when a fighter fails on a losing performance. Bonnar tested positive for Drostanolone and joins a long list of fighters who have been rumbled recently. If anything, Bonnar's test should come as the least shocking as he had the least to lose. While he has been fined, he's also been suspended from competition for a year despite announcing his retirement from the sport after UFC 153.
The way I think we have to look at this to take a positive away is that Anderson Silva has defeated two opponents who have since tested for PED's of some kind, especially while looking as beastly as he did against Bonnar. Normally, fighting a guy who outweighs you by a decent 20lbs would be stupid and if he was juicing, then it'd be suicidal, but Anderson made it look like he was the 'roided up bully by beating down the "American Psycho." There's a lesson in there somewhere, kids.
In other news from the pages of the drug test report, Dave Herman tested positive for marijuana, which may well be enough to see him cut from the UFC following a plethora of disappointing performances. I'd love to analyse that further, but unless any of his family are reading, I'll assume none of you care.
---
The 411 MMA Podcast
Mark Radulich, Jeff Harris and Pat Mullin are back with another great show this week!
---
Ben Henderson talks boring.

The only man scared of Anthony Pettis any more.
Quiet man and god fearing UFC Lightweight champion Ben Henderson spoke out about his headlining buy rates and building fights and it has to be said, I'm not sure how switched on old Ben is about the whole situation. He seems aware that the two occasions when he has headlined a UFC pay per view this year have not been received particularly well, with neither card drawing big numbers but when give the chance to say something about the number one contender to his title, Nate Diaz, he didn't take the opportunity to say something about Nate that may have incited a reaction and maybe made this fight exciting. Henderson doesn't seem to think that Nate will want to trash talk to build the fight. Maybe it's because that's something the Diaz brothers just aren't known for. He also spoke out about Chael Sonnen and how Sonnen is an "average, white guy" who knows he has to talk up a fight to make it interesting.
Now, I like Benson as a fighter, but does he not get that he's the lowest drawing UFC champion outside the new weightclasses for the fact that he has as much charisma as a McNugget? It's not really meant to be a slight on the guy as I'm sure he's a dead nice dude, but that isn't what we watch MMA cards for and as a result, he may find the 155lb title is defended a lot more on free TV if he is able to get past Diaz but remains unable to capture the attention of the viewing public.
---
Knockout of the Week!
This isn't the most amazing or violent knockout you'll ever see, but it did make me laugh. The Chael Sonnen school of spinning back fists.
---
World Series of Fighting

Arlovski. Back again. Apparently.
There's a new MMA promotion in town and by all accounts, they've actually made a pretty decent entrance into the fighting world. That's right, the "Ring of Honor of MMA" made their long awaited debut on Saturday night and we now also have World Series of Fighting to write staff roundtables for. The first event was already going to be off to a good start as they enrolled the almighty Versus champion Bas Rutten onto commentary. After such a shrewd move, whatever happened during the fights was going to be an affectation.
There were fights, though and they did not disappoint in being action packed, as Andrei Arlovski crushed Devin Cole with a trademark knockout, which would have been made all the more impressive if it wasn't against Devin Cole. Anthony Johnson put his weight troubles to bed as he finally seems settled at 205lbs. Seriously, the fact that this guy could even make 170lbs is hard to believe. He defeated DJ Linderman with a massive knockout in the first round which is, unfortunately, probably enough to get him back into the UFC.
The disappointment came from perennial crap merchant Miguel Torres. As Torres was formerly one of my favourite fighters, I was hoping that against someone like Marlon Moraes, we'd get an exciting performance out of the mullet and everyone would love him again. I was wrong. Not only did he lose, but he looked like crap in doing so. Not good at all. Maybe, just maybe, he should retire and not further tarnish a legacy punctated for many by a terrible rape joke.
---
Twitter Break!!
Follow @StewartLangeMMA
Follow @411mania
Follow @411wrestling
Follow @411moviestv
Follow @411moviestv
Follow @411games
Follow @411mma
Got a twitter? Click the above links for up to date news from across the 411 spectrum, plus, be sure to follow me for ongoing fun and shenanigans!
Image credit: The Five and &1 banners-
Follow @bossmew
Image credit: All other artwork-
Follow @TEK_Designs
---
Crap Predictions are back!

What way to arrive in China by looking like a crap kung fu movie?
Well, the UFC have a show this weekend coming and it's FREE! Although this is mainly because it's going to air sometime on Sunday afternoon in America and a week next Tuesday in the UK so nobody knows when they'll be able to watch it. Rich Franklin returns to take on someone I have a fairly irrational dislike for in Cung Le. Don't even ask me why. I don't know. I just don't like him.
To mark the occasion and to save me doing a big write up for it, I bring you some shit predictions! As usual, for every one I get right, I'll buy all of you a beer.
1- Cung will hit Rich so hard he needs surgery and looks even more like Jim Carrey.
2- Stanislav Nedkov will defeat Thiago Silva and still nobody will know who he is.
3- Alex Caceres will do something stupidly offensive towards the Chinese audience while dressed as Bruce Lee, albeit unintentionally.
4- Takanori Gomi will remain unable to buy a victory.
5- The show will not be critically well received, but do the highest rating that Fuel TV have seen.
---
I stumbled across this beauty while looking for images for Royce Gracie in Versus. She's a welcome distraction. I give to you…….
Gracie Carvalho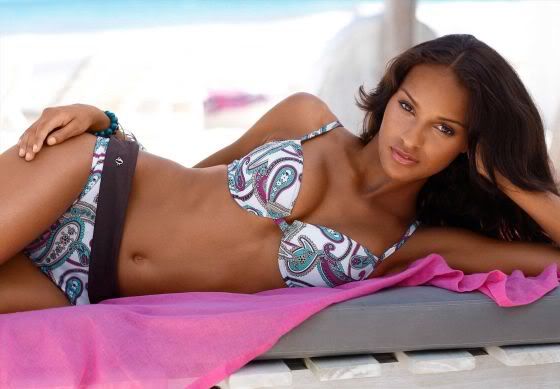 ---
The 5 & 1 End Zone!
That's it for another week here in the 5 & 1, so I hope you enjoyed the column! Please, leave a comment below and be sure to check some of the other amazing work here on the 411.
Alex Watt: "Thoughts From Across The Pond"
Jeffrey Harris: "MMAs 3 R's"
Robert Winfree "Locked In The Guillotine"
Jonathan Solomon: "The Juggernaut MMA News Report"
Wyatt Beougher: "Five Quick Rounds"
Scott Kuczkowski: "The View From The Cheap Seats"
Dan Plunkett: "The Greatest MMA News Column"
Jon Butterfield: "Monday Morning MMA"
Patrick Mullen: "The Blueprint"
Jeremy Lambert & Samer Kadi: "Occupy The Throne"
Alex Rella: "MMA Top Ten"
Don't forget the other 5 & 1 columns on the site either!
Steve Gustafson: Movies (Big Screen Bulletin)
Greg De Marco: Wrestling
Friend of the column and 411er Steve Gustafson has recently set up a website to aid those affected by suicide and having been affected personally, I'll be linking to it for you here from now on. Please, if you need to, visit the site and remember, don't suffer alone.
Thanks for dropping in, everyone! It's been a pleasure as always to bring you another MMA 5 & 1 but it's time for me to watch the new How I Met Your Mother, which will invariably be terrible like the rest of the current season and get to bed nice and early so I can play Assassin's Creed 3 all day tomorrow since I don't have to work. Beautiful. Stay safe and I'll……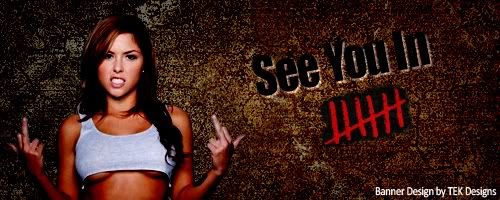 comments powered by Disqus