The MMA 5 & 1 11.21.12: The UFC 154 Special Edition
November 21, 2012 | Posted by
Hello and welcome to yet another MMA 5 & 1! I can only apologise for the lack of a column last week, I know the two of you were very disappointed but unfortunately, it was one of those "real work comes first" sort of things. I am back this week and given how successful my last UFC Pay-Per-View special was, I figured I'd do it again. So, with very little else to say except for Black Ops 2 sucks because I suck at it, I'm just going to get right down to business with my very own special…..
BANNER!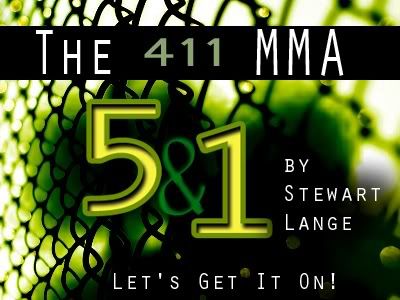 ---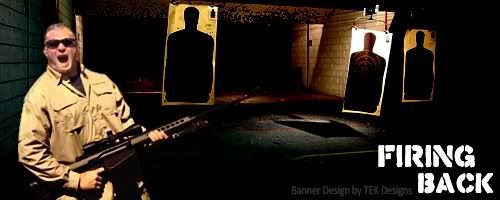 I return fire on last week's comments!
Obviously, I took last week off so I need all of your help in filling this space for next time. Come on, guys! It's easy filler for me and makes it look like I work a lot harder than I actually do. Get on it.
---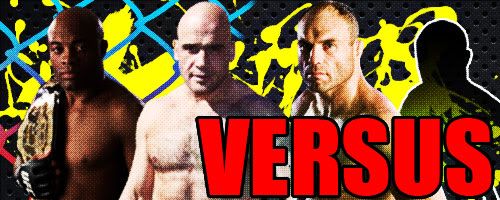 The last time we met, Royce Gracie battered Sean Sherk out of his way as he advances in the Superfight tournament. So, with only two fights left to decide the quarter final match ups, how about we get what I expect to be a fairly one sided affair out of the way.
Nick Diaz is one of the top welterweight fighters of all time and one of the most controversial figures in all of MMA. His Bellator opponent Pat Curran isn't quite as well known but will undoubtedly find himself fighting in the UFC one day. While they aren't the same weight, you're just going to have to use your imagination for this one, guys.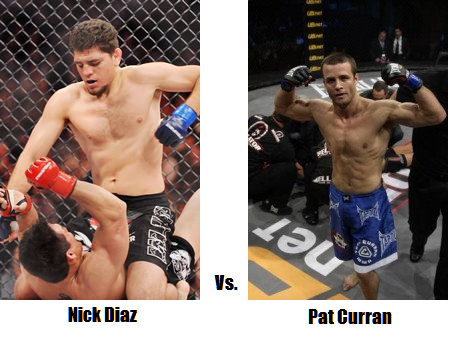 ---
What If…..?
Last week: No "What If" last week!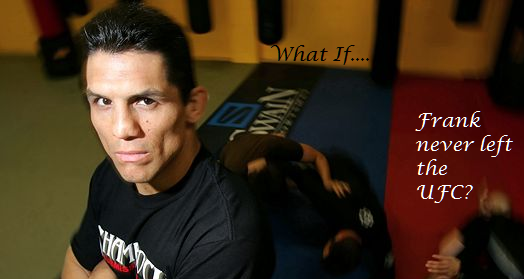 This week, What If returns with an easy one- what if Frank Shamrock had never relinquished his title and left the UFC? Assume he stays on good terms with Dana White and continued as the UFC Light Heavyweight champion?
---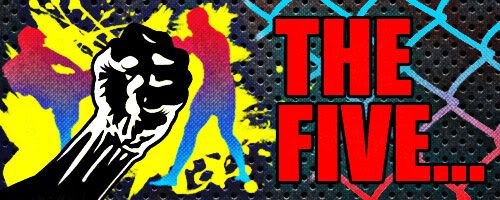 UFC 154: Hominick Vs Garza

One picture tells the whole story.
When Mark Hominick was able to last 5 rounds against Jose Aldo and push the top 5 pound of pounder all the way, many people thought that he was the number two featherweight fighter in the world. Well, the times have changed since that night 18 months ago and Hominick not only finds himself a long way from a title shot, he may also find himself out of his job. Having lost his trainer Shawn Tompkins tragically last year, Hominick is on a three fight skid with this loss to Pablo Garza being the most surprising of all of them in my mind. Garza seemed like one of the TUF alum that would only really be used as a stepping stone for incoming show winners until he was inevitably cut from the roster, but the "Scarecrow" came to win and did so in fairly impressive fashion. It's always pretty tough to book a next fight for a guy who wins like this. By that, I mean he was clearly set up as a "sacrificial lamb" and the UFC were never going to have a follow up plan for Garza. Well, now they'd better as we find out if Hominick just isn't as good as he was or if his horrible loss has killed his drive to compete.
---
The 5 & 1 Soundtrack
While the Flobots are no strangers to the MMA 5 & 1, I've been really into them this week as I can't stop listening to them as I test drive my new Beats.
---
UFC 154: Mark Bocek Vs Rafael Dos Anjos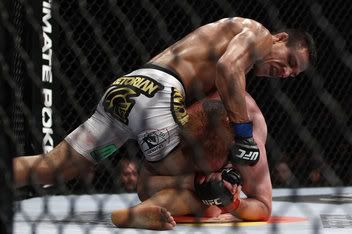 Easy for Dos Anjos
I won't lie to you, faithful readers. I don't like either of these guys. I actually almost didn't watch this fight. I almost wish I hadn't. It wasn't fun. While there isn't much that is quite as entertaining as watching two fighters that you don't give a crap about grind each other for 15 minutes, I decided to persevere for the sake of my "journalistic integrity." Remembering that I don't really have any, I can talk about this fight however I want.
Mark Bocek is only worth watching when he is vastly over matching an opponent. For someone with amazing submission skills, he doesn't really have the skill set to compliment this "amazing" ability to make people tap out. He's so far away from the top tier at welterweight I don't even see him as being in the same weighclass as the guys I rank at 155lbs. Dos Anjos, on the other hand, is like an uncontroversial, therefore uninteresting, copy of Miguel Torres. But not as skilled. His camp calling for the next title shot is fairly amusing as I may just have him within my top 15 at lightweight but at this point, I don't even think he'd beat Joe Lauzon.
So, a pointless fight that has only succeeded in filling a small section of this column that I bet you'd skipped instead of read. I should probably warn you a bit more next time, shouldn't I?
---
The 411 MMA Podcast
Mark Radulich and his merry band of individuals take on another podcast for your enjoyment!
---
UFC 154: Lawlor vs Carmont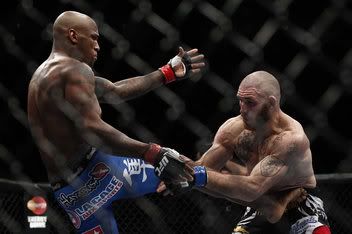 "Who cares?" – Dana White.
I finally hit the nail on the head when it comes to Tom Lawlor. He has the charisma of a star, as he comes across as likeable, he's always trying to have fun at the weigh ins and during his walk out, this time as the "Shockmaster" and "Pee Wee Herman" respectively, but he actually only has the ability of a preliminary card fighter at best. I mean, could you picture Lawlor against any of the top middleweights? He's the Mark Bocek of MMA. Wait, he's the Mark Bocek of 185, I mean. Except he's funnier and not ginger. Where was I again? Right, right. The fight. Well, the fight was not good. Like, really not good. Neither man seemed happy to be in the cage and even when a fight was in danger of breaking out, one of them decided they wanted a cuddle against the cage.
It always entertains me to see the anxious look and ultimate disappointment on the face of fighters after this sort of fight, especially in this case Lawlor. He didn't really look like he wanted to win this fight particularly urgently and while you can see how the fight could have swung his way, there really isn't any need to waste energy arguing the odds over the decision.
Who's next for these guys? Really, I think they should be forced to fight one another over and over again until someone cares about the result of the fight. Just not on the main card of a huge pay per view.
---
Knockout of the Week!
The quality of these isn't great, but then, they are generally breaking some sort of copyright rules. Still, sit back and enjoy watching Johny Hendricks make Jon Fitch forget math.
---
UFC 154: Hendricks Vs Kampman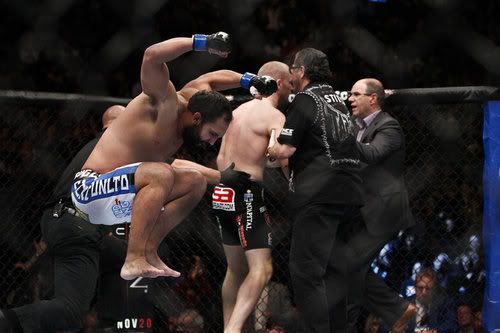 Blanka style
Last Sunday, I called into the 411 podcast to help Mark Radulich and Larry Csonka preview the UFC 154 card. I wasn't feeling very well and wasn't up to the gig, which was obvious due to a few "minor" hiccups. If we ignore the obvious one which involved me saying Nate Diaz would fight Gilbert Melendez, which of course was stupid, then we come to the part when I totally wrote off Johny Hendricks here. I pretty much thought that Martin Kampman was going to be able to turn his tide of bad luck, take a few good shots but ultimately outclass Hendricks and finally earn himself a title shot. Well, the 411 curse struck as it took Hendricks around 46 seconds to separate Kampmann from his mouth-piece. While I normally side with my fellow Europeans, especially as I sit here drinking a Danish lager, Martin stood no chance against that punch. None at all. But who would have? Hendricks is easily the scariest 170lb knockout artist since Paul Daley used Dustin Hazelett's brain as a basketball, but against far more impressive competition.
Hendricks begged to Dana for a title shot like a child to Santa for a Big Wheel, but I think he's going to be disappointed for the time being. I think he'll be forced to fight again despite this bout being billed as a 170lb title eliminator and as big a win as this was, I'm not sure Hendricks is ready for that big fight.
---
Twitter Break!!
Follow @StewartLangeMMA
Follow @411mania
Follow @411wrestling
Follow @411moviestv
Follow @411moviestv
Follow @411games
Follow @411mma
Got a twitter? Click the above links for up to date news from across the 411 spectrum, plus, be sure to follow me for ongoing fun and shenanigans!
Image credit: The Five and &1 banners-
Follow @bossmew
Image credit: All other artwork-
Follow @TEK_Designs
---
UFC 154: GSP Vs Condit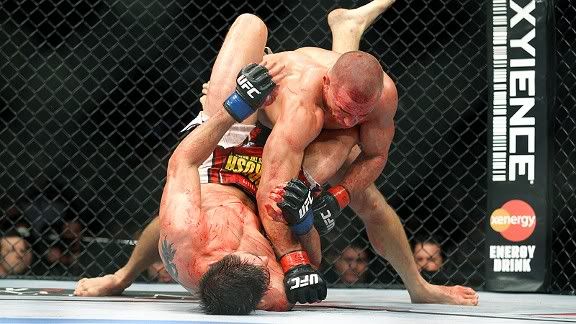 The best GSP fight since, well, ever.
Okay, calling this the best GSP fight ever may be a stretch, but this was certainly one of my favourite fights of this year so far. This long awaited bout between GSP and interim UFC champion Carlos Condit has been superbly build by the company and while early signs show it's done good numbers, it was the epitome of a one card show. That aside, this fight delivered the drama in spades. St. Pierre gave us the game plan we expected, taking Condit down and using his wrestling and ground and pound to work the advantage, Condit NEVER stopped trying to cause damage and end the fight, from any position. On his back? He threw elbows and even the odd up kick. On his feet? Leg kicks, combinations and even THAT delayed head-kick that almost won him the world championship? That's right, in round three, Condit came closer than anyone to finishing GSP since Matt Serra stole the belt all those years ago.
Now, the focus will inevitably turn to the St. Pierre/Silva superfight and how morons won't want to see it, but I'll not talk about that as there's a rumour Occupy The Throne may have words to that effect in it this week and if anyone gets to talk about Georges, then it's only fair that it's Samer. I don't know how you can claim to be an MMA fan and have no interest in seeing the two greats go head to head. Perhaps you're the same guys that didn't want to see Randy take on Fedor, or who closed their eyes when Chuck took on Tito for the first time.
It's a once in a lifetime bout, guys. Let's not get so bogged down in the details that we ruin something nice for ourselves.
---
Fighting with "Reign MMA," this girl is 2-3 as an amateur but don't worry, she's a model. I give to you-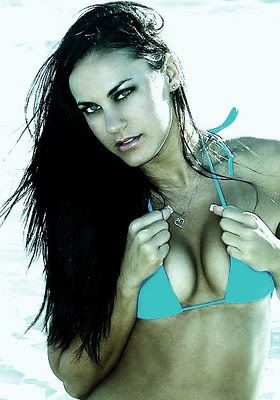 Rachael Cummins!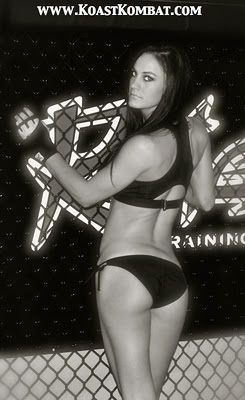 ---
The 5 & 1 End Zone!
That's it for another week here in the 5 & 1, so I hope you enjoyed the column! Please, leave a comment below and be sure to check some of the other amazing work here on the 411.
Alex Watt: "Thoughts From Across The Pond"
Jeffrey Harris: "MMAs 3 R's"
Robert Winfree "Locked In The Guillotine"
Jonathan Solomon: "The Juggernaut MMA News Report"
Wyatt Beougher: "Five Quick Rounds"
Scott Kuczkowski: "The View From The Cheap Seats"
Dan Plunkett: "The Greatest MMA News Column"
Jon Butterfield: "Monday Morning MMA"
Patrick Mullen: "The Blueprint"
Jeremy Lambert & Samer Kadi: "Occupy The Throne"
Alex Rella: "MMA Top Ten"
Don't forget the other 5 & 1 columns on the site either!
Steve Gustafson: Movies
Greg De Marco: Wrestling
Friend of the column and 411er Steve Gustafson has recently set up a website to aid those affected by suicide and having been affected personally, I'll be linking to it for you here from now on. Please, if you need to, visit the site and remember, don't suffer alone.
Thanks for checking in and hope you enjoyed the column again. It's always a pleasure to deliver it to you and sorry again for missing it last week. I promise that this time I'll……..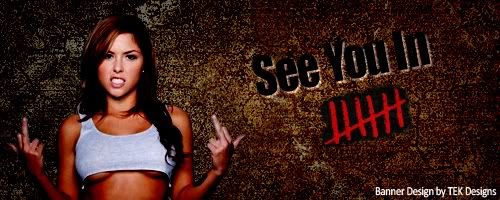 comments powered by Disqus