The MMA 5&1 1.30.13: Jose Aldo vs. Frankie Edgar, &1 With Jade Bryce
January 30, 2013 | Posted by
The Part at the Beginning
Welcome back to the latest edition of the MMA 5&1! So far so good in my latest run here on the old 411, I just hope you're enjoying things. This is my fourth edition of the 5&1, and it has been a busy time here with all of the shows, and Bellator finally debuting on Spike TV. This week we'll look back at UFC on FOX 6, look at the retirement of Matt Hughes and his new position with the UFC, Jose Aldo battles Frankie Edgar in VS and Jade Bryce is your &1 model of the week! Once again, I thank you for visiting my little corner of the 411 site. I know I present a different look than Stewart did with the 5&1, but I hope you still enjoy the column, and just know that I do appreciate you taking the time to stop by and check out the column.
Also, I'm on the old Twitter machine… Follow @jackmcgee411

They make you get this damn thing at 411. Social media and all. I know, you won't follow me, it's cool, it's cool.
"Promotional Consideration Paid For By The Following…"
~ The Biggest Stories of 2012
~ The Most Disappointing Fighters of 2012
~ The Breakout Fighters of 2012
~ The Worst Fights of 2012
~ The Best Submissions of 2012
~ The Best Knockouts of 2012
~ The Best Fights of 2012
~ The Best Fighter of 2012
Tracking My MMA Picks
I do not claim to be an MMA expert, simply a guy that loves to follow the sport. But part of the gig is to make fight picks, so I will track the picks for as long as I am doing the column. Here we are thus far…
* UFC on FX 7: 2-2
* UFC on FOX 6: 3-1
* Overall: 5-3
WHO YOU GOT: ALDO vs. EDGAR?
FIVE – BROCK vs. FEDOR WAS SO CLOSE TO HAPPENING
After the UFC on FOX 6 show, Dana White was doing the media rounds and casually mentioned that the Brock Lesnar vs. Fedor Emelianenko nearly happened in August. Wait, BROCK vs. FEDOR ALMOST HAPPENED? Yeah, no shit. I don't care if it was after their auras were smashed, and if the hardcore fans would have shit on it because "BROCK IS TEH FAKE RASSLER," that shit would have been in my wheelhouse, and I would have gladly paid for it. The general story is that Brock met with Lesnar and Fedor for the fight. They were close, and the UFC was looking to run a big event at Cowboys stadium. Unfortunately Fedor's father passed away, and with that, Fedor decided that he didn't have the will to continue fighting. Fedor made the decision that he simply wanted to be a family man going forward, and said he was done. When Brock heard Fedor was done, Brock said he was done. Fedor quit for family and loss of passion, Brock was done because he knew the Fedor fight was the ONE big money fight left for him. But judging by the way things happened, e fight was never meant to be. I really wish that we could have had the fight when it was first rumored, when Brock was looking like a beast and Fedor still had the aura of the legend that just always won. It is really amazing how close we were to the fight on two different occasions. At the end of the day, we chalk it up to a desired superfight we didn't see. Lets hope we have better luck with GSP vs. Anderson or Anderson vs. Jones.
FOUR – MATT HUGES RETIRES: BECOMES UFC EXECUTIVE
Former UFC welterweight champion and UFC Hall of Famer, Matt Hughes (45-9, MMA; 18-7, UFC), officially announced his retirement from MMA competition at the UFC on FOX 6 pre-vent presser. Hughes, regarded as one of the greatest competitors in all of MMA (he was ranked #6 by 411 when the staff did their Top 25 MMA Fighters of All Time back in 2011). Hughes won his first UFC title at UFC 34 in 2001. He went on to defend the title six times before he lost the belt to BJ Penn at UFC 45. Hughes won the UFC title again at UFC 50 in 2004 when he won the vacant title and defeated Georges St-Pierre, handing GSP his first ever career defeat in MMA. Hughes was officially named the Vice President of Athlete Development and Government Relations for the UFC. In the role, Hughes will conduct "policy fundamental to UFC's commitment to safety first and highest standards." A lot of his work will see him as a liaison between the office and the fighters. First of all, I think that it was time for Hughes to call it quits. He had a great career, but when it is time it is time, and the sport has evolved, and Hughes had simply done all he could in the sport. As for the new position, I love it. I think that having guys like Liddell and Hughes working for the company is a great idea. These men are the faces of a generation that built the sport, and they certainly have a lot more to give, just in a different way. And now the haters can ignore what I have written in order to cry about Hughes being a hunter and killing cute little animals.
PS: I don't care about the hunting shit, at all, because I like a good steak as much as anyone.
THREE – LOOKING AT BELLATOR on SPIKE TV
And finally, to break up all of this UFC stuff, I will take a short time to discuss Bellator. Now, I will not claim to be a diehard Bellator fan. I love MMA, and would DVR it a lot on MTV2, but many times would only watch bits and pieces, especially at the end of the run there as they were saving all of the big guns for Spike TV. So far, I think that tings have gone very well for Bellator in their first two weeks. The debut week saw a great fight between the Featherweight Champion Curran and Pitbull that really showed that the promotion had talented fighters. Lightweight Champion Michael Chandler came off like a killer in his title defense, and that fight went perfectly for them. In Week two, Douglas Lima looked impressive, King Mo won in the manner he was expected to, and Ben Askren destroyed Karl Amoussou to retain his welterweight title. I felt, watching as a fan, that both shows were very enjoyable and that they shows were presented well. Also, while some have disliked the association, putting the shows on right after Impact is a smart move. MMA fans are used to the 10PM time slot, and Impact pulls some of Spike's best ratings; and given that Viacom owns the promotion now, they want as many eyes on it as possible. Two weeks in is too soon to discuss ratings I feel, especially with shows loaded with title bouts and the heavily hyped debut of Mo. Once we're 6-8 weeks in, we'll have a clearer picture of where they sit in that regard. But as for now, Bellator gets a thumbs up from me.
Jade Bryce joined 411's Jeremy Lambert in the Man Cave to talk Bellator MMA and her charity work. We'll talk about Bellator moving to SpikeTV and Jade's favorite fighters before discussing her trips overseas, how she was chased through the jungle, her plans for a book, and all the great charity work she's done over the years. You can listen to the interview at this link, or via the player below…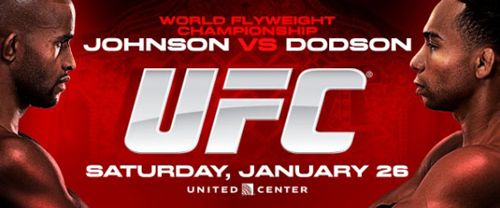 * TJ Grant defeated Matt Wiman via KO (elbows) – Round 1, 4:51: The "main event" of the prelims, TJ Grant MURDERIZED Matt Wiman in the first round. I was looking forward to the bout, I figured it would be a fun scrap that would maybe go two rounds. Grant had other plans, which involved elbows of death, and when he was done, Matt Wiman wasn't so handsome anymore. That's four wins in a row for Grant, who is looking good these days. He reportedly wants to fight Jim Miller next, and I am all for that bout.
* Ricardo Lamas defeated Erik Koch via TKO (strikes) – Round 2, 2:32: Ricardo Lamas defeated Erik Koch, making it his fourth UFC victory in a row since coming over fro the WEC. Much like the Grant fight, this ended in bloody fashion with Lamas living up to his bully nickname. Lamas made his case for a title shot against the winner of Aldo vs. Edgar (unless there is ANOTHER REMATCH after that fight), although he may have to go through the Korean Zombie to get it.
* Anthony Pettis defeated Donald Cerrone via TKO (body kick, strikes) – Round 1, 2:35: Anthony Pettis defeated Donald Cerrone, and while I felt that Pettis would win, I didn't expect it to be so easy. Cerrone is a very fun fighter, but the guy gets hit a lot, and I figured that Pettis would either outlast him, it take it late by just out working him. Unfortunately for Cerrone, Pettis looked the best I have seen him, throwing some fun stuff and just working a great gameplan, changing his stance, attacking the weakness of Cerrone (the getting hit thing) but at the same time not standing in the pocket to get hit. I liked his movement, I liked his striking and the Bas Rutten Special ™ (LIVER KICK) took another victim. The biggest thing I took from the fight was that Greg Jackson was out coached. Pettis changed everything that he usually does, Cerrone was not prepared at all and Pettis finished him with ease. Pettis will not reportedly wait for a promised title shot, and I hope it is against Henderson; the series must continue on a bigger stage.
* Glover Teixeira defeated Quinton Jackson via unanimous decision (30-27, 30-27, 29-28): Glover Teixeira defeated Quinton Jackson via decision. I really wanted to see Jackson KO'd on his way out of the UFC, but in all reality, I knew it likely wouldn't happen because Jackson is so hard to finish. Some feel that Rampage looked great, but just being in shape and throwing a few leg kicks doesn't make him a better fighter. Rampage looked old and slow, and while he did survive, Teixeira beat him rather easily. It wasn't the breakout performance that Teixeira needed on FOX, but it was a strong win over Jackson on TV; which is a good thing. Leave the memories alone Rampage, have fun fighting Bob Sapp in Abu Dhabi for camel stew and a crisp fiver.
* Demetrious Johnson defeated John Dodson via unanimous decision (49-46, 48-47, 48-47) to Retain the Flyweight Title: After getting past a lot the "WAAAAAAAAAH WAAAAAAAAAAAAH I DON'T LIKE LITTLE FLYWEIGHT MEN" that I have to wade through, I enjoyed the fight. Dodson brought it early, and did have a chance to finish things, but Johnson to his credit was able to recover and came back to win the decision. A lot of people are discussing the illegal knee and the fact that there should have been a point deduction, which could have led to a majority draw. Under the rules of MMA I agree with this, but I also want to add the following. In general the three points of contact rule is fine, but I HATE that bullshit where a guy can play cat and mouse with his finger tips and establish contact to avoid knees. This needs to be better established or changed, because as it stands, the rule sucks. This was a good fight, but the fact is that while we have some good fighters, the division is so thin right now, and they need to get fresh blood in before we get constant repeat fights. As is John Dodson has a case for a rematch due to the knee shit, and the fact that it was a close fight. Overall a good show, I enjoyed it and now it is time to get hyped for UFC 156!
ONE – UFC 156 MAIN CARD PREDICTIONS
* Featherweight Title Bout _ Champion Jose Aldo vs. Frankie Edgar: Jose Aldo – Decision
* Rashad Evans vs. Antonio Rogerio Nogueira: Rashad Evans – Finish via Strikes
* Alistair Overeem vs. Antonio Silva: Alistair Overeem – Finish via Strikes
* Jon Fitch vs. Demian Maia: Demian Maia – Decision
* Joseph Benavidez vs. Ian McCall: Joseph Benavidez – Finish via Strikes
* PLEASE feel free to make your main card predictions in the comments section!!
This week's & 1 model of the week is Jade Bryce…
Hello there…
http://www.twitter.com/411wrestling
http://www.twitter.com/411moviestv
http://www.twitter.com/411music
http://www.twitter.com/411games
http://www.twitter.com/411mma
"Twas the night before Christmas, and all through the house,
no food was a stirring, not even a mouse.
Stockings were hung 'round dad's neck like a tie,
along with a note that said "presents or die".
Children were plotting all night in their beds,
while the wife's constant whining was splitting his head.
But daddy had money this year in the bank,
then they closed up early, now dad's in the tank.
…and all of a sudden Santa appeared,
a sneer on his face, booze in his beard.
Santa I said as he laughed merrily,
you do so much for others do something for me.
Bundy he said, you only sell shoes,
your son is a sneak-thief, your daughters' a flooze.
Ho Ho Santa said, should I mention your wife,
her hairs like an a-bomb, her nails like a knife.
As he climbs up the chimney, that fat piece of dung,
he mooned me two times, he stuck out his tongue.
And I heard him exclaim, as he broke wind with glee:
you're married with children, you'll never be free."
NULL
comments powered by Disqus