The MMA 5&1 2.05.13: Jade Bryce vs. Laura Celeste, &1 With Michelle Waterson
February 5, 2013 | Posted by
The Part at the Beginning
Welcome back to the latest edition of the MMA 5&1! So far so good in my latest run here on the old 411, I just hope you're enjoying things. MMA actually slows down a little this week as we finally are without a UFC event to cover. But never fear; there is plenty to cover. We'll look back at UFC 156, Michelle 'The Karate Hottie" Waterson is your &1 model of the week, Jade Bryce vs. Laura Celeste is the sexy battle of the week, discussion of Randy Couture leaving the UFC family for Viacom, we'll track my MMA picks and much more! As I said, never fear, there is plenty to discuss. Once again, I thank you for checking out my humble offering to the 411 MMA Zone, enjoy and suggestions are always welcome!
Also, I'm on the old Twitter machine… Follow @jackmcgee411

They make you get this damn thing at 411. Social media and all. I know, you won't follow me, it's cool, it's cool.
"Promotional Consideration Paid For By The Following…"
~ The Biggest Stories of 2012
~ The Most Disappointing Fighters of 2012
~ The Breakout Fighters of 2012
~ The Worst Fights of 2012
~ The Best Submissions of 2012
~ The Best Knockouts of 2012
~ The Best Fights of 2012
~ The Best Fighter of 2012
Tracking My MMA Picks
I do not claim to be an MMA expert, simply a guy that loves to follow the sport. But part of the gig is to make fight picks, so I will track the picks for as long as I am doing the column. Here we are thus far…
* UFC on FX 7: 2-2
* UFC on FOX 6: 3-1
* UFC 156: 3-2
* Overall: 8-5
SEXY TIME BATTLE: JADE BRYCE vs. LAURA CELESTE
FIVE – RANDY COUTURE TAKES JOB WITH VIACOM: DANA WHITE GOES ON THE ATTACK
Randy Couture is done with the UFC, he has left the family and has signed with Viacom. It was announced last week that Couture has signed into a multi-year deal with Spike TV to appear in multiple projects for the cable channel, as well as other possible ventures within the media conglomerate's family of networks. As part of the agreement, Couture's first role will be as a coach in the forthcoming Bellator MMA reality Series, which begins shooting in February and airs later this year.
Once this was announced, fans got upset believing that Couture had turned on them like a wrestling heel, and of course, Dana White went on the attack. It is a bit difficult to separate fact from fiction here, as Couture hasn't spoke about the deal (he will today via conference call) and Dana White did what Dana White does, he attacked and buried the match. But here is what we have heard….
Couture's supposed deal with the UFC had one fight left for him to be part of the broadcast team, according to Dana White. Dana White apparently says Couture is a piece of shit in real life, and he wants nothing to do with him in the future. Couture is not welcomed at any UFC event or function, and is not even allowed to second his son in UFC. Dana White told Ryan Couture that he could have a release to go to Bellator. Ryan wants to stay with UFC, because he wants to be part of the company. In my opinion, Ryan will get eaten alive in the UFC and he should go to Bellator to improve and grow as a fighter, but again, just my opinion.
There will be more to learn about the whole situation in the days and weeks to come, but here are my thoughts. I do not know if Dana White is right or not. I do not know Couture personally, so I have no clue if he is a giant asshole or not. What I do know is that the man has done a ton not only for the UFC, but also for the sport of MMA. At this pointing his life, he has earned the right to make this business decision. As for Viacom, this is a great piece of business. They get Randy FN Couture to coach on their new show. They get him by offering him other avenues, which like acting, he has already been perusing. They get a huge name to associate with the Bellator product, which can only lead to good things for the company. Overall, Couture wasn't doing much with the UFC outside of some commentary deals, which didn't do much for him or the UFC at this point. But doing similar things for Bellator will mean much more for them and for the sport potentially, which I feel makes it a great move for all involved.
FOUR – UFC Looking to Add 115-Pound Division
The UFC has reportedly been getting serious in regards to adding a 115-pound men's division in the company. They have sent scouts out, notably in Mexico, and were impressed with what they saw. The goal is to go into Latino counters and other countries where the smaller men are easier to find to get the divisions started, and to also use these men as stars in those countries as they go in there for the first time.
At this time, I have to say that I am not for this move, and while I used a funny image to poke fun at the size of the competitors, it has nothing to do with that. First of all, there are simply not enough shows for the guys that they have under contract. Especially when you add in the Strikeforce imports. Joe Silva is trying to create a schedule so that the average fighter can fight 3 times a year, and that isn't happening with the talent that they have under contract. Sure guys will pick up fights on late notice and not everyone (top names) wants to go three times a year, but that is an issue.
The next issue that I have is that the flyweight and women's bantamweight divisions have not been established at this time. Hell, the Featherweight and Bantamweight divisions, while having talent, are not established in the fact that they do not draw. Hell, the Bantamweight title is being defended on FUEL FN TV, that tells you all you need to know. But hey, some of the Brits are fooled that they are getting a title bout on their show, so don't tell them any different. Lightweight still has issues, let alone feather and bantam. The Women's division is the Rousey division right now until it proves itself, and the flyweight division is essentially four guys that people know, and then some other small guys.
At this time, I feel that this is a bad move, because they have to shore up what they do have before they look to expand. Go to Mexico, India, Indonesia and anywhere where these small men are popular, run some international editions of The Ultimate Fighter, and come back in 18-months or so with four winners of those shows that can be placed into a mini-tournament for the inaugural title. Just do not rush into things.
THREE – UFC ON 156: Millions of Dollars Lost (FIVE QUICK THOUGHTS)
* Joseph Benavidez defeated Ian McCall via unanimous decision (29-28, 29-28, 29-28): Joseph Benavidez defeated Ian McCall via unanimous decision in the opening bout of the PPV card. The fight went about as expected, in that I was 99% sure that it would go to decision, but Benavidez didn't have the easiest road to victory. Both guys fought hard, and overall we got ourselves a very good fight. Benavidez moves to 17-3 overall, and his only losses have been to champions (Cruz x2 and Johnson). With the division being as shallow as it is, Benavidez could find himself in another bout with Johnson for the title sooner rather than later. This was a good performance, but of course all I heard was "WAH WAH WAH FLYWEIGHTS TO DECISION AGAIN," get over it man, it was a fun fight.
* Demian Maia defeated Jon Fitch via unanimous decision (30-27, 30-27, 30-27): Demian Maia defeated Jon Fitch via unanimous decision in the second bout of the PPV, some people have stated that Maia "out Fitched Fitch," but I prefer to call it GRAPPLE-FUCKING. Fitch just didn't seem to have an answer for anything that Maia was offering up. Fitch overall has had a great career, and he beats most in his division as his record has shown, but he is simply on the downside of his career, and I have thought so since the draw to Penn in 2011. Time off and the quick KO loss to Hendricks, he rebounded against Erick Silva, but as stated had nothing to offer here. Maia has looked outstanding since his move to 170, he just seems to be putting it all together at the weight, and looks like a better fighter. Even if Fitch is on the downside of his career, a dominant victory over him is still a great thing for Maia. This is three in a row for him, and two of them were finishes, so he could be in line for a title shot sooner rather than later; but first he has to let the log jam sort itself out at UFC 158.
* Bigfoot Silva defeated Alistair Overeem via RD3 KO: How about those Blackzillians huh? Alistair Overeem was the big favorite to win the fight here, and I did pick him to win, but that was not the case here. Overeem had the year off due to suspension, he came in cocky, and he came in with a different body. He carried himself like he didn't five a fuck; he held his hands low and his chin high, and dicked around. And then, he got tired. He couldn't finish Silva, and then, the Bigfoot woke up and BEAT HIS ASS. That sound you heard wasn't Silva yelling at Overeem to get back up in fight, it was Dana White crying as he lost millions of dollars and Overeem got his ass beat. One part Blackzillians, one part new body due to tons of random testing and one part shit cardio after all these years equals Overeem laying on his back while a giant celebrates over him. Personally, I am done with Overeem at this point; he can go away for all I care.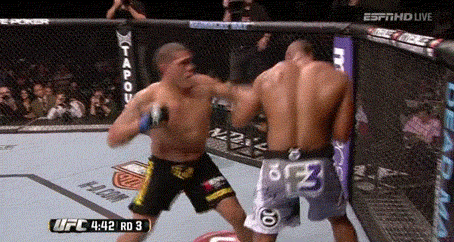 * Antonio Rogerio Nogueira defeated Rashad Evans via unanimous decision (29-28, 29-28, 29-28): How about those Blackzillians huh? In the co-man event, Antonio Rogerio Nogueira defeated Rashad Evans via unanimous decision in a fight that was boring as shit and in one that Evans looked horrible. Rashad Evans did not look good here, at all. The man has all forgotten his wrestling because he thinks he is a boxer, and if he is a boxer he is a shit one. I think that Rashad is done, he reportedly was discussing a possible retirement before the fight, and when a guy does that, to me it means his motivation is gone. Add in that the Blackzillians camp is made up of a lot of guys that have made money and have a reputation, I think that the camp is shit for creating a hungry star or contender. Nogueira didn't look great here; but he did enough to win, and at the end of the day that is all that matters. But I do not expect Nogueira to make any kind of run, I like the guy, but he just hasn't thrived in the UFC. With Gustafsson, Teixeira, Machida and Henderson all in the mix before him, it just isn't happening.
* Jose Aldo defeated Frankie Edgar via unanimous decision (49-46, 49-46, 48-47) to retain UFC featherweight title: In the main event of UFC 156, Jose Aldo defeated Frankie Edgar to retain the featherweight title is a very good fight. The fight was close, with several media members at cage side split on the decision, and I really do not blame them. There were some close rounds, and I could see the argument, but at the end of the day I felt Aldo won the fight. The man came off another lay off and did well against a very strong opponent, and is the guy at featherweight. As for Frankie Edgar, for people demanding a rematch, PLEASE STOP. I get that the fight was close, I get that it was a great fight, but I do not see how you can book a fight, for a title, with a guy that has now lost THREE straight. Whether you agree with the decisions or not, the facts are that he lost THREE in a row. Again, it was a good fight, but I just cannot see giving him a rematch right away. He needs to win, and he needs to win a couple of fights before that can even be considered, but hey, that's just my opinion.
TWO – COULD PETTIS TO FEATHERWEIGHT BE BETTER FOR THE COMPANY THAN PETTIS vs. HENDERSON II?
At UFC on FOX 6, Anthony Pettis destroyed Donald Cerrone, and while people were disappointed that a potential awesome fight ended so quickly, most were very excited, because the possibility of Henderson vs. Pettis II was so much closer to happening. And why not, Henderson vs. Pettis was one of the WEC's greatest fights and has been a desired rematch for some time. But Dana White stated at the UFC 156 post event press conference that Pettis had texted him, stating he could make 145, and that he wanted a shot against Aldo. Everyone you listen to thinks that Henderson vs. Pettis II is the shit and will be great for the company…
But…
But… maybe Pettis vs. Aldo is better for the UFC. Now do not get me wrong, Pettis vs. Henderson II would likely be an awesome fight, and it would be good for the lightweight division. But at the same time, we have Henderson vs. Melendez coming up, and the division is stacked. And then there is the featherweight division, which is struggling to really get a footing. Aldo is great, but the division is not taking off. And then there is Anthony Pettis. The man with the Showtime kick, coming off of a great win over Cerrone on Fox. While Pettis is not a featherweight competitor right now, he has the highlight background, as does Aldo. Aldo doesn't have anyone with a name to challenge him at this time. Pettis could be the guy that gets the division the proper notice that the division deserves, and Pettis vs. Aldo has greatness written all over it. But that's just a thought…
ONE – BELLATOR 88 MAIN CARD PREDICTIONS
* Marlon Sandro vs. Akop Stepanyan – featherweight tournament opening round: Marlon Sandro
* Mitch Jackson vs. Mike Richman – featherweight tournament opening round: Mitch Jackson
* Fabricio Guerreiro vs. Magomedrasul Khasbulaev – featherweight tournament opening round: Magomedrasul Khasbulaev
* Maiquel Falcao vs. Alexander Shlemenko – for vacant middleweight title: Maiquel Falcao
* PLEASE feel free to make your main card predictions in the comments section!!
This week's & 1 model of the week is Michelle 'The Karate Hottie" Waterson…
Hello there…
http://www.twitter.com/411wrestling
http://www.twitter.com/411moviestv
http://www.twitter.com/411music
http://www.twitter.com/411games
http://www.twitter.com/411mma
"Peg, you can stab me with knives, you can beat me with clubs, you can make me open my eyes when we're having sex but there's no way on earth you can make me get a second job."
NULL
comments powered by Disqus