The MMA Rant 1.05.12: Daniel Cormier, Nate Marquardt, Pat Healy, and Dan Severn
January 5, 2013 | Posted by
Welcome to The New Year's Edition of the MMA Rant. While I'm sure the majority of you spent New Year's Eve in a state of ultra-intoxication, I was unfortunately at work. The result was that I witnessed a ton of buffoonery and can actually remember every freakin' minute of it.
UFC 155: Dos Santos vs. Valesquez II unfolded quite nicely for us this past Saturday, and although much of the PPV card was fairly forgettable (and thankfully so) the co-main event and main event saved the entire card.
But, before we get to that, lets address some reader comments from last week:
PWNICON writes: Regarding Strikeforce: I'm sure we will eventually find out what the real story is. I just think it was such a shitty situation for the fighters whereby their contracts were with Showtime, and they just couldn't jump off the ship that everyone saw sinking. I liked Strikeforce, their HVweight tournament PPVs were all worth the money I paid to order them, which as a fan it's basically all you ask for.
I'm not sure we'll ever know the truth about Strikeforce or if there is even a truth to discover. I think Scott Coker sold his soul to make deals with Showtime and the promotion was screwed afterwards. Still, you can't deny that closing Strikeforce really just eliminates one of Dana White's many headaches. He can claim that he didn't want Strikeforce to fail, but the result is he doesn't have to deal with Showtime anymore and he gets to pillage the fighters he's always wanted fighting for the UFC.
Paul Daley: I just think this guy is an idiot. Koscheck proved his shortcomings, he got himself fired, got an extremely lucky break with Strikeforce, and then Diaz knocked him out. Some guys are just their own worst enemy.
I can't agree with you more on this.
On 2012 and injuries: Yeah in a perfect world maybe. Of course in a perfect world there wouldn't be injuries. I don't think you tell guys to lighten up in training. Realistically all you can hope for is that guys training for fights have the space to do so so they don't get injured like we've seen with people sparring knocking into another pair sparring and putting their knee out.
You can't stop guys from training hard though, it just wouldn't work. Is a solution needed? Yeah, maybe. Do fighters dropping out have anything to do with the insurance? Maybe. Do I have that solution though? No.
I'll answer this in my next portion.
Our own Jeff Harris from the 3 R's makes the woeful mistake of trying to correct me:
Scott your ideas about the injuries aren't really effective or possible if you think about. Regarding a study with doctors about these injuries that have been occurring, this was brought up on the MMA Beat a little while ago. One of the reporters on the panel asked a doctor about a study basically like what you just mentioned. And the doctor basically said a study would like this would cost in the millions. The injuries aren't isolated to just UFC fighters either.
As is typical, you've missed the point. A study like this would cost the UFC a lot of money (with that, you are correct, but only that). Paying for a study like this is called 'investing in your business.' This is that businesses do when they have a problem that is costing them money; they hire smart people to come in and study the issue and figure out how to solve the issue or at least minimize the effects of it. No one in the business world throws up their hands and says, "There's nothing we can do" when a problem is costing them money. In the case of the UFC, it is fighter injuries. And the UFC doesn't have to worry about fighters that don't fight for them; the UFC roster is large enough that they should get a very good idea about what injuries are plaguing fighters the most.
The other thing is, you are basically saying that the UFC now needs to regulate how fighters train. I mean the UFC already says rankings when they do their Fox shows. I mean they are hardly official but its about as close to official as you can get right now. I think right now, it's not practical to regulate how fighters train. We know they've now started the dangerous policy clause though we don't really know the specifics.
I don't know how you went from regulating training to fighter rankings. And, I can't help but notice that I never said regulate; you did. I don't think the UFC needs to regulate fighter training; I think they need to educate fighters on methods and techniques that are less likely to cause injury. If you think that is somehow regulating training, then I'd suggest you research the term 'regulate.' If the UFC was going to discourage some training techniques that studies show are more likely to cause injury, then the UFC has to educate fighters on alternate techniques that still give the same results but without the risk of injury. At the end of the day, it would be up to the fighter and their camp, but the UFC can at least make the information available to the fighters looking to avoid training injuries.
I mean honestly though what you are talking about is already kind of happening. Look what happened with Dan Henderson. His fight with Lyoto Machida isn't even being dubbed a title eliminator fight anymore. That was given to Shogun/Gustafsson.
Dan Henderson's dishonesty about his injury directly contributed to the cancellation of a PPV; he has no business even sniffing a title shot. And this is what should happen with every injury situation; the guy who was injured can work his way back into contention, but especially when he hides an injury for weeks. I'm not looking to punish fighters for getting injured, but other fighters are winning/losing while one is sitting out with an injury. I think it is a crime for the injured fighter to return and be put back right where they left off – that spot should go to someone else.
The other thing is that MMA training is not like training in any other sport. I'm not sure how the injury issue can be avoided even if you try and institute the ideas you are suggesting.
This is where you would be the businessman throwing his hands up in the air and proclaiming nothing can fix this problem while your company goes down the tubes. I'm not guaranteeing this idea will fix every issue; I'm saying this is square one where the UFC needs to begin to head-off this issue. And no, this won't eliminate all injuries, but if the efforts save one main event, then isn't that enough? And while MMA training is unique in its own way, the fact is that nearly everything done in MMA training is added from another discipline; nothing is truly "created" just for MMA training. Wrestlers, boxers, jiu-jitsu guys, and other athletes train on this stuff all the time; there isn't anything superhuman about it.
I think fighters need to not be working in such crowded gyms where someone can slip or roll and cause serious injury to another guy for one thing. Or if you have a top guy or main event guy he needs to maybe not be filled up in an area with a bunch of other dudes.
See? Now you're trying to regulate their training and the number of people in their gym.
But, enough of that malarkey; let's get on with the news.
---
UFC 155: Some down and dirty notes:
Todd Duffee scored a nice knockout win on his return bout with the UFC; here's hoping he's learned where and when not to shoot his mouth off in interviews about fighter pay.
Melvin Guillard and Jamie Varner both put on a really good fight; there were no losers in that bout.
If Derek Brunson or Chris Leben are scheduled to fight on another main card of a PPV, I won't be purchasing that particular event. That was 17 minutes of my life I'll never get back.
Alan Belcher vs. Yushin Okami was as pathetic as I worried it would be. Belcher lost all his stock with me.
I'm still not sold that either Tim Boetsch or Costa Philippou will ever be title contenders.
Joe Lauzon and Jim Miller put themselves in the running for Fight of the Year with their performances. Really awesome.
Cain Velasquez did to Junior Dos Santos what I expected him to do the first time they met. Junior has said he used the wrong strategy (gee, do ya think?) but I don't know that he can beat Cain with anything but another well-placed punch.
---
Dana White
made this statement about
Daniel Cormier
:
"He's is going to bring a lot of excitement to the heavyweight or light heavyweight division. And he could be next in line to fight Jon Jones."
Really? The guy isn't even in the promotion and there's already talk he could face the LHW Champ? How about making him win a fight in the UFC first? Or how about making sure he can make 205? Or better yet, how about making him win a fight in the LHW division before first ushering him to the front of the line for a title shot? Don't get me wrong, Daniel Cormier is a stud, but shouldn't he have to win in the octagon before he's given a title shot? Isn't that how things are supposed to work?
I guess guys like Dan Henderson, Phil Davis, and Alexander Gustofsson are shit-out-of-luck on this deal. (You know, since they've actually been winning fights in the division and whatnot…)
---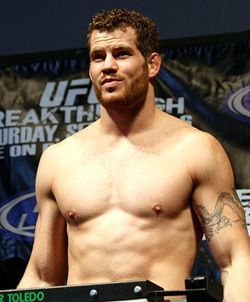 Uncle Dana also spoke about
Nate Marquardt
's potential UFC return: "Yeah, probably. I would have to say so…I was never in a bad way with him. I like Nate Marquardt. He's one of the nicest guys ever. But you know how I get. I get bummed out when guys do stuff like that. You're a professional. Show up here and do what you're supposed to do."
Yeah…that's real nice. Dana White gets bummed out when guys do stuff like illegally use performance enhancing drugs and ruin the main event of a fight card the day prior to the event…little stuff like that makes him bitchy.
Of course, Nate's been doing well for himself since his UFC release; he's fought one whole time between March 2011 and now – you can't fabricate a record that impressive. Nate seems like a nice guy and all, but how can the UFC even pretend to trust him ever again? This wasn't the only time Nate was caught with something in his system; he was suspended for steroids after his first UFC win in 2005. I know that doesn't make him a chronic abuser, but it does mean that he's dabbled in performance enhancing supplements in the past. I just hope he doesn't turn into the Josh Barnett of the 170 lbs. division.
---
MMA pioneer Dan Severn announced his retirement on 1 January 3, 2013 at the ripe age of 70 after 1,270 professional fights. Actually, that's a joke; Dan is much younger than 70 (and he's had fewer fights). Unfortunately for his fans, his retirement speech was somewhat muffled due to his coffin, but from what I hear, the pallbearers all said it was nice.
---
Pat Healy said recently that he's frustrated he hasn't received a guaranteed contract with the UFC. He recently posted on Twitter that he's tired of fighting scrubs and being ducked.
Really Pat? The only guys you've been able to beat lately have been scrubs. When you're losing to the likes of Josh Thomson and TJ Waldburger, you're not exactly setting the world on fire. Doesn't this guy realize that the only reason he sniffed a title shot against Gilbert Melendez was because there wasn't anyone else on the roster for the champ to face?
Sorry Pat, but I don't see you beating anyone in the UFC's Lightweight Top 10, which means you'd be lucky to wind up as a gatekeeper.
Wake up, Pat; you're probably destined for Bellator or OneFC if you're lucky…MFC or Score if you're not.
---
And that's it for this week, gentle readers. Join me again next week when I hash through the news and cut through all the spin.
Thanks for reading…now go surf some porn.
NULL
comments powered by Disqus