The MMA Rant 1.12.13: Overeem, The Diaz Brothers, More
January 12, 2013 | Posted by
Welcome to the MMA Rant. This week saw a ton of MMA news released; some good – other stuff not so much. I'm going to dive into all of that in just a second. Before I do so, let's tackle the reader comments from last week:
Our own Jeff Harris doesn't know when to quit, but I think I'll tackle his statements one at a time:
Are you saying Jose Aldo should've been stripped of the featherweight title and forced to work his way back into title contention for his stupidity? And what he did was actually a purely stupid move by riding a motorcycle in Brazil when he's in training for the biggest fight of his career. Should champions who get injured while training for a big fight be automatically stripped of their titles?
First off, Champions are a different animal altogether when talking about injuries. I don't necessarily feel they need to work their way back into contention because of an injury, but a champion who is injured should be stripped of his title (or an interim belt should be created) if he can't defend the belt. In Aldo's situation, I would have been fine with him being stripped of the title given (as you said) he was riding his motorcycle before the biggest fight of his career.
I think Cruz if his recovery takes longer might have to relinquish his title. At the same time, it seems harsh to punish him further because his body rejected an ACL transplant.
Yeah, life sucks. Still, there is an entire roster of fighters that should be able to move on with their careers instead of waiting for Dominick Cruz to mend. Cruz is in an unfortunate situation, but if he's not defending the title, then he shouldn't be wearing it. I don't mean to sound heartless, but the other UFC Bantamweights shouldn't have to wait for him to heal to get a crack at the title. He's paid to fight and defend his title; if he can't do that then something has to give.
Injuries aren't isolated to the UFC alone. Look at the situation with Pat Curran who had two or three contenders lined up and then he got a serious injury that put him out for the rest of the year.
I'll say this for you again: I don't care about what other promotions are doing; I'm just talking about how the UFC can begin to fix this issue. And the last time I checked, Bellator doesn't do PPVs, so they haven't had to cancel an entire PPV card because of injuries. Bellator is in an entirely different situation when it comes to trying to play hardball with their fighters.
Also I'm not talking about regulating training, but I'm talking about using common sense. When you have your top guys and your main eventers in the gym, your biggest money makers don't try to stuff a bunch of people in the gym. I have heard people said the injury that happened to Cruz never should've happened and it happened because a bunch of people were stuffed in the cage and being sloppy. It's not unlike when Firas Zahabi was giving instruction to Tri-Star gym members on how to train with a kickboxer they brought in for GSP's fight with Condit.
If you're going to accuse me of regulating training for wanting to educate fighters on techniques that aren't as apt to cause injury, then just admit you are trying to do the same thing by regulating the number of people training in one area at the same time. We are both working towards the same goal in this case; using common sense and educating fighters on better training techniques are synonymous in this discussion.
You say you are talking about education but all the things in your column sound like new rules and regulations to me. If you want "education" isn't that what the Fighter Summit is for?
I never said anything about new rules and regulations; you said that. I've talked about education and proposing options. Why don't you see the difference in those two things?
As for Daniel Cormier fighting at light heavyweight, I'm skeptical he can make that weight as well, but I don't see the problem of him getting a title shot if he does. He's proven himself on the big stage already and the bigger names at light heavyweight were already turning down or dropping out of fights with Jones anyway. Cormier wants to fight Frank Mir first anyway so there are no guarantees of anything. AKA and Cain Velasquez said Cormier is moving down to light heavyweight if Cain won the title and they all promise he can make that weight.
Much like I said last week when I talked about this, I think Cormier is a great fighter and a gifted athlete, but I think he should have to win at least one fight at LHW before he challenges for the title.
And now on to this week's action…
---
On what planet does Alistair Overeem deserve consideration as a title contender? Huh? Can someone explain that to me? He didn't fight at all in 2012 and his only UFC win has been over Brock Lesnar, a fight in which he used performance enhancing drugs and was summarily suspended afterwards. Why are so many people on this guy's nuts? I get that he was the Strikeforce Heavyweight Champ (for whatever that is worth) and he looks like a typical roided-out professional wrestler, but how does that make him worthy of title contention? His accomplishments in kick-boxing mean absolutely nothing in the world of MMA, and aside from Fabricio Werdum (whose own UFC success has been anything but consistent) his only other previous victories include Todd Duffee, Brett Rogers, and Kazuyuki Fujita. Are those victories that make someone a title contender? Because if they are, then there are a lot more contenders for the UFC Heavyweight crown than I think anyone is aware of. I mean, I get it – folks want to see Overeem fight in the UFC; I just think he needs to win some fights and pass his drug tests before he's thrown into the Heavyweight Title scrum. I think he should jump through the same hoops other challengers had to. While someone like Lesnar may have gotten a title shot rather early in his career, the UFC Heavyweight Division landscape has changed since then. Am I wrong?
---
Bellator MMA started broadcasting on SpikeTV last week with their first few episodes of Bellator 360 (which is just like UFC Unleashed). I'm all for more free MMA, but I can't help but be realistic about how much more viewership Bellator will gain from this move. I'm sure Bellator will gain some new fans and viewers, but I think they have to be realistic about what new ground they might actually be able to break. The UFC has already used SpikeTV as a platform for free events, title fights, and a reality show, so while those options are also open for Bellator, they won't be doing anything that hasn't been done previously (and perhaps better). It's almost like dating a really hot girl after everyone else has already had their way with her; sure, you might enjoy the experience but you won't be going anywhere someone hasn't already been. The truth is that Bellator doesn't have the UFC's budget, but they've placed themselves in a position where they will most certainly be compared to them. This can turn out either good or bad for Bellator in the end.
---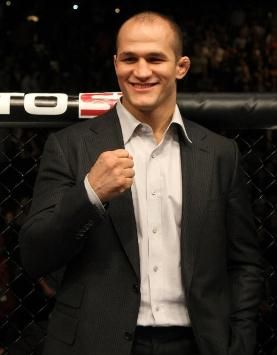 The front runner for this year's No Shit, Sherlock Award, Junior Dos Santos, had the epiphany that he could have done better in his fight with Cain Velasquez. Really, Cigano? Are you sure? I mean, it was a really close fight up until you entered the cage. How could you have done any better? Where was the room for improvement? I get that Junior is experiencing these moments of reflection following his first UFC loss (and only his second career loss) but he needs to do this with his trainers and not in the MMA media. I prefer to remember Cigano as the wrecking machine that put guys on Queer Street with one punch; not the fighter who is suddenly reflecting on a one-sided ass kicking he got and ironically realizing he could have done better.
---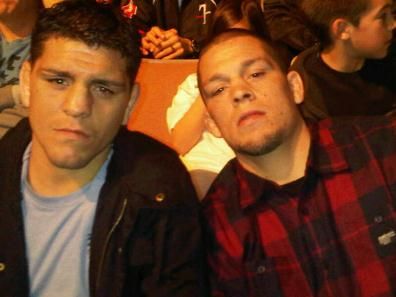 What a difference a brother makes. Last night I was discussing with a friend the prospect of Nick Diaz fighting Georges St. Pierre and the inevitable litany of excuses Nicky will have when he ultimately losses. This made me marvel at how well Nate Diaz handled himself after losing to Benson Henderson, and how he didn't make any excuses for the outcome. This reflection prompted me to outline the differences between the two Diaz Brothers when handling defeat:
Nate Diaz:
Noted that a punch by Henderson blurred his vision and prevented him from implementing his game.

Admitted Bendo fought a better fight than him.

Said he will be back, better than ever.
Nick Diaz:
Would have said he was blinded by an illegal punch, but fought through it anyway (because he's tough, yo.)

Would have said Bendo just wanted to wrestle and not really fight him.

Would have said the referee, judges, commission, and ring girls were all out to see him fail.

Would have announced his retirement from MMA (until his next fight).

Would have failed his post-fight drug test.
Jeez, if it wasn't for the lisp and the last name, you wouldn't even know these guys were related.

---
The word around the campfire is that the losers at this weekend's final Strikeforce card will get their walking papers while the winners will probably go to the UFC. I honestly can't say that bothers me at all. With the exception of guys like Daniel Cormier, Josh Barnett, and a few select others on the card, most of these guys wouldn't even make a splash in their respective divisions and would either be fodder for Ultimate Fighter alumnae or sacrificial lambs for people just needing a win. Given that this card was originally supposed to feature every champion in the promotion, it has fallen quite far since that idea. The sooner this hammer drops, the better.
---
And that's it for this week…I hope you all have a couple of things to think about or at least got a chuckle here and there.
Thanks for reading…now get out of Mom's basement.

NULL
comments powered by Disqus