The MMA Rant 12.08.12: Dana White, Dominick Cruz, Tank Abbot, More
December 8, 2012 | Posted by
Welcome to this week's edition of The MMA Rant. There was lots of trash in the news this week, but before we get to that, let's handle some reader comments:
fightfan writes: Theres more depth at 135lb womens than the 125lbs mens division, plenty of good female 135ers out there. Not saying they could all give Ronda a test but in terms of overall talent it's a better division than Flyweight.
On a global (or even national scale), this is debatable. But, for the sake of argument, let's say you're right. Can any of these women really challenge Rhonda Rousy? And would they sign with the UFC? Or, more importantly, would the UFC sign them? I'm sure there are a lot of women fighters at 135, but I doubt there are many who will actually be a challenge for the champ. And while the UFC will be able to survive for a few fights by just putting Rousey in there with anyone, fans will eventually want to see her really fight.
nails takes umbrage with my contention that Nick Diaz isn't the most deserving contender: Why is this such a difficult thing to understand? Who gives a shit whether or not you think Diaz has earned a shot? Chael Sonnen proves that what matters most is how marketable a fight is, and a fight between GSP and Diaz is very marketable, so let GSP smother Diaz first and then move on and do the same to Fitch or Hendricks or whoever else.
First off, I'm betting reading comprehension isn't your strong suit, because if it was, you would have noticed I never mentioned which opponent for GSP would be the most marketable. I spoke about who would be the most deserving. And as much as you are deserving of some 8th grade reading comprehension, Nick Diaz is not deserving of a title shot. Being marketable and being deserving are not the same thing.
And now for the news…
---
Josh Barnett
loves to talk. Josh especially loves to talk about himself. And, for whatever damn reason, someone decided to post his words online. Here's a little tidbit where he talks about a potential return to the UFC:
"I would love to see the look on some folks' faces … being someplace where, one, I've already been, even though people may not know it, and two, a place that a lot of folks never thought they'd see me again."
This is an interesting piece…Josh teasing a UFC return. WHERE ELSE WOULD YOU FIGHT, JOSH?!?! The truth is there are few places besides the UFC that can afford to pay Josh what he thinks he's worth, which really limits his job prospects once Strikeforce closes. Sure, he could sign with Bellator or OneFC and settle with smaller paydays and less visibility, but I somehow think Barnett wants to finish his MMA career fighting the best in the business, which is the UFC. I just think it's funny that Barnett wants to play dumb to the idea that there is really only one place where he wants to fight.
Make no mistake about it; Barnett would be a good signing for the UFC. He's a talented fighter with a decent following. The biggest issue with Barnett is that he brings so much baggage with him that it will be difficult for Zuffa to ever fully trust him to show up and be able to fight without failing a drug test. Aside from that unfortunate aspect, Barnett would be a good addition to the Heavyweight Division.

---
I see
Roy Nelson
every week on The Ultimate Fighter, and I feel it's entirely too much Big Country for my liking. Every time Roy says something, my faith in the human race is somehow diminished a little bit. In this particular quote, he talks about his new opponent,
Matt Mitrione
.
He's a Blackzilian now, whatever that is. I'm not sure if it's like a black millionaire or a black Brazilian or what. I'm still trying to figure out what that is.
Roy Nelson is a complete idiot. The fact that he's in the fight game and is still unfamiliar with a fight team (or their nickname) is amazing, but then again, I guess if your #1 priority is the McDonald's Dollar menu, then I shouldn't be surprised.
I'd love to see Mitrione knock Nelson out, but I doubt that will happen. Unfortunately, I think the only advantage Mitrione has in this fight is his own natural athleticism, which probably won't be enough. While Mitrione will probably put on a good show, if Nelson can get this to the ground, it will probably spell bad news for Meathead.
---
Speaking of bad news…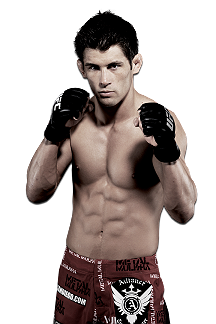 Dominick Cruz underwent another major knee surgery this past week, which will further delay his return to the octagon. Trainer Eric Del Fierro explained that Cruz's ACL was replaced after his body rejected one from a cadaver. At this time, it is estimated that it could set the fighter back another six to nine months.
As much as I try to stay snarky in this column, this news really sucks. It's not that I'm some big Dominick Cruz fan, because I'm not. I think he's kind of a boring fighter, and his point-fighting style doesn't really do it for me. What sucks it that Cruz is only 27 and he could have conceivably fought his last MMA bout. Ever. Of course, this is the worst case scenario, but I imagine Cruz is pondering the same possibility. Be that as it may, it's a sad day to watch a fighter's best years spent walking around on crutches.
---
Notwithstanding the aforementioned new, the UFC seems to be taking the entire Bantamweight situation in stride…
UFC President Dana White has confirmed that UFC interim bantamweight champion Renan Barao will meet Michael McDonald in early 2013.
This is refreshing news given that sometimes, the UFC appears just fine with a title going undefended for nearly a year. I'm glad that isn't the case this time. Michael McDonald is a great prospect that this should be an awesome fight. My only disappointment is that they didn't set a date earlier than February 16th.
---
Tank Abbott
strikes again. Tank was a guest on Inside MMA, and as much as I like the show, I shudder every time they have a guest on there that clearly does nothing to promote the sport of MMA. Not to mention that Tank now resembles a man who should be in a red suit and ringing a bell on a street corner at this time of year more than he does a fighter.
The prize was going to jail? Is this really what is going to forge the road ahead for MMA? Listening to the likes of Tank Abbott talk about how he used to step off the barstool and into the octagon? I'm not begrudging Tank's place in the history books, but is this the side of MMA's past that really needs to get showcased? More to the point, is this the type of segment Inside MMA needs to air after they do a piece about underground fighting in New York, which has really only survived because of a legal loophole? What was Inside MMA trying to do? Make sure the New York legislatures close that loophole? This was poor timing.
---
Dana White
tweeted about
Forrest Griffin's
injury, which will keep him out of his upcoming fight with
Phil Davis
.
"Forrest Has MCL tear and ACL strain 20 cc's of blood removed from his knee and the saga continues at the UFC!!"
The ongoing saga to UFC injuries has become tiresome, and I hope the UFC devises something to fix it. I understand that accidents and injuries happen in training, but now it is affecting business in a pretty bad way. While I am all for training as realistically as possible in preparation for a fight, but fighters need to begin using smarter techniques that don't leave them as prone to injury. Also, the UFC is going to have to put their foot down at one point if they ever plan to have an event go on without a hundred changes in the three months leading up to it.
I have a really good plan the UFC could use to stem the tide of some of this, but that is for another week.
---
And that's it for this week, gentle readers. I hope everyone cracks a few beers and sits around on their favorite couch this Saturday to watch two of the best Lightweights in the world get it on. Whichever way the fight unfolds, I'm sure I'll have something to say about it next week.
Until then…go make something of yourselves.

NULL
comments powered by Disqus