The MMA Rant 12.15.12: Rory MacDonald, Ben Henderson, B.J. Penn, and Phil Baroni
December 15, 2012 | Posted by
Hello, faithful MMA fans, and welcome to this week's edition of the MMA Rant. Last weekend saw the unfolding of the best fight card the UFC has ever put on free TV. I won't quibble that it didn't receive the all-time highest ratings; it was the strongest card the UFC has ever put on Fox or FX and actually came off as a really good show. The production was smooth; there was an even transition between the FX prelims and the Fox main card, and the majority of the fights delivered. Aside from Randy Couture referring to Rory MacDonald as Rory Markham, things were nearly flawless.
Before we get to that, let's review our reader feedback from last week:
I don't get many icons who write to me, but when someone like Doctor Who posts, I have to respond:
Don't get the hate for Barnett here.
He used steroids ? Fine he did, he got caught a few times and got punished the same (at least in the UFC).
Now EVERYBODY opens his mouth nowadays from lackluster fighters to the top of the crop so what if Barrett has something to say to state that he is worthy of the UFC HW Division ?
It's not like he is talking every single week of the year like other overrated fighters right ?
He is 100 per cent free to do so and he made good points about himself.
He is one of the most consistants and talented HW fighters in the world right now, this division is pretty weak and badly needs more talents like him to stack it.
I would pay a good amount of money to enjoy a grappling clinic between Barnett and Mir or Barnett vs Big Nog III.
Just learn to show respect to a fighter that has a pretty stacked record in MMA and has no flaws in his overall mma game.
Last but not least, he is extremely charismatic and can cut a promo to sell any fight unlike many others…
Well, let me answer your comments one point at a time:
Yes, Josh Barnett got busted for using steroids. But, it was more than him just getting stripped of his UFC title because of it; he also ruined the final Affliction card and hastened the demise of the entire promotion. Some people think Jon Jones ruined an entire PPV and are still angry with him over it; why does Barnett get a pass?
Yes, Barnett has the right to speak his mind, which I rather enjoy. Afterwards I can rip him apart a then receive feedback from his fan-club President.
As far as consistency and a stacked record goes, let me put it this way: Aside from Daniel Cormier, who he lost to, the last time Josh Barnett faced a Top 10 fighter was when he fought Big Nog on December 31, 2006, which he also lost. Every other person he's faced since then has been at best a Top 20 fighter; many even lower than that. Barnett is a buffoon who's crushed more cans over the past 6 years than most fighters do in their entire career.
But, don't let my common-sense approach to this issue dissuade you from cheering for your favorite fighter.
A man who only goes by the moniker Really? chimes in:
i would wager that nelson knows exactly who the blackzillians are…likely his attempt at humor….which failed miserably
First off, I wouldn't ever place a wager on Roy Nelson unless it involved an eating contest. Secondly, you are correct that his attempt at humor (like all his attempts at humor/wit) failed miserably.
Oogada Boogada gets in the conversation with:
Yeah, I mean I gave Nelson the benefit of the doubt since I like watching him fight…
But this season of TUF he's come across as a complete moron. It's not bad editing with a bias either, it's really just the things he says and does.
True, Roy Nelson has put on some good fights where he did more than rest his stomach on his opponent's face and smother them round after round, but I still have a hard time hoping he does anything other than lose spectacularly. And yes, Roy Nelson has come off as a complete and utter jackass during this season. I have no doubt that some editing has accentuated his stupidity, but the truth is that he probably gave them a lot of material to work with.
And now for the news…
---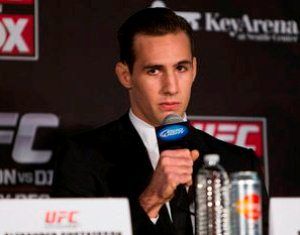 Rory MacDonald.
He had an impressive performance against BJ Penn, but what really concerned me with Rory is that he looked like he might be going a little "Manchurian Candidate" on us. I'm all for fighters taking themselves seriously, but Rory went way past that to downright creepy. I don't know if this is some new shtick for him or if it really bothered him to get booed as much as he did, but he acted like an android at the post-fight press conference and showed less personality than Fedor. This was Rory's biggest win of his career, and instead of looking satisfied or confident, he looked like a fourth grader who'd just shit himself during a spelling bee. Christ, he's in his early 20s and fighting for the biggest MMA promotion in the world; lighten up a little. If this is going to be what we can expect from Rory in the future, I foresee the UFC limiting his future media appearances. A rematch with
Carlos Condit,
which is apparently all but a done deal, will probably determine if Rory is indeed and heir-apparent to Champion
George St. Pierre
. If he eventually becomes a main event fighter, I hope he can at least show some emotion during interviews.
---
B.J. Penn. A lot of people have called for B.J. to retire after that last performance, and I guess I can't blame them for that. However, I think the real solution is that Penn needs to drop back down to Lightweight if he wants to continue fighting. The issue is that Penn has never found a lot of success at 170 because the fighters are too big and too strong for him. I believe the only reason Penn continues to fight at Welterweight is because he doesn't want to have to seriously train and diet to cut to 155 and he's still living in the past when he bested Matt Hughes and had a close fight with GSP. Nowadays, fighters are bigger and more well-rounded, which simply eclipses Penn's natural abilities. At 155, Penn will at least face fighters the same size as him and won't have to worry about being outmuscled. While I know Dana White has publicly stated he thinks Penn will (and should) retire, I think he should instead restrict any future Penn fights to the 155 weight class.
---
Ben Henderson's
stock rose the most after last Saturday night. His in-cage performance was nearly flawless, and he was articulate and well-spoken at the post-fight press conference; all things considered, he emerged as the biggest star on the card. His opponent,
Nate Diaz
, didn't fare as well. Nate was again outmuscled by a strong wrestler who was able to nullify his striking and overpower him in the clinch. Nate cited an early punch that blurred his vision as the reason for his poor performance, but I don't know that he could have done anything different against Henderson. In the meantime, it's back to the drawing board for Diaz, who could be without a high-profile opponent until some other scheduled fights happen. Henderson's next matchup could be against the winner of the upcoming
Donald Cerrone/Anthony Pettis
bout, or even someone like
Gray Maynard
. If either
Gilbert Melendez
or
Eddie Alvarez
can signed to a UFC contract in the near future, either would make a good opponent too.
---
The
Toothpick of Doom.
The only truly idiotic news to come out of UFC on Fox 5 was a strange story that circulated during the post-fight press conference that Ben Henderson fought this fight (and in fact fights all his fights) with a toothpick in his mouth. Say that to yourself and tell me this is real news.
---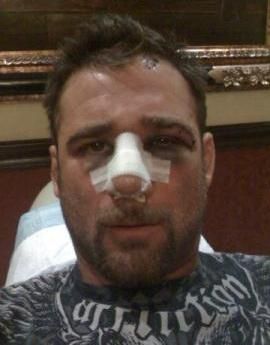 An announcement was made last week that
Phil Baroni
will be fighting
Hayato Sakurai
on New Year's Eve for OneFC. This is truly amazing news. What's so amazing? The fact that anyone on this planet still thinks Phil Baroni is worth paying to fly halfway around the world in order to have him fight on a card. Really? Phil Baroni is 2-5 since 2009 and hasn't beaten anyone with a Wikipedia page since GW Bush was President. Is this really the best that OneFC can do? Look, I get that Phil used to be a so-so fighter in Japan and once had some name value, but this isn't 2005 anymore. Phil is currently a 36 year old, washed up fighter, who even in his best days had a questionable gas tank and only a puncher's chance during a fight. Let this guy retire already and try to find someone who doesn't need a walker to leave the arena.
---
Muhammed "King Mo" Lawal
is scheduled to face Polish fighter
Przemyslaw Mysiala
in the opening round of next year's Bellator Light Heavyweight Tournament. Who is Mysiala? I have no idea, and I doubt many other people do either. This is a problem any good manager should point out to his client if and when they decide to leave one fight promotion for a smaller one; there won't be nearly as many marquee matchups that will generate buzz for a fight. Lawal will be fighting the likes of Mysiala and other unknown fighters for the remainder of his time in Bellator.
The laughter is still probably echoing throughout the Zuffa hallways.
---
And that's it for this week, gentle readers. There are a bunch of fights going on this weekend, to include Bellator, two UFC cards, and Legacy Fighting Championship 16. That's about 11 hours of free MMA to enjoy before the Holidays take over and your MMA time is ruined by visiting family members.
Join me next week, when we evaluate GSP's statement that he wants to face Josh Koscheck after he fights Nick Diaz, and then perhaps Erick Silva after that.
Now go do something with…

NULL
comments powered by Disqus