The MMA Rant 2.10.13: The Art of Earning a Title Shot (Not in Your Division)
February 10, 2013 | Posted by
Welcome to this week's edition the MMA Rant; as always, I am your host, Scott Kuczkowski.
There has been a spate of odd matchmaking going on with the UFC champions, and it kind of has me wondering if Joe Silva has been asleep at the wheel.
I mean, I always thought someone had to compete in a certain division to get a shot at that particular title, but apparently I was incorrect. Heck, I thought someone had to at least be coming off a win to get a title shot, but I guess I was wrong about that too.
Those strange booking decisions will be the theme (of sorts) for today's column. And while I'm sure everyone thought it was OK for Frankie Edgar to challenger for the Featherweight Title after two consecutive losses and it was just fine when Randy Couture came out of retirement to challenge for the Heavyweight Title, was that really the best decision? And if it was, why doesn't Michael Bisping get a title shot?
You know what? Hold that thought for a moment…we'll get to that in a minute. Instead, let's look at some feedback from last week.
Kevin left me a soliloquy of sorts (maybe we should hire him) that I'm going to break up and tackle one point at a time.
At the end of the day, the UFC is about making money, not only for the promotion, but for the fighters. I think wins and losses should have a much stronger factor in deciding match-ups than the marketability of a fight, but both should play a factor.
The issue with this is that it is a very precarious balance to do both. If we are talking about two contenders with equal records, but one is more popular than the other, then obviously the promotion should go with the matchup that will draw the most viewers. However, when obvious contenders are overlooked for the sake of more popular fighters, we have a problem. Nick Diaz is not more deserving than Johny Hendricks; it is his popularity that got him a title shot.
On the Hendricks situation, does Hendricks deserve a shot? Yes, and there will be no denying it if he defeats Ellenberger (though it would be a mighty shame if he fails). Hendricks had a split decision win over Koscheck, but people aren't mentioning that that fight was sandwiched between two knockouts of Jon Fitch and Martin Kappmann that occurred in a combined 40 seconds. They aren't cans, they aren't stiffs, they were top 10 fighters.
Agreed. The problem with making Hendricks fight again is that if he loses a bad decision, the UFC will now have lost a solid contender in a meaningless fight (I say meaningless, because it probably won't elevate Ellenberger into contention.) The UFC needs to make fights when they can, and they are missing the boat with Hendricks.
Now, GSP does have a right to turn it down in this situation, and that's for one thing: Nick Diaz. It's not like GSP is saying, "I don't feel like fighting anyone right now, there are no contenders in my division". GSP simply wants to kick Diaz's ass first since he's frothing at the bit to do so for nearly a year and a half now.
This would be a solid argument if Nick Diaz wasn't coming off a loss and a yearlong suspension. The problem with this is that GSP chose an opponent who wouldn't have normally been in title contention. If Hendricks and Diaz had equal records coming into this situation, I wouldn't have had an issue with GSP's decision. As such, I think he's holding off on taking a fight against someone he may not be ready for versus asking for a fight against someone he most likely has a solid gamplan to defeat.
Silva, in a way, has a right to influence who he fights next as well. For over six years now, I've heard how guys like Patrick Cote, Demein Maia, and now Chris Weidman are a "bad match-up" for Silva. Bullshit. The guy is nearly 38 years old, is undefeated in TWO weight divisions in the UFC, and finished his biggest rival and challenge in his career in Chael Sonnen…twice. He stepped up to face a roided Stephan Bonnar and proved that on a month's notice he could smash someone that walks around at 240 pounds.
I agree that the whole "I'm a bad matchup for him" is pretty lame (and repeated by every challenger). Despite that, and while Anderson Silva is my favorite fighter, I don't think he should be able to pick and choose contenders. While taking the Bonnar fight on short notice (and saving the entire card) should earn him some favors with the UFC, that doesn't mean he becomes his own fight booker. I will conceded that at 38 years old, the clock is winding down on his career, so the UFC should book him wisely in the time he has left, but that doesn't mean snubbing guys who have earned title shots.
Whether fighters like it or not, Chael Sonnen has changed the game. Constantly I read interviews where journalists ask a fighter who they want next and they say, "I don't care, I just want to fight". And people wonder why they get passed over on title shots or title eliminators. They give the impression that they don't give a shit. Sonnen isn't like that, he makes it known that he wants the champion, hell, he nearly fought Jones on eight days notice, when Machida refused. It's about showing the promotion that you care.
Chael didn't change the game; he did the same thing professional wrestlers have done for the past 50 years. Many people also forget that Chuck and Tito had similar exchanges leading up to their two meetings. I think the biggest difference is that it was completely unexpected from Chael, who was pretty vanilla beforehand. Moreover, I don't want to hear a bunch of nobodies calling other fighters out in interviews; they normally sound stupid and fail to realize they aren't at a level to call anyone out. I would rather see them get in there and win impressively – the rest will come on its own.
This is the type of exchange that makes writing this column worth it (besides the huge salary).
And now for today's literary brilliance:
---
UFC 156
– The Short and Sweet:
It was nice to see
Tyron Woodley
score a big knockout; I've seen too many Woodley fights that resembled wrestling matches than they did fights.
I actually thought
Joseph Benavidez
would have an easier time with
Ian McCall
than he did. Still a good fight though.
Damian Maia
may have smother-humped
Jon Fitch
for the win, but I don't see that style of fighting getting him a title shot anytime soon.
Antonio Silva
scored one of the biggest wins of his career and laid waste to the UFC's Heavyweight title plans.
Rashad Evans
failed to perform and
Antonio Rogerio Nogueira
scored a rather uninspiring decision win that didn't do anything for his title chances.
Frankie Edgar
proved once again his toughness while
Jose Aldo
demonstrated his greatness.
---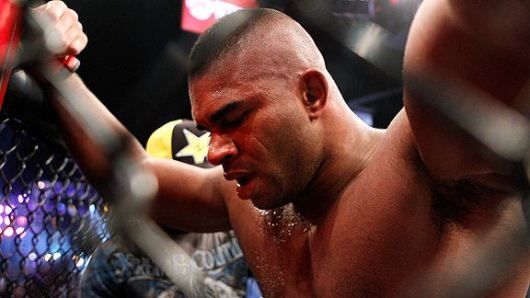 I love it when a plan comes together falls apart…
I took guilty pleasure in watching the UFC's title plans go down the tubes last Saturday night when both the heir apparent for the Middleweight Title and the Heavyweight Title lost their bouts. I don't take enjoyment out of it because I dislike Rashad or Alistair; I take enjoyment out of it because I hate it when the UFC puts supposed "challengers" in meaningless bouts and dangles a title shot in front of them.
Make no mistake; I have no problem with title eliminator (or #1 contender) bouts. If the stipulation was that the winner of the Evans/Nogueira fight would get a title shot, then I would have been all for it. But that wasn't the case; only Evans was rumored to be in line for a title shot (in a completely different division, but I'll cover that later). In this case, the fight becomes meaningless because the moment Evans lost, no title contender was crowned. This fight was a complete waste of time and energy.
The same applies to the Silva/Overeem bout; had Dana White announced that the winner of the bout would next challenge for the title, I would have been fine with that fight. But Silva wasn't ever mentioned because he wasn't "supposed" to win; he was just there to get beat. And now that he's won, the UFC is trying to figure out what to do with him (when they plainly have no clue).
I think this is a shitty way to do business and reeks of shoddy matchmaking. If someone in line for a title shot just needs to win one last fight to get that title shot, then the guy who he's fighting should equally be in title contention; doing otherwise is counterintuitive. How can one fighter earn a title shot by beating a fighter who isn't even in contention? Wouldn't that mean that someone who strung together a bunch of wins on the prelims could also be a contender? Shouldn't quality of opponents count? And doesn't it just sound completely shitty to hear that Rashad would have gotten a crack at the #1 Pound for Pound fighter on the planet with a win but Lil Nog didn't get a thing?
---
Fighting to lose.
I have a little secret for all MMA fans out there: Do you see that fighter on the bottom? The guy that was taken down and is now attempting sweeps and submissions off his back? He's losing on the judge's scorecards. And he'll lose the decision every time.
And that guy on the top? The one that is barely doing anything? He's winning on the judge's scorecards merely because he's on top. And he'll probably win the decision.
That sucks, doesn't it? And some of you want to tell me about the scoring criteria and about how the man on the bottom who is trying to finish the fight should account for more than the guy on top who is merely maintaining a positional advantage.
You can save it; I know all that. What I am talking about is the reality of the situation, which is that the man on the bottom is almost always losing the fight.
Now, there may be a savvy judge or two out there that might recognize the bottom fighter's work (particularly if the fighter on top is constantly fighting out of submissions), but that's normally only going to create a split decision in favor of the fighter on top.
Frankly, this situation has unfolded the same way hundreds of times in innumerable MMA bouts; the fighter on the bottom loses to the fighter on top. Yet for some reason, people are consistently stunned with it happens. It happened last week in the Clay Guida fight, it's happened in countless Ben Askren and Gray Maynard bouts, and it will continue to happen. And, for whatever reason, people will continue to be surprised when it happens.
Now, I know MMA judging; I really do. And I know that the guy on the bottom with the active guard should be outscoring the top fighter when he attempts sweeps and submissions and the top fighter is just trying to stay on top. I know all that. I know that an active guard should always count for more than a mere positional advantage.
But that fact is that things just don't work that way, and I am constantly stunned that some fighters don't realize it.
And I get that some wrestlers have such a good top game that the guy on the bottom might not be able to get back to his feet. In those cases, I think the fighter on the bottom needs to work on his takedown defense, because weak crap off his back is just going to see him lose.
Nowadays, any fighter that opts to fight off his back is probably going to lose if he doesn't submit his opponent. And the fighter that can't stave off takedowns and keep the fight where he wants it is going to come out on the losing end of a decision. Forcing his opponent to repeatedly shrug off or merely avoid submissions is practically meaningless, because the fighter on the bottom is still going to lose.
That's just the way things happen.
---
Common Sense.
I want someone to explain to me in the comments section why Michael Bisping shouldn't get the next title shot against Anderson Silva. I don't need anything complicated; just keep it simple and explain your rationale.
But, if your answer includes "he's coming off a loss," I want you to explain why Nick Diaz and Chael Sonnen are getting title shots and why it was fine for Frankie Edgar to get one too.
Like I said, just keep it simple.
---
Since when does a fighter becoming a contender in one weight class mean that he's also a contender in a different weight class too? Does he become a contender in every weight class? Or is it just one up and one down? I haven't quite figured out this rationale.
There was talk that if he'd won against Lil Nog, Rashad Evans would have earned a title shot against Anderson Silva. How would that happen? Evans hasn't ever even fought at Middleweight, so why would he get a title shot? Is that the way the UFC is making matches nowadays? Just call someone out or mention you'd like to fight them and you suddenly get the chance? Shouldn't title shots be earned? Shouldn't a fighter at least prove he can even make the weight first?
The same thing is happening in the Featherweight Division with Anthony Pettis being scheduled to challenge Jose Aldo. Look, I get it…this is a cool matchup and it will probably be a great fight. But shouldn't Pettis have to prove he can even make it to 145 before he's handed a title shot? Shouldn't he have to beat at least one guy in the division before he has the chance to wear the strap? And what about all the other guys who have been toiling away in the division? Where is the justice for them?
The Edgar/Aldo fight was something talked about even before Edgar lost his Lightweight Title, so I kind of understand why they did it when they did. But why is Pettis jumping everyone else too? Wouldn't it have been fairer to make Pettis beat Edgar first? Or even the Korean Zombie?
And if he loses to Aldo, does he just move back up to Lightweight for a shot at Benson Henderson? Or does that go out the window too?
All of this points to a promotion's failure to groom challengers. If the UFC is so short on challengers for their champions that they have to resort to this type of matchmaking, then they've failed to properly build and groom fighters for title shots.
---
And that's it for this week. Seriously, answer my question about the title shots; it will be enlightening and entertaining to see the rationale.
Thanks for reading.

NULL
comments powered by Disqus