The MMA Rant 2.23.13: Nick Diaz is a Tool, UFC Cuts, More
February 23, 2013 | Posted by
Welcome to this week's edition of the MMA Rant, as always, I am your host, Scott Kuczkowski.
The UFC made couple of strange decisions this week, to include releasing 16 fighters, one of which was Jon Fitch. Many of the esteemed writers on this site found Fitch's release strange and it created a bit of discussion. If Dana White is to be believed, nearly 100 more fighter releases could be on the way.
Also of note was Dana White's realization that guys have been abusing TRT in training. I don't know what bit of information got him all excited about this issue, but the UFC response seems a little late to the party for my liking.
Before we get to all that, let's tackle some reader comments from last week:
Da Truth takes umbrage with my opinion that Chael Sonnen shouldn't talk his way into a title fight: Scott, Sonnen wasnt the first to raise his hand, he was the ONLY one to raise his hand.
Big difference. How are any of them going to complain when all were offered to fight Jones on short notice and all turned it down? Since they turned down the shot, it was offered to a very unlikely person (who accepted)
In business, if you are offered a promotion, you dont turn it down. Even if you feel you arent ready, you take it. Because next time, the higher ups will remember and bypass you for somebody who maybe isnt ready (like you were last time) but is willing to give it a shot.
You may be missing my point; I'm not mad at Chael for jumping at an opportunity, because as you said, you have to take the chances offered you. I'm upset that the UFC couldn't find a better challenger for the champ when they claim to have the best fighters in the world signed to them.
The UFC has the deepest roster of any promotion on the planet, so I find it ridiculous they couldn't find one guy at Light Heavyweight to fight the champ. While I will concede that Sonnen makes for an interesting matchup, my opinion is that anyone in the Top 15 of the UFC Light Heavyweight rankings would be more deserving of a title shot than a Middleweight coming off a loss.
Col Rothwell makes a couple of points: Also yeah the Sonnen thing is slightly different due to him being the only guy willing to step up, but with others I'm also dead against this handing out title shots to the guys they fancy marketing more or the champ prefers to fight. To me I watch MMA because it's a legit sport. When I want to watch a work I watch wrestling and with MMA it's the real deal. Now while fights are still legit, the booking is not with the recent events of handing title shots to people who didn't deserve them.
This has been the basis of me questioning if MMA should be handled more as a sport or as entertainment.
I used to actually think Bellator had this covered way better than UFC because guys HAD to earn their shots, but then I don't think the UFC could run events anywhere near as popular using that system. On the whole I think they should just stick to running the same system as now but actually put guys on winning streaks into title eliminators and STICK to that guy getting the shot. I'm a huge fan of GSP but as much as I like him personally from what I've seen of him and as a fighter, if I were the boss I'd be telling him "Hendricks is on fire, he won the eliminator, he gets the shot and that's just that." guys shouldn't be allowed to pick and choose and that stands for Silva even moreso. I get that GSP wants Diaz and I think that aside from money, it's more about shutting him up because he got under Georges skin with his baiting antics, but even if he got that fight later on, he should have been given Hendricks whether he liked it or not. Just like Silva should get Wiedman.
Agreed.
On a sidenote about the whole Bisping deal too, it amuses me the irony of the situation that Bisping loves to comment about fighters "shitting the bed" when they get close to a title shot. I know he's said it about at least 2 guys in the past couple of years, and yet Mike shits the bed every time he's 1 step from a title shot himself! Lastly, is Rashad finished or what? The guys heart doesn't seem to be in it anymore and I greet his name on the card with a groan nowadays. He seems to have caught the Rampage bug for not trying real hard if he's not in the mood.
Bisping likes to run his mouth, and calling people out after they stumble (or defeat him) has been a long-running shtick of his. I can appreciate what Bisping has done in the octagon, but the guy seriously needs to see a sports psychologist to figure out why he never wins the fights that make him a title contender.
As far as Rashad Evans is concerned, I think his loss to Jon Jones and split from Greg Jackson has knocked him back more than a few steps. His last fight against Lil Nog was abysmally bad, and it almost appeared like he didn't put enough time in the gym like he previously did. If I were Rashad, I would head back to Jackson's and just recognize he had the most success at that gym for a reason.
I'm a big fan of Cruz but I don't think this whole interim title situation looks good for anyone. How many times have we created interim belts now? Way too many. If a champion is out for only a short time fair enough but anyone with a long term injury should just vacate the belt and be given the first shot at the new champ when they come back. I don't see what is wrong with that at all.
Yeah…anytime a champ can't defend the title within a calendar year, that person doesn't need to be wearing the belt anymore. It sucks for the guys that might be stripped of the title because of an injury, but the division has to be bigger than just one fighter.
Our own Jeff Harris tries to explain why the UFC should keep going about business as they have: Because it has been like this for years. BJ Penn against Matt Hughes. Randy Couture coming off a loss at light heavyweight to get a title shot against Tim Sylvia. Penn getting an automatic title shot rematch against GSP. Brock Lesnar leap-frogging over Fabricio Werdum after going 1-1 at heavyweight in the UFC.
Recognizing there is a problem is the first step to fixing it. If you don't see the problem, then how can you figure out the solution? Jeff, if you think the UFC was right by making those matchups, then I guess you feel they should make future matchups in the same haphazard manner. If you're pointing out that the UFC has always done this, then I will agree with you that the recent events aren't unique, but that doesn't mean the UFC should keep making the same mistakes.
The UFC can chart their own course and start making logical matchups based on wins and losses; they just have to be willing to do it.
And now, on to this week's column…
---
UFC on FUEL TV 7: Barao vs. McDonald
I have somewhat of a confession to make – I don't get Fuel TV. Sure, it's available if I upgrade my subscription to the next highest level, but I've frankly yet to hear about a Fuel TV card that made me think it would be worth shelling out an extra $20 a month just to watch those fights.
This card was no exception.
I understand I'm making these statements without having watched the card, but from the outside looking in, I can't see how I'm terribly wrong.
The Renan Barao/Michael McDonald and the Cub Swanson/Dustin Poirier fights were the only things on this card that registered a blip on my radar, which is typical of most Fuel TV cards.
I'm not hating on the UFC for putting weaker cards on a weaker cable channel; it's smart business. The downside is that the cards offer no motivation for me to contact my content provider and ask for an upgrade.
The end results of those two fights can be summed up thusly:
Barao cemented his place as the holder of a belt that is nearly worthless and pointless.
Swanson took another step closer to rematching with the man that wrecked him in :08 the last time they fought.
'Nuff said?
---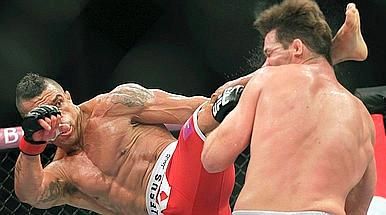 After finally regaining consciousness after his last bout,
Michael Bisping
has decided it's time to call out the man who defeated him,
Vitor Belfort
.
Besides calling Belfort a cheat for abusing steroids earlier in his career and using TRT now, Bisping also made the dubious claim that he was fine after the fight-finishing head-kick and he thought the referee stopped the fight too early.
Umm…O.K…
This is the type of crap that makes Bisping look like a douche. I could see this argument if he'd lost a controversial decision or something like that, but he was stopped pretty cleanly by a well-placed kick to the head. Bisping might think he was fine afterwards, but he fell to the ground and started eating shots without putting up any defense; if he thinks that was the correct defense in that situation, then perhaps he needs to brush up on some fundamentals.
As far as getting another shot at Belfort, I don't see that happening anytime soon. The fight ended in a manner that didn't leave much to question, so aside from a booking quirk in the future (such as an injury replacement), I don't see the UFC booking a rematch. As it stands, Belfort would probably have to lose a fight and Bisping would have to win two in order for a rematch to make any sense.
But, I doubt that will keep The Count from running his mouth.
---
In what can only be described as a somewhat surprising rant of sorts, Dana White went off on TRT abuse at the Fuel TV 7 media scrum.
In a 180 degree shift from his previous stance, White called TRT use "a way for people to cheat" and said the UFC plans to "test the shit" out of anyone that has a TRT exemption through the athletic commissions. White explained that the testing will include no-notice testing of fighters throughout their training camps as they prepare for bouts.
While I'm certain he's planning to test guys with current TRT use exemptions, what about the guys who are using it but don't have an exemption? Wouldn't the UFC have to test every single fighter in order to identify those who are truly abusing it? The guys with actual exemptions almost seem like the least likely ones to abuse it, because they've already told the world their using it. Won't it be the guys who are secretly using who will be hardest ones to catch?
I find this shift interesting, as it appears something has occurred that has forced Dana to take another look at what was previously a hands-off approach to TRT use. I can't help but wonder what that incident was.
I think it's good the UFC is taking a more proactive approach to this topic. TRT use has been a controversial topic and its abuse could be big problem. The only real question is what does the UFC plan to do if they catch a fighter abusing TRT leading up to a fight? Is the UFC going to suspend the fighter and cancel the bout? Will the UFC sacrifice a big main event to wage war against TRT abuse?
To what lengths is the UFC willing to go to reinforce that this type of activity won't be condoned?
Time will tell.
---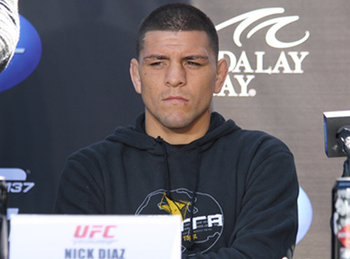 And in other news,
Nick Diaz
is still an idiot.
I tried to think of a more delicate way to say that, but the obviousness of the situation has me at a loss for a more gentle euphemism.
Dana White mentioned Nick has no-showed three interviews for the Countdown to UFC 158.
I don't know why anyone has the nerve to act surprised at this anymore.
Of course, reps for Diaz claim he wasn't made aware of the scheduled appearances but that he would certainly be at future ones.
I guess after hearing that, I just have one question: Why can't Diaz ever take responsibility for his mistakes? Is it a California thing? Why is it always someone else's fault? Am I really to believe the UFC would schedule these interviews but not tell the guy who is being interviewed? And if they forgot to call him the first time, is it really believable that they wouldn't bother to get a hold of him for the two subsequent attempts? Who is Nick Diaz trying to fool?
This is the type of problems the UFC signed on for when they agreed to give Diaz another title shot. I place a lot of the blame on Diaz, but the UFC should have known this would happen, especially since he'd done the same exact thing to them in the past. When are they going to learn? Nick Diaz is not a professional!! The guy is a wanna-be thug who also happens to be a good fighter. It kills me that the UFC caters to this guy when there are so many other fighters out there who more deserving of their attention.
---
This video made me laugh:
I have no idea why Dan Henderson still thinks he needs to talk about Anderson Silva, but he does. I like the fact that he alludes to Silva not wanting to fight him a second time, yet he doesn't have any valid argument about why he deserved a second title shot. Of course he also mentions Silva didn't want to give Chael Sonnen a rematch, and we all know how that fight turned out.
Dan – you went to Strikeforce and got outgrappled by Jake Shields – what did you think you were going to do to Anderson that you didn't try the first time?
I guess this video would make some sort of sense if Henderson still fought at Middleweight, but he doesn't. Instead, he basically talks trash about one of the pound for pound best fighters on the planet, but fails to acknowledge that he lost cleanly to Siva and never demonstrated anything afterwards that made people think a rematch would produce a different outcome. On top of that, he really just sounds like a bitter past-his–prime fighter who can't make peace with the fact that the best parts of his career are behind him and he really only has a few fights left in him.
---
If a fighter is "axed" and no one cares, does it really matter?
And the axe falls. The UFC culled their herd of fighters this Wednesday with the release of 16 fighters:
Jon Fitch – 14-3-1 in the UFC, former Welterweight contender, went 8-0 in the promotion before losing to Georges St. Pierre at UFC 87, but is 1-2-1 in his last four fights. This is obviously the most surprising name on this last and the public outcry will probably help get him back in the UFC sooner than expected. If he's forced to fight elsewhere, I'd expect him to win a fight or two before being re-signed.
Wagner Prado – 0-2-1 in the UFC, is known best for his fight with Phil Davis that ended prematurely because of an inadvertent eye-poke. He could be brought back into the fold if the UFC needs a fighter for a Brazil card.
Jacob Volkmann – 6-4 in the UFC, is best known for calling out President Obama in a post-fight interview. Given the depth of the Lightweight Division, I'd be surprised if he's brought back.
Vladimir Matyushenko – 7-5 in the UFC, has fought for the promotion 3 separate times, challenged Tito Ortiz for the Light Heavyweight title at UFC 33. At 42, "The Janitor" is getting long in the tooth as a fighter, so I wouldn't be surprised to see him walk away from the fight game.
Che Mills – 2-2 in the UFC. I could see him getting called back if the UFC runs short on fighters for a European card.
Jay Hieron – 0-4 in the UFC, has fought for the promotion on 3 separate occasions, including a bout against GSP at UFC 48. Hieron's cursed when it comes to the octagon, so the odds of an immediate return by him are slim. I could see him getting the call if he wins a few somewhere else and a last-minute injury requires his services.
Terry Etim – 6-5 in the UFC, but 1-3 in his last 4. Etim is in the same boat as Mills, in that the UFC's expansion into Europe could open the door for his return.
Paul Sass – 3-2 in the UFC, was 10-0 coming into the UFC with 7 wins by way of triangle choke. Sass hasn't recovered from his loss to Matt Wiman at UFC on Fuel TV 5, but I wouldn't be surprised if he was asked back after a few wins somewhere else.
Jorge Santiago – 1-5 in the UFC. Santiago has performed great almost everywhere else but the UFC, but his UFC success has been so fleeting, I don't know if he'll be asked back. He'd be a great talent in Bellator.
Mike Stumpf – 0-2 in the UFC.
Simeon Thoresen – 1-2 in the UFC, in the same boat as Mills and Etim.
C.J. Keith – 0-2 in the UFC.
Motonobu Tezuka – 0-2 in the UFC, but a UFC expansion into Asia could see him called back.
Josh Grispi – 0-4 in the UFC, was 14-1 coming into the UFC and undefeated in 4 WEC bouts, was expected to challenge Jose Aldo for the Featherweight Title until a loss to Dustin Poirier. Grispi was thought to be one of those can't-miss prospects, but he just wasn't able to put it together in the UFC. He could be called back with some wins somewhere else.
Ulysses Gomez – 0-2 in the UFC.
According to Dana White, more cuts are on the way. How many? According to him, around 100. That means a lot of guys had better be fighting their asses off during the next couple of events.
The truth is that this could be a boon for some of the smaller promotions and even Bellator. While some of these guys were winless in the UFC, the majority had stellar records before joining the UFC, so they should no-doubt enjoy more success in their post-UFC careers.
---
And that's it for this week…I hope you guys dug it.
Now go clean your room.
NULL
comments powered by Disqus