The MMA Rant 3.02.13: Rankin Rousey, Matt Riddle, Tito and Cyborg
March 2, 2013 | Posted by
Welcome to this week's edition of The MMA Rant; as always, I am your host, Scott Kuczkowski.
Well, Ronda Rousey successfully defended her Woman's Bantamweight Title this past Saturday night at UFC 157 in the first-ever women's UFC bout while Lyoto Machida earned himself another crack at Jon Jones.
Overall, the fallout from UFC 157 was the only real news this week, so this column might be a little short on news.
Before we get down to business, let's check out feedback from last week:
My trusty regular, PWNICON writes: The Hendo vs Shields fight was basically Hendo at his worst vs Shields at his best. It's a pity we've not seen Jake Shields fight the way he can fight in the Octagon. Maybe it's weight cuts or getting older, who knows. I still think Kampmann beat him in his Octagon debut.
I agree; Shields hasn't lived up to the hype at all, but I have to admit I wasn't confident he'd see the same success in the UFC that he'd enjoyed other places. I think Shields is a talented grappler; maybe one of the best in the business, but if he can't get the fight to the ground, he's screwed. I'd like to see him matched up with Damien Maia.
Really? writes: why would you test people who don't have TRT exemptions, those people have normal testosterone levels, if someone with normal testosterone levels used it they would have higher than normal levels and this is something that can be caught with drug testing that is done after events, i know what you are going to say, well why not catch them before the events, easier said than done with that many fighters under contract, his point was is that he feels that the people with exemptions have been given a licence to cheat because they dope up on this stuff above normal levels during training camp thus giving them an unfair advantage and then dropping down to normal levels before a fight. As white stated it can be a good thing until a few bad apples spoil the bunch and he has some reason to believe this may be happening, that is why they want to test people who have exemptions
My point is that anyone can jack up their testosterone during their training camp and allow it to taper off towards fight time. Does that give them an advantage? I can't answer that, but I bet people have tried it on the suspicion is might give them an edge. This isn't going to be a problem strictly with guys who get TRT exemptions.
Enough with all that tomfoolery – let's get on with things…
---
UFC 157
– The After Thoughts:
Dennis Bermudez and Matt Grice put on a great show and set the bar pretty high for the guys following them.
Brendan Schaub won in a manner that will probably see him released quicker than if he'd been knocked out in an exciting slugfest.
I don't think Josh Koscheck yet realizes he was out for a moment against the cage. He still didn't know it when he was back in the locker room. This was a good win for Robbie Lawler.
Urijah Faber made me believe he still might one day wear a UFC championship belt.
Dan Henderson and Lyoto Machida put on a stinker of a fight that saw Lyoto potentially get another shot at the Champ. I'd hoped Hendo would have a better gameplan for Machida, but he just couldn't get it done.
In the historic first Women's bout, Ronda Rousey successfully defended her title and kept her streak alive by defeating a very game Liz Carmouche via first round armbar. In other news, water is still wet.
Seriously, this was a good night of fights overall, but I think the Henderson/Machida bout killed things. The main event was exactly what people expected; the only real thrill for Rousey fights going forward will be seeing who can stop her when her gameplan is so overly obvious.
---
The UFC announced this week that
Anthony Pettis
will next challenge
Jose Aldo
for the Featherweight Title. Apparently, Aldo didn't originally want this matchup because he thought Pettis didn't deserve it since he'd never fought at Featherweight. Of course, Aldo was correct, but apparently being the #1 contender at Lightweight also makes Pettis the #1 contender at Featherweight (and perhaps all other weight classes too). Additionally, the big bag of money the UFC threw at Aldo probably helped change his mind, and so now the fight is on.
Interestingly, if he wins this bout, Jose Aldo will be given the chance to move up in weight and challenge the Lightweight champ for the belt (because being the champion at Featherweight automatically makes you a contender at Lightweight).
In a demonstration of paradox thinking, Dana White announced that if Jose Aldo wins the Lightweight title, he has to stay at Lightweight. Why? That's still somewhat of a mystery. I'm guessing that will mean he would be stripped of the Featherweight Title if he did so. I can only assume Anthony Pettis would have to stay at Featherweight if he wins that title and will lose his Lightweight title shot.
I don't know why the UFC has been so quick to allow some guys to change weight classes for some matchups but now they are putting their foot down at the thought of Aldo and Pettis bouncing back and forth between 155 and 145.
Don't get me wrong; I think Jose Aldo holding both titles would be a bad thing because it would most certainly slow down the number of title shots for each division. I mean, the guy can only fight so many times a year, which could mean each belt would only be defended once a year.
But the fact that the UFC has now stipulated where these guys can fight is a little strange to me. What if Anthony Pettis wins the Featherweight Title but can't keep cutting to 145? What if Aldo wins the Lightweight belt but decides he likes fighting at 145 better? Why is the UFC suddenly interested in keeping these guys at one weight class?
---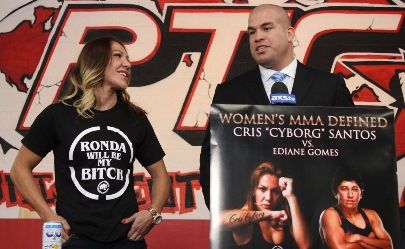 Tito Ortiz
has alleged that he has some grand scheme that is supposed to work in
Cristiane "Cyborg: Justino
's favor through his negotiations with the UFC (because he did so well in his own caeer). If Tito is to be believed, the plan is for Cyborg to win some title in Invicta (for whatever that is worth), defend it once, and then challenge Ronda Rousey for a catchweight fight on New Year's Eve.
According to Tito, while the UFC doesn't need Cyborg, MMA fans need her.
Gee…what could go wrong with that logic?
First off, I think Tito needs to realize that people care less and less about Cyborg with each passing day. In fact, his asinine statements and her stupid decisions are the only reasons she's stayed in the headlines. She hasn't fought in what seems like forever and her stock as a fighter is never likely to rebound to where it was leading up to her fight with Gina Carano.
Secondly, no one watches Invicta. Sure, some hardcore fans will stream it on their computers, but those fans already know who Cyborg is and still don't care about her. The casual fans have forgotten about Cyborg and she will remain a forgotten memory until she returns to relevancy in a promotion that will get her on TV. I don't see that happening anytime soon with Invicta.
Third, Tito has already cost Cyborg money by leaving the UFC and signing with Invicta. By signing with Invicta, she lost her health insurance coverage and she's become just another fighter that isn't under a Zuffa contract. The UFC was willing to keep her under a UFC contract and pay for her while she fought for Invicta. The idea was that the UFC would bring her over after she won some fights and made the cut to 135 (or when they just felt like putting on a catchweight bout). Why would any manager advise his client against that? If I had to guess (and this is just a guess), Cyborg was probably worried the UFC would want to test her randomly for PEDs and she knows she would be nothing without the steroids.
And fourth; after last Saturday, Ronda Rousey established herself as a star in the UFC and will be looking to bigger and better things than catchweight bouts with has-been steroid abusers. Rousey has the winner of Miesha Tate/Cat Zingano to look forward to and a potential bout with Sara McMann. Rousey's star is rising in the UFC, and with the freshness of the division, she doesn't have to resort to catchweight bouts in order to sell tickets. The best that could have happened this past weekend for Cyborg was for Rousey to lose or at least look very vulnerable, but neither occurred.
Cyborg had her chance to fight Rousey, but right now there is absolutely no reason for Rousey to ever agree to fight her at anything other than 135.
Tito is wrong.
What do you guys think?
---
Matt Riddle
and the case of the whacky tobaccy.
It was announced last week that Welterweight Matt Riddle was released by the UFC for failing his second drug test after a post-fight test found marijuana metabolites in Riddle's urine. While other fighters have been offered the opportunity (or were forced) to go to rehab after previous incidents like this, the UFC summarily handed Riddle his walking papers.
Now, I'm pretty Libertarian when it comes to the subject of drugs. I think drugs like marijuana, cocaine, and heroin should be legal. I think that if you're an adult, in your own house, and you can afford these drugs, then you should be able to use and abuse them so long as you don't bother anyone else. Frankly, most people who want to use them are buying them and using them anyways, so I don't understand why the government feels the need to keep them illegal. If their use results in a person's demise or ruin, that person made that choice on their own. I don't think the government has a case for being paternal with adults in this matter.
Having said that, I agree with the stance that athletic commissions take on drugs because participation in sports like MMA is completely voluntary, and as the regulating body, the athletic commissions (and promotions) should be able to dictate what substances an athlete uses if they want to compete in that sport. Matt Riddle should be free to smoke all the dope he wants in his home, but once he applies for a fight license, he's voluntarily agreeing to abide by the rules established by the athletic commission. Moreover, once he signs with a fight promotion and agrees to a "fighter conduct" policy, he's volunteered to curb his behavior. Riddle failed to uphold his end of the bargain and was fired as a result. This should serve as a warning for other fighters who think they can't or won't be cut in a similar situation. I think Jon Fitch's release last week should have demonstrated that no fighter is above being cut.
---
Where do women fit in the Pound for Pound rankings?
This is an interesting question and something the other writers and I discussed at some lengths. Those of you that read our rankings probably saw Ronda Rousey placed at #9 on the P4P list.
Is that right or wrong?
Well, answering that is a little tricky.
First off, woman's MMA is still in its infancy, which means the divisions, to include the quality of opponents, are still lacking.
But, is it fair to compare women against the men when men have been competing much longer?
For example, Royce Gracie was generally considered the best fighter in the world for several years after winning 3 of the 4 first UFC tournaments. However, if we were to watch those fights now, we'd see that his opponent's skills were still very limited and Royce won by using the most rudimentary of techniques. Does that diminish those wins? I mean, we all saw that his skills were fruitless when he faced Matt Hughes at UFC 60, so does that mean he wasn't ever that good? Or was he just good against the opponents available for him at the time? Or has our view of MMA changed over the years with the progression of the sport? I think the one thing we can agree on is that the sport in general has changed dramatically over the past 20 years. So does Royce take a hit for competing against the only guys he was able to fight back then?
Now look at Women's MMA. While MMA was born in the USA with the first few UFCs in the mid '90s, WMMA is a little harder to nail down. Japan hosted women MMA bouts in the mid '90s too, but they were generally off shoots of professional wrestling storylines and one-off matches. Erin Toughill, who still competes today, was competing in 1999, but those were smaller events and many people weren't latching on to woman fighters back then. So where is the actually start?
Generally speaking, most people acknowledge that WMMA in the US began to boom in 2006 after Gina Carano made her Strikeforce debut. If that figure holds water, then we have to acknowledge that WMMA is only (about) 7 years old.
So, recognizing that WMMA is comparatively one-third the age of MMA, how do we judge a woman fighter against her male counterpart? Should we? Or is it all pointless?
For example, if Ronda Rousey was a man competing at 135 and had the same exact record, she'd easily be heralded as one of the best.
But, the questions remains, how do we judge her competition? I mean, if Dominick Cruz finished Barao and Faber in the same manner that Rousey finished Tate and Kaufmann, he'd be seen as a beast. However, is it fair to put Tate and Kaufmann in the same category as Faber and Barao? How do we even attempt to compare them?
Some will opine that they can't be considered equals, but should that count against Rousey? Does Ronda Rousey take a hit because her competition isn't that of her male counterparts? How do we fairly equate the levels of competition and keep the ages of each sport in perspective? Is it even possible to do it fairly?
Some have suggested that this is precisely why they won't rank women fighters on the P4P list; because their division doesn't have the depth to support even the top fighter as truly being a P4P best.
Obviously, others have disagreed, and placed Rousey on the list despite the limitations of her competition.
What do you guys think?
---
And that's it for this week…hit me up and let me know your thoughts on where women should be (or not be) on the P4P rankings.
Thanks for reading.
NULL
comments powered by Disqus