The View from the Cheap Seats 1.27.11: The UFC on Fox 2 Breakdown
January 27, 2012 | Posted by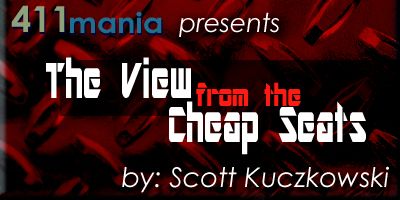 Hello fight fans, and welcome to this week's edition of The View from the Cheap Seats.
A couple of things have happened in the world of MMA in the past few weeks that I wanted to speak on. I would have commented on these stories sooner, but I like to see how things shake out in the media when everyone's story is finally told before I voice my opinion. The first is the report that both Cristiane "Cyborg" Santos and Muhammed "King Mo" Lawal both tested positive for performance enhancing drugs (steroids in these cases) after their last fights. Both fighters have released statements claiming they never knowingly took anything banned and that they were as surprised as everyone else that they failed their drug tests.
Now, I'm pretty libertarian when it comes to things of this nature, in that I believe that a person should be able to use whatever substance they want in their pursuit of their idea of physical perfection. I do not think the government needs to make things like steroids or other performance enhancing drugs illegal. The side effects of using these drugs are well known, and if a person still wishes to use them, then that is their choice. It's their body, so let them do what they want (as long as they don't harm anyone else in the process.) I do not think it's the government's place to try and be paternal with its citizens and protect them from themselves. If people want to use steroids despite the obvious health risks, then let them.
However, when I fighter applies for a license to fight under the authority of a state athletic commission, that fighter is knowingly accepting the rules that go along with that license. Fighters who claim they didn't know certain substances were/are banned are naively pleading ignorance when the rules were clearly defined for them when they submitted their application. In the case of professional athletes, particularly those whose rely on their physical well being for a paycheck, nothing is ever left to chance when it comes to diet and supplements. Athletes don't just pop pills, inject anything, or ingest something if they don't know exactly what it is. When your body is your paycheck, you don't gamble with your health. Fighters who claim they didn't know or weren't sure what they took are lying to themselves and their fans; they knew what they took – they just hoped they wouldn't get caught. These people are adults and they need to be treated like adults; accountable for their actions. The whole excuse of "I didn't know" is just a ploy used by people who would rather be treated like dumb jocks instead of responsible citizens. If this means throwing the book at them, then so be it. Stiffer penalties, to include longer suspensions and bigger fines will eventually dissuade people from breaking the rules they agreed to abide by when they applied for their license.
The other topic I wanted to speak on was fighter pay. As many of you already know, ESPN did somewhat of a hatchet job on the UFC when it reported on their payment of fighters. ESPN obviously had an agenda; whether it was to create controversy or degrade the UFC is regardless, the story received a lot of attention despite being viewed with a great deal of skepticism. Since that piece aired, a lot of people have voiced their opinions about fighter pay. Many people think that UFC should pay fighters more given the amount of money the UFC makes while others think the current pay structure is fair. Some folks have decried the paycheck disparity between fighters and other athletes like baseball players, football player, and boxers. Still other people have opined that there should be minimum pay levels for fighters, similar to league minimum salaries in other major sports.
My opinion on this matter is that a fighter's pay isn't anyone's business and should be a private matter between the fighter and the promotion. The fact that the athletic commissions release these figures is unfortunate, because a fighter's personal finances aren't anyone else's business. While I understand the athletic commissions probably think that releasing this information guards against unfair business practices, such as a promotion underpaying fighters, but the athletic commissions could monitor that without releasing the figures publicly. The pay negotiated between a fighter and a promoter is the business of that fighter and that promoter; anyone else claiming to have a vested interest in it is just being nosey.
Promotions, like any other business, have a specific percentage of their budget to pay their employees. This percentage is solely up to the promotion to decide, but it is driven by many factors beyond merely what the promotion makes in a fiscal year. Fighters are individually paid according to their market value. Fighters who drive PPV sales with just the inclusion of their name on the fight card will obviously make more than those fighters who are relatively unknown to the fans. However, no promotion that wants to stay in business will ever pay all their contracted fighters more than that pre-established percentage of their budget. Promotions that pay fighters above their market value and have unrealistic budgets for fighter pay usually don't last long.
Creating minimum pay scales is ultimately a poor business practice. It's poor because while it makes bureaucrats feel like their protecting athletes/employees from evil owners/promoters, what they are actually doing is increasing the cost of doing business without adding any tangible benefit to accepting that cost increase. When a promotion is forced to pay a fighter above his market value, the cost of that pay increase probably alone isn't going to force the promotion to increase their fighter budget. Smart promoters (and business owners) will be relatively inflexible with their fighter budget because increasing the budget in one area means reducing the budget in another. When a promoter is forced to pay fighters above their market value because of a minimum salary rule, that cost will either fall on the fans through increased ticket prices or be made up by the promoter by cutting fighters to stay within budget. Sports franchises probably didn't increase their player contract budget when league minimum salaries were established; they raised ticket prices or reduced their number of employees. Of course, none of that really explains why an employer should ever pay an employee more than they're worth. On top of that, why is it anyone's business how much they make beside employee and the employer?
While the discussion of fighter pay is interesting and passionate because we want to see our favorite fighters paid what we believe they are worth, it really isn't any of our business. Zuffa is a private company, which means all their negotiations between the fighters, to include their pay scales, is no one's business aside from them and their contracted fighters. Fighters who feel they are underpaid should seek new management or fight elsewhere. Fans upset about fighter pay always have the option of voting with their dollars, which means not buying PPVs or UFC merchandise. The simplest way to affect a company is to impact their bottom line, and any company that loses money due to the unhappiness of their customers will change their practices if they hope to stay in business. While many readers will think that there isn't anything they can do on their own, I will submit to you that a single person is probably powerless, but that the internet can be a powerful tool. There is an old adage that "the bigger they are, the harder they fall" and this is certainly true in the business world as well. While currently the biggest MMA promotion, this alone will not ever save the UFC from failure if their customers turn their backs on them.
---
---
This weekend, the UFC will return to network television with UFC on Fox 2. The main event for that card features Rashad Evans vs. Phil Davis. This is an intriguing matchup between two wrestlers; one of whom is a UFC veteran and another who is viewed as a rising star. The winner gets a shot at UFC Light Heavyweight Champion Jon Jones, so the stakes are high. Who has the best chance to win? Let's break each man down and find out.

Rashad Evans (#3 in LHW Rankings) vs. Thiago Silva (#10 in LHW Rankings)
The Outcome: On January 2, 2010, at UFC 108: Evans vs. Silva, Rashad Evans defeated Thiago Silva via Unanimous Decision.
The Action: Evans controlled rounds 1 and 2 with his wrestling and took Silva down repeatedly. This forced Silva to worry about defending takedowns, which also opened up the door for Evans to score on the feet. Silva clipped Evans and had him hurt in the third round, but Evans survived to take the decision. Silva might have had a better chance to capitalize in the third round but he was tired from fighting to his feet after each takedown.
What it told me: This was Rashad's first bout after being knocked out by Lyoto Machida, and it appeared he learned to stick with his wrestling when facing dangerous strikers. Prior to his knockout loss to Machida, Evans may have felt comfortable enough to stand and trade more with Silva, which could have sorely cost him, so the lesson he learned seemed to pay off.

Rashad Evans (#3 in LHW Rankings) vs. Quinton Jackson (#2 in LHW Rankings)
The Outcome: On May 29, 2010, at UFC 114: Rampage vs. Evans, Rashad Evans defeated Quinton Jackson via Unanimous Decision.
The Action: Evans was faster and more dynamic than Rampage on the feet, which allowed him to move in and out during striking exchanges and also score takedowns. Coming off a long layoff, Rampage just didn't seem like he could get his timing down to land any meaningful shots and appeared to tire quickly. Rampage managed to catch Evans with a big punch in the third round and hurt him badly, but was too tired to capitalize on the opportunity.
What it told me: Evans used a smart gameplan to outhustle Rampage during this bout. Evans obviously understood Rampage's best weapon was his standup, so he either stayed out of range or took him down during exchanges. Unfortunately for Rashad, he waited an incredibly long time after this bout for a guaranteed title shot at Mauricio 'Shogun' Rua, which never panned out anyways.

Rashad Evans (#2 in LHW Rankings) vs. Tito Ortiz (#12 in LHW Rankings)
The Outcome: On August 6, 2011, at UFC 133: Evans vs. Ortiz, Rashad Evans defeated Tito Ortiz via TKO (knee to the body and punches) in round 2.
The Action: Ortiz struck first and scored a takedown, but Evans escaped. Rashad was able to outstrike Tito after a while and even score a big takedown of his own. Ortiz attempted a guillotine in the second round, but he lost position and Evans quickly took control, ending the fight with a big knee to Tito's sternum and some follow-up punches.
What it told me: Tito was a replacement for Phil Davis, so it's unknown if he would have done better with more than 4 weeks to prepare. Rashad did a good job executing his gameplan, which was simply to use his wrestling to put Tito on his back where he could ground and pound him. Rashad looked like he'd changed up his game since departing Greg Jackson's team, which could pose problems for future opponents.
And now that we've looked at Evans's last three fights, let's take a look at Davis's last three matchups.

Phil Davis (#29 in LHW Rankings) vs. Rodney Wallace (#64 in LHW Rankings)
The Outcome: On August 7, 2010, at UFC 117: Silva vs. Sonnen, Phil Davis defeated Rodney Wallace via Unanimous Decision.
The Action: Davis used his wrestling to control this bout and keep Wallace on the mat and at a disadvantage. Davis demonstrated some good striking in the early parts of each round and fought off Wallace's takedown attempts while Wallace couldn't do anything once Davis got him to the ground.
What it told me: Obviously a great wrestler, Davis used those skills to put on a clinic of sorts. While he only threatened with submissions and his ground and pound wasn't particularly vicious, he controlled the action and never allowed Wallace a chance to breath.

Phil Davis (#26 in LHW Rankings) vs. Tim Boetsch (#41 in LHW Rankings)
The Outcome: On November 20, 2010, at UFC 123: Rampage vs. Machida, Phil Davis defeated Tim Boetsch via submission (modified kimura) in round 2.
The Action: They traded kicks on the feet for the first few minutes until Davis scored the takedown. Davis controlled Boetsch on the ground and easily took the first round. The second round saw them clinch on the cage and Boetsch really try to keep the action on the feet, but Davis was relentless. Once on the ground, Davis secured a one-armed kimura and forced Boetsch to tap.
What it told me: Boetsch is a strong guy and a decent wrestler, but Davis was able to manhandle him. This submission win was very impressive, in that it wasn't much more than a simple hammer lock, but Davis was so strong that Boestch was forced to tap.

Phil Davis (#20 in LHW Rankings) vs. Antonio Rogerio Nogueira (#15 in LHW Rankings)
The Outcome: On March 26, 2011, at UFC Fight Night: Nogueira vs. Davis, Phil Davis defeated Antonio Rogerio Nogueira via Unanimous Decision.
The Action: Nogueira managed to control the action in the first round by stuffing Davis's takedown attempts and scoring on the feet. Davis adjusted in the second and third rounds, taking Nogueira down repeatedly and keeping him there so he could deliver punishment.
What it told me: Nogueira is a tough veteran, but Davis performed very well against him. While there wasn't a ton of action in this bout, Davis kept the action where he was strongest and avoided any submission attempts. This was a good win over someone who may be the most dangerous submission guy in the Light Heavyweight Division.
So who wins this matchup?
I have to give Rashad Evans the edge when it comes to striking. He's been fighting longer and he's had some impressive knockout wins with both kicks and punches whereas Davis's standup skills are still fairly rudimentary. Rashad also uses a lot of foot work and head movement while Davis still seems to be learning the finer points of the standup game. This doesn't mean Rashad will be able to sleep on Davis, but I think he's got a big advantage when the fight is on the feet.
While both guys are great wrestlers, I'm going to give the wrestling edge to Phil Davis. I think that because Davis has to rely on his wrestling as much as he does, he's just better at using it and adjusting it when needed. Rashad won't be easy to takedown, but if Tito could take him down then Phil Davis definitely will. Plus, Davis has demonstrated some great balance, which tells me Rashad will have a tough time taking him down.
I think Davis has the edge when it comes to submissions because of his kimura win over Boestch and his anaconda choke win over Gustafsson. Evans hasn't submitted anyone since his second fight, which came from strikes, so while I'm certain he has those tools at his disposal, he simply hasn't chosen to use them. Neither guy has ever lost from submission.
Rashad Evans has consistently face tougher competition than Davis. While Davis is still a rising star, Rashad has been facing guys who were in the Top 10 or Top 5 since before Davis had his first professional fight. That experience can be a tremendous advantage.
I think Davis will use the same gameplan that has worked for him for his entire career, and that is to take down and control Evans. Evans will need to keep this fight on the feet in order to win, and I think his own wrestling skills will allow him to do that. Evans cannot get into a takedown battle with Davis; he merely needs to stuff the takedown and then break away because I don't think Evans can take Davis down. Davis will have to take Evans down each round and control him to win while Evans will have to outstrike and outpoint Davis. I think there ares some nuances to fighting that Evans is more skilled at which will give him the advantage. I also think he has more tools to win this fight. While this fight will be close, perhaps even a split decision, I think Rashad Evans will win.
That's all for this week; thank for tuning in.
Credit Fight Matrix for historical rankings.
NULL
comments powered by Disqus