Thoughts From Across The Pond 01.26.13: Foxy Flyweights, A UFC Curtain Call & The Fight Of The Year
January 26, 2013 | Posted by
Thanks to the fantastic TEK_Designs for my lovely banner.
Apologies for my absence from the MMA zone for the last couple of weeks. It's been a tough couple of weeks for my family with two recent bereavements. However, I am officially back in the loop now and will be back to my weekly Friday slot as of next week.
Also, on Monday evening I was reunited with my UK compatriot Stewart Lange, as I was a guest on his new venture; the 411 Magazine podcast. Stewart, Pat Mullen and I chatted about movies, Belfort vs. Bisping and previewed the WWE Royal Rumble. WARNING: Includes WWE fantasy booking, comparisons between Russell Crowe's singing face and Sylvester Stallone's arm-wrestling face, and confusion between Disney and Lego. Enjoy.
---
UFC on FOX: A Potential Epic and Rampage's UFC Curtain Call, But Don't Forget About The Flyweights!
What with Donald "Cowboy" Cerrone's assertion that his highly anticipated bout with fellow highlight reel generator and bonus collector Anthony "Showtime" Pettis will be the Fight of the Night, and Quinton "Rampage" Jackson frequently reminding anyone who will listen that his Light Heavyweight showdown with Glover Teixeira will be his last in the UFC, the main event of the sixth UFC on FOX seems to have almost been forgotten.
In what is becoming an all too familiar scenario for the UFC's newest division, the flyweights are getting lost in the shuffle once again.
That is a real shame since for all the, admittedly justifiable, hype around Cerrone vs. Pettis and Jackson vs. Texeira, the 125-pounders still have the chance to tear the house down on their own merits.
The flyweight division has had a tough time in its inaugural year in the big leagues. An overall lack of promotion, combined with a general misunderstanding of the 125lbs athletes, has led to a very mixed reception for the little guys during their UFC tenure thus far. There is a section of the casual fans who simply cannot appreciate the speed and technique of the flyweights and feel that they are less likely to see a dramatic knockout from the smaller fighters.
Certainly Demetrious Johnson's (16-2-1) first UFC Flyweight title defence against TUF 14 winner John Dodson (14-5) is likely to be the fastest paced battle ever seen inside the Octagon. "Mighty Mouse" is often talked up as being the "fastest fighter in the UFC" by Messrs Goldberg and Rogan, although the energetic, backflipping Dodson may take issue with such claims (sidelined 135lbs champ Dominick Cruz may have a thing or two to say about it as well). Fans can expect furious striking exchanges, constant in and out movement, flawless technique, lightning fast takedowns, and crazy scrambles galore.
Johnson's striking has pin-point accuracy and although he lacks natural power, he demonstrated in his rematch with Ian McCall his precision and perfect sense of timing when he dropped "Uncle Creepy" with a counter right straight. However, the power advantage undoubtedly goes to Dodson, who is one of the few fighters at 125lbs who has legitimate one shot KO power, a fact he reiterated with his knockout of formerly No. 1 ranked flyweight on the planet Jussier "Formiga" da Silva at UFC on FX in October.
Hopefully this will lead to the higher likelihood of a finish and will therefore allow the casual fans to become more invested in tonight's main event and refrain from showering a fight, which is unlikely to be anything less than entertaining, with boos.
Nevertheless, the issue of promotion remains at the heart of UFC on FOX's main event. On the one hand, it is a great opportunity for the UFC to showcase their newest male division to a wider audience and hopefully many who hold disparaging views towards the 125-pounders will have their opinions altered by Johnson and Dodson on Saturday night. However, on the flip side of the coin, it is telling that the UFC have entirely omitted the word "flyweight" from any of the packages promoting the FOX event. Those tuning in to see a "World Championship" fight may be disappointed upon seeing the diminutive size of Johnson and Dodson and respond with their TV remotes. I hope, for the sake of the fledgling division which remains one of my favourite in MMA, that this doesn't turn out to be the case.
Johnson and Dodson have the unenviable task of following Quinton "Rampage" Jackson's (32-10) UFC swansong against the-man-nobody-wants-to-fight Glover Teixeira (19-2).
"Rampage" is a Mixed Martial Arts legend and a former UFC Light Heavyweight Champion but much of the last 12 months, and the build to this fight against the dangerous young Brazilian, has centred around Jackson's talk of this being his last fight with the UFC. "Rampage" has been incredibly outspoken, even by his standards, in recent months about his annoyance with the UFC and company president Dana White. Their very public falling out has threatened to overshadow the fight itself which remains, on paper at least, an entertaining prospect.
The problem is, "Rampage" has not looked fully motivated in some time. In recent years, he has been inconsistent inside the Octagon and shown only flashes of his former glory, such as with his classic slam of Ryan Bader at UFC 144 in an otherwise awful performance from Jackson. A lack of motivation is the last thing that Jackson needs when he is stepping inside the Octagon with a beast like Glover Teixeira.
Teixeira has looked seriously impressive in his UFC tenure this far, against admittedly less than stellar opposition. The heavy handed Brazilian demonstrated his boxing skills in his 10 minute beatdown of the iron chinned and iron willed Fabio Maldonado and showed off his Brazilian Jiu-Jitsu chops in his quick arm triangle win over Kyle Kingsbury. On the ground, Teixeira would have a significant advantage although he may not find it easy to get Jackson on the mat given that "Rampage" has underrated defensive wrestling skills. If it stays on the feet, this bout could turn into an entertaining boxing contest.
If "Rampage" wants to improve his market value elsewhere then an impressive knockout win in his last UFC bout would do wonders. If he isn't fully motivated or hasn't committed himself fully to training, however, then Glover will do him some serious damage.
Of course, the fight which everyone is most looking forward to tonight is the lightweight showdown between Donald Cerrone (19-4, 1NC) and Anthony Pettis (15-2). With the two exciting kickboxers rarely having a dull fight and holding a tonne of bonus money and highlight reel footage between them, this fight is almost certain to deliver whether it lasts 15 minutes or 15 seconds.
It is funny to consider now how many fans and pundits questioned the level of success which the World Extreme Cagefighting lightweights would have once they made their way to the UFC following the merger between the two companies. Those who predicted a difficult time for the WEC 155-pounders in the Octagon have been forced to eat their words as Pettis and Cerrone stand on the verge of a title shot, whilst current UFC Lightweight Champion Benson Henderson is also a WEC graduate.
Indeed, it is likely that the winner of Cerrone vs. Pettis will receive the next crack at the winner of the title unification bout between aforementioned UFC champ Benson Henderson and the final Strikeforce Lightweight Champion Gilbert Melendez, and deservedly so. "Cowboy" Cerrone has won 6 of his 7 fights in the UFC, while Pettis is on a two fight winning streak since losing in his UFC debut and was the final WEC Lightweight Champion, a belt he won when he defeated now UFC champ Henderson in the final WEC fight which featured the legendary "Showtime kick".
Most have "Cowboy" versus "Showtime" pegged as the sure-fire Fight of the Night and a likely early candidate for best fight of the year. Both guys have phenomenal striking – Cerrone's leg kicks and boxing could give "Showtime" trouble, while "Cowboy" will have to be wary of Pettis' flashy kicking techniques, particularly his various head kicks – and active ground games so wherever this fight goes it is almost guaranteed to provide excitement.
Perhaps "Cowboy" himself summed up how good this fight will be, when he stated simply; "I think this fight is going to be exactly what all the fans and media think it's going to be, we're going to go in there and throw the f*** down."
With such a strong main card, as well as an undercard crammed with solid match-ups, UFC on FOX has the potential to be one of the most entertaining Mixed Martial Arts events of the entire year. We can only hope that "Rampage's" name value brings in the viewers, Pettis and Cerrone deliver the classic everyone is craving, and the flyweight division gains some much needed exposure as a result.
---
Video Interlude
---
Quotes of the Week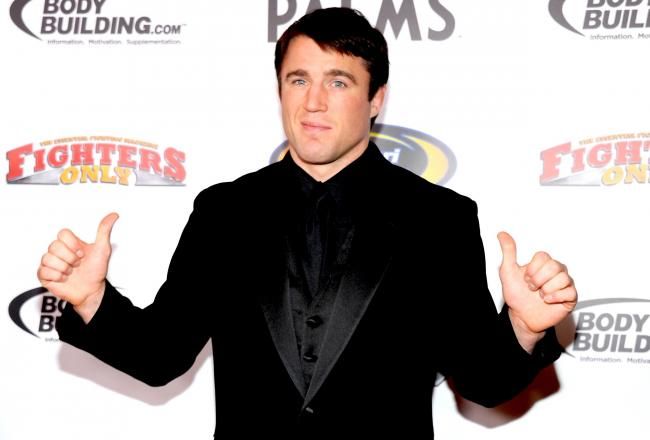 "Why are they calling him a bully? That's what I can't wrap my brain around. Lance [Armstrong] is a dweeb, the only thing he's missing is the tape on the glasses and the high water pants. . . . I felt it, after coming on your show. He threatened to sue me and I threatened to kick his ass. And the whole thing went away." – Chael Sonnen turns his attention and cutting tongue back to disgraced cyclist Lance Armstrong.
"Imagine if your brain was like in your stomach or somewhere or the feet somewhere, and you can't get knocked out. All the fights would go three rounds, and they'd be bored. People like fights because of the knockouts and submissions. That's what makes the sport so exciting." – Glover Teixeira. Fighter and philosopher.
"If you look at all the guys you mentioned and the competition they're fighting, me and Cowboy are the guys that have been fighting the hardest competition. I mean, we're in the UFC with the best of the best; we're in the trenches. You've got the two best guys in the UFC. I feel like me and Cowboy are right at the top, and the winner of this fight should be next in line for a title shot. No more Mr. Nice Guy. I sat there and tried to play that role, 'Oh the title shot's going to come I'm going to sit and wait for it.' I'm taking it this time. I'm going for it. I'm going to take this title shot. I'm going to get my title shot; I'm going to get the respect I deserve." – Anthony Pettis is sick and tired of waiting quietly for his shot.
"I respect Georges St-Pierre as a businessman and an athlete. I don't have anything against him personally. But he's not the kind of fighter I like watching. I lost a lot of judo matches because of points fighters. It was extremely frustrating for me. And when I see that same style being played out in a different sport, it brings out the same reaction in me. . . . Everybody keeps coming up to me and saying, 'Oh, do you think if you didn't look such a way, people would like you so much?'. I'm like, 'Dude, if GSP was butt ugly, you wouldn't want to know who he is so much.' I think he lucked out a lot that he's Canadian. I love Canadians. They are the coolest, nicest, most patriotic people, and they will support their countrymen no matter what, and I think that's commendable. But if GSP wasn't really good-looking, and really Canadian, he would be really unknown. . . . I like fighters that go into it to finish it. They're not afraid to take risks. I'm going to try to do something crazy, and if I end up in a bad position, I know I can handle it. That confidence gets me excited." – Ronda Rousey, outspoken as ever.
"It's very flattering for her to say that I'm a good looking guy and I want to say she's a very beautiful woman as well. I feel very flattered." – Georges St. Pierre keeps it classy in his response to Rousey's comments. What a charmer.
---
Pound for Pound Rankings
Tonight's UFC on FOX main event features UFC Flyweight Champion and No. 10 ranked pound for pound fighter Demetrious Johnson in action. Will "Mighty Mouse" emerge victorious and retain his top ten place or will the dangerous John Dodson steal away his belt and his ranking?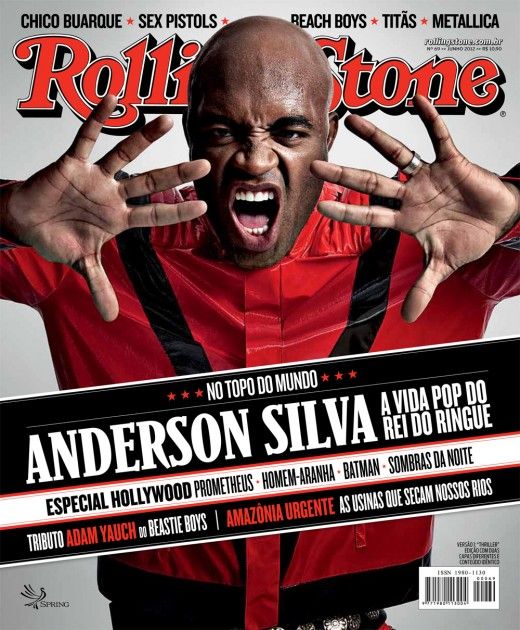 1. Anderson Silva (33-4)
2. Georges St. Pierre (23-2)
3. Jon Jones (17-1)
4. José Aldo (21-1)
5. Benson Henderson (18-2)
6. Cain Velasquez (11-1)
7. Frankie Edgar (14-3-1)
8. Dan Henderson (29-8)
9. Ronda Rousey (6-0)
10. Demetrious Johnson (16-2-1)
11. Carlos Condit (28-6)
12. Gilbert Melendez (21-2)
13. Rashad Evans (17-2-1)
14. Renan Barão (29-1, 1NC)
15. Junior Dos Santos (15-2)
---
And that'll do it for another week.
I'll be back next week with my preview of UFC 156's super-fight main event between José Aldo and Frankie Edgar.
If you enjoy the column please do follow me on twitter at AlexWattMMA
Thanks for reading and if you have any comments or feedback please leave them below or message me on twitter. Cheers.
NULL
comments powered by Disqus