Thoughts From Across The Pond 02.01.13: A Featherweight Super-Fight
February 1, 2013 | Posted by
Thanks to the fantastic TEK_Designs for my lovely banner.
Aldo vs. Edgar: A Featherweight Super-Fight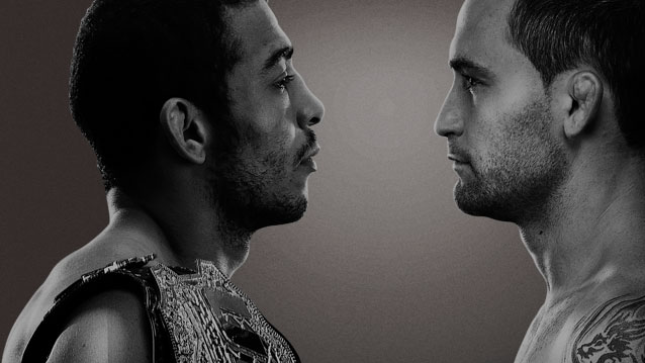 Tomorrow night, the UFC returns to the Mandalay Bay event centre in Las Vegas to present UFC 156: Aldo vs. Edgar. In keeping with tradition, the company have booked the event to coincide with SuperBowl weekend in the U.S. and have, unsurprisingly, put together an incredible fight card for the occasion, featuring former champions and top contenders aplenty.
It is the main event which is the real mouth-watering prospect, however.
For all the talk of "super-fights" between Anderson Silva and Georges St. Pierre, Silva and Jon Jones, and Silva and Rashad Evans, it has perhaps been unfairly overlooked and under-marketed that this Saturday's stacked event is headlined by a genuine UFC super-fight and an MMA purist's dream match at 145lbs.
UFC President Dana White lobbied long and hard for Frankie Edgar (14-3-1) to drop from lightweight – a division in which "The Answer" was significantly undersized but nevertheless found astonishing success – to his more natural 145lbs. Edgar steadfastly refused but following back-to-back losses to Benson Henderson (the second of which was an incredibly contentious judges' decision) the 31-year-old was left with no other option.
Edgar will enter the majority of his fights at featherweight as the significant favourite, taking into account his experience, talent and championship acumen. However, this weekend he finds himself in a more familiar role; the underdog.
Defending UFC Featherweight Champion José Aldo (21-1) is widely regarded as one of the best fighters, pound for pound, on the planet. Undefeated since 2005, the Brazilian wrecking machine is aiming to make the sixth defence of the championship he won in the WEC in 2009. The 26-year-old has looked virtually unstoppable in the cage but it should be noted that Aldo has not stepped inside the Octagon for over 12 months as a result of injuries and one has to question whether this will have a negative effect on his performance tomorrow night.
It is interesting too that Edgar has made the drop to featherweight so as to face men his own size and yet, remarkably, he will still be the smaller man on Saturday night. "The Answer" will give up a height and weight advantage to his Brazilian opponent; Aldo is a big featherweight and it seems probable that a move to lightweight will be on the cards in the future for the young champion as he continues to mature physically.
Edgar has proven himself to be a brilliant boxer for Mixed Martial Arts, putting his fast hands, rapid combinations and clever use of footwork and angles to consistent good effect. Much of Edgar's success in his striking comes from his ability to stay busy by moving in and out effectively, landing frequent point scoring punches on his opponents. Any notions that Edgar was "just a points fighter", however, were quickly dispelled with his fourth round knockout of rival Gray Maynard in their third fight in 2010 and the New Jerseyan will hope to find a home for that same right hand against the 145lbs champ. Still, Edgar does not pack the same kind of power as Aldo in the striking stakes (although one does wonder whether the drop to a lighter weight class may result in Edgar's strikes having more of an impact) and he will need to rely on his timing and precision if he is to hurt the champion, who has a good chin of his own and is notoriously difficult to land punches on.
Unfortunately, for all his striking prowess, Edgar has also shown himself to be very hittable on occasion. Gray Maynard is perhaps the most famous example of this, putting Edgar frightening close to first round knockout defeats at both UFC 125 and UFC 136. Edgar demonstrated his iron chin and iron will in being able to survive those early onslaughts, and one would not bet against him doing the same against Aldo, but the fact that "The Answer" is susceptible to being clipped must be a worry for Frankie's supporters ahead of his meeting with one of the most dangerous Muay Thai strikers in the UFC.
With the exception of pound for pound king Anderson Silva, you would be hard pressed to find a more dangerous and well rounded striker than José Aldo. "Scarface" is equally adept at throwing hard punches in the pocket as he is at maintaining his distance with, perhaps, the most brutal leg kicks in MMA. The Brazilian's sense of timing, his explosiveness, the speed at which he attacks and his frightening killer instinct, all combine to make Aldo one of the most feared strikers in the sport.
Aldo vs. Edgar is dripping with fascinating tactical battles. For starters, the Brazilian will likely look to take away "The Answer's" troubling footwork with the use of his devastating leg kicks. However, "Scarface" cannot leave his leg in Edgar's range for even a second, lest the American counters by pouncing on a takedown.
Aldo demonstrated his frighteningly good balance and effective takedown defence against Chad Mendes at UFC 142, but Edgar has also shown he can consistently wrestle an opponent in this vein to the mat in his UFC 118 rematch with BJ Penn, a fighter with a previously legendary ability to remain upright against even the most aggressive of grapplers.
One quick glance at José Aldo's impressive highlight reel might make Edgar think twice about attempting takedowns, however. Both Chad Mendes and Cub Swanson found themselves on the receiving end of brutal knee assaults when they shot for takedowns from the outside.
Conversely, Aldo is unlikely to be troubled by the thought of "The Answer" taking him down. The Brazilian laid the blueprint for removing the explosiveness of a decorated wrestler's takedown attacks in his five round domination of the featherweight division's former kingpin Urijah Faber in 2010.
Edgar will be more than aware of Aldo's strategy to take away his movement and wrestling attacks with leg kicks but stopping it is another matter entirely, considering the speed at which former soccer player Aldo delivers the strikes. In addition, Edgar showed in his two fight series with Benson Henderson last year that he is susceptible to leg kicks, and Aldo is almost certain to look to exploit this potential hole in Edgar's game from the opening moments of the fight.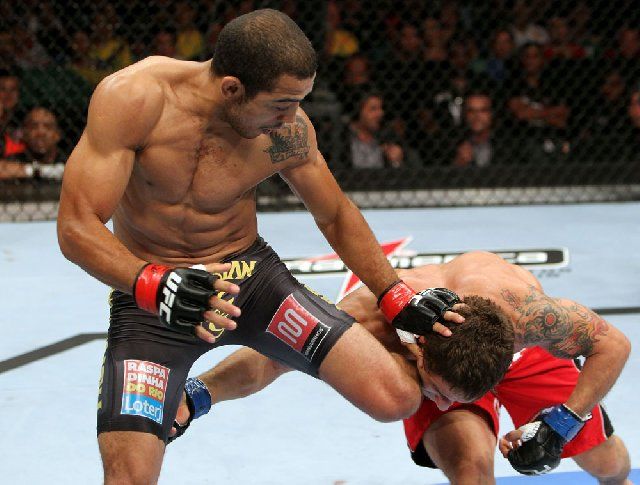 If Edgar is able to wrestle his foe to the mat, then the ground battle will be very interesting. Edgar's work from top position is an effective combination of stifling control and regular ground and pound attacks. Aldo meanwhile comes a Brazilian Jiu-Jitsu background, something which is often forgotten due to his impressive striking acumen. When on top, Aldo has been scarily dominant – his supremacy on the mat against wrestler Mike Brown in his title win at WEC 44 was shocking – but he has rarely been seen on his back. If such a scenario were to play itself out on Saturday night, it would be interesting to see whether Aldo is well versed in attacking from his back with submissions and sweeps. His explosiveness in getting back to his feet rapidly when briefly taken down by Chad Mendes last year would suggest that he is.
Those who have pointed to Aldo's poor final round at UFC 129 against the now retired Mark Hominick – in which an exhausted Aldo ended up on his back and on the receiving end of a ground and pound beating – as evidence of the Brazilian's poor cardio, conveniently overlook the debilitating virus "Scarface" suffered prior to his first UFC title defence and the subsequent difficult weight cut. Aldo has, in fact, gone the 25 minute distance on three occasions. Even so, it would be foolish to suggest that the Brazilian featherweight will possess better cardiovascular conditioning than his challenger.
Frankie Edgar went the distance in five of his six championship fights at lightweight. Even the anomaly in that list – his cathartic knockout win over Gray Maynard – came inside the "championship rounds".
Frankie keeps up a frenetic pace throughout his fights and at lightweight it was this which was a big part of his success; he wore out larger foes who were unable to keep up with his speed. At 145lbs, Edgar cannot be sure of the same advantage. Aldo is incredibly fast and explosive in his own right, and the champ has faced a lot of fast featherweights during his time in the WEC and UFC. Aldo is unlikely to be phased by "The Answer's" pace, like Penn and Maynard were at 155lbs, given that he has become accustomed to competing against quick opposition.
Nevertheless, Aldo clearly cuts a significant amount of weight to make 145lbs, whereas Edgar will have to drop considerably fewer pounds before he steps on the scales. "The Answer" has proven his ability to maintain a quick tempo for 25 minutes and if he can mix this in with some effective grappling, then he could well see his superior conditioning pay dividends late on in the fight.
The Verdict: Given that Frankie Edgar has been susceptible to leg kicks and to power punches in the past, he will need to settle into his rhythm quickly against the Muay Thai wrecking machine that is José Aldo. A slow start or an early mistake, such as in his 2010 fights with Gray Maynard, could be devastating for "The Answer". Nevertheless, Edgar has shown that he is nigh on impossible to finish and his durability and determination should be enough to carry him through any moments of adversity. Should the fight continue into the fabled "championship" rounds, it is there where Edgar will be expected to do his best work given his phenomenal conditioning. Edgar has overcome the odds so many times, you would not pick against him doing it again tomorrow night. However, Aldo is undoubtedly the toughest foe Frankie has ever faced and it is difficult to envision "The Answer" landing punches with the same frequency and consistency that he did at lightweight. The smart money here is on Aldo hurting Edgar in the early rounds and maintaining that form for the rest of the bout. Frankie Edgar should make this a hell of a contest by surviving to the final bell, perhaps even capturing one or both of the championship rounds, but I'm picking José Aldo to win the super-fight via a unanimous judges' decision.
UFC 156 main card picks: Aldo, Evans, Overeem, Fitch, McCall.
Bonus Predictions: KO of the Night: Overeem, Sub of the Night: Volkmann, Fight of the Night: Benavidez vs. McCall
---
Video Interlude
---
Quotes of the Week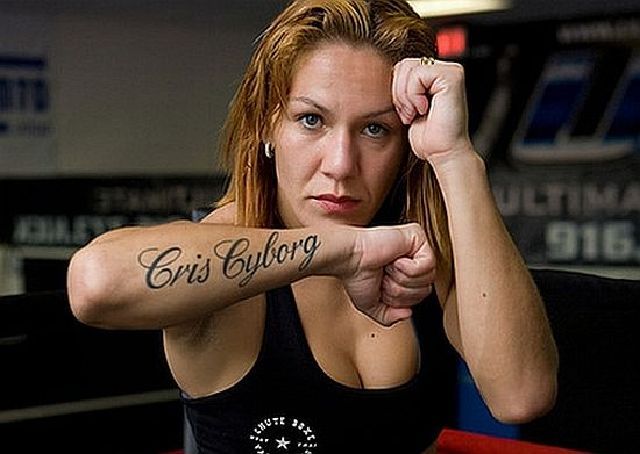 "I am not afraid of Rhonda! I will fight her anywhere and anytime for free – everyone knows I barely make 145- but I am willing to sacrifice and meet her half way at 140- I can't believe dana says I want nothing to do with Rhonda- what he wants me to do is fight Rhonda with both my hands tied behind my back or comatosed-so that she can have a chance-which is what making me fight at 135 is- to finally shut everyone up – i will fight Rhonda with one hand tied behind my Back at 140lb and still kick her ass and prove that I'm the real champ not her- and let the winner take ALL come on rhonda step up bitch!" – Cristiane "Cyborg" Santos shares her thoughts on a certain UFC Female Bantamweight Champion via her Instagram account.
"I could go off for 45 minutes on officiating over [in Nevada]. Steve Mazzagatti is the ref reffing the superfight [Aldo vs. Edgar]. What more can I do? Mazzagatti is reffing the superfight. What more needs to be said than that? I can't do anything. As a promoter, I can't do anything. I can tell you this, if I was a fighter, the last thing I would want to see when I got in the cage is Mazzagatti. That's the last thing I would want to see." – Dana White discusses his favourite UFC referee.
"I think she is believing the hype a little too much and she hasn't proved anything yet. That's just my opinion. I think Ronda's an awesome fighter. I have nothing against the woman at all. I think she is great for the sport and I am glad she's where the UFC, to, the idea of making a woman's sport a part of the UFC and I'm happy for her for doing that." – Tito Ortiz gives his two cents on Ronda Rousey, which I'm sure has nothing to do with the fact that he manages Cris Cyborg.
"In my opinion, I feel like me and the rest of the UFC fighters are getting taken advantage of. I feel like the UFC is cleaning house. The pay-per-view dollars? They tell me one number, but then they tell the press another. Pay me the numbers that you tell the press! Don't tell me, 'Oh, we only sold this many,' then you tell the press, 'Oh we sold this many!' But then I'm saying, 'Hey, you only told me we sold 800,000 buys but you told the press you sold a million buys.' Then they say 'Oh, we just say that for the press.' No, pay me what you told the press because you lyin' somewhere. You either lyin' to me or you lyin' to the press about the pay-per-view numbers. If they're doing it to me, I'm sure they're doing it to other fighters." – Quinton "Rampage" Jackson makes yet more claims about the UFC's business practice.
---
Pound for Pound Rankings
Demetrious Johnson turned in an impressive performance at UFC on FOX to retain his UFC Flyweight Championship and, thus, his No. 10 spot in the rankings. This weekend there are three (yes, three!) pound for pound stalwarts in action. No. 13 ranked Rashad Evans tangles with Antonio Rogerio Nogueira, before No.4 ranked José Aldo goes toe to toe with No. 7 ranked Frankie Edgar in a true pound for pound super-fight.
1. Anderson Silva (33-4)
2. Georges St. Pierre (23-2)
3. Jon Jones (17-1)
4. José Aldo (21-1)
5. Benson Henderson (18-2)
6. Cain Velasquez (11-1)
7. Frankie Edgar (14-3-1)
8. Dan Henderson (29-8)
9. Ronda Rousey (6-0)
10. Demetrious Johnson (17-2-1)
11. Carlos Condit (28-6)
12. Gilbert Melendez (21-2)
13. Rashad Evans (17-2-1)
14. Renan Barão (29-1, 1NC)
15. Junior Dos Santos (15-2)
And that'll do it for another week.
I'll be back next week with my thoughts on UFC 156.
If you enjoy the column please do follow me on twitter at AlexWattMMA
Thanks for reading and if you have any comments or feedback please leave them below or message me on twitter. Cheers.
NULL
comments powered by Disqus