Thoughts From Across The Pond 02.09.13: José Aldo: Dominance Misunderstood
February 9, 2013 | Posted by
Thanks to the fantastic TEK_Designs for my lovely banner.
You may have noticed that Thoughts From Across The Pond has been bouncing back and forth between Fridays and Saturdays for the last few weeks. Well, I can confirm that Saturday will be the new home of this column for the foreseeable future, so check back here every weekend for your fix of the best column in MMA. You know, apart from all those other great ones.
Also, I was a guest judge for 411 MMA Fact or Fiction this week. Jon Butterfield and I, alongside Wyatt Beougher, scored the bout between our UK compatriot Stewart Lange and the renowned Mark Radulich. Enjoy.
---
José Aldo: The Most Underrated and Misunderstood Dominant Performance Ever?
On Saturday night José Aldo made his sixth defence (including two inside the WEC cage) of the UFC Featherweight Championship. Securing a largely dominant win over former UFC Lightweight champ Frankie Edgar via a deserved unanimous judges' verdict, Aldo's performance should have been held up as continued evidence of his status as one of the pound for pound best fighters in the sport.
Instead, after the judges' scores of 49-46, 48-47, 49-46 were revealed, we were forced once again to debate whether we had witnessed yet another controversial judging call.
Frankie Edgar has a now infamous knack for becoming embroiled in close, controversial judging decisions. He himself acknowledged that fact after the fight saying, "It was a close fight, and I keep finding myself in these situations. It is what it is."
Nevertheless, this loss to Aldo was nowhere near as close as Edgar's narrow win over BJ Penn at UFC 112, his UFC 125 draw with Gray Maynard or the New Jerseyan's loss to Benson Henderson in their UFC 150 rematch. The fact that some fans and pundits believe his UFC 156 loss was as controversial as those bouts, is a credit to Edgar's busy striking style and plucky underdog moniker.
And, make no mistake, it is to Edgar's immense credit that he fought his way back into the much anticipated super-fight following his typical slow start in the opening two rounds, which saw the talented Brazilian thoroughly pick "The Answer" apart using his clean boxing combinations and savage leg kicks, a fact accentuated by Frankie's bloodied nose and bruised thigh. Edgar, in rounds 3, 4 and 5 made a real contest out of the UFC 156 main event by capitalising on Aldo's slowing pace and by adapting his strategy and footwork in intelligent fashion.
Unquestionably, Edgar won the fourth round by finally landing some of his combinations and securing an, admittedly brief, takedown. However, the rounds which are causing controversy amongst some onlookers are the third and the fifth.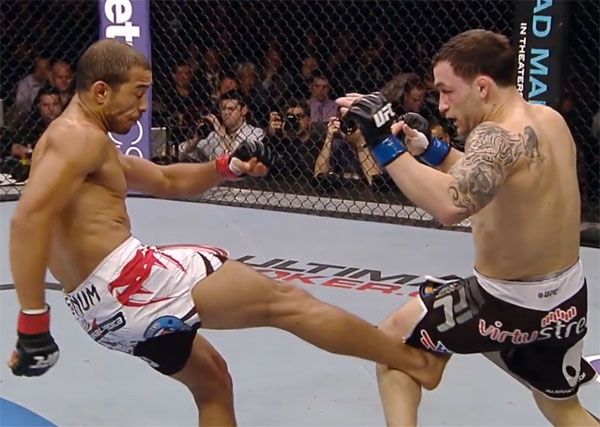 The third stanza was the closest round of the fight. After a dominant opening two rounds, Aldo began to slow down. At first there was a worry from some viewers that the Brazilian was beginning to gas, but it seems more likely that "Scarface" was conserving his energy in the knowledge that the fight was likely going to go the distance with the iron chinned Edgar. Some scored that middle round in Edgar's favour (including myself on first viewing, I must admit) but the stats back up Aldo edging it, and the front kick he landed to the face of the American may well have been what ultimately swayed the minds of two of the three judges at Octagon-side.
However, the amount of fans and – astonishingly – respected MMA journalists who have pointed to the fifth and final round as an undisputable 10-9 in favour of Frankie Edgar is, quite frankly, baffling. Edgar's striking output in that last stanza was impressive, as it always is considering the man's phenomenal conditioning, but it was Aldo who was landing the harder, crisper strikes and defending Edgar's takedowns at will. A showy superman punch off the cage wall was the icing on the cake for an impressive counter-striking round for the defending champ.
Those who scored that final round in the favour of the challenger – an opinion which was surely swayed by the misleading colour commentary of Joe Rogan during the final five minutes – would be best served to analyse the judging criteria once again. A round is scored based on effective striking, effective grappling, effective aggression and effective Octagon control. As such, although anyone has to concede that Edgar landed more strikes in that fifth round, the more effective striking – and, indeed, grappling since Aldo was defending Edgar's takedowns – was firmly in the champion's favour.
Remarkably, even UFC President Dana White questioned the validity of the two 49-46 scores in his interview with Ariel Helwani after the main event. It seems that even when the judges score a fight correctly, they cannot escape criticism.
Despite the questionable outcry regarding the UFC 156 main event, it should be noted that the contest was a highly entertaining one which took home the official Fight of the Night honours, and deservedly so. This was an example of a super-fight very much living up to the hype that preceded it, with Aldo displaying almost every facet of his striking and Edgar once again proving his tenacity and unparalleled ability to adapt his strategy and footwork mid-fight.
Edgar will find much success at featherweight, there is no doubt about that. With another win or two he can expect himself to find himself challenging for the belt again.
The apparent dilemma for Dana White and co- of who will challenge José Aldo next was cleared up remarkably quickly. Although Ricardo Lamas and Chan Sung Jung seemed the most likely next contenders for Aldo, the UFC was thrown a much welcome curveball when Anthony Pettis texted Dana White immediately after the conclusion of UFC 156 to announce his desire to drop to 145lbs and challenge the brilliant Brazilian.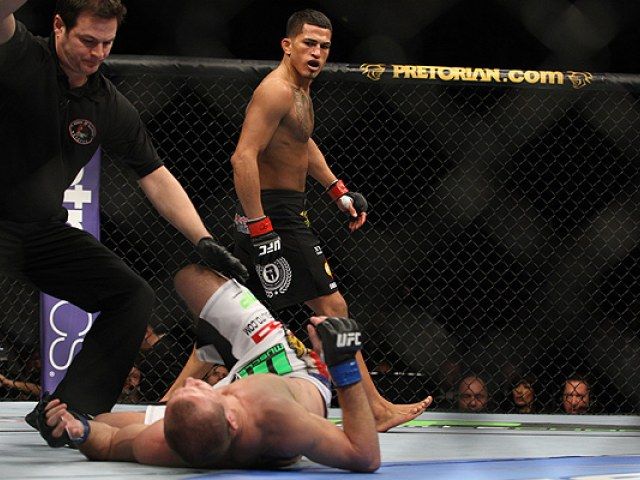 On Tuesday it was confirmed that Aldo and Pettis will meet on August 3rd for the UFC Featherweight Championship. The prospect of two strikers of Aldo and Pettis' quality battling over a potential five rounds is a mouth-watering one for MMA fans and is a dream match-up that is very welcome, given the relative lack of options for Aldo at present.
Some will complain about "Showtime" jumping the queue ahead of the aforementioned Lamas and Jung but, in reality, "The Korean Zombie" is still injured, whilst Lamas, in spite of his impressive TKO win over Erik Koch at UFC on FOX two weeks ago, is simply not well known by the UFC audience at large. Perhaps if the UFC had possessed the foresight to place his fight, and subsequent career making win, over Hatsu Hioki last June, on the main card of UFC on FX, as opposed to the preliminary portion of the event then things may be different.
What will be very interesting to see as August rolls into view, is how exactly José Aldo will be received by the fans and promoted by the UFC. His win over Frankie Edgar was a fairly dominant one and yet many will cling to the assertion that "The Answer" has once again been cheated out of a title win. This opinion, exacerbated by the Goldberg-Rogan commentary and then furthered by MMA journalists who should know better, may hurt Aldo's credibility and marketability in the long run.
Let's hope not. José Aldo is one of the best fighters in the sport today. So, let's stop with the conspiracy theories and just appreciate the talented UFC Featherweight Champion. And let's appreciate how good his fight with "Showtime" promises to be, for good measure!
For more on José Aldo vs. Frankie Edgar and why the judges got it right, check out Jeremy Lambert and Samer Kadi go into even more detail on this week's fantastic Thoughts From The Man Cave podcast.
---
Video Interlude
---
Quotes of the Week
"I'll say my piece on Randy Couture, and after today, I'll never mention him again. The bottom-line is this: When that whole thing went down with Randy years ago, we weren't on the best of terms. Now, before that happened, Randy Couture was on the Matt Hughes, Chuck Liddell deal. He was getting a salary, he was in with the company, he was one of those guys. Then he tries to do all this stuff, pull all this bulls*** with Affliction, loses and comes back. So, it took me a long time to warm up to him. His lawyer, who I can't stand, calling our lawyer every day, saying, 'We want to come back, we want that job again, we want to work for the UFC,' and all this stuff. Finally, I just say, 'yes,' and give him the FOX deal. He doesn't even finish his contract — he's got one more fight left — and he bails on the contract to go do this. Randy Couture has this 'Captain America' image and stuff like that, but he is not a good guy. He has never been a good guy. And I'm actually, and I mean this, I couldn't mean it any more: I am happy that he went there. I'm happy he is there. I never have to deal with Randy Couture ever again. . . . Talk to 99 percent of the people who know him and you'll see [he's not what people perceive him to be]." – Dana White's latest rant; this time on Randy Couture and the former two division champ signing with Spike TV.
"I had some rather interesting and classic texts that came to my phone. This was kind of a couple weeks ago when things started leaking. . . . I'm happy to not have to put up with and keep my mouth shut and deal with Dana as well. It goes both ways. I have a ton of respect for the UFC. In a lot of ways, I still have respect for Dana and the passion that he has for the sport and the things that him and Lorenzo have managed to do for the sport over the course of their tenure since 2000. . . . Certainly there's plenty of things I don't agree with. . . . At the end of the day, [the UFC have] never shied away from competition and I think that's what's got them on their heels a little bit now and Dana especially, is that I think they see Viacom and this whole platform as a threat and serious competition to them being considered the only brand in the marketplace in this sport." – Randy Couture gives his side of the story.
"I'll explain why I'd believed [that Silva would win]. First, Silva is a big tough guy with a huge heart who had demolished Fedor and he needs no better reference than that, and Alistair hugely underestimated him and belittled him with his arrogant statements, so this mobilized Silva in the best possible way. Second, Silva is a natural heavyweight, and Alistair – for the first time since way back in 2007, when he began to gain huge weight – fought without the drugs he had used constantly for years, including testosterone and all the other s*** that goes with it. Watching the weigh-in, I saw that his muscle mass was nowhere near his usual. He had the weight, but he wasn't nearly as carved out and defined, since he couldn't take anything because he was watched by the Athletic Commission. This also reflects on the psyche of a man who's been using stuff to increase his strength, endurance, pain tolerance and aggressiveness for years, and now there was none of that. Alistair is an excellent fighter, but he still owes that excellence to something that's dirty and unpermitted, and, in the end, very dangerous to health. I don't think he was concerned by that, he wanted success at any cost. And the third thing is Alistair had behaved so arrogantly that someone needed to put him back in his place. His belittling of Silva was repulsive, saying that after beating up Silva he'd go for the belt, and at the weigh-in and entering the arena he acted like he invented the fighting sport, and he's been behaving with so much arrogance lately that I'm glad Silva put him back in his place and taught him a lesson! Congratulations Silva, from the heart!" – Mirko "Cro Cop" Filipovic is very happy that "Bigfoot" beat Overeem.
"My reaction was like, 'Really?! You're an idiot.' He said that Condit really did beat Nick Diaz, know what I'm saying? He said, 'I'm fighting the true number one contender Carlos Condit,' and now, he's going backtracking and saying, 'Well, I think [Hendricks] lost.' Who cares? You don't get to decide. He's not a judge. He's not a judge. He's a fighter. He's paid to fight and he's paid to fight me. The fact that he was able to ask and get this request [to fight Diaz], the only thing this is, is it gives me more drive. It's not like I didn't have enough but what's gonna happen is, whenever I look across the cage, he's not going to see fear. He's not gonna see anything. All I want to do is I want to fight him. I want to look across and see GSP and that might be something he's not used to. I don't know. I don't know why he didn't take the fight but I guess I wouldn't want to fight me as well." – Johny Hendricks is not impressed with Georges St. Pierre's assessment of him.
---
Pound for Pound Rankings
José Aldo is still the No. 4 pound for pound fighter following his win over Frankie Edgar last weekend. Edgar, with the loss, falls to No. 10. Rashad Evans' shocking performance against "Little Nog" sees him lose his No. 13 spot and, in fact, fall out of the top 15 entirely. As a result, Joseph Benavidez re-enters the list at No. 15 following his win over Ian McCall a fortnight ago.
1. Anderson Silva (33-4)
2. Georges St. Pierre (23-2)
3. Jon Jones (17-1)
4. José Aldo (22-1)
5. Benson Henderson (18-2)
6. Cain Velasquez (11-1)
7. Dan Henderson (29-8)
8. Ronda Rousey (6-0)
9. Demetrious Johnson (16-2-1)
10. Frankie Edgar (14-4-1)
11. Carlos Condit (28-6)
12. Gilbert Melendez (21-2)
13. Renan Barão (29-1, 1NC)
14. Junior Dos Santos (15-2)
15. Joseph Benavidez (17-3)
---
And that'll do it for another week.
I'll be back next week with my preview of UFC on FUEL TV in London.
If you enjoy the column please do follow me on twitter at AlexWattMMA
Thanks for reading and if you have any comments or feedback please leave them below or message me on twitter. Cheers.
NULL
comments powered by Disqus