Thoughts From Across The Pond. 02.23.13. Ladies, Let's Make History
February 23, 2013 | Posted by
You may notice that there is a new look to the column this week, with the focus on three shorter articles as opposed to one long piece of writing. The change is set to coincide with Thoughts From Across The Pond's forthcoming new release day. As of next week, the best column in MMA (apart from all those other great ones) will be free to read on Monday mornings. So keep your eyes peeled for that on the 25th. And feel free to let me know what you think of the column's new look in the comments section.
Thanks to the fantastic TEK_Designs for my lovely banner.
UFC 157: Rousey & Carmouche Make History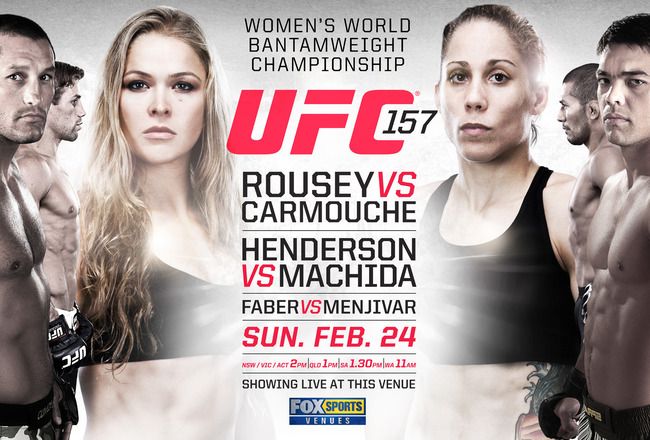 Tonight at UFC 157 we will bear witness to a piece of UFC history as the first female fighters step inside the confines of the famous Octagon. That the inaugural women's UFC fight will be for a world championship and in the evening's main event, only goes to make it an even more special moment.
There is a lot of hyperbole surrounding the UFC 157 headline act between UFC Women's Bantamweight Champion Ronda Rousey and challenger Liz Carmouche. Some of it is justified, some of it less so, but regardless tonight marks a real watershed moment for the sport of Mixed Martial Arts. I have discussed in previous editions of this column just how significant the ladies headlining a UFC event is, not just for women's MMA, but for women's sport as a whole.
Ronda Rousey has been the key in this. After years of UFC President Dana White asserting that women would "never" be seen in the UFC, White did a complete 180 U-turn when he saw a star in the making, breaking arms in the Strikeforce cage.
Rousey may not be popular with all MMA fans but it should not be overlooked or underestimated just how much mainstream attention she has brought the UFC in the lead up to her promotional debut. Rousey is the perfect combination of supreme talent, good looks and self marketing awareness and it has resulted in an unprecedented level of mainstream attention for her first UFC fight. Indeed, when Dana White said earlier this week that, "no fighter who has ever fought for the UFC has received as much attention as she has", you can believe that the UFC boss genuinely meant it.
Carmouche has played her part in the media attention; she is, after all, the first openly gay fighter in UFC history, not to mention a likeable personality and a talented fighter in her own right. But, ultimately, this is the Ronda Rousey show.
As historic as tonight's women's MMA main event is, many see it as a stepping stone for Rousey. In every way, her bout with the seemingly overmatched Carmouche looks like a showpiece; a chance for a worldwide audience to witness Rousey's sheer dominance courtesy of another first round armbar.
In that sense, this is a fight which builds towards the future of the women's bantamweight division in the UFC. A big money rematch with Miesha Tate surely awaits Rousey should she and Tate emerge victorious from their respective fights over Carmouche and Cat Zingano, plus a future showdown with fellow Olympic medallist Sara McMann is another Rousey fight which would surely attract a great deal of mainstream attention. Oh and don't forget about a certain Cris Cyborg; you know, if her manager Tito Ortiz is actually capable of ever making a sensible business decision.
What will be most telling for the future of the women in the UFC, is how Rousey's first title defence performs on Pay Per View. With the level of mainstream attention for this contest, and with the ladies ably supported by a highly anticipated No. 1 contenders co-main event between former champions, anything less than 400,000 PPV buys would surely be seen as a disappointment. If Rousey is able to surpass that 400k mark (and some journalists are predicting some ludicrously high numbers for this event already, due to Rousey's far reaching appeal), then it will speak volumes for her drawing power and her future in the UFC.
Another dominant first round armbar win for "Rowdy" Ronda Rousey this weekend could be her most significant yet.
UFC 157 main card picks: Rousey, Machida, Faber, McGee, Koscheck.
Bonus Predictions: KO of the Night: Johnson. Sub of the Night: Rousey. Fight of the Night: Machida vs. Henderson.
---
Don't forget to also check out episodes 1 and 2 of UFC Primetime if you missed them. The three-part series has done a fantastic job of promoting the upcoming main event and of humanising both Rousey and Carmouche.
---
Tom Watson Shows True Potential In London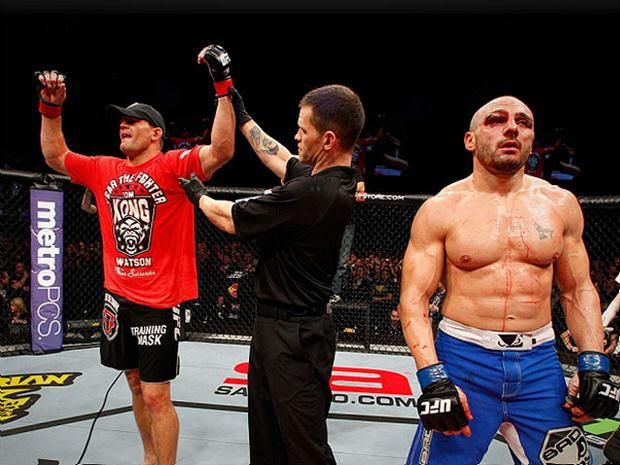 It was a mixed night of fortunes for the UK fighters at UFC on FUEL TV 7 last Saturday. Although Jimi Manuwa, Andy Ogle, Vaughan Lee and Phil Harris scored important wins in London, it was a bad night for Che Mills, Paul Sass and Terry Etim (which turned into a bad week when the UFC announced its latest cull of fighters; more on that later).
The stand-out performance from a British fighter, however, was unquestionably the one turned in by Tom "Kong" Watson in his thrilling win over the tough Stanislav Nedkov on the preliminary portion of the card.
Watson controlled the majority of the fight with a powerful Muay Thai clinch but was forced to weather the storm at the end of the first round when Nedkov dropped him and attacked with vicious ground and pound. Watson demonstrated his toughness by surviving that scary moment and went on to batter Nedkov virtually into submission in the second stanza with an unrelenting assault of knees and punches against the cage, which eventually saw the durable Bulgarian collapse to the canvas.
Watson's comments immediately after his win didn't do him any harm either. Grabbing the microphone, Watson called out those fighters using Testosterone Replacement Therapy and invited anyone using what he called "legal cheating" to face him inside the Octagon.
Watson pocketed a cool $100,000 in bonus money for his performance; with UFC President Dana White stating that the Brit deserved "every dime of it" in delivering the night's best fight and best knockout.
Watson was a fighter who I predicted big things for in the UFC. His lacklustre display in his UFC debut against Brad Tavares, did not do justice to the talented "Kong". It was nice to see the talented Greg Jackson trained fighter show the UFC audience his heart, his desire and his talent. "Kong" demonstrated his true colours on Saturday and displayed just why he was so revered on the UK circuit. Long may it continue.
You can read 411 MMA's full UFC on FUEL TV 7 live report courtesy of Jon Butterfield and myself here.
---
---
Jon Fitch Among Eighteen Released UFC Fighters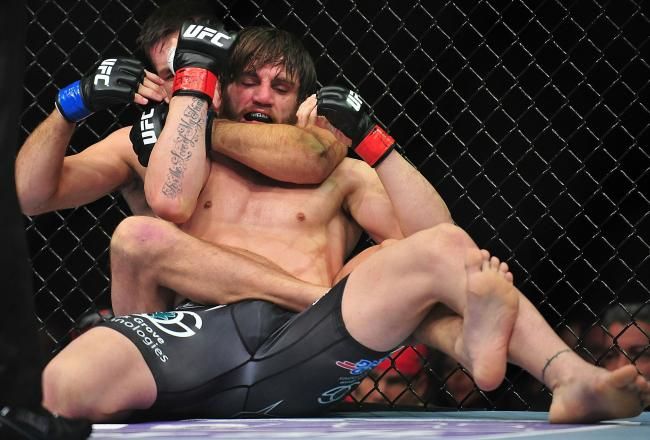 The Ultimate Fighting Championship caused quite the stir amongst the MMA community this week when they announced the release of sixteen fighters from its ever expanding roster.
In one fell swoop Jon Fitch, Jacob Volkmann, Wagner Prado, Mike Russow, Vladimir Matyushenko, Che Mills, Jay Hieron, Terry Etim, Paul Sass, Jorge Santiago, Mike Stumpf, Simeon Thoreson, C.J. Keith, Motonobu Tezuka, Josh Grispi and Ulysses Gomez were handed their walking papers by the UFC (although not until after several of those aforementioned competitors learnt of their release on social networking site Twitter).
The cuts continued two days later with Diego Nunes and Milton Viera also released from the promotion.
It is clear that through this latest mass cull, the UFC is intending to shave the edges off a roster which is expanding at an alarming rate. The company has over 400 fighters on its books, across nine weight divisions, and nowhere near enough planned events to accommodate them all. Plus with new prospects emerging all the time, not to mention all sixteen of the current TUF contestants guaranteed at least one fight in the promotion (a decision which looks even more questionable in light of these latest developments), the Octagon is positively bursting at the seams.
Each of the eighteen fighters has lost their most recent fight, and many have lost more than that. In that sense many of the releases are not surprising. Some are certainly puzzling, though.
Naturally, it was the release of Jon Fitch – a fighter with an impressive 14-3-1 record in the UFC (25-4-1, 1NC across his whole MMA career), and the consensus third greatest welterweight in Mixed Martial Arts history – which raised the most eyebrows. Although his recent form of 1-2-1 has been less stellar than the form Fitch had become renowned for, it still seems harsh to cut a man so well respected in MMA.
The theories for Fitch's departure came thick and fast. Was his grinding style to blame? Fitch's wrestling based attack often came under criticism from viewers for being "boring". Certainly Fitch's tactics were not always the most aesthetically pleasing but his recent Fight of the Night performance against Erick Silva would suggest that this is a flawed argument.
Undoubtedly, Fitch's high salary played a part in the UFC's decision. The Team AKA fighter earned $60,000 just to show, earnings which doubled should Fitch emerge victorious. Removing Fitch from their roster means that Dana White and co- have freed up a potential $120,000 per fight for other up and coming fighters.
Again, however, that doesn't tell the full story. There are other fighters earning questionably large amounts of money who still have a job with the UFC. Exhibit A; Brandon Vera earned $70,000 for his one-sided loss to Mauricio "Shogun" Rua last August. Clearly there is more at work here than mere financial implications.
It seems likely that past issues bubbling beneath the surface between Fitch and UFC President Dana White have played a significant role here. We shouldn't forget the major falling out between the pair over video game rights, which resulted in the briefest of firings for Fitch in 2008. Similarly, White was vocal in his displeasure of Fitch's steadfast refusal to ever fight team-mate Josh Koscheck. An atypical one-sided Fitch loss to Demian Maia at UFC 156 may well have given Dana White all the ammunition he needed to sever all ties with a fighter with whom he never saw eye to eye.
Of course, when he racks up a few wins on the independent circuit, Fitch will likely find himself back in the UFC. But on significantly less cash, which would suit the boss just fine.
The question now is whether these UFC cuts, plus the foreboding sense that more are on the horizon, will change the mentality of fighters stepping inside the Octagon. Will their primary objective be to win at all costs, giving rise to more fighters using stalling and grinding tactics to earn decision victories? Perhaps not, when they analyse the Jon Fitch and Jacob Volkmann situations. Those so-called "dull" fighters were on top of the world when grinding out wins, but as soon as the losses began to come, the UFC had no hesitation in handing them their walking papers.
Conversely then, will these latest culls give rise to more slugfests and brawls from fighters determined to deliver exciting fights at all costs? Remember that Dan Hardy lost four fights in a row but was kept on the roster because Lorenzo Fertitta likes guys that "war". And the infamous example of Leonard Garcia speaks volumes; despite his 1-4 record in the UFC, and six losses in his last ten contests (which may well be weighted even more in favour of the red were it not for some questionable judging calls), Garcia remains on the UFC's roster because he always engages in exciting brawls. Dana White's assertion that "there is no way in Hell we're cutting Leonard Garcia" following "Bad Boy's" fourth straight UFC loss is proof of that. Again, however, this theory doesn't ring wholly true when you consider the UFC's decision to release Diego Nunes, a featherweight who generally has exciting stand-up battles.
What the message seems to be is that fighters need to win at all costs, while remaining exciting; actively promote themselves, but not say anything offensive; and stay on the boss' good side. Simple, right?
More than anything this latest news from the UFC just once again hammers home the ruthless and often cruel nature of the fight business.
And perhaps that is the saddest part of this; that the business side of the UFC has once again trumped the sports side.
---
---
Pound for Pound Rankings
Renan Barão defeated Michael McDonald last Saturday to retain the UFC Interim Bantamweight Championship, improve his win streak to 20 fights and extend his undefeated run to 31 fights. The latest impressive win moves Barão up to No. 11 in my pound for pound rankings. In addition, No. 7 ranked Dan Henderson and No. 8 ranked Ronda Rousey are in action tonight at UFC 157. Will they emerge victorious and retain their spots on the list of the top 15 fighters in the sport?
1. Anderson Silva (33-4)
2. Georges St. Pierre (23-2)
3. Jon Jones (17-1)
4. José Aldo (22-1)
5. Benson Henderson (18-2)
6. Cain Velasquez (11-1)
7. Dan Henderson (29-8)
8. Ronda Rousey (6-0)
9. Demetrious Johnson (16-2-1)
10. Frankie Edgar (14-4-1)
11. Renan Barão (30-1, 1NC)
12. Carlos Condit (28-6)
13. Gilbert Melendez (21-2)
14. Junior Dos Santos (15-2)
15. Joseph Benavidez (17-3)
---
And that'll do it for another week.
I'll be back next week with my thoughts on UFC 157, plus a look ahead to UFC on FUEL TV 8.
If you enjoy the column please do follow me on twitter at AlexWattMMA
Thanks for reading and if you have any comments or feedback please leave them below or message me on twitter. Cheers.
comments powered by Disqus