Thoughts From Across The Pond. 02.26.13. A Historic Night In California
February 26, 2013 | Posted by
Thanks to the fantastic TEK_Designs for my lovely banner.
Women Debut In The UFC In Style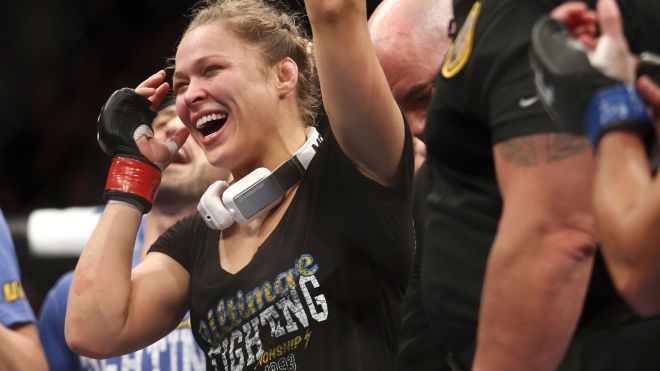 The result was no surprise; Ronda Rousey secured her seventh straight first round submission win with the use of her trademark armbar to retain her UFC Women's Bantamweight Championship.
However, in the first ever women's fight in UFC history, Ronda Rousey had to deal with another first; she had to battle through adversity inside the cage.
The challenger, Liz Carmouche, had not simply come to be cannon fodder to her more famous adversary in the historic UFC 157 main event. The challenger responded by giving Rousey the toughest – and longest – fight of her seven fight career.
Initially, it all looked routine for Rousey. She backed Carmouche against the fence with a punch and, after a short struggle, dragged her to the mat to work for her submission hold of choice. However, in a thrilling sequence, Carmouche reversed the position and took Rousey's back. The UFC champ stood up, but Carmouche was relentless and clung to Rousey's back and locked in a solid neck crank. The hold was tight and just for a moment it looked like we may bear witness to a monumental upset. Until Rousey shook her foe off.
From there Rousey displayed the dominance she has become renowned for. She pounced on Carmouche and hammered the former marine with punches from side control. Carmouche tried her best to counter with a sweep or submission but Rousey moved to mount and then wrapped her legs around Carmouche's right arm. "Girlrilla" fought off the submission valiantly but Rousey was not to be denied; she remained patient, freed the arm and leant back with it for the immediate tap out at 4:49.
It was as close to a perfect scenario as the UFC could have hoped for their inaugural women's bout. Rousey once again displayed her dominance, but with just the slightest hint of vulnerability which also helped Carmouche's star to shine. It was a great introduction for women in the UFC.
In the lead up to Saturday's event in Anaheim, California there were certain sections of the MMA community which questioned whether women could headline the big show. Would a predominantly male audience accept the fairer sex in the main event of a UFC show?
The answer, on Saturday's evidence, is a resounding yes.
The sell-out crowd of 15,525 were at a fever pitch for the evening's main event and there was no secret as to who was considered the biggest star on the show. The noise for defending UFC champ Ronda Rousey was deafening from the moment she entered the arena to the strains of "Bad Reputation" by Joan Jett.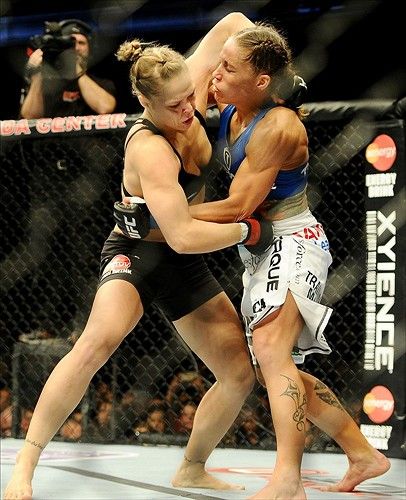 It was an incredible moment to see Bruce Buffer announcing the two female fighters inside the famous Octagon; the kind which made the hairs on the back of your neck stand up. There was a real sense in the arena and for those watching at home that they were witnessing history. And, indeed they were. For women's sport as a whole, Saturday's main event could prove to be one of its most significant moments. It proved that women can compete on the same level as their male counterparts and, even more significantly, be the star attractions.
The challenge for the UFC now is to maintain this momentum with women's MMA. The mainstream interest in UFC 157's main event was astounding and the amount of new viewers – particularly female – that the fight attracted was inspiring.
In Ronda Rousey the UFC has a real star, perhaps an even bigger one than Dana White had thought. The raucous response to Rousey inside the Honda Centre suggested that the UFC's Women's Bantamweight champ may just be the kind of crossover star that the company have dreamed about for years. Chuck Liddell, Randy Couture, Quinton Jackson, Georges St. Pierre, Anderson Silva, Jon Jones and others have all demonstrated a certain level of crossover appeal but "Rowdy" Ronda Rousey could yet prove to be on another level entirely. People are drawn to her; her talent, beauty and brash personality have truly grabbed the public's attention.
It will be interesting to see whether the UFC can continue to ride this wave of momentum into the Miesha Tate vs. Cat Zingano fight (which will likely decide Rousey's next challenger) and beyond. Perhaps the UFC will look to capitalise on the interest in their new women's division by installing Rousey and, should she win on April 13th, Tate as the coaches on the forthcoming eighteenth season of The Ultimate Fighter. If the UFC are determined to push forward with TUF then an all female season, or at the very least a female coached season, could be the kind of shot in the arm the waning reality TV show needs.
Regardless, all the signs certainly point towards the women's 135lbs division being a sustainable success. Ronda Rousey deserves a great deal of credit for this, as does Liz Carmouche. On Saturday night the two women made history and accomplished something which was much bigger than themselves.
February 23rd 2013; the day when the women stood head and shoulders above the men.
---
---
Machida vs. Henderson: "A Close Fight"
Moments before the historic women's UFC main event, there was the small matter of determining who would be next in line for the UFC Light Heavyweight Championship. Lyoto Machida and Dan Henderson fought for 15 minutes to decide who would face the winner of Jon Jones vs. Chael Sonnen, and it was Machida who came out on top with a split decision verdict; 29-28, 28-29, 29-28.
The evening's co-main event was anything but a thriller – a fact which certainly put paid to the notion that Machida vs. Henderson was the "true" main event – but it yet again brought an important discussion back into focus.
All over Twitter there were fans, journalists and fighters complaining about the judges' decision and about the Machida win. Once again this brings to light the need for more people to understand the judging criteria and what it actually translates to.
Machida vs. Henderson was close, sure, but nowhere near as close and as tough to score as many pundits and fans seem to want you to believe.
Dan Henderson spent the majority of the contest chasing his Brazilian foe around the Octagon, swinging his dangerous right hand at thin air. That cannot be considered effective striking, ladies and gentlemen, no matter what Leonard Garcia may have you believe.
Meanwhile, Machida used his famous elusive movement to perfection throughout, picking off "Hendo" with pinpoint counter strikes. Although some were frustrated by "The Dragon's" tactics, including Dan Henderson himself, I found myself mesmerised by the Karate stylist's movement. Yet again, Machida displayed his clever understanding of distance and constantly kept his foe at bay with lunging knee attacks and attacked with quick punches in close quarters, circling away rapidly before Henderson could respond.
It may not have been the most scintillating of performances to the untrained eye, but it was nonetheless an impressive tactical performance from Machida.
For this writer, Machida won all three rounds of the fight with Henderson. He landed the more effective strikes in each round, avoided danger, and used his footwork to dictate where the majority of the fight took place. Henderson cut a frustrated figure throughout the fight, unable to impose his will, apart from a few fleeting moments; a good right hand in the first round and a brief moment in the final round when he was able to bundle Machida to the mat. Even then, Henderson was unable to achieve much from top position as "The Dragon" cleverly held on from guard and stopped his opponent from launching any significant attacks on the mat.
So if I saw it as a clear 30-27, an opinion which is backed up by the FightMetric stats, why then did the judges render a split decision? Why, indeed, did not one of them see all three rounds being in Machida's favour? Why were a startling number of journalists scoring the fight in Henderson's favour? And why did everyone seem so outraged by the result?
It is a common issue now that if a round does not feature someone getting battered on the feet or definitely outgrappled on the mat, or if no knockdowns or frequent takedowns occur, then the round is considered to be "close". This is simply not factually accurate, and with the UFC nearing its 20th anniversary, surely fans, judges and journalists have all seen enough fights to be able to recognise when a fighter is being comprehensively outfought, even if he is doing it in a more conservative manner than some may wish for.
---
---
The UFC Returns To Japan
On Saturday, the UFC returns to Japan for UFC on FUEL TV 8, with what promises to be another entertaining televised evening of fun fights.
The evening's light heavyweight main event pits the legendary Wanderlei Silva (34-12-1, 1NC) against middleweight contender Brian Stann (12-5).
"The Axe Murderer's" star may be on the wane but in returning to Japan, the place which hosted many of the Brazilian's most famous moments, Silva will be determined to turn in an impressive performance. Many feared for Silva's future in MMA when he was unceremoniously knocked out by heavy hitting Chris Leben in just 27 seconds in 2011. However, since that demoralising defeat, "The Axe Murderer" has looked somewhat rejuvenated; he defeated Cung Le in a thrilling fight, and looked dangerous in a losing effort to Rich Franklin. In both those fights, Silva showed a willingness to remain patient and tempered the bezerker style which earned him his nickname. In doing so, he protected his now less than solid chin and delivered flashes of why he was so feared during his PRIDE FC days. The brutal knees to Le which rearranged the Sanshou stylist's nose and the impressive knockdown of Franklin in Brazil, showed that there is life left in this MMA legend yet.
Those who have questioned Silva's durability, however, will fear for him in this fight. Brian Stann remains a fighter who is rough around the edges but there is no denying the U.S. marine's punching power. Chris Leben, Jorge Santiago and Alessio Sakara were all rendered unconscious at the hands of Stann and even in his losing effort to Michael Bisping in his last fight, Stann rocked the Brit with a heavy right hand. Stann will be more than willing to go toe to toe with Silva and will be confident of scoring the knockout.
It will be fascinating to see whether Silva opts to keep the fight standing or whether we witness his often talked about, but rarely seen, Brazilian Jiu-Jitsu game come into play. Stann has a decent ground game but it is an area where he has struggled on more than one occasion. Silva may look to exploit this.
Most would expect the fight to remain standing, however, and if it does then Silva will need to continue his recent form of remaining patient, using clever footwork and not rushing in with wild haymakers as he did in his glory days. If "The Axe Murderer" gets too caught up in the moment and resorts to charging forward with his wild hooking punches, then Stann will punish him and potentially finish him. As long as Silva fights intelligently, then this fight will probably go the distance and be a fun back and forth striking battle for good measure.
UFC on FUEL TV 8 main card picks: Silva, Struve, Sanchez, Lombard, Yahya, Bahadurzada.
Bonus predictions: KO of the night: Lombard. Sub of the night: Struve. Fight of the night: Caceres vs. Ho Kang.
---
---
Pound for Pound Rankings
Dan Henderson's loss at UFC 157 sees him drop out of the top 15. Lyoto Machida, in defeating "Hendo", enters the list at No. 13. With Henderson dropping out of the No. 7 slot, the victorious Ronda Rousey jumps up a place in the rankings following her impressive UFC debut.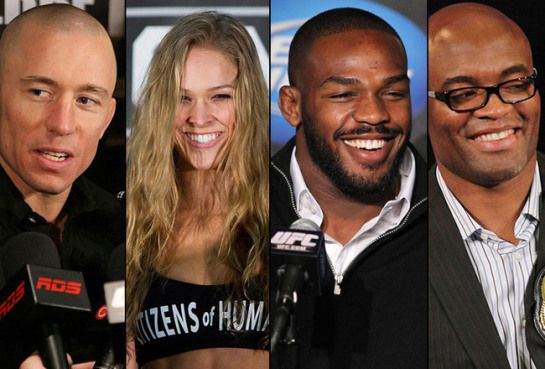 1. Anderson Silva (33-4)
2. Georges St. Pierre (23-2)
3. Jon Jones (17-1)
4. José Aldo (22-1)
5. Benson Henderson (18-2)
6. Cain Velasquez (11-1)
7. Ronda Rousey (7-0)
8. Demetrious Johnson (16-2-1)
9. Frankie Edgar (14-4-1)
10. Renan Barão (30-1, 1NC)
11. Carlos Condit (28-6)
12. Gilbert Melendez (21-2)
13. Lyoto Machida (19-3)
14. Junior Dos Santos (15-2)
15. Joseph Benavidez (17-3)
---
And that'll do it for another week.
I'll be back next week with my thoughts on UFC on FUEL TV 8, plus a look ahead to BAMMA 12.
If you enjoy the column please do follow me on twitter at AlexWattMMA
Thanks for reading and if you have any comments or feedback please leave them below or message me on twitter. Cheers.
NULL
comments powered by Disqus