Thoughts From Across The Pond. 10.05.12. Failed Flyweights & Dodgy WiFi
October 5, 2012 | Posted by
Thanks to the fantastic TEK_Designs for my lovely banner.
As some of you know, Jon Butterfield and I had the privilege of attending UFC on FUEL TV in Nottingham this past weekend. We did our best to report on the show from press row but were hindered by poor WiFi in the arena. A big thanks, first of all then, to Stewart Lange, who took up the reigns of the live coverage when his fellow Brits were unable to post their writings to 411mania. More on that later.
Thanks too, of course, to the UFC themselves for supplying Jon and I with press passes to the Nottingham event where, despite the internet troubles, we had a fantastic time. The majority of the fights on the night were excellent, as was the way we were treated. I even got to shake Brad Pickett's hand, the same hand with which he had earlier knocked out Yves Jabouin (not that I'm name dropping or anything).
I apologise to them in advance then, for having a bit of a go at them in the subsequent article…
---
The UFC Continues To Fail The Flyweights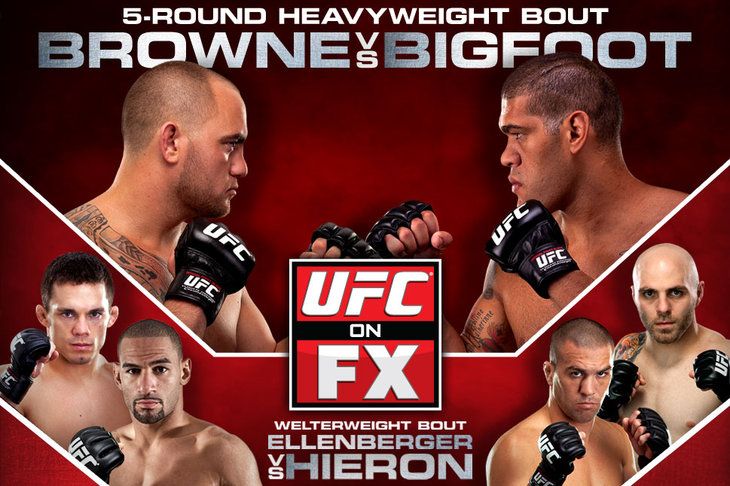 Tonight, UFC on FX: Browne vs. Bigfoot will be presented from the Target Center in Minneapolis, Minnesota. The card features heavyweight contenders Travis Browne and Antonio "Bigfoot" Silva competing in the main event and an exciting welterweight battle between Jake Ellenberger and a returning Jay Hieron.
However, arguably the most significant fight on the main card is a 125lbs battle between TUF 14 winner John Dodson and the debuting Jussier da Silva. Indeed, the clash between "The Magician" and "Formiga" could potentially decide the next challenger to newly crowned UFC Flyweight champ Demetrious Johnson.
Why then, is there no mention of such an important fight – one which could determine the No. 1 contender to one of the UFC's world championships – on the event poster?
Of a four fight main card, the only fight which has been omitted from the poster is the Dodson vs. Formiga (potential) title eliminator. Apparently the UFC felt that the Josh Neer vs. Justin Edwards showdown – a fight which has the potential to be exciting but will ultimately have little, if any, importance for the future of the welterweight division – to be more worthy of promotion than a contest featuring two of the top ten fighters in the flyweight division.
Just a week ago, UFC President Dana White launched a tirade against the fans who voiced their complaints against the UFC 152 co-main event which crowned the inaugural UFC Flyweight Champion. Whilst the booing during the fight was undoubtedly incredibly irritating to the educated fan of Mixed Martial Arts, the head of the UFC once again neglected to analyse why his company's own failings may have contributed to the negative response.
The fact is that the UFC has not done anywhere near as much as it could have done to promote its new 125lbs division. Sure, the powers-that-be have smartly placed the Dodson-Formiga fight on free TV, thus giving it the potential to be witnessed by more people. However, by not placing it on the event poster, the UFC is indirectly implying that it is the least important of the four main card fights.
Under-promotion has been a recurring theme for the 125-pounders. Some have speculated that a factor behind the booing of the entertaining Johnson vs. Benavidez fight, is that the majority of the casual UFC audience simply do not know enough about the men to become invested in a fight between them. This all comes down to the promotion.
This problem can even be extended to the other lighter weight classes; those brought over from the now defunct WEC. Since the featherweights and bantamweights debuted in the Octagon in 2011, it could easily be argued that their fights have taken less precedence than those of the larger athletes.
Take, for instance, the Hatsu Hioki vs. Ricardo Lamas 145lbs fight at the previous UFC on FX in June. The fight, featuring the consensus No. 2 featherweight in the world Hioki, was relegated to the FUEL TV prelims portion of the card. When Ricardo Lamas scored the shock upset win over the Japanese grappler, the UFC had backed themselves into a corner because they couldn't actively promote Lamas as a potential challenger to UFC champ José Aldo since a relatively small audience had seen the fight. Add in the fact that Lamas has yet to be featured on a UFC main card, plus few will have known just how big an upset this was because Hioki had not been actively promoted by the UFC either, and you can begin to see how Dana White and co- are failing its contracted athletes competing below 155lbs.
More importantly, however, the UFC are failing themselves with their lack of promotion for these weight classes. Jussier da Silva was, for a long time, considered the best flyweight in the world. His loss to Ian McCall last year saw him drop down the rankings slightly, but he remains the third / fourth best 125-er in the sport. How many UFC fans could tell you that piece of information, however? For that matter, how many of the same fans would know that John Dodson is also considered a top 10 flyweight, and was considered so before he competed on (and won) the fourteenth season of The Ultimate Fighter? I would venture; very few.
The UFC will be counting the costs of this error when they attempt to promote the winner of Dodson vs. Formiga as challenger to Demetrious Johnson on a PPV in early 2012. And when the poor buy-rate for that show is revealed, you can expect Dana White to blame everything but the failings of his own company.
---
Video Interlude
---
The Missing Live Coverage…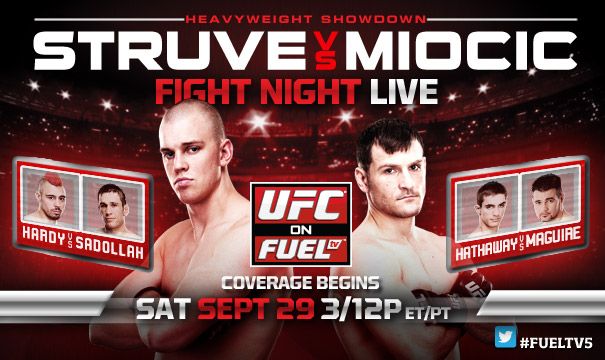 As mentioned earlier, shoddy WiFi meant that Jon and I were unable to upload our live coverage of UFC on FUEL TV 5 to 411mania. Since we did a lot of work covering the preliminary fights, before Stewart took control of the main card, I thought I'd include our coverage here for you all to enjoy. After all, better late than never…
PRELIMINARY FIGHTS (FACEBOOK)
So, the WiFi here is temperamental to say the least, so we'll see how this goes.
First fight of the night and this place is jumping already. HUGE reception for Jason Young, the first Brit to compete this evening. Seriously, it's an insane atmosphere in here.
Featherweight bout: Jason Young (9-5) vs. Robbie Peralta (15-3)
Alex Watt here to start the night!
ROUND ONE: Touch of the gloves. Leg kick from Young. Nice body punch from Peralta. And a super fast combination from Peralta. Right hook drops Young! Ground and pound from Peralta and it's over!
OFFICIAL RESULT: Robbie Peralta, TKO, 0:23 of Round One
Wow that was impressive. Peralta tells Jon Anik that he felt his training paid off and he's glad to be back.
A big round of applause for Young as he gets back to his feet after spending a long minute on the mat.
---
Catchweight bout (183lbs): DaMarques Johnson (16-11) vs. Gunnar Nelson (9-0-1)
Okay, so Jon Butterfield taking over the keys – and by the way, what happened to Alex Watt's streak of decisions?!
ROUND ONE: Gunnar Nelson comes out to some really chilled out music, and a good reception! Johnson comes out to, well, a less chilled out song! Boos for DaMarques… well, he isn't European – what more to say? They touch. Nelson adopts an interesting fight stance. Head kick by Nelson! Very close! Jab by Johnson. Side kick from Nelson misses. Leg kick Johnson. They clinch, and Gunnar shoots for a double leg – completes a side suplex instead! Nelson on top of Johnson, in half guard. Johnson tries to wall-walk, gets half way out, and lands an upkick, transitioning into an omoplata attempt! Slick jiu jitsu from Johnson, but Nelson drops a punch and escapes into side control. Johnson tries to power out, but Gunnar leap-frogs his legs straight into mount! Just over two minutes gone! Nelson takes the back of Johnson! Rear naked choke attempt! Johnson holds on, and Nelson punches him in the face for good measure! Body triangle applied from Nelson. Nelson trying to isolate an arm. Johnson is in a bad situation here. Less than two minutes to go. Rear naked choke attempt again! Johnson taps! Wow! Impressive debut from the Icelander!
OFFICIAL RESULT: Gunnar Nelson, Submission (Rear Naked Choke) 3:34 of Round One
Nelson has just looked so calm throughout! Even after winning, Nelson just looks so cool, like this isn't a big deal. Octagon jitters? No sir! Gunnar says it was very exciting, he's happy to be here, and he had to work around to get Johnson's chin up to sink in the choke. Excited?! Cold as ice more like!
---
Alex Watt back on the keys.
Tom "Kong" Watson is up next. After how much I've talked this guy up in my column and BAMMA coverage, I am going to look quite silly if he doesn't win tonight. That's cool…
Middleweight bout: Tom Watson (15-4) vs. Brad Tavares (8-1)
And Watson comes out in his trademark "Kong" gorilla mask. I'll have that 50p thanks, Jon. Even Brad Tavares is singing along to Watson's entrance music.
ROUND ONE: Touch of the gloves. Tavares misses with a punch. Kick misses from Watson. Tavares aggressively attacking with punches. Tavares gets a brief takedown but Watson is back up. Tavares pushing Watson against the fence. They break. Push kick from Watson. Nice leg kick from Tavares. Tavares is counter striking well so far. Tavares looking for that right hook all the time. Watson pushes forward and accidentally catches Tavares below the belt with a knee. This is fast and furious action already. They restart and hug it out. Body kick from Watson but Tavares counters with a punch. Left jab from Tavares. Watson tries to counter a leg kick with a takedown but no dice. Watson lands a glancing head kick and a lovely right hand. Watson pushes Tavares against the fence. Knee to the body from Tavares but Watson takes it and lands some punches. Neither man backing down an inch as the chants of "Watson" fill the arena. Watson with a leg kick and pushes forward. His aggression may cost him if he's not careful, as he gets tagged with a punch and taken down. Watson stands up but Tavares has his back. Tavares lands a nice elbow on the break. A Watson leg kick goes slightly awry and catches Tavares low again. They restart and Tavares us trying to jab his way in. Tavares lands a knee. Watson pushes forward at the end and lands a knee of his own.
SCORECARD Tavares, 10-9
ROUND TWO: Touch of the gloves. Tavares body kick blocked. Nice leg kick from Watson. And a jab. Tavares looking to land that right hook again. Watson caught by a jab. Watson lands a nice knee in the clinch. Leg kick from Tavares and a front kick glances off Watson's nose. They clinch against the fence. Tavares working for a takedown but Watson defending well. Watson pushes Tavares away and they return to the centre of the Octagon. Watson looking to be more aggressive and lands a combination but takes a couple of punches in return. Watson fired up now. Watson lands another leg kick. Tavares trying to keep Watson on the end of his jab but Watson lands a decent left hook. Watson starting to loosen up and land more strikes now so Tavares clinches and takes the Brit to the mat. Tavares in top position and takes the back. Tavares looking to secure the rear naked choke but Watson is defending. Watson trying to turn into Tavares' guard but has no success. Tavares still has the back but can't get the choke before the horn sounds.
SCORECARD Tavares, 10-9 (20-18 overall)
ROUND THREE Touch of the gloves. Tavares lands a leg kick. Watson lands a couple of hooks on the inside. Tavares with a loud body kick. Tavares gets a takedown but Watson scrambles. Tavares catches Watson with a knee as he stands up. Tavares with another takedown. Watson is preventing Tavares from landing any damage from this position but needs to get back to his feet. Watson eventually scrambles back to the feet and lands another accidental low blow apparently. They exchange body kicks. Tavares looking for the takedown again but Watson defending against the fence. Watson reverses the position and ends up on top. Watson pushes Tavares' heads down and tries to punch him. Tavares uses the opportunity to scramble but gets taken right back down. Tavares struggles back to his feet but takes a knee to the body. Glancing body kick from Tavares. Tavares pushes Watson up against the fence and eventually takes him down. Watson back to his feet but still being pushes against the fence. Watson gets free and they're exchanging punches. Watson lands a nice right hand and a knee. He wants the finish but there's not enough time. Tavares lands a hard right hook just as the buzzer sounds.
SCORECARD Watson, 10-9 (29-28, Tavares)
OFFICIAL RESULT: Brad Tavares, Split Decision (30-27, 28-29, 29-28)
Good fight but damn!
---
Featherweight bout: Andy Ogle (8-1) vs. Akira Corassani (13-3)
Jon here again!
ROUND ONE: Akira has waited a long time for this fight – can he make the most of it? Traditional big reception for Ogle – can HE make the most of it? No touch. Leg kick by Akira. Body kick by Akira, as Ogle misses a counter. Leg kick by Ogle – nice. Right cross from Akira misses. Head kick from Akira misses, and he falls down, gets right back up. Ogle initiates a clinch, but no dice there. They split. Jab by Akira, and a body shot. Leg kick by Ogle. Looping right from Akira misses. Akira cut over his left eyebrow. Great left hand from Ogle drops Corassani! Ogle on top, in Akira's guard, Akira looks okay! Akira back to his feet, being pressed against the fence. Ogle with an uppercut, and the break. Switch kick from Akira. Right hook from Akira hurts Ogle! Ogle retreating, and Akira lands another right hook! Ogle drops for a takedown, but doesn't get it. Good combination from Akira. Nice straight right, lands again for Akira. Body kick from Ogle blocked. Less than a minute left. Ogle drops again for the takedown, but Akira defends well. Uppercut connects from Ogle! Good first round! Both men scored good shots, but Akira appeared to hurt Ogle the more…
SCORECARD Akira Corassani 10-9
ROUND TWO: Overhand right from Ogle warns Akira to keep his hands up. Low blow to Ogle, but Ogle shrugs it off. No stop in action. Ogle charges, but doesn't connect. Good counter right from Akira. Hard leg kick from Akira. Good combination from Ogle punctuated with a leg kick. Left hook from Ogle. Ogle shoots, but Akira defends well, and they break. One-two from Ogle misses. Spinning back kick from Akira blocked! Wow! Head kick from Akira blocked! Ogle comes forward, shoots, but no takedown. Akira landed a good uppercut to the body on the way out. Uppercut from Akira. They trade, and the crowd likes it! Back to the centre of the cage, another shot from Ogle, another block from Akira. Leg kick from Ogle, a second almost countered by Akira. Good left from Akira, but Ogle drops and completes the takedown! Ogle pressing Akira to the fence, as he tries to drag his legs out from under him. That isn't happening, so Ogle goes for head control. Akira trying to force his way up, but the head control is quickly becoming a guillotine attempt! Thirty seconds left. Ogle looking to crank it! Ten seconds left ! Ogle gives it up and unloads on Akira! Akira lands a right hook after the horn, that drops Ogle to a knee! Even if that counted, Ogle took that round.
SCORECARD Andy Ogle 10-9, 19-19 overall.
ROUND THREE They touch! Body shot from Ogle. Leg kick from Ogle – and another, but Akira counters with a right hand! Good head movement from Ogle. Ogle misses a straight left, and Akira ALMOST lands a shot to the back of the head. Ogle shoots, misses completely, and eats a head kick on the way up! Ogle still looking for a takedown though! Akira gets a warning for holding the fence. Ogle taking Akira's back, but can't quite get full control. Ogle has a haematoma on his head – or a Hominick, according to Alex Watt! Akira trying to get out here, and he's almost reversed it so he's looking for the takedown! Ogle defending well, with good, tight elbows. Akira bleeding again. Not much happening, as there's 90 seconds left. More elbows from Ogle, and the ref is taking a close look. More elbows from Ogle, but Akira won't give it up! Akira pops his head out, but they won't break from this position. Ogle doing enough to satisfy Marc Goddard, and he ALMOST takes the back of Akira. Last ten seconds. Good round, good fight, and Ogle fought back from a tough first round to take it on my scorecard. Let's see if the judges agree.
SCORECARD Andy Ogle 10-9, 29-28 overall
OFFICIAL RESULT: Akira Corassani by Split Decision (29-28, 28-29, 29-28)
Okay, so the crowd boo – home town scoring on their part? Or a bad decision? Either way, that was close, and not to mention, enjoyable!
---
Light Heavyweight bout: Kyle Kingsbury (11-4) vs. Jimi Manuwa (11-0)
Alex Watt again…
A typically out-of-the-box music choice from Kyle Kingsbury here. Word is he's carrying a shoulder injury into this bout so we'll see how that plays itself out.
ROUND ONE: Touch of the gloves and a quick exchange. Manuwa slips and Kingsbury capitalizes and secures top position. Kingsbury controlling Manuwa on the mat but doing little else. Manuwa tries to sweep but unsuccessful. Kingsbury staying in Manuwa's half guard, holding him down and trying to secure a guillotine choke. Little happening and the crowd are letting the referee know that they want this fight stood up. Manuwa gets it back to the feet on his own though. Nice scramble but a good knee from Kingsbury. They grapple for position and Manuwa lands a good knee to the body. Manuwa turning up the pressure now and lands a flurry of punches. A right hook to the temple drops Kinsbury. A few kicks to the leg and Manuwa lets him up. A flying knee from Manuwa. A head kick. More punches. What is keeping Kingsbury up? A big knee to the head from Manuwa and a head kick. More punches. Kingsbury still standing. Another knee to the head and more knees and lots of uppercuts. Kingsbury finally goes down but Manuwa waves him back up. More punches and another head kick from Manuwa. A desperation body kick from Kingsbury but another uppercut from Manuwa. The buzzer sounds. How on earth has Kingsbury made it out of that round?!
SCORECARD Manuwa, 10-8
ROUND TWO: Kingsbury's face is a mess. They circle and Kingsbury looking to land punches. Hard right hook from Manuwa. Kingsbury pushes forward and secures a takedown.Kingsbury has Manuwa on the ground and against the fence, holding him down. I somehow doubt he wants Manuwa to get up again. Manuwa escapes through the back door and lands a knee as they return to the feet. Kingsbury pushes Manuwa up against the cage. Cheeky uppercut from Kingsbury. They exchange knees in the clinch. They break. Side kick from Manuwa and a big right hand. Kingsbury clinches again but takes a knee to the body from Manuwa. Two big knees to the head from Manuwa. And a flying knee. And more knees to the head. A head kick from Manuwa and Kingsbury tries for a desperation takedown. Manuwa defending and looks for an armbar but gives it up and gets a headlock. Mistake from Manuwa and he nearly gets taken down by Kingsbury. Back on their feet and a Manuwa uppercut staggers Kingsbury. More punches from Manuwa now. Kingsbury gets a takedown! Kingsbury in side control and landing a few elbows to the side of the head. The round ends with Kingsbury on top. Kinsbury's left eye is swollen shut now. And he smiles. This is nuts.
SCORECARD Manuwa, 10-9 (20-17 overall)
We're not going to a third round. The referee waves off the fight because Kinsbury can't see out of his left eye. Manuwa may have lucked out there slightly because he looked absolutely exhausted. Still, an incredibly dominant win from the British striker.
OFFICIAL RESULT: Jimi Manuwa, TKO / Doctor Stoppage, 5:00 of Round Two
---
Quotes of the Week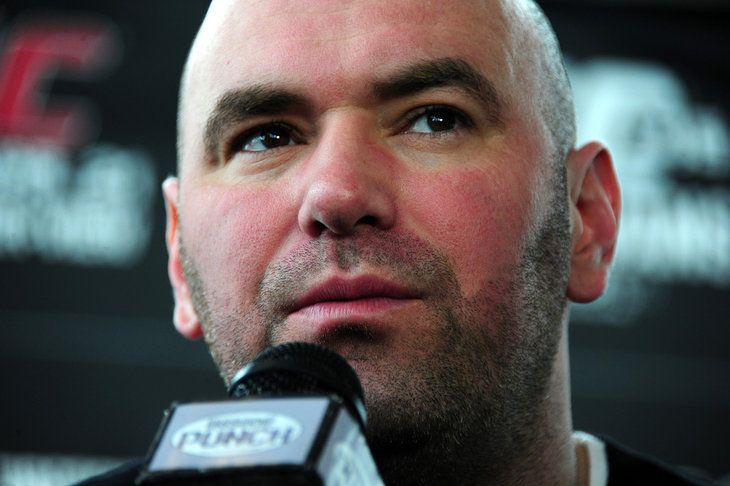 "So, when I sat down with Jon Jones and we talked, I made a deal with Jon. I'm not going to say anything about Greg Jackson. I think you guys know my opinion and how I feel. It hasn't changed. I'm just not going to talk about Greg Jackson. It's good news. I will keep my big mouth shut about Greg Jackson. That's part of my deal with Jones. It's not that I dislike the guy. I don't dislike him at all. It's just his philosophies, his business philosophies. His business conflicts with my business. That's the big problem. I do think Jon Jones' arm would be feeling a lot better right now if he didn't listen to Greg Jackson and that's all I'm going to say." – Dana White isn't going to talk about someone he dislikes? Wow, anything really can happen in the UFC!
"Logical fans that actually go back and pick that fight apart, and didn't just judge it by the first time seeing it [agree with me]. Don't get me wrong, I definitely don't think it was the most exciting fight that I've put on, or that the UFC has had as a main event in a while. But then if you see the fight, I believe, less than a month later, the Renan Barao and Urijah Faber fight . . . I remember they were actually holding hands three or four times in the fight. I don't know, don't quote me but I'm pretty sure you know what I'm talking about. The big heavyweights that fought that night [Cheick Kongo vs. Shawn Jordan], I think I actually feel asleep at the bar. The Tim Boetsch and Hector Lombard [fight], I think someone had to actually wake me up because I was snoring at the bar. So I wouldn't say my fight was the most boring. But a logical fan and a logical analyst goes back there and watches the fight, and watches my gameplan and sees the footwork, sees the improvement that we have made . . . If you look, I outstruck him. I was much faster than him. It felt like I was two or three steps ahead of Gray the whole time. I outwrestled him, I stopped all of his takedowns. I defended submissions, got a little bit of ground and pound, broke his nose, cut his face. I got my hair pulled numerous times. Let's see, the list goes on. Oh yeah, profanity, words were thrown in my direction along with being flipped off in the cage. So it's whatever. If people are going to boo me because of that, then so be it. But I know there's logical fans out there that realize what fight they saw.I'm sure [Maynard] still knows what happened in the cage that evening." – Does Clay Guida know what happened in the cage that evening?
"I don't understand why people say my fights are boring. It's just a different style. People don't understand the technical style and then other people don't like my fights and write on the Internet and it really frustrates me. People that understand fighting, that understand there's technique behind what I'm doing, they're the ones who think the fights are exciting. You know there's some fat turd out there having his heyday because he has a forum and wants to write some bad stuff about me, but he doesn't understand the sport. I really don't care about those guys." – Jacob Volkmann hits out at the haters. It is annoying when people don't get stuff, isn't it Jake? Like politics, for instance…
"Watched my fight back from last night, I nearly fell asleep watching & I feel worse now again sorry people but I didn't turn up to fight!!" – John Maguire, to his credit, apologises for his poor performance at UFC on FUEL via his Twitter account.
"Quarter pounders?? Really pimple boy? I won't even RNC you… afraid of all the pimples on your back. #GROSS" – I spotted (sorry) this on Twitter. BJ Penn types some insults at next opponent Rory MacDonald.
---
Pound for Pound Rankings
1. Anderson Silva (30-4)
2. Jon Jones (17-1)
3. José Aldo (21-1)
4. Georges St. Pierre (22-2)
5. Dominick Cruz (19-1)
6. Benson Henderson (17-2)
7. Junior Dos Santos (15-1)
8. Frankie Edgar (14-3-1)
9. Dan Henderson (29-8)
10. Carlos Condit (28-5)
11. Demetrious Johnson (16-2-1)
12. Gilbert Melendez (21-2)
13. Rashad Evans (17-2-1)
14. Renan Barão (29-1, 1NC)
15. Cain Velasquez (10-1)
---
And that'll do it for another week.
I'll be back next week with my thoughts on UFC on FX: Browne vs. Bigfoot and a look ahead to UFC 153.
Don't forget to follow mine and Jon's live coverage of UFC on FUEL TV tomorrow afternoon.
If you enjoy the column please do follow me on twitter at AlexWattMMA
Thanks for reading and if you have any comments or feedback please leave them below or message me on twitter. Cheers.
NULL
comments powered by Disqus