Thoughts From Across The Pond 10.19.12: The Silva-St. Pierre-Jones Love Triangle
October 19, 2012 | Posted by
Thanks to the fantastic TEK_Designs for my lovely banner.
---
The Anderson Silva Super-Fight Dilemma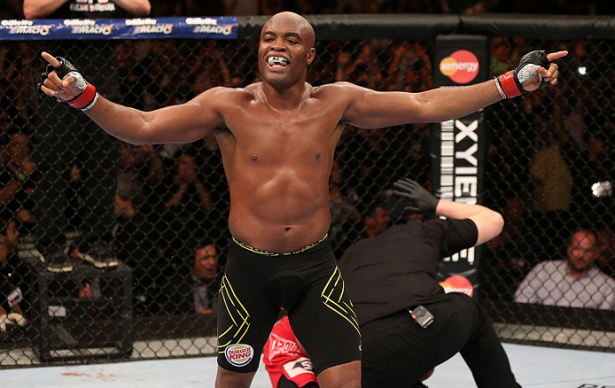 Anderson Silva's record sixteenth consecutive UFC win was every bit as dominant as many had predicted it would be. Fighting last Saturday night in his home country of Brazil against Stephan Bonnar, Silva looked fantastic. "The Spider" toyed with his light heavyweight opponent, standing against the fence and inviting "The American Psycho" to hit him. Bonnar duly obliged but Silva simply dodged the majority of his offence, purposely took a few punches to the chin to demonstrate his durability, and – in one for his ever growing highlight reel – arrogantly sidestepped a Bonnar spinning back kick. Finally, at the four minute mark of the first round Silva went for a trip takedown and then moved in for the kill with a brutally accurate knee to the American's sternum. Bonnar crashed to the mat, visibly in some discomfort, and Silva's follow-up strikes were academic.
This performance typified everything that we've come to love about watching "The Spider" compete. The arrogance, the movement, the pinpoint striking; Silva displayed it all on Saturday night.
In the immediate aftermath of yet another dominant win for "The Spider", the talk inevitably turned to which fighter, if any, is left for Silva to face who could actually present a real challenge to the peerless pound for pound king. And, of course, it was the same two names as usual which cropped up; UFC Welterweight Champion Georges St. Pierre and UFC Light Heavyweight Champion Jon Jones.
Your writer was surprised that UFC commentator Joe Rogan seemed more intent on discussing the prospect of a super-fight between Anderson Silva and Jon Jones. This, in my opinion, was a strange move on Rogan's part since both Silva and "Bones" have stated on more than one occasion that they have no interest in fighting one another. Anderson has been more vocal recently about wanting to face Georges St. Pierre and it would have surely made more sense for the outspoken Rogan to promote the GSP fight, since that looks like the most likely next fight for "The Spider".
Silva once again reiterated that he would prefer the GSP fight over the Jones fight in the UFC 153 post-fight press conference; "I'm old, guys. I'm getting old. I'm retired. I'm nearly there. I've only got another five years. I think [GSP] would be a great challenge for me. I prefer him over Jon Jones. He's smaller. It'll be a little bit easier. I'll be hit less."
Behind the comedic remarks, lies a smart business decision for Silva. He has no need to rush into taking the fight with Jones. After all, lest we forget that before Jon Jones burst into the main event scene at light heavyweight, the primary UFC dream fight that the fans were clamouring for was Silva vs. St. Pierre. Both Silva and GSP have dominated their respective weight divisions for years now, and there is little doubt that if "The Spider" is the greatest Mixed Martial Artist of all time, then St. Pierre would be the No. 2 fighter on that list. Indeed, until "Bones" began to run roughshod over the 205lbs division, the pound for pound debate was raging over who deserved the No. 1 spot more; Silva or St. Pierre. I cannot imagine that interest in this super-fight can have waned so dramatically, simply because there is a new dominant kid on the block.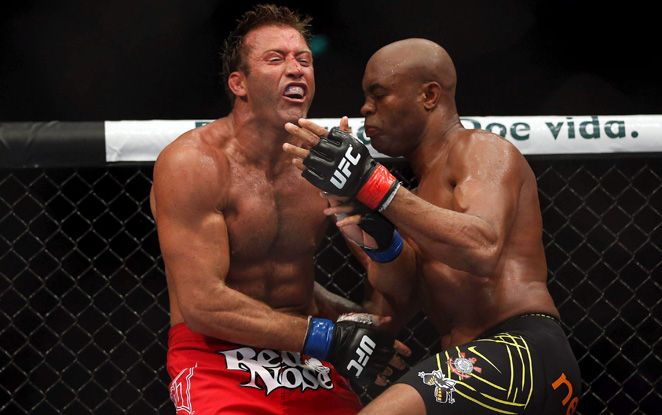 Arguably, St. Pierre remains the UFC's biggest draw on Pay Per View. Although some of his most recent title defences have seen fans complain about the Canadian not finishing his opponents, it does not seem to have significantly dented the UFC Welterweight champ's popularity. With Silva also being one of the main draws in the UFC, primarily because of some of the incredible performances he has turned in inside the Octagon, both men would stand to make quite a significant amount of money by competing against each other in a UFC main event in 2013.
Of course, Carlos Condit will have a big say in whether the proposed Silva-GSP fight will actually come to fruition. He fights St. Pierre next month in a bid to unify his interim title with GSP's official UFC Welterweight Championship. Condit has the skill-set, tactical nous and killer instinct to cause "Rush" all sorts of problems, particularly since GSP will be competing for the first time in 18 months following an ACL injury.
As for Jon Jones, well, as it turns out, those fans who were hoping for the Silva-Jones fight to materialize soon had their hopes quashed by the announcement of the coaches for season 17 of The Ultimate Fighter. In a typically reactionary move, Dana White and co responded to the poor ratings of the current sixteenth season of their pioneering reality show, by installing Jon Jones and Chael Sonnen as the next coaches. The thinking behind this is clearly to capitalize on the simmering war of words between the two men and the charisma and verbal skills of both men. Undoubtedly, Sonnen and Jones coaching opposite one another should make for an entertaining season of TUF, even if the planned title fight between the two men in the spring of 2013 is not quite as thrilling a prospect.
[This means that the previously announced fight between Sonnen and Forrest Griffin, which that memorable light hearted UFC 153 promo video gave a nod to, has now been cancelled. As a result, rumours are currently circling that Griffin and Stephan Bonnar could fight for a third time at UFC 155 in what may act as a double retirement fight.]
Ultimately, Silva vs. St. Pierre makes the most sense for the UFC right now. It is a fight between, arguably, the greatest two fighters ever to grace the Octagon and would probably gross more money for the company, at this time. If Jon Jones continues to dominate the light heavyweight division, then the UFC can hopefully build towards the super-fight between him and Silva in the future, when it has the potential to generate even more cash.
Of course, this will all be a moot point should Carlos Condit defeat Georges St. Pierre on November 17th. And with the way this sport has a habit of playing out, wouldn't that just be the way.
---
Video Interlude
---
Quotes of the Week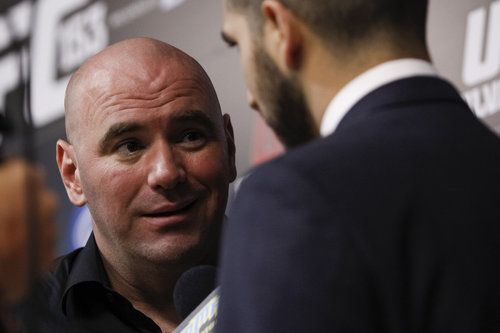 "We saw something tonight that you might not f***ing ever see again as long as you live. What that guy does — like that spinning back kick where he steps to the side and then steps back — and he just kind of laid in there, took some shots, let him hit him, he was moving his head and then playing with him. And then, the minute he said, 'I'm done,' it was done. It's just unbelievable — nobody does that. Nobody. Nobody in this sport is able to do that. That's why when I get these guys sometimes who say, 'I don't know, Anderson Silva might not be the best.' Are you out of your f***ing mind? Nobody can do what this guy can f***ing do. He's the greatest of all time. And I think he's the greatest in any combat sport. I'm a huge Mike Tyson fan, and in Tyson's heyday when he was executing people, and you were just wondering how long it was going to be before he knocked someone out — he had that power and mean-ness that people were afraid of. Anderson Silva just does amazing things that nobody else can do. . . . I'm telling you right now: Watch every fight that he has, enjoy every moment that he's here because when he's gone you're going to f***ing regret it. You're going to wish you watched more. It's like [Michael] Jordan — even the games he played that didn't mean a lot — he still did a lot of great s***. Anderson Silva is the guy who you want to watch when he's fighting because you're going to see some s*** you've never seen before in your life." – Dana White reiterates his belief that Anderson Silva is the best ever.
"Thanks to everyone for the support, I'm so sorry I lost. I feel so bad for letting my fans down, but I promise to make it up to you. . . . Not injured, just caught with a perfect knee to the solar plexus and it paralyzed me, was just getting movement back when fight was stopped." – Stephan Bonnar has nothing to apologise for, but does so anyway.
"I think all athletes in this division will get their opportunity in going for the title. I don't have any intention of fighting with him [Weidman]. I still think he has a lot to do in the UFC. I am in a comfortable position and I am no longer a child, I am 37 years old, he's a kid that is starting. Obviously, this might happen, but, I have two fights on my contract and I think one of them will be with St. Pierre and I don't really have an intention in fighting with him [Weidman] because I'm not a fool. I'm already an oldie, you know?" – Anderson Silva shoots down the idea that Chris Weidman will be getting a title shot any time soon.
"I guess I should just quit training to win fights and to be exciting for the fans and just go to s*** talking school. . . . And just to make it clear, I will always hv love for Chael and don't blame him for saying yes to a big opportunity. But giving him that fight rt now degrades the sport of MMA." – Dan Henderson tweets his annoyance at the TUF 17 announcement.
---
Pound for Pound Rankings
He's still No. 1 folks…
1. Anderson Silva (33-4)
2. Jon Jones (17-1)
3. José Aldo (21-1)
4. Georges St. Pierre (22-2)
5. Dominick Cruz (19-1)
6. Benson Henderson (17-2)
7. Junior Dos Santos (15-1)
8. Frankie Edgar (14-3-1)
9. Dan Henderson (29-8)
10. Carlos Condit (28-5)
11. Demetrious Johnson (16-2-1)
12. Gilbert Melendez (21-2)
13. Rashad Evans (17-2-1)
14. Renan Barão (29-1, 1NC)
15. Cain Velasquez (10-1)
---
And that'll do it for another week.
I'll be back next week with my thoughts on the past week in MMA.
If you enjoy the column please do follow me on twitter at AlexWattMMA
Thanks for reading and if you have any comments or feedback please leave them below or message me on twitter. Cheers.
NULL
comments powered by Disqus