Thoughts From Across The Pond 11.02.12: Rousey – Breaking Down Barriers?
November 2, 2012 | Posted by
Thanks to the fantastic TEK_Designs for my lovely banner.
---
Women's MMA in the UFC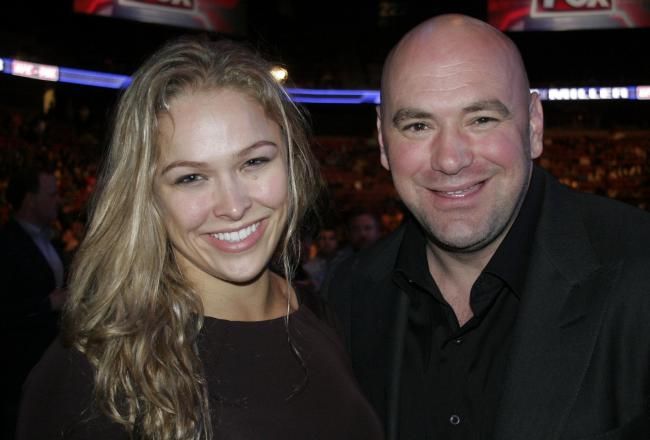 Dana White's latest assertion that he is now "absolutely" committed to bringing women's MMA into the UFC can all be traced to the success of one athlete; Strikeforce Women's Bantamweight Champion Ronda Rousey.
"Rowdy" Ronda Rousey ticks all the boxes that a star should. She's got the talent, she's got the looks and she's got the promotion skills. The rise of Rousey was something to behold in 2011, but in 2012 her star has gone stratospheric. She has headlined two Strikeforce events on Showtime alongside Miesha Tate, in a fantastic one round fight, and Sarah Kaufman, in arguably her most impressive and dominant performance to date. Rousey has dominated every opponent put in front of her, breaking their arms for good measure, but more importantly she's been breaking ratings records on Showtime. The nominations for the World MMA Awards reflects Ronda Rousey's astonishing 2012, and the new face of women's MMA could feasibly walk away with an awards haul of "Fighter of the Year", "Female Fighter of the Year" and "Breakthrough Fighter of the Year".
Ultimately, it's been discussed many times that the UFC is a business first and foremost and its president is a canny businessman. Dana White looks at Ronda Rousey and he sees a star, and the UFC President knows that women's MMA has never been a hotter commodity than it is right now, and it is only likely to keep growing. That is enough to convince White that the UFC is ready to bring women's MMA into its ranks.
The much parroted Dana White line about the lack of depth in women's MMA remains, however. As some have noted in response to White's comments about women's MMA in the UFC, it will be difficult for Ronda Rousey to lead a charge for women's MMA when there are few other female fighters who can make the charge with her.
This argument overlooks the fact that there is a lot of female talent out there, however. The new all female promotion Invicta Fighting Championships has presented three of the most entertaining Mixed Martial Arts events, outside of Zuffa, this year. Meanwhile, Strikeforce continues to present great female fights – Miesha Tate vs. Julie Kedzie and Sarah Kaufman vs. Alexis Davis are two of the best fights of the year, anywhere in MMA – Bellator have contracted some of the best female fighters in the sport, including Zoila Gurgel, Jessica Aguilar and Megumi Fujii, and Japan, Russia and South America continue to present events which regularly feature new female talent.
If the UFC is to bring women's MMA into its ranks in 2013, one assumes it will start with one weight division and attempt to expand from there. A UFC female bantamweight division, then, would likely face similar issues that the UFC male flyweight division has in 2012; the division will begin with limited resources as Zuffa looks to sign up some of the talent competing in other promotions and it may take some time to fully win the UFC fans over, despite entertaining fights.
An interesting aspect of this move, is that it may represent the first sport in which the women are on completely even footing with the men. Indeed, the introduction of female athletes to the UFC could be one of the biggest advances for women's sport in decades. You see, unlike the majority of other sports, women's MMA would no longer be competing in a side by side league to the more popular male division of the same sport. Rather than being considered the inferior Women's Tennis Association to the more popular Association of Tennis Professionals, for example, the women of Mixed Martial Arts would be competing under the exact same UFC banner, inside the same Octagon, and vying for the same attention as their male counterparts on the very same events.
It is not necessarily unfeasible to envisage Rousey headlining a UFC Pay Per View ahead of her male counterparts; after all, she has headlined Strikeforce Pay Per Views above male title fights, although the Strikeforce talent pool is obviously significantly smaller than the UFC's. This would represent a big moment in sport, were two female athletes to headline a UFC event, and would be seen as empowering for many women when they are still often treated as second fiddle to the men in sport.
Nevertheless, the thought that Ronda Rousey could be the biggest female athlete in all of sports, as some writers have had the audacity to claim, smacks of MMA fan arrogance.
What some fans and journalists seem to be overlooking when discussing Ronda Rousey and women's MMA, is that Mixed Martial Arts is still not a widely accepted sport. For all the advances that the UFC have made in the last few years, some still see it as "brutal cagefighting" and parrot the infamous John McCain "human cockfighting" line. When the general public is still having a tough time accepting men competing in MMA, what makes people think that women's MMA will not receive a significant amount of backlash?
In the United Kingdom, Mixed Martial Arts remains a largely misunderstood sport. It is not covered by the majority of the major news networks – for example, the BBC does not feature MMA or the UFC on its sport website – and many continue to refer to it as the dreaded "cagefighting". On one major news website, in regards to the issue of women's MMA being brought into the UFC, the following headline was run:
"Would you let your daughter do this?"
Now, we could debate the issues of the ignorance and sexism of this headline all day long, but the simple fact of the matter is that it is an attitude and a response which many people will have to seeing women competing inside the Octagon; one of horror.
And this is an issue that the UFC is inevitably going to have to deal with, if and when the company brings women's MMA into its ranks. Indeed, despite it being the 21st century, there is still a stigma attached to females competing in combat sports. The fact is that, rightly or wrongly, the majority of the general public have an aversion to seeing the fairer sex punching each other in the face.
It's the same sort of sexist attitude which sees even the most evolved MMA fan place greater emphasis on whether a female fighter is attractive, than whether they are a skilled competitor. There is no secret that the likes of Ronda Rousey, Miesha Tate and Gina Carano have all seen their careers advanced due to the fact that they are beautiful women, whilst other female athletes have seen themselves judged in a negative way because they are deemed less attractive by a male dominated fanbase.
On the other hand, the move to bring women to the UFC will inevitably bring a lot more mainstream attention to the UFC. Some of this will be positive and some will be negative, but it will be up to Zuffa to try and channel any coverage into a more positive avenue, educating any new viewers to the safety and discipline of the sport and its athletes.
At the Olympic games in London this past summer, there was a lot of positive attention given to Women's Boxing, which was an official sport at the games for the first time. A great quote from the BBC website claimed that Women's Boxing's Olympic debut had "broke down one of the last remaining bastions of Olympic equality". It is this sort of angle which the UFC would do well to promote female MMA on.
Ronda Rousey will be key in this. As already mentioned, she is a fantastic competitor and personality, but also of note is her Olympic background. By pointing out to the mainstream press that Rousey was the first American woman to win an Olympic medal in Judo (bronze in the 70kg class at the 2008 games in Beijing), the UFC can continue to challenge some of the incorrect preconceptions which remain in the eyes of the general public and the mass media.
And, let's not forget too that Ronda Rousey still has three fights remaining on her Strikeforce contract. Should Rousey lose her next title defence – unlikely though that seems at present – all of these plans would go up in smoke. A Rousey defeat may see Dana White and the UFC have second thoughts about bringing women's MMA into the Octagon.
The UFC President has played fast and loose with the concept of absolute certainty in the past, and has an irritating habit of changing his mind on a whim. Much of the potential for women's MMA in the UFC will likely hinge on the chances of Strikeforce's survival. If Zuffa is able to pull the plug on the waning promotion before the end of 2012, then women's MMA will surely make its way into the Octagon in 2013. It will then be up to the company to promote its female athletes correctly and, who knows, perhaps Zuffa can continue to break down barriers and prove itself as a pioneer for women in sport.
---
Video Interlude
---
Quotes of the Week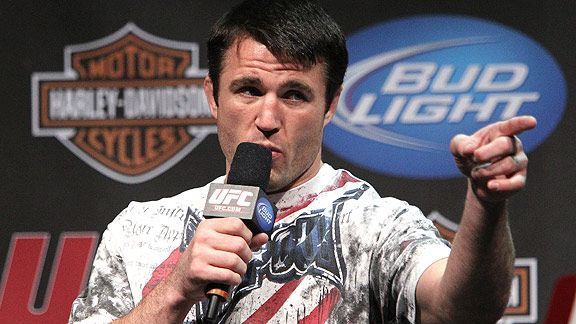 "I haven't spoken to him, but, um – I haven't spoken to Dan [Henderson]. We'll leave it at that. . . . I keep hearing that I talked my way into a fight, and guys, it's true. But the word that I used was 'yes.' When the chance came, they said, 'Do you want to fight?' I said, 'Yes.' Contrary to what it may look like on TV, this guy [Jones] is pretty darn good, and there's not a lot of guys that want to fight him. And contrary to what the odds-makers may say, this guy [Sonnen] is pretty good too. There's not a lot of guys that want to fight me, and a lot of guys complained that I got the fight with Jon, but not one of those guys said, 'I want to fight Jon.' Not one of them." – Everything may not be rosy between Chael Sonnen and Dan Henderson.
"I could beat [Wladimir Klitschko], man. Maybe not easy, but I could knock him out. I watch a lot of fights with Wladimir, and I see a lot of holes. Wladimir, the Klitschkos, they're amazing. I like to watch them fight, especially Wladimir, but it's kind of boring. They are really good at what they do, but they are very careful. They don't go to the fight to finish the fight. They stay there in that safe strategy all the time. It's not the Mike Tyson time. Guys don't finish fights. I love who I am, and I want to stay in MMA. Boxing is going down." – UFC Heavyweight Champion Junior dos Santos certainly isn't short on confidence.
"Whatever the UFC wants. 'Rampage' is an idol of the sport and good when he trains. It is a fight that will be hard, but I will be ready for him. I'm always ready to fight and I will beat this guy. He is talking about he will destroy me, fighting with two guys in the night. He lost to Forrest Griffin and talking he will fight with Griffin and me on the same night? So I say, this guy is clueless." – Glover Teixeira responds to "Rampage's" trash talk.
"I respect [Silva] a lot. I said several times, I do not want to be the guy who beat Anderson, and do not want to be the guy who lost to him. Anderson is a great champion, I'm a great champion. We both… [pause] I don't know. I don't know. I'm not saying that the fight will not happen. It can happen. But it's not something I'm chasing. I don't believe that I need to fight with Anderson to be the best in the world." – Jon Jones almost says he'll fight Anderson Silva. Almost.
"Cesar is calling 4 me the fight Diaz in Feb. Super Bowl weekend! What you guy think? I am DOWN! Don't be scared Homie! #559 lol" – Josh Koscheck tweets. He wants Nick Diaz next.
---
Pound for Pound Rankings
1. Anderson Silva (33-4)
2. Jon Jones (17-1)
3. José Aldo (21-1)
4. Georges St. Pierre (22-2)
5. Benson Henderson (17-2)
6. Junior Dos Santos (15-1)
7. Frankie Edgar (14-3-1)
8. Dan Henderson (29-8)
9. Carlos Condit (28-5)
10. Demetrious Johnson (16-2-1)
11. Gilbert Melendez (21-2)
12. Rashad Evans (17-2-1)
13. Renan Barão (29-1, 1NC)
14. Cain Velasquez (10-1)
15. Nate Diaz (16-7)
---
And that'll do it for another week.
I'll be back next week with my thoughts on the past week in MMA.
If you enjoy the column please do follow me on twitter at AlexWattMMA
Thanks for reading and if you have any comments or feedback please leave them below or message me on twitter. Cheers.
NULL
comments powered by Disqus