Thoughts From Across The Pond 11.09.12: UFC in China – The Forgotten Event
November 9, 2012 | Posted by
Thanks to the fantastic TEK_Designs for my lovely banner.
News broke late last night that Ronda Rousey has officially signed with the UFC, and that Strikeforce will officially run its last show in January before shutting up shop. In light of this, perhaps you should give last week's edition of Thoughts From Across The Pond another read, as I discussed in detail the success of Ronda Rousey, women's MMA in the UFC, and how successful the move will be for the company.
---
UFC on FUEL: Franklin vs. Le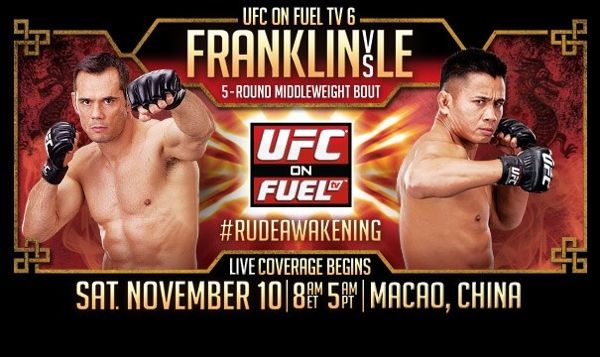 With UFC 154 in Montreal fast approaching, featuring a title unification bout with the return of one of the best fighters in the sport and Canadian hero, Georges St. Pierre, it is easy to forget that the UFC are presenting their first ever event in China this weekend.
The return of GSP was always going to grab the majority of the headlines over the last few weeks, but it shouldn't be overlooked that the UFC's sixth event on FUEL TV is topped off by a good looking main event in its own right; Rich Franklin vs. Cung Le.
Saturday night will mark something of a homecoming for Sanshou stylist Cung Le (8-2) who is Asian born and it is no coincidence that the Vietnamese-American was chosen to compete in the main event of the UFC's first foray into the Chinese market.
Le's opponent, Rich Franklin (29-6, 1NC) is making his return to the middleweight division this weekend, the weight class he won a UFC world championship in, and will be competing at 185lbs for the first time since his victory over Travis Lutter in 2008.
The Franklin vs. Le fight is one which has been planned for some time and was originally scheduled for UFC 148 in July, but an injury to Vitor Belfort saw company man Franklin step up to face Wanderlei Silva in Brazil two weeks earlier and Patrick Coté step in to face Le.
Cung Le turned 40 in May and will once again enter the cage on Saturday night as the older man. However, Franklin is no spring chicken himself, at 38 years of age, so it is unlikely that the former Strikeforce Middleweight Champion's advancing years will play too much of a factor in the outcome of UFC on FUEL's main event.
Learning from his TKO loss to Wanderlei Silva in his UFC debut, Le fought a much more intelligent fight against late replacement Patrick Coté at UFC 148. Showing a hitherto unseen ability to remain patient rather than hunting for an early, highlight reel finish, Le picked Coté apart with accurate head, body and leg kicks en-route to a three round judges' decision win.
The former Maths teacher, Franklin, earned the 29th win of his professional career with a decision win over a game Wanderlei Silva in Brazil in June. "Ace" was dropped in the second round of that bout after some pinpoint Silva strikes, and many may point to Franklin's propensity to get caught and his advancing years as evidence that Le may be able to gain a stoppage victory in Macau. What this overlooks, however, is that Franklin demonstrated his calmness under fire in that UFC 147 contest with Wanderlei Silva, absorbing in the region of fifty unanswered punches from the Brazilian and remaining conscious. With the exception of that second round, Franklin was throughly dominant in the fight, employing his excellent striking and conditioning to great effect.
Cardiovascular conditioning has always been a significant problem for Cung Le, who has seemed far more focused on his acting career than his Mixed Martial Arts endeavours in recent years. If Le has not fully dedicated himself to training prior to this fight then the always well conditioned Franklin is liable to punish the Vietnamese-American striker. Le demonstrated more tactical awareness in his victory over Patrick Coté in July, pacing himself throughout the fight and keeping his opponent on the end of his strikes, but despite this Le still slowed significantly in the third round of that contest and Coté should have punished him for it.
Franklin is not going to make the same mistake of standing in front of Le like a human punching bag and is, in fact, likely to use his superior gas tank and movement to his advantage. In a five round fight, that doesn't bode well for Le whatsoever.
If Franklin wishes to fight the smart fight then he would do well to frequently tie Le up in clinches against the fence in order to sap his opponent's energy. If Franklin, too, were to attempt regular takedowns then he would have the clear advantage on the ground.
Le has a surprisingly high takedown defence ratio, but has never before faced a fighter with a decent level of wrestling or Brazilian Jiu-Jitsu. If Franklin wants to take the fight to the mat, and is relentless in pursuit of it, then there is little doubt that he will eventually secure it. Le is not comfortable fighting from his back, and with "Ace" on top of him employing his effective ground and pound skills, he is unlikely to be able to mount any significant offence or means of defence. If Le begins to tire in the latter rounds, then Franklin would be certain to dominate if he can gain top position.
Whether "Ace" will choose to grapple with Le, however, is unclear. Although this would perhaps represent his best route to victory, Franklin takes pride in delivering exciting fights and, in a new market for the UFC, Franklin may well be drawn into fighting a purely striking battle against the Vietnamese-American.
On the feet, this is an evenly matched contest and an exciting prospect of Sanshou versus kickboxing. Le's offence often comes from his vast arsenal of kicking techniques and he has delivered knockouts with roundhouse body kicks (Sammy Morgan) and spinning back kicks (Scott Smith). However, he will have to work harder than usual to land his kicking techniques against Franklin, who will enjoy a six inch reach advantage over the former Strikeforce Middleweight Champion. Franklin, who has struggled against southpaws before, will likely look to keep things simple by keeping Le on the end of his jab, accompanied by heavy left hands and body kicks, and by fighting to his height Franklin should be able to elude the flashy spinning attacks of Le.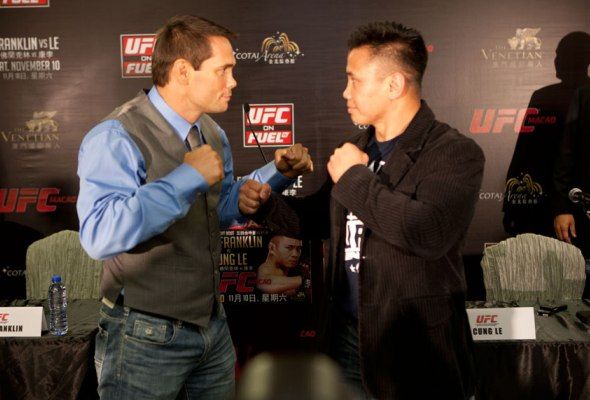 Le would be wise to focus his kicking offence on the legs and body of Franklin, as he will find it difficult to land head kicks if Franklin uses his reach to its full advantage. Leg kicks, if utilized correctly, could also take away the movement of Franklin who will surely be looking to exploit his superior conditioning with clever footwork, making Le chase him.
However, the news coming out of the Le camp is that the Sanshou striker will be entering the Octagon on Saturday night with a foot injury suffered in training. The implication, in fact, seems to be that had this fight been taking place in anywhere other than Asia then Le would have had no qualms about withdrawing. If this injury is as significant as Le has claimed – only 80 percent healed – then it could cause him significant problems. Much of the Vietnamese-American's striking attacks come in the form of kicks, which he delivers in numerous forms and from various angles. A damaged foot, be it his kicking leg or his standing leg, clearly has the potential to severely hinder Le in this fight.
Although it is unclear what kind of reception Cung Le will receive from the Chinese audience – Le, after all, has never competed in Asia before – it has to be anticipated that the competitor born in Vietnam will receive the lion's share of the cheers ahead of his American adversary. This will be a big motivating factor for Le and he will undoubtedly want to fight to his full potential in front of the Chinese crowd. The cheers could propel Le to the kind of dominating, exciting performance he has yet to truly deliver thus far in his two fight UFC tenure. On the other hand, the support for Le could actually play right into the hands of Franklin. Fighters who receive a "hometown reception" have a tendency to fight with too much emotion and become overeager to deliver a stoppage victory.
The Verdict: If Le is able to keep this fight standing then he certainly has a chance of winning, particularly if he is able to fight intelligently and adapt his kicking techniques accordingly. However, even if Saturday's main event does remain a stand-up contest, Franklin will be favoured. If Le is going to win the fight then he will need to end it early as it is difficult to foresee him having much left in the tank if the fight reaches the fourth and fifth rounds, and even by trying to secure an early finish against the deceptively durable Franklin, Le is likely to tire himself out. "Ace" holds the advantage in cardio, reach and grappling and is likely to use all of these to their full benefit, as he is the more experienced and tactically astute fighter. Whether he employs his ground skills or not, Franklin would still be favoured to wear the Vietnamese-American down by exploiting his superior reach and movement and picking Le apart on the outside. All the signs point towards a TKO win for Rich Franklin, most likely in the third round when Le begins to fatigue.
---
Video Interlude
---
Quotes of the Week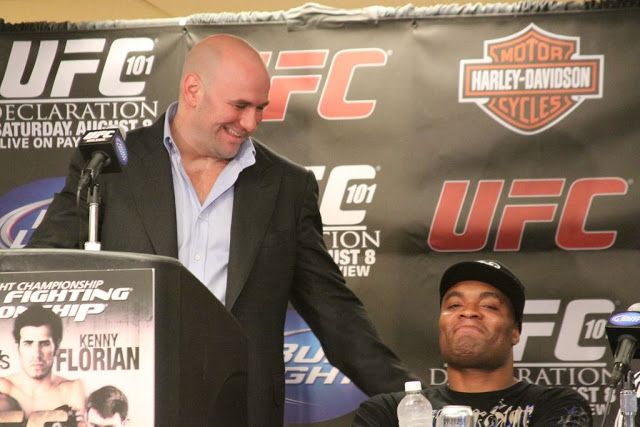 "There's no doubt Anderson Silva [is] showing up to cheer Georges St-Pierre on, and he wants him to win this fight. He wants to fight him after. So I would say yes [he will challenge him in the cage]." – Dana White is just enjoying teasing us now.
"That question [about facing Jon Jones] has to be made to Dana White. Let's ask if he will give me 50 percent of the UFC. I have my projects out of the UFC and I want to put them into practice. To open my [martial arts] school in Los Angeles. I do my thing, take a breath a little, take time with my family. I have better things to do." – Anderson Silva wants a lot of money to fight Jon Jones.
"Well, Junior dos Santos says all kinds of things that don't really make sense. First he begged to Dana White he wanted to fight me, so as a fighter I accept such a challenge right away. Now he's saying that I don't deserve a title fight. He has to make up his mind as he's changing his story all the time. The same stuff he was saying about me going to the school of Chael Sonnen. I never made the fight between us personal and I never bad mouthed him, the only thing I said was that I think he's afraid of me which I think he still is [laughs]. When I signed with the UFC I could easily go for the title shot right away but I chose to fight Brock Lesnar so in no means am I talking myself into a title shot. If the UFC wants me to fight for the title I'm available and if they decide to let me fight someone else first I'm also fine with that. I'm a fighter and I will get my chance sooner or later." – Alistair Overeem gets the promotion for his inevitable UFC heavyweight title shot started early.
"I met with Forrest [Griffin] and he told me that he volunteered for a list of six names and mine was the first. He said he would face any of them except me. It's good to have this kind of recognition. I am here to serve the company. My weight, my category, are the medium. I am adaptable. But I do not have much time left in my career and I want to have great challenges, in whichever weight it will be. I can make great fights and don't run from anybody, I'll be always ready." – Vitor Belfort claims that Forrest ducked him, but he seems okay with it.
"Honestly I don't think a person who tests positive for marijuana should be penalized in an athletic sport, because he's already penalizing himself by taking the marijuana. It doesn't enhance your performance. It kind of dulls it, in my opinion. I don't know, I've never even trained [on] marijuana before. You know what I'm saying? I feel like marijuana is a herb, and it's from the earth, and as long as it's in its natural form, I don't see anything wrong with it. As long as you don't abuse it. That's my opinion, as long as you don't abuse it. If a fighter or athlete tests positive for marijuana, he's already messing up his game. So don't penalize him." – Quinton "Rampage" Jackson throws his significantly sized hat into the drugs in MMA debate.
---
Pound for Pound Rankings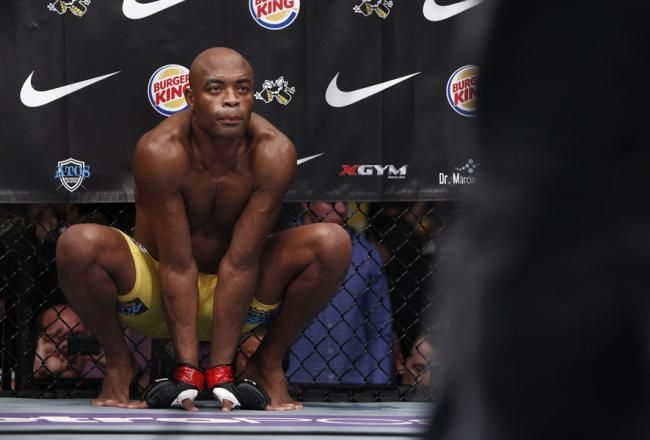 1. Anderson Silva (33-4)
2. Jon Jones (17-1)
3. José Aldo (21-1)
4. Georges St. Pierre (22-2)
5. Benson Henderson (17-2)
6. Junior Dos Santos (15-1)
7. Frankie Edgar (14-3-1)
8. Dan Henderson (29-8)
9. Carlos Condit (28-5)
10. Demetrious Johnson (16-2-1)
11. Gilbert Melendez (21-2)
12. Rashad Evans (17-2-1)
13. Renan Barão (29-1, 1NC)
14. Cain Velasquez (10-1)
15. Nate Diaz (16-7)
---
And that'll do it for another week.
I'll be back next week with my in-depth preview of the UFC 154 main event between Carlos Condit and the returning Georges St. Pierre.
If you enjoy the column please do follow me on twitter at AlexWattMMA
Thanks for reading and if you have any comments or feedback please leave them below or message me on twitter. Cheers.
NULL
comments powered by Disqus