Thoughts From Across The Pond 11.16.12: The Return of the King
November 16, 2012 | Posted by
Thanks to the fantastic TEK_Designs for my lovely banner.
---
UFC 154: St. Pierre vs. Condit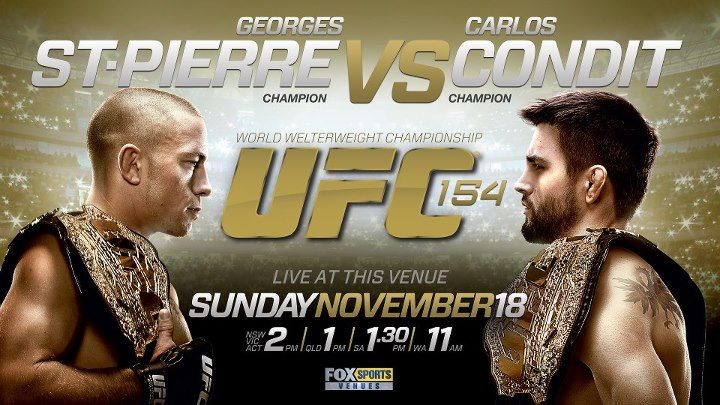 On the week that the UFC marked 19 years of being in business, it is somewhat fitting that Saturday night will see the return of one of the biggest stars in their history.
When the Ultimate Fighting Championship was conceived in 1993 as a small, no holds barred martial arts competition in Denver, Colorado few could have foreseen the day when one of their fighters would consistently draw over 800,000 buys on Pay Per View.
Georges St. Pierre (22-2) is unquestionably the biggest star the UFC has produced in the last few years and the biggest draw in the sport at present. After a difficult 2012, which has seen PPV buy-rates fall and injuries scupper numerous big fights, the UFC will be happy to see their big name star return to the fold. With the event marking GSP's first fight in 18 months and taking place in his home town of Montreal, the UFC will be expecting the PPV do produce big numbers.
It is astonishing to think that it has been over a year and a half since welterweight king Georges St. Pierre last defended his UFC Championship, that being against Jake Shields in April 2011 on the huge UFC 129 card in Toronto, Canada. Since then the greatest welterweight fighter in the sport's history – and one of the pound for pound greatest of all time – has had to endure a horrible injury ravaged period in his career.
In modern sport, a torn anterior-cruciate ligament no longer spells the end of a high level career. Medicine and rehabilitation methods now mean that a performer is able to return from such a devastating knee injury and continue to perform at their best. Nevertheless, questions are naturally going to be asked about whether GSP can return to peak form following his blown knee, as there are numerous other examples of top athletes returning from ACL surgery as shadows of their former selves.
Ominously, there are questions hanging over St. Pierre about whether he has rushed back too soon from his knee trouble, with even his trainer Firas Zahabi noting that he would have preferred for GSP to spend more time rehabbing his knee and return in early 2013. As much as "Rush" has assured his fans that he is "physically at one hundred percent", one cannot help but wonder whether GSP's eagerness to return to the Octagon might have clouded his judgment and caused him to return to active competition earlier than perhaps he should have done.
Many would hope for a tune up fight after a return from major surgery but GSP is being thrown straight in with the wolves, so to speak. Carlos Condit (28-5) is one of the best welterweight fighters in the world at present. He is well rounded, durable, has proven knockout power and has finished all but two of his opponents. Under normal circumstances, Condit would be a serious test for the UFC 170lbs champion. Under the present circumstances, Condit becomes perhaps the biggest threat to St. Pierre's long title reign.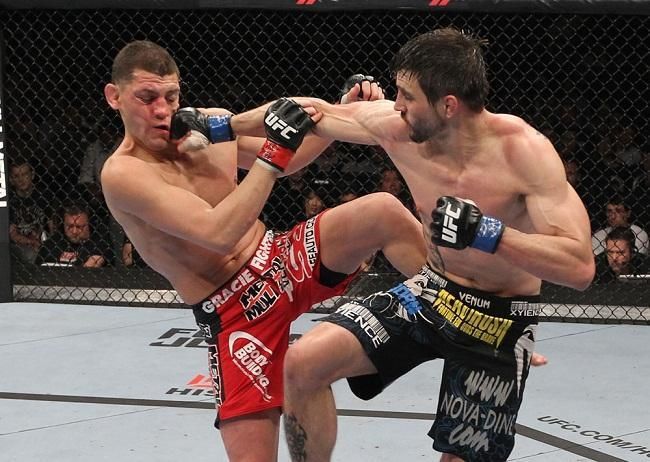 Condit, of course, is a UFC champion himself at present. During St. Pierre's absence, "The Natural Born Killer" captured the UFC Interim Welterweight Championship from Nick Diaz in a closely contested battle. Condit won that fight on all three scorecards, much to the chagrin of Diaz and his supporters. Whether you agree with the judges' decision in that fight or not, however, it cannot be denied that it was a tremendous tactical performance from Condit, who used different levels, body punches and kicks to great effect to keep his opponent guessing. He also used his movement to his advantage, constantly circling away from Diaz and neutralising the effectiveness of his Stockton opponent's boxing skills in close quarters.
Condit demonstrated in the Diaz fight how tactically astute he has become as a fighter and this is something which St. Pierre has prided himself on, ever since that upset loss to Matt Serra back in 2007. GSP is now renowned for his fighting intelligence, rarely diverting away from his set gameplan and limiting his mistakes to an absolute minimum. After 18 months away from the Octagon, however, we cannot be certain that St. Pierre will be as systematic as usual and if he were to make a mistake, as a result of ring rust, then Condit is precisely the type of fighter who would punish him for it; "The Natural Born Killer" nickname is no coincidence, Condit has phenomenal killer instinct.
St. Pierre's knee will understandably be the big talking point heading into this contest and Condit has already stated that he will have no qualms about targeting his attacks on GSP's surgically repaired leg. One would expect, then, for the American to use a lot of leg kicks during this fight to test whether St. Pierre's knee is truly fully healed, as the Canadian has claimed. Under normal circumstances, this would be a risky tactic as St. Pierre has evolved into the very best wrestler in Mixed Martial Arts. A leg kick would usually serve as an invitation for the explosive "Rush" to charge forward with a single leg takedown and grapple his opponent to the mat. However, if GSP has lost a step following his surgery then perhaps his takedowns will prove less successful than usual. If St. Pierre's timing is off, by even a little, then Condit is liable to punish him for it by greeting him with a knee or kick to the head.
Regardless of this, in the grappling stakes St. Pierre would still have to be favoured. Condit's tall, lanky frame means that his takedown defence is relatively poor and GSP will be hoping to exploit that throughout this contest. "The Natural Born Killer" makes up for his weak sprawl, however, with a very active jiu-jitsu game from his back, with his guard particularly difficult to pass, and this is something which GSP will have to be wary of. Condit will likely want to use his active guard to attempt submissions and sweeps so as to get the fight back to a standing position. This will be easier said than done against St. Pierre, who tends to smother his opponents when he gets them to the mat and is effective with ground and pound from any position, which makes it incredibly difficult for fighters to find openings to escape the onslaught.
If Condit is able to keep this fight standing, it will be an interesting tactical battle. Condit possesses a diverse striking arsenal, which means that his opponents are unsure of what attack he will throw next. His punches, elbows, knees, kicks and spinning attacks will all present problems for St. Pierre, and GSP will need to be especially wary when clinching with Condit, as the American's knees can be lethal in that position. GSP is no slouch on the feet though and many often forget that when the Canadian first entered the UFC, he was one of the most exciting and feared strikers in the sport. His kicks remain something to be very wary of, and his superman punch to leg kick combo is still one of the most effective combinations in the sport, but GSP's boxing has also now evolved to some of the very best in the sport, thanks to tutelage from renowned coach Freddie Roach.
Both men will be looking to dictate the striking exchanges and use their strikes to keep their opponent on the outside. Ever since GSP broke Josh Koscheck's orbital bone in 2010, people have discussed the effectiveness and accuracy of the Canadian's jab. Expect him to employ it tomorrow night too to stop Condit from finding any kind of rhythm in the Octagon. Condit is likely to do the same, as well as incorporating leg kicks to maintain his range, and you can expect him to constantly move and circle as he did in the Diaz fight.
Another significant issue regarding St. Pierre's knee is, if Condit is able to cause damage to that area and GSP begins to feel a recurrence of the injury, how will the UFC Welterweight Champion respond? The Canadian enters every bout in top physical and mental shape and his confidence often comes from the knowledge that, wherever the fight goes, he will have the advantage and from his scientific gameplans which ensure that he limits the potential of putting himself in danger.
However, in previous fights, when things have happened which St. Pierre has not planned for, his mentality seems to change. In title defences against Jake Shields and Thiago Alves, GSP came up against adversity. He was accidentally poked in the eye against Shields, which caused damage to his left eye, and against Alves he tore his groin late in the fight. In both instances, GSP's confidence clearly took a knock once he realised that he was not able to fight at one hundred percent and it took the motivational skills of coach and cornerman Greg Jackson – who, significantly, will not accompany either St. Pierre or Condit to the Octagon on Saturday night – to help the Canadian to fight through those issues. Against Alves, St. Pierre was able to gut out the final round by controlling his Brazilian opponent on the ground but against Shields, St. Pierre clearly let the eye injury affect him and his striking attacks became shockingly one dimensional and predictable. If an injury were to affect GSP in a similar way tomorrow night, and his offence became predictable, then Condit is liable to take full advantage.
And, indeed, confidence could play a big factor in this fight for both men. If St. Pierre is able to secure an early takedown on the Interim Champion or quickly find his rhythm in the striking exchanges, then Condit is unlikely to be able to find a foothold in the contest and we may see GSP completely dominate. On the other hand, should Condit defend an early takedown or land some significant strikes early, then we will see his confidence grow and St. Pierre's diminish, putting the advantage squarely in the corner of "The Natural Born Killer".
The Verdict: Will we see the Georges St. Pierre of old tomorrow night or will Carlos Condit be able to take advantage of GSP's long layoff and bring an end to one of the most historic title reigns in the history of the UFC? The simple fact is that until we see St. Pierre compete, we cannot know for sure whether his knee is back to its best and whether the Canadian can once again compete at the near-invincible standard he did before. The Interim Champion Carlos Condit presents a significant test for the true welterweight champ and if St. Pierre has lost a step or makes a mistake then Condit, who has the better chance of the two men of finishing the contest, could well leave Canada having unified the titles. However, one simply cannot pick against the peerless St. Pierre. GSP remains the most well rounded fighter in the sport, even after 18 months on the sidelines, and if he can stick to his gameplan as well as he usually does then he will be able to control the majority of this fight. Condit will present a severe test for the 170lbs king, but expect Georges St. Pierre to reclaim his position atop the welterweight pile with a unanimous decision victory.
---
Video Interlude
Don't forget that the third and final episode of UFC Primetime: St. Pierre vs. Condit, airs tonight.
---
Quotes of the Week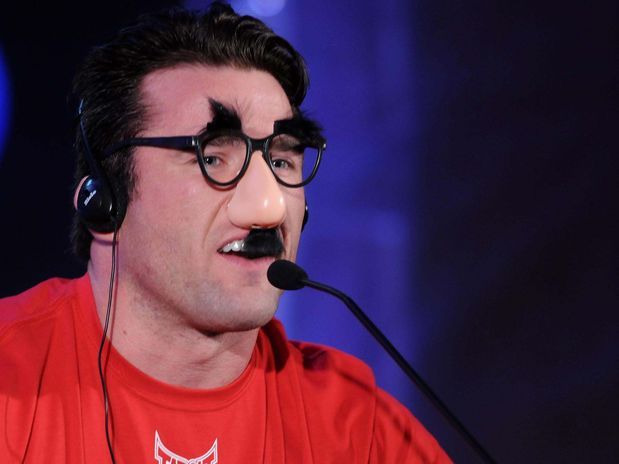 "I'd like to congratulate Ronda Rousey on becoming a pioneer in this sport. It's well deserved and overdue. Looks like Mitt Romney has a new favourite fighter and Rampage Jackson has another opponent he can't beat." – Chael Sonnen managing to simultaneously praise and insult people. He's got this down to a science now.
"If that happens, it happens, great, I'll be rooting for Josh Koscheck I guess. I'm not in love with either of the guys, but Koscheck is a guy I've already fought once, and he's definitely a good fighter and everything. I wouldn't take that away from him. Maybe it's just the way I see Nick interact with the media. I look at him and shake my head like, 'What the hell?' I guess that's part of the fun with him is the way he responds to certain things, and the antics that he pulls in the Octagon. It's entertaining like the Jersey Shore is entertaining or Honey Boo Boo is entertaining. It's a freaking train wreck, yeah, of course it's going to get ratings and everything and people are going to talk about it, but it's not my preference, to be honest. I'm still rooting for Josh Koscheck, if that fight happens." – Mike Pierce appears to have misunderstood Nick Diaz as someone who craves the spotlight when, in fact, he actively avoids it. Whatever.
"It's not just Ronda, it's not just myself, that's for sure. If Ronda's coming over to the UFC obviously there's going to be a division around that, it's not just Ronda. I know Ronda's getting a lot of the credit and what not, but she didn't have a lot to do with from the ground up. We're at the top of the mountain now that's kind of how I feel anyways, with this accomplishment coming into the UFC, we've kind of reached that final goal. But we had to start at the bottom and a lot of the pioneers Tara [LaRosa], Marloes [Coenen], Molly Helsel, the girls that were really fighting back in the day before we were making any kind of money, or there was any kind of publicity, or much acceptance of it. We were fighting for this, right here, right now. She's getting a lot of the credit and the limelight, but people who follow the sport understand there was a lot more getting to this point. I hope people can recognize that and give all the women that have worked really hard some credit. I would love to be a part of the first women's MMA fight in the UFC, but if I'm not I'm not going to focus on the negative. I've just been thinking about that a lot, my goal is to get into the UFC regardless and at this point I consider myself in the UFC. It's happening, Dana's made it very clear that it's happening, and amongst personal talks with him and Sean [Shelby] and everyone I'm definitely pretty sure the UFC's in my future." – Miesha Tate on women in the UFC.
"I like to play with it and say I'm hated everywhere I go. But to be honest, that isn't the case. I think you get a lot of people together, and there's a pantomime effect, the old boo or whatever. But generally, for the most part my interactions with the UFC fans, they're always positive. Certainly on Twitter, everyday I almost get 20 messages with people saying, 'You know, I used to absolutely hate your guts, and now you're one of my favorite fighters.' So that's nice. Obviously it's always nice to be appreciated. But it's not necessarily anything I've consciously done or changed. I think maybe, just over time, people are warming a little. Who knows?" – Michael Bisping thinks the fans are starting to warm to him. I already anticipate numerous comments on this article disputing your hypothesis, Michael.
":)" – Dana White tweets his reaction to the UFC's signing of Ronda Rousey and the impending demise of Strikeforce.
---
Pound for Pound Rankings
Two pound for pound fighters in action this weekend as No. 4 ranked Georges St. Pierre faces No. 9 ranked Carlos Condit to unify the UFC Welterweight Championship. Whoever wins this intriguing contest tomorrow night will surely see themselves ranked higher in these rankings next week.
Could we see this fight soon?
1. Anderson Silva (33-4)
2. Jon Jones (17-1)
3. José Aldo (21-1)
4. Georges St. Pierre (22-2)
5. Benson Henderson (17-2)
6. Junior Dos Santos (15-1)
7. Frankie Edgar (14-3-1)
8. Dan Henderson (29-8)
9. Carlos Condit (28-5)
10. Demetrious Johnson (16-2-1)
11. Gilbert Melendez (21-2)
12. Rashad Evans (17-2-1)
13. Renan Barão (29-1, 1NC)
14. Cain Velasquez (10-1)
15. Nate Diaz (16-7)
---
And that'll do it for another week.
I'll be back next week with my thoughts on UFC 154 and more.
If you enjoy the column please do follow me on twitter at AlexWattMMA
Thanks for reading and if you have any comments or feedback please leave them below or message me on twitter. Cheers.
NULL
comments powered by Disqus