Thoughts From Across The Pond 11.23.12: Gold "Rush"
November 23, 2012 | Posted by
Thanks to the fantastic TEK_Designs for my lovely banner.
I competed against Jonathan Soloman in this week's 411 MMA Fact or Fiction, to debate various MMA topics, including the Silva-St. Pierre super-fight. There was some dodgy judging and pro-U.S. bias, if you ask me, but otherwise it's well worth a read.
---
A Scorching Win Over Condit, But St. Pierre Cool On Potential Super-Fight With Silva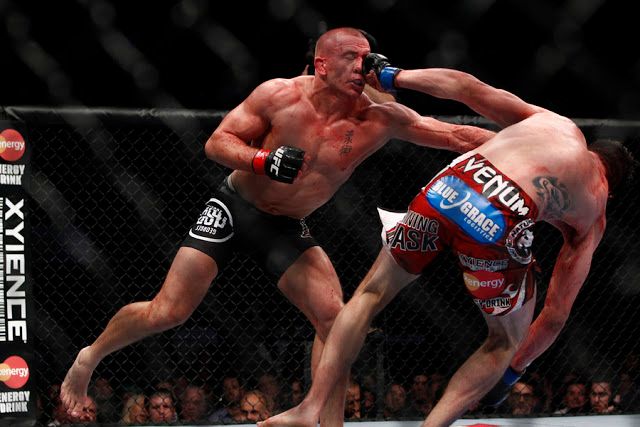 Georges St. Pierre made a triumphant return to the UFC's Octagon on Saturday night in Montreal, defeating a game Carlos Condit in a compelling, dramatic and bloody fight to unify the UFC Welterweight Championship of the World. Over five rounds, GSP turned in yet another dominant performance, displaying his accurate jab, powerful takedowns and grinding top control throughout, as well as a very welcome return to the aggressive style which coloured his early UFC fights, taking the fight comfortably on the judges' scorecards; 50-45, 49-46, 50-45.
It would be easy to argue that St. Pierre's win ranks as one of his most impressive, if not the most impressive, of his incredible career thus far. To return from such a devastating injury and a lengthy absence from active competition and turn in such a fantastic performance is to be highly commended and shows the type of athlete and personality that St. Pierre is.
Indeed, for the first two and last two rounds of the fight, St. Pierre was so dominant that I found myself stunned that an athlete who had spent 19 months out of the sport injured, could return and so freely dominate such a talented fighter as Condit. 567 days between fights and GSP still looked right at home inside the Octagon on Saturday night.
Even a scary moment in the third round which saw Condit land a solid head kick which dropped St. Pierre, managed to quieten even the most vocal of GSP's detractors. It was a rare lapse in concentration from GSP which led to the Condit left high kick landing squarely on his right temple and stumble to the mat. However, it allowed St. Pierre to demonstrate to his doubters that he is not mentally weak, he has got heart, and he can remain cool under heavy fire.
The argument that St. Pierre is quick to give up – something which stems from his sole career losses to Matt Hughes and Matt Serra, but conveniently overlooks his impressive comeback performance against BJ Penn in 2006 – was very quickly dispelled as GSP defended some heavy punches from Condit on the ground, ignored the haematoma which was rapidly swelling on his head, scrambled back to his feet and promptly took "The Natural Born Killer" down to dominate the remainder of the round. So impressive was St. Pierre's comeback in this round, that he won it on two of the three judges' scorecards.
What was abundantly clear in this fight is that GSP remains head and shoulders above every other man at 170lbs.
Which brings us onto the question of who will Georges St. Pierre compete against next.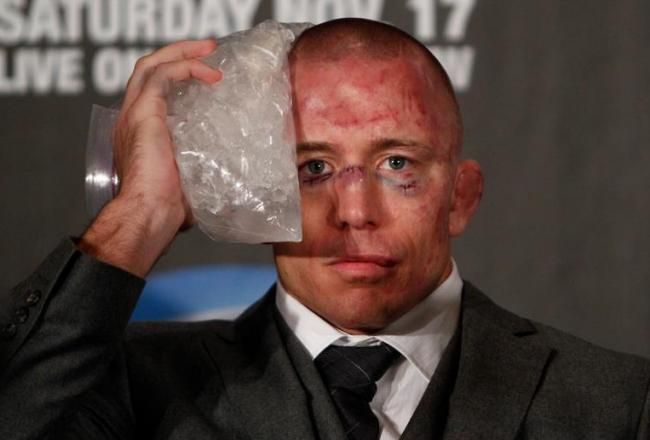 It seems pretty clear who the UFC wants it to be. UFC Middleweight Champion Anderson Silva was shown on camera numerous times during the St. Pierre vs. Condit main event in Montreal, with the UFC even going so far as to show him in the corner of the screen cheering GSP on for the entirety of the final round.
The UFC President has made his opinion known too. Dana White has been vocal in the past about the failure of Boxing to put together the Manny Pacquaio vs. Floyd Mayweather Jr. super-fight that fans of that sport crave and he has no intention of letting the UFC's equivalent fall by the wayside. White told Fox Sports after the fight;
"It's the No. 1 best pound-for-pound fighter in the world against the No. 2 best pound-for-pound fighter in the world. It's a big fight. We think people want to see it, and we think the guys want to do it, so we'll do it. They will fight, and it will probably be in May or around May."
As is always the way in MMA, however, not everyone is enthused about the idea of Silva fighting St. Pierre next, with one of those people potentially being St. Pierre himself. After his inspired UFC 154 win, GSP seemed cool on the idea of the Silva super-fight. One cannot necessarily blame "Rush" for such a lukewarm response to the notion of fighting Anderson Silva, given the circumstances. At the post-fight press conference, St. Pierre's face displayed every punch and kick he'd been caught with during the five round battle with Condit. Covered in purple bruises, cuts, and holding an ice pack to his temple to ease the swelling of a nasty haematoma, St. Pierre was in no hurry to discuss getting back inside the Octagon again.
One would expect that in a week or two, St. Pierre will be more responsive to the talk of fighting Anderson Silva. After all, he stands to make a great deal of money from the bout, which would surely be the biggest in UFC history. There is no guarantee, however. GSP has seen firsthand how a bigger fighter can dominate an equally skilled competitor from a lower weight class when he completely shut out fellow pound for pound great BJ Penn in 2009, in what was another super-fight at the time. This could be something which dissuades St. Pierre from a fight which stands to make him millions of dollars.
Some UFC fans have also been vocal in their displeasure at the talk of a Silva vs. St. Pierre fight, something which is somewhat baffling to this writer. This isn't simply a case of the best two fighters in the sport today competing against each other, it's a case of the two greatest fighters in the history of the sport going toe to toe. An opportunity like this tends to come along but once in a generation.
The fans who are dissatisfied with the potential St. Pierre-Silva fight, point to a bout they wish to see more; that of the relatively new kid on the block Jon Jones fighting Anderson Silva. The two super-fights aren't mutually exclusive, however. If Silva were to defeat St. Pierre, then you can expect the UFC to begin a move towards a Jones vs. Silva fight. In fact, Dana White has gone on record as saying that he "will" make that fight happen.
The other argument from the naysayers is that the size difference will simply be too much for St. Pierre to handle. But you cannot simply write off a fighter of GSP's calibre. Yes, Silva would enter that fight as the favourite but St. Pierre is one of the most tactically astute competitors in the sport and he and his team would undoubtedly formulate a fantastic gameplan for the occasion. We have witnessed "The Spider" struggle against high pressure wrestlers in the past (Chael Sonnen, of course, being the name which immediately springs to mind) and one cannot foresee Silva pulling off another last ditch submission from his back against a fighter as skilled and self aware as St. Pierre.
Of course, as those against the Silva-St. Pierre super-fight will be quick to point out, there is another option next for St. Pierre; a challenger at welterweight.
Johny Hendricks, who scored an explosive 46 second knockout win over Martin Kampann in UFC 154's co-main event, is the main challenger for St. Pierre at welterweight. Hendricks has certainly earned his right to a title shot with wins over Kampmann, Jon Fitch and Josh Koscheck, and many have proposed that it should be Hendricks, and not Silva, whom GSP fights next. I, for one, would not necessarily be averse to "Bigg Rigg" facing GSP next; after all, it could help St. Pierre "tune up" some more, so to speak, as only having one fight in 19 months is not the greatest preparation for the challenge of facing the best pound for pound fighter on the planet.
Nevertheless, Anderson Silva vs. Georges St. Pierre is the big money fight for the UFC. It would be a big risk for GSP to take another fight prior to facing Silva, now that all the pieces have finally fallen into place for the super-fight to happen. What if the unthinkable happened and GSP lost to Hendricks? Potentially the biggest fight in UFC history would disappear as quickly as Hendricks landing a flush left hook.
We've been in this position before, on many occasions. Just when it looked like we were about to see the super-fight we craved, a bad performance or a new title challenger would prevent it from coming to fruition. Now, however, the opportunity for the fight is better than ever and the UFC have no intention of letting it slip through their fingers again.
Georges St. Pierre vs. Anderson Silva is the fight that the UFC need to make happen next. It is the best move for business and would all but guarantee a gigantic Pay Per View buy-rate for the UFC at a time when interest in the sport is dwindling in North America.
So, which fight do you want to see next; St. Pierre vs. Silva, St. Pierre vs. Hendricks, or another fight entirely? Let me know in the comments.
---
Video Interlude
---
Quotes of the Week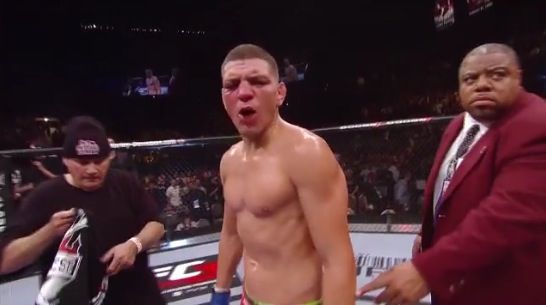 "I am not impressed by your performance [Georges St. Pierre]." – Nick Diaz opts to tweet the trash talk to GSP this time.
"I dropped him with a liver kick, hit him with a standing arm triangle, and it was a very dominant performance. The unfortunate part is that, in this world, people are okay if you take Xanax and testosterone and all these other drugs as long as a doctor prescribes them, but if you're prescribed medical marijuana because of your issues, it's not acceptable and they really frown upon it. . . . I know all these guys are taking testosterone and they have medical releases, and I'm hoping maybe I can talk to a commission or talk to somebody and maybe get the rules changed. I'm not asking to rip a tube right before I get in the Octagon. I quit pretty far out." – Matthew Riddle peeps through redenned eyes to discuss marijuana in MMA.
"We're definitely trying to prepare for his physical tools. His long reach, his boxing style that he has, but the biggest thing I had a hard time with so far – to be honest is we had my team-mates talk a little trash inside the octagon and have me stay calm. I actually have a hard time with that. Someone talks trash to me, I wanna talk trash back. I get emotional back to them. So I've been working on staying calm and collected and still doing my technique and not fall into his game. I gotta get a little more work on that though." – Ben Henderson is not just training for Nate Diaz's Boxing and Jiu-Jitsu skills.
"It's good for [Ronda Rousey]. I'm happy for the girls that fight, but me personally I have a hard time watching the girls fight. It's the way I grew up maybe, the mentality. I'm different, I'm old school, but I have a hard time watching girls fighting, it's hard for me. I never really watched a woman fight, but I know they are pretty good." – Georges St. Pierre discusses women in the UFC.
"Being old fashioned is fine, but us 'modern day' girls aren't asking for your protection, we are asking for your acceptance and we are fighting for equality. If everyone felt about MMA as GSP thinks he feels about WMMA, then he wouldn't have a job. I'm hoping Georges St. Pierre can open his mind a little bit and actually watch some women's fights. We're coming to the UFC for a reason and it would be nice to have one of my all-time favourite fighters' full support. It won't take long for him to realise we aren't these fragile little creatures when we enter the cage, we are warriors and every bit as deserving of respect as the men. . . . He is ignorant, Ignorant means uneducated and the fact that he has NEVER watched a women's fight so how can he say how he would really feel about it without seeing for himself. That's what I have an issue with, he has no CLUE how hard we fight and how tough we are." – Miesha Tate responds to GSP's comments on women's MMA with some strong words via her blog and Facebook page.
---
Pound for Pound Rankings
With an impressive return after over 18 months away, Georges St. Pierre returns to his rightful place as the No. 2 pound for pound fighter on the planet. With the loss to GSP, but a commendable performance, Carlos Condit drops down to No. 10.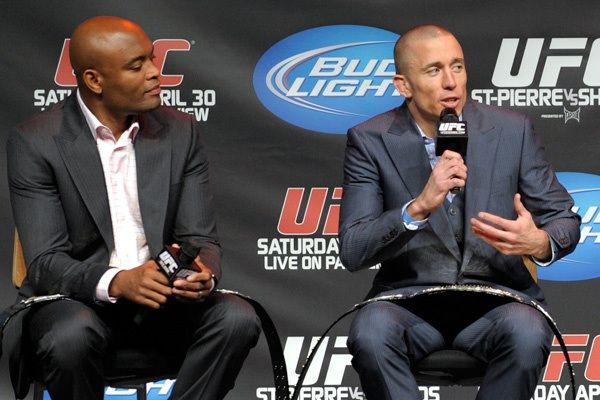 1. Anderson Silva (33-4)
2. Georges St. Pierre (23-2)
3. Jon Jones (17-1)
4. José Aldo (21-1)
5. Benson Henderson (17-2)
6. Junior Dos Santos (15-1)
7. Frankie Edgar (14-3-1)
8. Dan Henderson (29-8)
9. Demetrious Johnson (16-2-1)
10. Carlos Condit (28-6)
11. Gilbert Melendez (21-2)
12. Rashad Evans (17-2-1)
13. Renan Barão (29-1, 1NC)
14. Cain Velasquez (10-1)
15. Nate Diaz (16-7)
---
And that'll do it for another week.
I'll be back next week with my preview of BAMMA 11 and more.
If you enjoy the column please do follow me on twitter at AlexWattMMA
Thanks for reading and if you have any comments or feedback please leave them below or message me on twitter. Cheers.
comments powered by Disqus