Thoughts From Across The Pond 12.01.12: British Steel
December 1, 2012 | Posted by
Thanks to the fantastic TEK_Designs for my lovely banner.
Ahead of BAMMA 11 tomorrow night, I spoke with two of the men fighting for titles on the card. I interviewed Steven Ray, who fights Dale Hardiman for the inaugural BAMMA Lonsdale British Lightweight Championship, and Warren Kee, who faces Tom Breese for the inaugural BAMMA Lonsdale British Welterweight Championship. Make sure you check out both of the fascinating interviews on 411 MMA.
---
BAMMA 11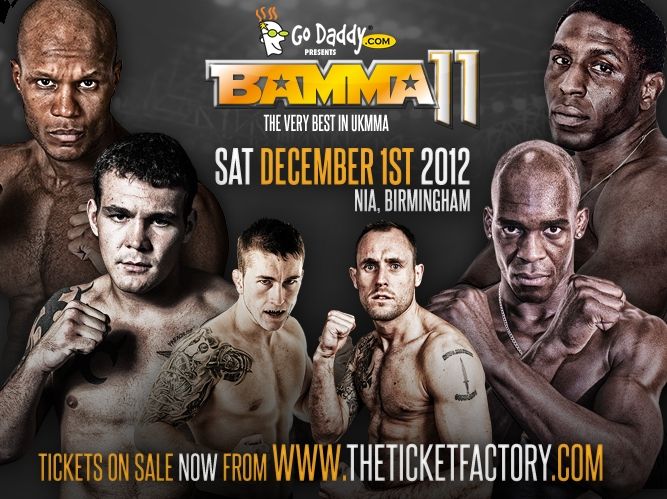 This Saturday, the British Association of Mixed Martial Arts present their eleventh major show. Emanating from the National Indoor Arena in Birmingham, England the event promises to be another entertaining affair from Europe's No. 1 MMA promotion.
As ever, the eyes of the UK's mainstream press will be focussed exclusively on one man; Alex Reid (9-9-1, 1NC), the UK middleweight who makes his return to the BAMMA cage for the first time since his loss to former BAMMA Middleweight Champion, and now UFC fighter, Tom "Kong" Watson in 2010.
To those outside of the UK "The Reidinator" remains a relative unknown; he made an unsuccessful attempt to get onto the ninth season of The Ultimate Fighter, losing to Dean Amasinger in a preliminary bout. In the UK, however, Reid is known as the man who won a series of Celerity Big Brother, who married Katie Price (aka. Glamour model Jordan) and who was recently the fiancée of another Big Brother winner Chantelle Houghton. Reid did well to push mixed Martial Arts further into the UK mainstream but also set it back because of his often bizarre behaviour and a lack of commitment to displaying himself as an athlete rather than a "bad boy".
It is likely that Reid will receive a frosty reception from a Birmingham crowd, eager to see the "celebrity" lose. However, despite his unflattering professional record it should not be forgotten that Reid is a veteran of the sport and a talented fighter in his own right. Although he only holds a 50-50 record, Reid has faced some top fighters during that time including Watson, Murilo "Ninja" Rua, Jorge Rivera, Matt Ewin, Mark Weir, Tony Fryklund and more. Against the relatively unknown Sam Boo (5-7) in what is, let's face it, a tune-up fight, Reid should have no trouble in showing why he is more than just a celebrity.
While, many of the casual viewing public will tune into Channel 5 to watch Reid, the true MMA fans will be looking forward to the evening's main event and the two British Championship fights.
The main event features former BAMMA Lonsdale British Middleweight Champion Jack Marshman (11-1) competing against former UFC fighter and journeyman Xavier Foupa-Pokam (22-18).
Marshman was stripped of his British title after unfortunately missing weight prior to his scheduled defence against Andrew Punshon at BAMMA 10. Marshman still won that fight fairly easily with a triangle choke after just 2:31 of the first round. In fact, "The Hammer" has looked dominant in all of his fights, with the exception of his sole loss to the far more experienced Tom Watson. Against the highly experienced, but inconsistent, Foupa-Pokam, the Brit has the opportunity to show his continuing development.
Both Marshman and "Professor X" have proven themselves to be talented strikers; Marshman with solid Boxing skills and Foupa-Pokam a quality Muay Thai striker. Should this fight stay on the feet, then it will make for a thrilling prospect, and could result in a stand-up war. More likely though is that Marshman will continue to display his growing maturity and intelligence as a Mixed Martial Artist and take the fight to the ground. Foupa-Pokam has never looked comfortable when fighting from his back, with the majority of his 18 losses coming from submissions or strikes on the ground. If the serviceman Marshman can grapple his French foe to the mat, then this main event is likely to be over before the conclusion of round one.
Rounding out the BAMMA 11 main card are two British Championship contests. The first, for the inaugural BAMMA Lonsdale British Lightweight Championship, features Steven Ray (11-3) taking on Dale Hardiman (9-3). This is a great fight to crown the first champion, as it features two well rounded British fighters. I favour the Scottish Ray, making his BAMMA debut, to be most dangerous in the early rounds, as he is an explosive fighter who hunts for the early finish. However, should this go past the second round Hardiman, who has proven his ability to go the distance before, may well begin to take control.
The second title contest, for the BAMMA Lonsdale British Welterweight Championship, features hometown boy Tom Breese (5-0) fighting Warren Kee (7-1-1) to determine the inaugural champ. Breese perhaps enters this fight as the favourite, as he is one of the brightest prospects in UK MMA and has finished all of his five fights before the conclusion of the second round in dominant fashion. Don't sleep on the talented Kee, however, who is one of the best in England at bringing a relentless pressure style against his opponent. Both Breese and Kee have exciting styles and fight at a fast pace; if these two are at their best on Saturday night, this one could well take the unofficial Fight of the Night honours.
BAMMA 11 takes place this Saturday (December 1st) live from the National Indoor Arena in Birmingham, England.
Tickets for the event can be purchased here.
The main card of the event will be broadcast live in the United Kingdom on Channel 5 from 11pm (GMT).
Internationally BAMMA 11, presented by Go Daddy.com, will be shown on AXS-TV (US), The Fight Network (Canada), Red Media (RUSSIA), TV Esporte Interativo (Brazil), Setana (Africa) and TDN (Latin America).
And don't forget that Jon Butterfield and I will be live from press row on Saturday afternoon to cover BAMMA 11 for 411mania. Make sure you check out our live coverage on the site from 4.45pm (GMT) / 11.45am (ET).
---
Video Interlude
---
Quotes of the Week
"This fight is the cherry on the sundae. He wants to fight me so he can then retire. I would like to fight him too, but after I fight him and win the fight, what happens next? These days, yeah, there's a lot of money to be made, but I don't fight for the money. My motivation is to be the best. Like we said, to be the Wayne Gretzky of my sport. So if I fight him, what happens next? It will be over. So yes, I want the fight, but I want to take it when I decide the time is right, not when he wants the fight to happen. On top of that, he weighs 234 pounds; I weigh 188. So there's a big weight difference. I've fought guys who were bigger – I'm not scared of him – it's just that I will take this fight when it makes sense for me. I just came back from an injury, there's money to be made, there are fights in my weight class, other challenges out there, and if I fight him, I will have to gain weight, while he will have to lose weight, and then afterwards, I won't be able to come back to my weight class. First and foremost, I have things to do at 170 pounds. When I am ready and when I want the fight, that's when it will happen." – Georges St. Pierre dampens hopes of the Silva-GSP super-fight even further.
"I would say 90 percent of UFC fighters use performance enhancers. While a lot of people believe doping tests work, just like a breathalyzer test you can get away with it by just controlling timing. Most of the steroids user just cycle and get by the tests. It's almost like other athletes look down on you as an idiot if you don't do steroids. It's like non-users are bicyclists while steroid users are racing with motorcycles. But I am one of those 'idiots' that don't use performance enhancers." – Dong Hyun Kim becomes the latest UFC fighter to make claims about the alleged widespread nature of PED use in MMA.
"It all depends on this fight. My trainer thinks I'm not quite ready yet. When he thinks I'm ready to go up, I fully intend to do it. Once I beat Frankie Edgar, I'm sure I can prove that I can fight one [weight class] above. I would like to go up and obtain the championship, then go back to my category. If I could keep both [I will], however if not, I would like to fight for the title in the category above and then go back to mine. . . . I have been at that weight [bantamweight] once. Nobody has beaten that record [of three titles] yet. Andres knows that's a dream of mine, but he controls my career." – José Aldo plans on holding the 135lbs, 145lbs and 155lbs belts at the same time. This is an ambitious 25 year old.
"Far be it from me to look past Vitor. I'm trying to make this fight more significant. I'm concerned that I've got my hands full. It's not going to be easy. We're fighting in Brazil. He hits hard. But I think I'll weather the storm and he'll become a punching bag. It's well documented, rightly or wrongly, that Vitor gasses quickly. He does slow down after the first round. Obviously, early for me is going to be the most dangerous. The longer the fight goes, he'll start turning into a walking punching bag. At least that's the plan. It's easier said than done. He's going to come out hard and fast, and he will be dangerous. He's a big middleweight. He's been a heavyweight [tournament] champion, and was a light heavyweight champion back in the day. But these are the kind of fights I'm going to take if I want to back up my talking." – Michael Bisping plans on turning Vitor Belfort into a walking punching bag.
"Unfortunately, pretty much it is. You know, it's almost like in Nick's case, he figures he's fighting his opponent and he's fighting the judges. So he's gotta finish people. These guys fight like that anyway. They're gonna fight their hearts out for the team, for themselves, and for the fans. So that's not gonna change. And, end of the day, I think that's what we all respect so much about these guys. So yeah, unfortunately, you know, you gotta get those finishes. Or maybe win something so lopsided we get the decision. We saw that with B.J. Penn. I've never seen a close decision where the nod was given to the Diaz's. If it's close they're gonna lose. I don't know why. I think maybe the judges really don't care for them that much." – Cesar Gracie doesn't believe MMA judges are giving the Diaz brothers a fair rap.
---
Pound for Pound Rankings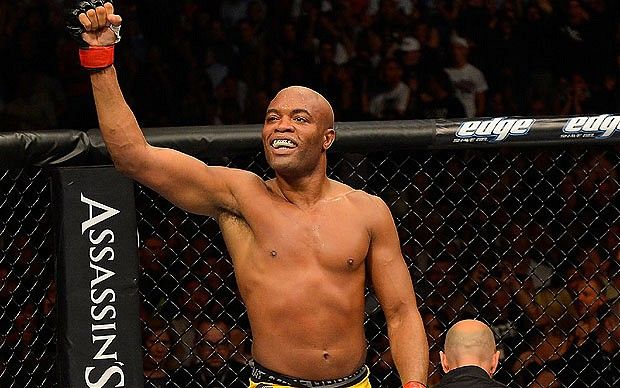 1. Anderson Silva (33-4)
2. Georges St. Pierre (23-2)
3. Jon Jones (17-1)
4. José Aldo (21-1)
5. Benson Henderson (17-2)
6. Junior Dos Santos (15-1)
7. Frankie Edgar (14-3-1)
8. Dan Henderson (29-8)
9. Demetrious Johnson (16-2-1)
10. Carlos Condit (28-6)
11. Gilbert Melendez (21-2)
12. Rashad Evans (17-2-1)
13. Renan Barão (29-1, 1NC)
14. Cain Velasquez (10-1)
15. Nate Diaz (16-7)
---
And that'll do it for another week.
I'll be back next week with my in-depth preview of the UFC on FOX main event between UFC Lightweight Champion Benson Henderson and challenger Nate Diaz.
And don't forget to follow mine and the elusive Jon Butterfield's live coverage of BAMMA 11 tomorrow afternoon on 411mania.
If you enjoy the column please do follow me on twitter at AlexWattMMA
Thanks for reading and if you have any comments or feedback please leave them below or message me on twitter. Cheers.
NULL
comments powered by Disqus