Thoughts From Across The Pond 12.08.12: A Missed Opportunity
December 8, 2012 | Posted by
Thanks to the fantastic TEK_Designs for my lovely banner.
I realise I promised an in-depth preview of Henderson vs. Diaz in this week's column, but my time got taken up with writing the BAMMA article. Apologies for that. Suffice it to say, I expect the UFC on FOX main event to be one of the best fights of the year, and I'm predicting Nate Diaz will take a close decision win when it's all said and done.
Also, thank you to Izzy Carnwath and BAMMA for allowing Jon Butterfield and I to attend BAMMA 11 on press row in Birmingham last weekend. You can read our full report of the highly enjoyable show here.
---
BAMMA and Channel 5: A Missed Opportunity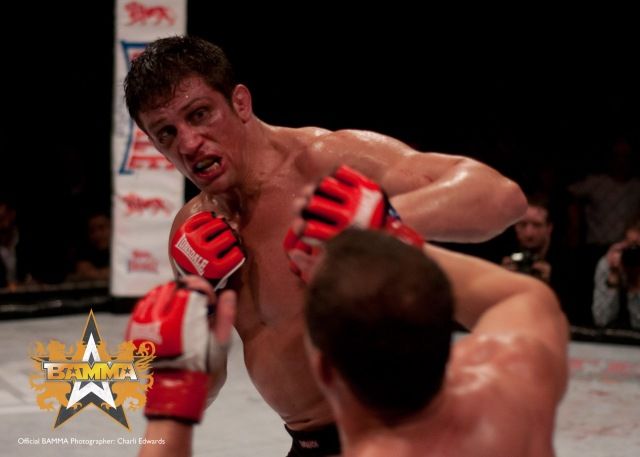 On Saturday 1st December BAMMA made history when it became the first Mixed Martial Arts company to broadcast a fight live on terrestrial television in the United Kingdom. This represented a big moment for UK MMA, and for the sport as a whole, as BAMMA and Channel 5 had the opportunity to present a positive image of the sport to the wider public in this country; a place where the sport remains widely misunderstood due to the negative exposure it receives in the tabloid press.
Unfortunately, on Saturday night at BAMMA 11, both parties completely failed to exploit this opportunity.
The alarm bells had started ringing when it was announced in the arena that Alex Reid vs. Sam Boo would be the last fight presented so that it could be broadcast live at 11pm. Then the news began to filter through on Twitter that Channel 5 was billing their broadcast as "BAMMA 11: Alex Reid Returns".
Prior to the event, held last Saturday at the National Indoor Arena in Birmingham, England, much emphasis and promotion time had been placed on the two British Championship fights and the supposed main event between army paratrooper and MMA prospect Jack Marshman and veteran Xavier Foupa-Pokam. Reid vs. Boo would still be on the main card, of course, but it could not rival the importance of Marshman vs. Foupa-Pokam or of the four British fighters striving to capture championship belts.
That all changed dramatically on Saturday night and Marshman, Foupa-Pokam, Tom Breese, Warren Kee, Steven Ray and Dale Hardiman must all have felt disappointed that they had would receive little to no TV exposure in order to accommodate the unpopular Alex Reid.
It is clear that the Reid vs. Boo fight was chosen to capitalise on "The Reidanator's" semi-celebrity status and name value in the United Kingdom. However anyone with even a limited knowledge of the sport should have known that a fight between a 9-9-1 fighter, who had fought just two times in five years prior to Saturday, and a 5-7 rookie, who does not even compete in MMA full time, would not produce a fight befitting of the status of the first live MMA fight on UK television.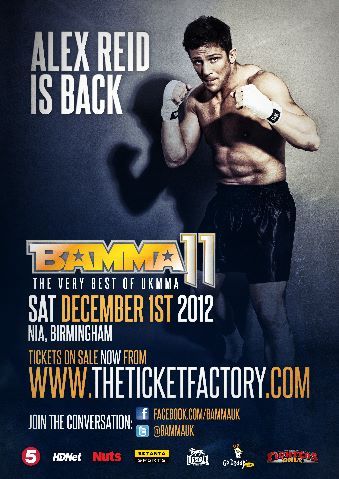 Channel 5 and BAMMA were also likely attempting to recreate the success of BAMMA 4 in September 2010. The event was headlined by a BAMMA Middleweight Championship fight between Tom "Kong" Watson and Alex Reid. Reid's name value helped to lure 835,000 viewers to watch the main event on Bravo, making it the most watched MMA event in UK history.
The difference between Watson vs. Reid and Reid vs. Boo are vast, however. The former was a championship fight featuring the best 185lbs fighter in the UK and a highly motivated challenger. Reid's determination and toughness, combined with Watson's skill and experience, meant that those fans who had tuned in were treated to a fantastic fight and a worthy advertisement for UK MMA. In addition, although many people tuned in to watch Celebrity Big Brother winner Reid, they were soon introduced to the talent of the humble Watson. It was a win-win for BAMMA; they exploited Reid's name value and in turn advertised their best fighter (at the time) in Watson.
Contrast that now with Saturday's Reid vs. Boo fight. Boo is largely unknown, while Reid does not appear committed to the sport at present. Both have to be considered mid-level fighters, and that is perhaps being kind. Ultimately, the contest was very sloppy, and not in an exciting Griffin vs. Bonnar way. Reid and Boo both looked tired after just 5 minutes of combat, both were deducted points for fouls (illegal knees) and both looked cautious and unwilling to over commit. It was a dull, ugly fight which proved to be a massive anti-climax to fans and journalists in attendance, and was a terrible example of MMA for any first time viewer.
BAMMA 11 was a highly enjoyable event, with the majority of the fights delivering high on the excitement scale. However, on the Channel 5 broadcast fans saw only the disappointing Reid vs. Boo fight and the final round of Marshman vs. Foupa-Pokam, which did a huge disservice to the Welshman and the Frenchman who delivered one of the best fights of the evening.
Indeed, although Marshman and "Professor X" may not hold the name-value of an Alex Reid for the causal viewer, it would have been a far better choice for the first live MMA fight on UK television. On the night, it delivered three rounds which epitomised the sport of Mixed Martial Arts. It was skilled, it was bloody, it was dramatic and it featured action on the feet and on the mat. In the end, Foupa-Pokam won a hard fought judges' decision over his badly cut Welsh opponent, after fighting out of two horrific looking armbar attempts and surviving a tight triangle choke along the way.
Marshman vs. Foupa-Pokam was a fight which held genuine importance in the development of MMA in the United Kingdom. Alex Reid vs. Sam Boo simply wasn't, no matter how much Channel 5 tried to make viewers believe that it was.
In the opinion of this writer, Channel 5 should have shown highlights of the Reid vs. Boo fight, after they had broadcast Marshman vs. Foupa-Pokam live. This way, casual viewers would have stuck around to see Alex Reid, but been treated to an entertaining multi-faceted MMA contest prior to that, which could have sparked their interest and persuaded them to seek out more BAMMA fights on the company's website or Youtube channel.
I've spoken and written many times on 411mania about the amount of uneducated and poorly written articles there are about Mixed Martial Arts in the British press. Still many in the UK see the sport as "brutal cagefighting" rather than a legitimate sport which features some of the most skilled athletes in the world. Fights like Boo vs. Reid will not have changed these opinions and will have done little to persuade the major sports news outlets that they need to start covering the sport in their newspapers and on their websites.
The UFC have succeeded in eradicating much of the ill will towards the sport in the U.S. thanks to the manner in which they promote their product. For their first live foray onto a major television network, the UFC presented a Heavyweight Championship fight between Junior dos Santos and Cain Velasquez. This weekend, the same company will return to FOX to present a Lightweight Championship bout between Benson Henderson and Nate Diaz, which all but promises to be a bonafide classic.
BAMMA and Channel 5 would have done well to promote a main event in a similar manner this past weekend. The Reid vs. Boo fight was an insult to the sport and how far it has come in such a short space of time. The fight, quite simply, wasn't the best fight that UK MMA had to offer and by shamelessly trying to appeal to those aware of Alex Reid's Z-list celebrity status, both BAMMA and Channel 5 wasted their first big chance.
We can only hope that BAMMA 12 in early 2013 will also be given the option of a live fight on Channel 5. If so, BAMMA need to persuade the channel to showcase two of their best fighters, such as a BAMMA Lightweight Championship bout between Rob Sinclair and Curt Warburton. If BAMMA and Channel 5 can learn from the mistakes they made this past weekend, then they can still present the sport of Mixed Martial Arts in a positive light next time around.
Remember to check out 411's full BAMMA 11 report.
---
Video Interlude
---
Quotes of the Week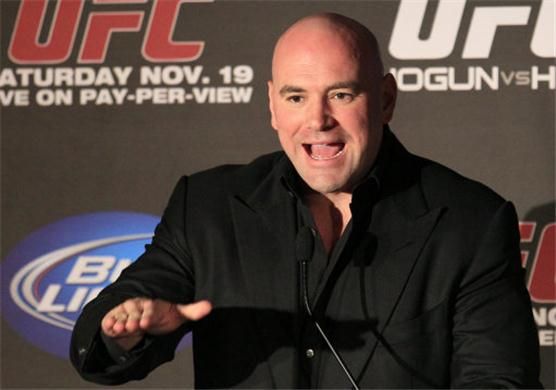 "Georges St. Pierre went on vacation. When he came back, we were talking about Anderson Silva. He said, 'I want Nick Diaz. Me and Nick Diaz have unfinished business. We were supposed to fight. That's the fight I want now.' Georges St. Pierre has been a phenomenal champion, a phenomenal human being and just a great guy to work with for us. He doesn't ask for things. If he wants to fight Nick Diaz, and Nick Diaz wants to fight him, that's probably the fight we'll make. . . . I haven't even talked to Nick yet. I was trying to track him down this week, which is always fun. So I called [Nick's brother] Nate [Diaz], and Nate told me, 'Listen, if you talk to him, tell him I'm looking for him, too.'" – Dana White reckons it'll be GSP vs. Diaz rather than GSP vs. Silva next.
"[The fight against Cris Cyborg is] going to happen eventually. I can't make these girls fight who don't want to fight me. [Liz Carmouche] was the only one who stepped up, and it speaks a lot to her. When the other girls come around, they know where I'm at." – Ronda Rousey on Cyborg and Carmouche.
"I'm having my few days of crybaby time per-se. I've allowed myself to be mad and be sad, you know, you go through the, 'why me stage?' What's the point, you know? If the fans can know how much [their support] helps me, they'll know right now: Thank you guys so much. I do this for you guys and I'm in a hurt spot right now. And the love that I get from the fans right now is really keeping me up and keeping me optimistic. My glass is half full right now because the fans have my back, they want to see me back and that means everything to me. This is the toughest thing that I have been through. And I'm completely heartbroken to let down the people who wanted to see me fight, to let down the UFC and to let down anyone in the bantamweight division. I'll be back. I'm not done. That's a promise, a guarantee." – Dominick Cruz fights back the tears as he discusses his failed ACL surgery.
"I'm really happy to be here right now. My mindset? It's just focused on hurting him, destroying him, getting the job done. I don't put too much effort or focus into thinking about my opponent, I just prepared the best I could, focused on myself and I'm ready to go. I didn't get into this sport for fame or interviews or TV, I would still be doing this if there was no cameras. I really like mixed martial arts. It's the passion in my life at the moment. I think I'm going to annihilate him in every field." – Rory MacDonald isn't short on confidence.
"I have to wonder what his intentions may have been in saying that. I always thought that Randy was my friend and a gentleman. I'm kind of confused why he would say that, but I'm here, anybody can find me any time and any place. If Randy really wants to fight me, he can fight me any time he wants. It would be for free, and it would be some place where there are no witnesses. I'm hoping it wouldn't get to that, and I don't know why it would come about, but if that's what he wants, he can get it any time he wants. I don't play by the rules. I'm sure one person will walk out. I'm a man of honor. I'm a gentleman, but I am a warrior, and if he needs to find me, he knows where to find me." – Steven Seagal rather bizarrely calls out UFC legend Randy Couture.
---
Pound for Pound Rankings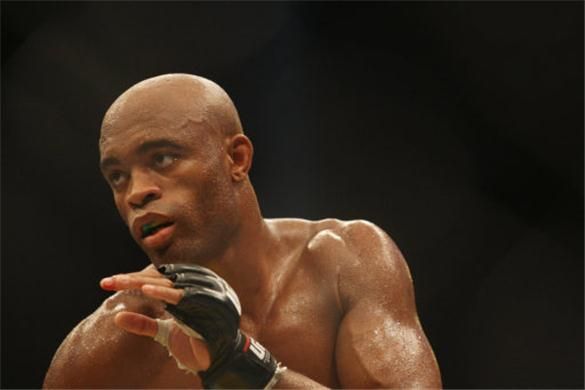 No. 5 ranked Benson Henderson takes on No. 15 ranked Nate Diaz tonight for the UFC Lightweight Championship. Who will emerge victorious and how will that affect the two men's rankings next week? Also in action this weekend are former pound for pound stalwarts BJ Penn and Mauricio "Shogun" Rua, taking on highly touted prospects Rory MacDonald and Alexander Gustafsson respectively. Can any of these fighters turn in an impressive performance at UFC on FOX and turn up on the pound for pound rankings next week?
1. Anderson Silva (33-4)
2. Georges St. Pierre (23-2)
3. Jon Jones (17-1)
4. José Aldo (21-1)
5. Benson Henderson (17-2)
6. Junior Dos Santos (15-1)
7. Frankie Edgar (14-3-1)
8. Dan Henderson (29-8)
9. Demetrious Johnson (16-2-1)
10. Carlos Condit (28-6)
11. Gilbert Melendez (21-2)
12. Rashad Evans (17-2-1)
13. Renan Barão (29-1, 1NC)
14. Cain Velasquez (10-1)
15. Nate Diaz (16-7)
---
And that'll do it for another week.
I'll be back next week with my thoughts on UFC on FOX and more.
If you enjoy the column please do follow me on twitter at AlexWattMMA
Thanks for reading and if you have any comments or feedback please leave them below or message me on twitter. Cheers.
NULL
comments powered by Disqus