The Big Screen Bulletin 1.07.08: The Best and the Worst of 2007
January 7, 2008 | Posted by

The Top 10 Best and Worst Films of 2007
As we enter this new year, I'd like to reflect upon 2007. Another year has passed, and it is time to again compile my annual top 10 lists. Some critics say they don't enjoy putting their films into lists. I'm not sure I buy that spiel. I love ranking all the films I've seen. Granted, I have not seen everything that was released this year, but I feel I have sat through my fair share. Yet again I have listened to critics, columnists, and others rant that this was a bad year for movies. Wrong. 2007 has delivered some brilliant pieces of cinema. If you feel that this has been a poor year, then you either haven't seen enough, or are overly harsh.
Of course the lists are varied as usual. Many of the films that were highly anticipated were, in my mind at least, disappointing. Last year, my #1 pick ended up winning Best Picture, but I doubt that will happen this time. Everyone's tastes are different, and when I discuss movies with others, I do my best to appreciate that, and further compare my preferences to that of other people. Normally however a couple films are released each year, where if people claim they did not like them, I say they're nuts. Oh well, that's just me.
I construct my top lists in a specific way. My goal, whenever possible, is to include films from many genres. Sometimes certain genres contribute all the best movies, and other times one specific genre has no worthy offerings (:cough: horror). The point is I pick my favorite films of the year, while also trying to cover each genre. I also factor in how the film is different with a second viewing. I noticed that some critics' lists include crossovers from 2006 to 2007. If they were released in 2006, they belong on a 2006 top 10 list. I have seen approximately 154 films this year. I did not see as many documentaries as I would have preferred, but I did see most of the good ones. Here are my top 10 best and worst films of 2007.
The Best
10. I'm Not There – In my review I stated that Director Todd Haynes's bizarre film was the 2001: A Space Odyssey of music biopics. I stand by that. This is not a movie for everyone, but at the same time, anyone can find the brilliance in it as I did. The performances from the star-studded cast are dazzling, the storyline is jumpy and thought-provoking in a positive way, and most importantly, it reveals Bob Dylan's life in a manner that he would have probably written in one of his songs. Sadly, this was not seen by many. Hopefully it gains an audience on DVD. review
9. Hot Fuzz – This was a stellar year for comedy, but when figuring out which comedies I enjoyed the most, Hot Fuzz was always there. This clan has dished out an uproarious action classic that is sure to get a better reputation with age. British humor normally takes some time to really get moving, but this may be the exception as the genius was apparent immediately. In my mind, this exceeded Shaun of the Dead in multiple ways. It combined elements of action, mystery, and comedy in a way that might not have been effective in another film. They got away with it because the cast and crew knew when to employ the laughs, shootouts, and shady murders. Due to what Simon Pegg, Nick Frost, and Director Edgar Wright did here, I went out and bought a copy of their show Spaced on DVD.
8. Grindhouse – As I said in the podcast, people seem to be confusing the box office failure of this movie with a critical one. Make no mistake, Grind House is a great film, and by far one of the best experiences I have had in a theater in quite some time. The problem is B-movies are evidently not for everyone. I love them. The faux trailers were hilarious, Planet Terror was a disgusting horror riot, and Death Proof was a suspenseful and intriguing story with great dialogue and top-notch car chases. Unfortunately the general public has an issue with spending over two and a half hours in a theater sitting down. That is a shame. You missed one hell of a ride.
7. Ratatouille – It is hard for any animated film to compete with Pixar. Ratatouille is yet another masterpiece in a collection of them since Toy Story. It is one of the best reviewed films of 2007, and for good reason. The world fell in love with the aspiring rat chef named Remy, voiced wonderfully by Patton Oswalt. Brad Bird directs this adventure, and honestly he surpassed our expectations with witty humor, a savory storyline, and an elegantly perfect ending featuring Peter O'Toole's bravura work as a strict food critic. The absence of the trendy all-star voice cast was wise, thus creating a firm bond with children and parents. Using a plot about French cuisine and rats, instead of the cuddly critters most commonly seen was a risk, but it paid off extraordinarily well with stunning animation construction, irresistible characters, and limitless imagination.
6. Juno – I would say Michael Cera had a pretty good year for himself. He will be more well-known for Superbad, but in Juno, he displayed his range. This is the second year in a row where Director Jason Reitman has appeared on my top 10 list. His adaptation of Thank You For Smoking was a stupendous satire, but now he has topped himself by merging his abilities with Diablo Cody's piercing, poignant, and honest script about a teen girl who becomes pregnant. Every single aspect of this film is perfect. The beginning credits, the soundtrack, the jokes, and the storyline. It all meshes wonderfully. Ellen Page leads a superb cast that could end up getting a nomination for Best Picture. We can cross our fingers. It deserves to be there more than Little Miss Sunshine did.
5. Paris, je T'aime – I could wager that most of you have not heard of this, but what a tragedy that is. I actually saw this in the theater. I think it was only playing at one theater in New York City, but I was mesmerized. Paris, Je T'aime is a compilation of 18 short stories, which are all set in Paris, France. The theme of love ties all these stories together. They are approximately 7-9 minutes in length. They are each directed by different people. All sorts of talented and versatile filmmakers from the Coens, Alexander Payne, Alfonso Cuaron, Tom Tykwer, and many others deliver shorts that are simply sensational. This is one of those pieces of art that has gone overlooked, but with luck, somebody will read this and seek it out. If this isn't persuasive enough, look forward to future installments of the same idea in other cities around the world. review
4. Zodiac – I didn't expect Zodiac to appear this high on the list because I saw it earlier in the year, loved it, but not enough to make it a top 10. I recently reviewed the Director's Cut DVD, which should be posted tomorrow, and upon a second viewing, I realized just how amazing and spotless this film is. Director David Fincher completed this mystery in the most insanely detailed way, yet came out with an accurate and properly swayed reenactment of the killings. Many thought it was too long, or had no closure, but if that is what you are concentrating on, you missed the point entirely. The length was necessary to be faithful to the events, and apprehending the killer was secondary to exposing the obsession which devoured Robert Graysmith and Detective Dave Toschi. I love David Fincher, and if there is one movie which needs to be justly nominated come Oscar season, it is this one.
3. Once – Here is the independent film I urged everyone I knew to go see. I wanted this film to gain an audience and positive buzz, so I dragged friends to it, wrote a review, and spread the word as often as I could. It is now on DVD, and I still feel more folks should see it. This is one of the best musicals in many years, and the music just beautiful and unforgettable. Glen Hansard, Marketa Irglova, and Director John Carney have done something extraordinary with a struggling musician and the woman who passes by and likes his songs. They have redefined what a musical can be. Pay attention to the music. It drives the story more than one might think. I have constant debates on the ending, but in my opinion, it is absolutely perfect. Nothing needs to be changed. Do yourself a favor, and go see this somehow. review
2. No Country for Old Men – Joel and Ethan Coen never cease to surprise moviegoers. I don't think anyone can predict how their films will resonate. Sometimes they are met with universal acclaim (Fargo), and other times the reaction is less than enthusiastic (The Ladykillers), but with No Country for Old Men, the brotherly duo did more than craft a masterpiece. They presented one of the most memorable villains in cinematic history in Antone Chigurh, played splendidly by Javier Bardem. Along with Bardem are Tommy Lee Jones, Josh Brolin, and Woody Harrelson who all turn in great performances. This ranks up with their finest offerings, and with all the awards it is receiving, it could be the Coens' year at the Oscars. review
1. There Will Be Blood – I saw this on December 26th, and I knew it would be tough for anything to surpass No Country for Old Men, and understanding how strange Director Paul Thomas Anderson can be with his films, I went into this with as open a mind as I could because honestly, I was anxious to see it. What resulted was the best film of 2007, and it has been praised and bashed in equal measure since its release, but this is a one of a kind experience. Daniel Day-Lewis unveils an explosive performance that is sure to get him a statue, and Paul Dano stands beside him with no trouble. There Will Be Blood has some of the most startling and gorgeous visuals of any picture this year. Many have criticized the final portion, but who expected a nice and tidy wrap up from PTA? I didn't, and yet I thought his ending was more than suitable. This is a classic, pure and simple. review
Honorable Mentions: Into the Wild, The Lookout, The Diving Bell and the Butterfly, In the Valley of Elah, Sweeney Todd: The Demon Barber of Fleet Street
The Worst
10.
Rush Hour 3
– This is not on the list because it is a disappointing popular movie. It is here because it legitimately should be. This was an insult to fans of the franchise, and total waste of my precious time.
review
9. Mr. Woodcock – I'm sorry, but I have had it with Billy Bob Thornton playing the same role over and over again with no attempt to alter it in any fashion. Seann William Scott is not funny in the slightest, and the whole film was just terrible.
8. Even Money – I realize not many of you have heard of this little gem, but if you see it in the video store and think "Wow, look at all those stars", slap yourself, wake up, and then walk away from that section. Kelsey Grammar embarrasses himself like no one in history as a grizzled detective with a fake chin. This was just bad, bad, bad. review
7. The Seeker: The Dark is Rising – The fans of the books might be upset, but this is one of the laziest and most pathetic attempts at a fantasy film to date. This was blatantly ripping off like 10 other movies, the acting is agonizing, and the plot is beyond paper thin.
6. Pathfinder – You know a movie is bad when the characters names aren't mentioned until the end credits. Plus, it is all action and sword fighting without character or plot development. Marcus Nispel is a dreadful director, and this is a dreadful film.
5. Because I Said So – A film that doesn't require your full attention is pretty damn bad. Diane Keaton is maddening to watch, the plot sucks, and I basically hated every second of this trash except Piper Perabo in a thong. In all truthfulness, it is also offensive in many ways.
4. Fred Claus – This is one of the most deplorable Christmas films in years, and if I was not a critic, I would have probably left early. Vince Vaughn can not rely on his trademark snappy dialogue, and Paul Giamatti should know better.
3. Perfect Stranger – I have questioned the abilities of Halle Berry for a long time, and this just supports my theory that she needs a talented director to hand in a satisfactory performance. I still can't believe the twists they wanted viewers to accept.
2. August Rush – Last I checked, this had an admirable rating on IMDB, and I cannot understand how that is possible. This is one of the worst, most hysterically awful piles of garbage I have seen all year. You have all these good performers associated with such a ludicrous storyline, such corny screenwriting, torturous editing, and an abomination of an ending. What a shame.
1. Stomp the Yard – Without question, no movie was more a waste of everyone's time than this. A couple titles come close, but it is hard to beat the unpleasantness my girlfriend and I endured during this so-called dance flick. Whoever greenlit this should have lost their job permanently. review
Dishonorable Mentions: Norbit, The Heartbreak Kid, I Now Pronounce You Chuck and Larry, Nancy Drew, The Nanny Diaries
Most Overrated Films of the Year
Hairspray
American Gangster – review
The Simpsons Movie
Most Underrated Films of the Year
Reign Over Me – review
The Mist
Breach
Most Overlooked Films of the Year
Black Book – review
The Host – review
Things We Lost in the Fire
Most Disappointing Films of the Year
Youth Without Youth
Sunshine
The Best Western Award Goes To….
The Assassination of Jesse James by the Coward Robert Ford – review
The Japanese Anime Award Goes To…
Paprika – review
You Should Watch This At Parties
Superbad (also the most enjoyable high school film)
This One is For All The Weirdos Out There
Bug
For the Gentlemen
Shoot 'Em Up – review
For the Ladies
Waitress – review
The Best Documentary of the Year
The King of Kong: A Fistful of Quarters
Don't Forget About This Either!
Gone Baby Gone
This Is A Fabulous Movie To Rent
La Vie En Rose – review
The Best Family Film Of The Year
The Great Debaters
2007 Straight to Video Nightmares
Bender's Big Score
Species: The Awakening
Walking Tall: Lone Justice
Superman: Doomsday
The Contract
Doctor Strange
Mirror Wars: Reflection One
The Contractor
Until Death
Half Past Dead 2
The Sandlot: Heading Home
The Dukes of Hazzard: The Beginning
National Lampoon's Spring Break
Walking Tall: The Payback
Cinderella III: A Twist in Time
Undisputed II: Last Man Standing
Farce of the Penguins
Best Direct-to-DVD Release of the Year – Bender's Big Score – review
The Top 10 Albums of 2007
Before I became a certified movie buff, music was my thing. I am always buying CD's, and prefer to have the artwork and the case instead if simply downloading it on iTunes. That takes away from the full package in my view. Additionally, the iTunes clip doesn't do the song justice. You never know what portion you'll hear. Anyway, I did complete one music review in 2007, and would have done more, but they have a good staff that pumps out the new releases regularly, so I focused on movies.
This year delivered several disappointing and/or mediocre albums from popular bands/artists. For instance The Smashing Pumpkins gave us the most bland rock disc of their career with Zeitgeist. Also, while the general public seems to have enjoyed Jay-Z's first concept album American Gangster, I found it to be one of his weaker efforts. It wasn't bad, just not as solid or consistent as the rest of his cannon. I still listen to plenty of music though, and am not limited to any genres. I love all types. Here are my top 10 albums of 2007, followed by a list of 20 random tracks from this year. You should check them out, and/or download them at your leisure.
10. LCD Soundsystem – Sounds of Silver/45:33 I cheated and made these two releases a tie because both are outstanding. It takes a superb record in order to convince me to buy anything remotely electronic in nature, but LCD Soundsystem is terrific. These are just good to sit and let play. You can chill, groove, or flat out dance if you need to. They have it all.
9. Dream Theater – Systematic Chaos If there is a picture of a rock band next to the word "underrated", it has to be Dream Theater. I don't think they have made an album to date that was bad. Sure some are better than others, but all in all, they always show up to to rock, and this is no different. I put it on my top 10 because it never gets old. I can put it in my player at any time of the day.
8. The White Stripes – Icky Thump Years ago, one guy I know made some grandiose statement about Jack White being the next legend of rock, or king of rock, something along those lines. I laughed at the time, not realizing that years down the road The White Stripes would be one of my favorite modern bands. These two never cease to astound me with new and intriguing sounds that are also addictive. This one is on critics' lists for a reason.
7. Robert Plant and Alison Krauss – Raising Sand I bought this after all the reviews went nuts for it. I wasn't sure what to expect from this combination, but I'll tell you, a nicer and sweeter album can not be found anywhere in 2007. Every song is slow and smooth, the lyrics are intelligent, and the mood is positive and easy. Plant and Krauss hold a chemistry I never thought possible. If you need to rest after a long day, this is the album I would put on.
6. Silverchair – Young Modern Fans of their earlier material would disagree, but no band has matured better than Silverchair as of late. Admittedly, when I first listened to this, I was a bit confused that Daniel Johns took the sound in this direction, but after multiple rounds, I began to understand why this made sense, and how brilliant it truly is. This is not an album made for a single. This is more of an experience that needs to be heard from start to finish.
5. Kanye West – Graduation I think this guy's attitude sucks, but I will not deny his talent. Late Registration was a tough album to follow, but Kanye West hit another homerun in 2007. This is one of the better rap albums I have heard in many years actually. No interludes or anything like that. Just track after track of excellent beats and creative lyrics. Despite the fact that "Stronger" was overplayed, the song was good enough that I didn't get sick of it.
4. Amy Winehouse – Back to Black Here is a confession. I became a fan of Amy's late in the game. Well after the media went berserk with her marital/drug problems. Nevertheless, her sound is infectious, and the songs are precisely the type of stuff I like to hear from a female. She mixes pop and doo-wop in such a brilliant way that her album is short, but certainly sweet. It is hard to dismiss the power of this sophomore effort. She is understandably annoying in the news each week, but let's not forget what brought her to the dance.
3. Bruce Springsteen – Magic You never know what kind of record you'll get from The Boss. It could be slow and steady, or upbeat. With Magic he unleashed a single that sounded so much like his early days that it was impossible for the entire world not to notice. Additionally, the rest of the album is great too. Bruce Springsteen is a marvelous musician, and he seems to be getting better with age, and that is rare.
2. Arcade Fire – Neon Bible 2007 was the year I became introduced to the Montreal-based Arcade Fire. I had glanced at the album Funeral in stores, but didn't hear anything spectacular enough to listen further. I read Rolling Stone's CD reviews regularly because they usually know what they're talking about. So when I saw that Neon Bible was getting such rave reviews from that magazine and everyone else, I gave them a chance. What resulted was one of the best albums of the year. These eleven songs are masterful, and the lyrics are magnificent. If you haven't heard this, do so now.
1. Radiohead – In Rainbows When I got wind that Radiohead was releasing their album for any price online, I thought for sure there was a catch. I was wrong, but no matter. If I liked it well enough, I'd buy the CD regardless. I was shocked to hear the legendary group's best album since OK Computer. Every song clicks and flows naturally. This is proof of just how great Radiohead is. As their sound evolved over the years, I was skeptical at the direction they were taking, but this new experiment reminded me of how much respect I have for them.
The Bulletin Compilation CD
1. Linkin Park – "Bleed it Out"
2. Sebastian Bach (featuring Axel Rose) – "Stuck Inside"
3. Dillinger Escape Plan – "Black Bubblegum"
4. Iron & Wine – "Flightless Bird, American Mouth"
5. Scorpions – "Humanity"
6. Bullet for My Valentine – "Scream Aim Fire"
7. Neil Young – "Ordinary People"
8. Monster Magnet – "4 Way Diablo"
9. Wu-Tang Clan (featuring Erykah Badu, Dhani Harrison, and John Frusciante) – "The Heart Gently Weeps"
10. Ozzy Osbourne – "Here For You"
11. Beyonce & Shakira – "Beautiful Liar"
12. Nine Inch Nails – "Survivalism"
13. Tori Amos – "Big Wheel"
14. MxPx – "Secret Weapon"
15. Foo Fighters – "The Pretender"
16. Queens of the Stone Age – "3's & 7's"
17. M.I.A – "Boys"
18. Yeah Yeah Yeah's – "Down Boy"
19. Finger Eleven – "Paralyzer"
20. Maroon 5 – "Makes Me Wonder"
The Best and Worst Posters of 2007
Anyone who has met me knows that I love everything about the movie experience. The trailers are a part of that, as well as the posters in the lobby. Strolling through the crowded lobby getting a peek at a future film you have been waiting for is a fantastic feeling. Furthermore, I love hanging posters in frames in my house. The thing is, some of my favorite movies have some of the worst posters, and vice versa. Every year, I like to salute the highs and lows of movie artwork. Keep in mind, the rating of the film itself means nothing.
The Best
Honorable Mention – 28 WEEKS LATER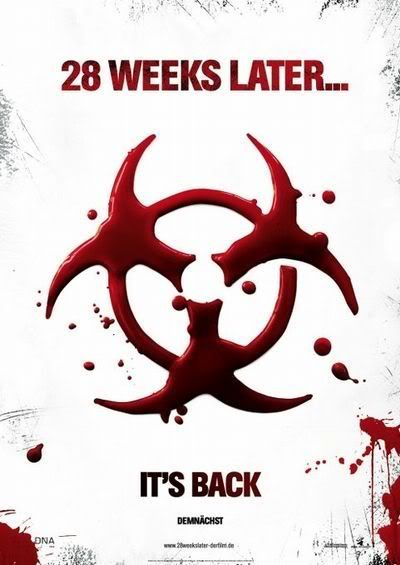 I usually reserve one spot for a teaser poster, and this one is just awesome. Nothing but a symbol that reminds people of the franchise, and this time the symbol is dripping blood. Hell yeah.
#5 – SWEENEY TODD: THE DEMON BARBER OF FLEET STREET – review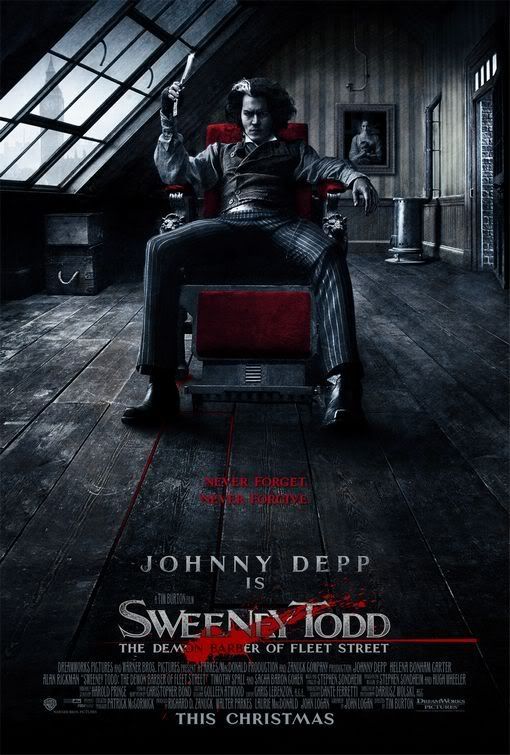 I always put posters in my reviews to spice them up, and when searching for the best Sweeney Todd image, this one stood out. You can't take your eyes off it. Johnny Depp sitting in the chair with his blade raised.
#4 – KNOCKED UP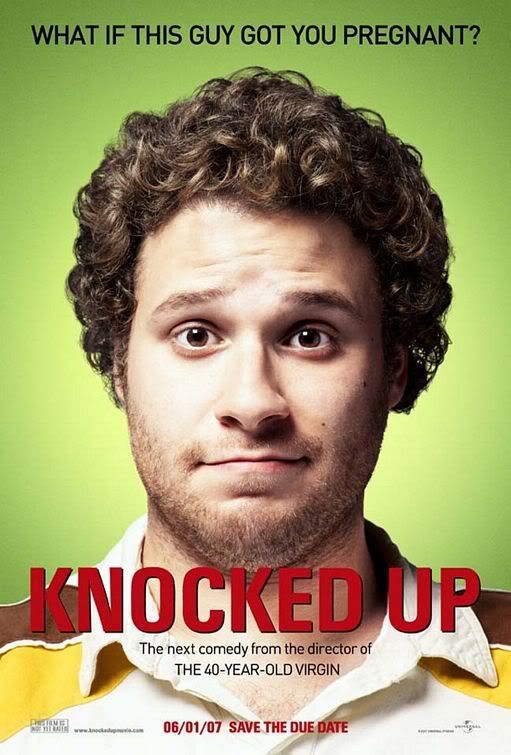 If I had to pick a gutsy and hilarious poster for 2007, this one springs to mind instantly. With a tag line like that above your picture, Seth Rogen must be a super cool guy to hang out with.
#3 – BLACK SNAKE MOAN – review

To me, this is just a creative method for advertising your film. There are no tricks here. The public that spots Samuel L. Jackson and Christina Ricci knows exactly what they will get out of this film which fits into no genre.
#2 – 300 – review

Now, I did think the movie was overrated, but this particular poster is great. Troops being forced over the edge of a cliff with "Prepare for Glory" as the tagline is underneath is sure to gain the attention of every male within eyesight range.
#1 – 3:10 TO YUMA – review

In terms of a selecting a superb image that will look striking in any room of the house, 3:10 to Yuma pulls it off. The clock is ticking, and one man has his legs spread as the train is on the way. Nothing beats this.
The Worst
Dishonorable Mention – ONE MISSED CALL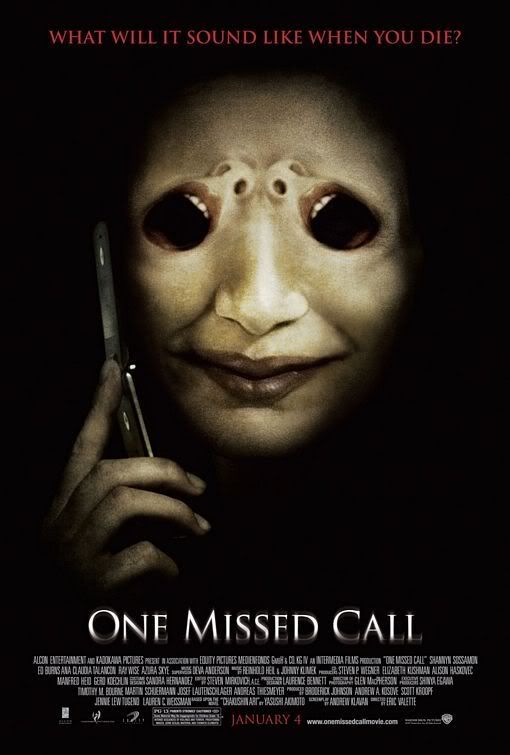 This has to be the ugliest and most disastrous way to bill a horror remake in cinematic history. The mouths are the eyes?! Who thought this would be neat? Does anyone actually want to go see this because of the poster?
#5 – CHARLIE WILSON'S WAR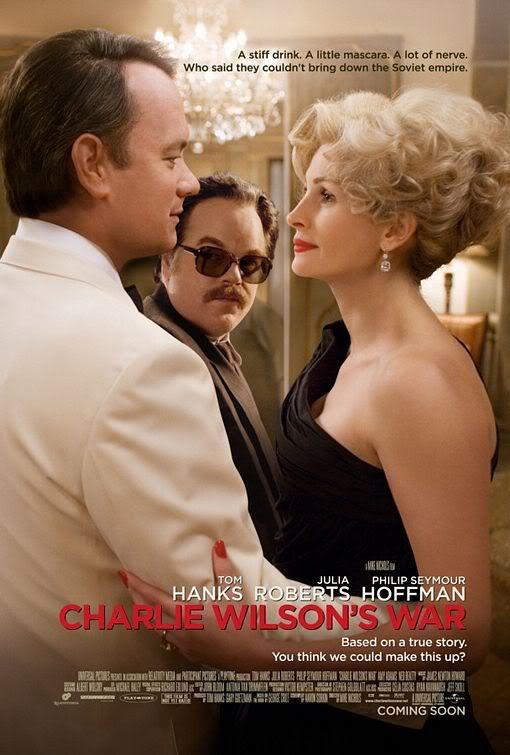 Congratulations to whoever took this all-star cast with an intriguing plot and then chose a bland scene from the film as the poster image. What is Philip Seymour Hoffman doing exactly? Is he supposed to be sneaking around? Man, I feel bad for the cast. This had to hurt ticket sales a little.
#4 – THE INVASION

You have here the millionth version of a story coming to film, yet no one wakes up and says "Maybe we should concoct an attractive poster so people give a sh**." No, this is what they come up with, a hideous red/orange color with faces on top of each other.
#3 – BRIDGE TO TERABITHIA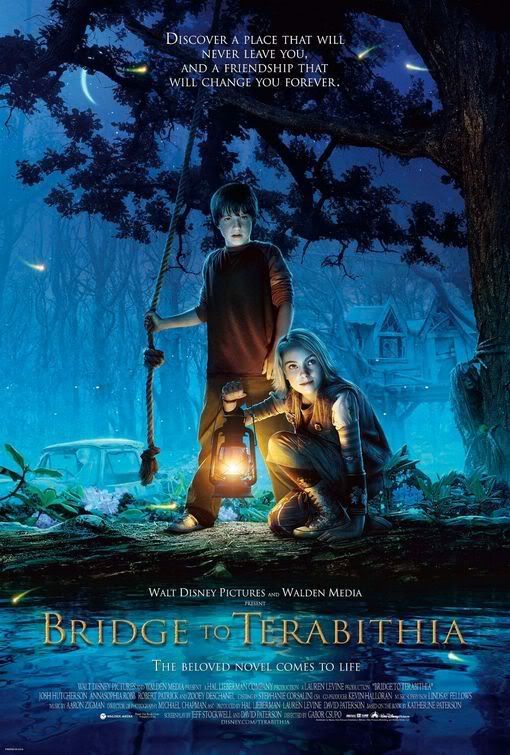 I am still angry at how Disney marketed this film. Everything about it was deceptive and flat out lying to the world who was unfamiliar with the book. Where are the characters sailing to? Terabithia? That was a minor part of the story. This is just aggravating.
#2 – ELIZABETH: THE GOLDEN AGE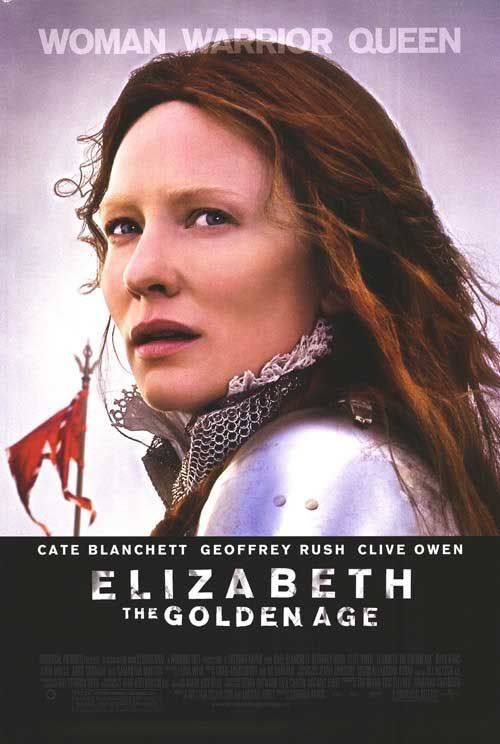 It is not easy to spread the word of a sequel to a period piece about a queen. The all-star cast helps, but let's be honest. It was hard to care about this. The poster only made it worse. Someone hopefully got fired for choosing the absolute worst picture of Cate Blanchett and then pasting on the poster. Give me a break.
#1 – AUGUST RUSH

Every damn aspect of this film was a disaster except the trailer, which actually made it seem moving for a second. I spotted this poster online and was dumbfounded at why anyone getting paid for employment would make a heart sign with their hands and then use it to advertise this film. If you go to the impawards website, you can see another poster from August Rush that is just as bad.
2009 Oscar Predictions
Last year, around March I think, I listed five films which I thought stood a chance at being nominated for Best Picture. In a few weeks when the Oscar nominations are announced, we will see how far off or close I was. I thought I would do the same thing this year for the 2008 candidates. Everyone else is discussing the standard blockbusters of 2008, but I prefer to look farther ahead. Unfortunately, I cannot foresee the independent hits. These are in no particular order.
5. The Curious Case of Benjamin Button – Directed by David Fincher and starring Brad Pitt, Cate Blanchett, and Julia Ormond. It is time for Mr. Fincher to get what he deserves, and with luck, this will be his year. He should have no trouble delivering on the heels of Zodiac.
4. Defiance – Directed By Edward Zwick and starring Daniel Craig, Liev Schreiber, and Jamie Bell. Zwick knows how to prepare an Oscar contender, and this is about World War II and three Jewish brothers. It already has an upper hand.
3. The Changeling – Directed by Clint Eastwood and starring Angelina Jolie, Amy Ryan, and John Malkovich. Clint is always a front runner for statues no matter what the cast or plot. He never disappoints. The premise revolves around a kidnapped son returning home changed.
2. Body of Lies – Directed by Ridley Scott and starring Leonardo DiCaprio, Russell Crowe, and Carice van Houten. With that filmmaker and those three stars, this is sure to be one of the most anticipated awards contenders of 2008. It's about the CIA.
1. Australia – Directed by Baz Luhrmann and starring Nicole Kidman, Hugh Jackman, and David Wenham. This is my wild card, and I only chose it because it has been many years since Luhrmann last supplied a movie, and I think he'll have his eye on gold this time.
Others That Have a Shot
The No. 1 Ladies Detective Agency – Directed by Anthony Minghella
The Argentine/Guerilla – Directed by Steven Soderbergh (a bit of a cheat)
The 20 Second Sermon
Some brief news. I was correct for a third week that National Treasure: Book of Secrets would take the top spot. No surprises, but it's good to see Juno moving up to #3. Spielberg reportedly wants Harrison Ford as Andrew Johnson to join Liam Neeson and Sally Field in his Lincoln biopic. It should be interesting to compare with Young Mr. Lincoln. I like the idea and the cast. Guillermo Del Toro is interested in helming Harry Potter and the Deathly Hallows. If they want the last film to be a dynamite conclusion, he needs to do it. The latest news has Bryan Singer not directing a Superman Returns sequel, and The Justice League of America not commencing production until after the strike is over. No sequel to Superman Returns makes the film worse as a whole, and as far as the delay on Justice League goes, the later the better. Xavier Gens is in the running to direct the next Conan the Barbarian film. The John McTiernan rumor was positive. This is not.
The Best Movies of the Alphabet – From A to E
The Best Movies of the Alphabet – From F to J
The Best Movies of the Alphabet – From K to O
The Best Movies of the Alphabet – From P to T
The Best Movies of the Alphabet – From U to X
The Best Movies of the Alphabet – From Y to #
Make sure to check out all of this week's reviews of DVD's, Movies, Music, and more!
And of course read every movie review with the name Chad Webb attached to it.
Images from Amazon.com and Wikipedia.org
Thanks for reading the whole way through, and make sure to tune in next week.
NULL
comments powered by Disqus