The Big Screen Bulletin 12.18.06: The Top 10 Pet Peeves of 2006
December 18, 2006 | Posted by
Top 10 Pet Peeves of 2006







10. Ellen DeGeneres Dancing – I have nothing against Ellen at all. In fact, I think her talk show is respectable, and I have always loved her sense of humor. What causes me to change the channel every time I turn on the television is when her show is on and she is constantly dancing up and down the aisles with the audience. Why does she do this? Does she think it is cool, funny, or hip? It looks retarded and just plain stupid. It drives me nuts to be honest. Ellen is pretty popular now, and what better way to prevent her show from really being enjoyable then to dance like a fool with the audience, who themselves look like complete fools by participating.
9. Dancing With the Stars – I'm sorry, I realize I will receive tons of hate mail, but this show is quite possibly one of the most moronic reality shows ever to be put to screen. It is becoming as popular as American Idol and what aggravates me is that people discuss the voting and outcomes as if the result carries the importance of the next Presidential election. The second season was ok because of Stacy Keibler, but I can't stand it when all these washed up celebrities prance around like they're on Ed McMahon's Star Search. This does more than add to the nauseating group of reality shows. Do you people understand that you're taking time out of your lives to watch a bald Joey Lawrence and Harry Hamlin dance? If you are tuning in for eye candy, that's fine, but if it's for the purpose of analyzing a football players tango skills, it makes me wonder what the public is thinking.
8. Cell Phone Usage in Movies – Ya know, every movie I go to has an ad prior to the previews that asks the audience to put their cell phones on silent or turn them off, but I cannot believe the rudeness of so many idiots in this world (mostly high schoolers). People talk on their cell phones as if there is nothing wrong with it. I paid for a ticket to see a movie, and I really hate it when impolite a**holes start texting away and/or proceed to have conversations in a normal tone. This includes the previews. The previews are all a part of the movie showing. It might be hard to believe, but you need to shut up when they play too. Get up and exit the theater if you must talk. What I also discovered is that people become braver when they are sitting with a large group of friends. It might shock you, but even though you are with your friends, you still need to stay off the damn cell phone.
7. National Lampoon – I just cannot accept how truly terrible these movies are now. How come someone in a high position hasn't gotten knocked along side the head and decided to fire some of the workers that approve the release of such films like Dorm Daze and Gold Diggers. In my opinion, there is no turning back for this company. It's not like a sudden hit will arise any time soon to revive them. I don't know of any comic geniuses like John Belushi off the top of my head. They are obsessed with releasing Direct-to-DVD trash every week. The reputation they have cannot get much worse. Every film they release results in an immediate reaction of disgust from myself.
6. Kevin Federline – For the most part, I did not have a problem with this dude. As a matter of fact, I admired how such a loser was able to land in bed with Britney Spears, but he has gradually started to show his face more and more when it was not requested on T.V. The problem is that no one really wants to see his face… at all! He crossed the line for me when he got involved with the WWE. Shame on the WWE for hiring this dork on even a short time basis. He is such a pest and such a waste of life it is sad. When will he grasp that he is not a celebrity? He can write all the books he wants to about his relationship with Britney, and he can make all the appearances on WWE programming he wants, and he can attempt as many concerts as he wishes. I guess he thinks he's a superstar or something. Certain radio stations reported that K-Fed's entourage were paying people to go to his shows, and people were rejecting them! I am hoping he disappears sometime soon and never shows his nasty mug again.
5. HD-DVD/Blu-Ray – What a disaster of an idea this turned out to be. Maybe some wealthy folks out there think these are spectacular because of the picture quality and sound, but I for one think these DVDs are nothing but an annoyance that takes up shelf space for the other DVDs. I expected these DVDs, which were supposed to have more space for extras, to be loaded with exciting features, but instead most of them are bare bones just like when regular DVDs got popular years ago. On top of that, some films get released exclusively on Blu-Ray, while others only get released only for HD-DVD. This is just ridiculous! Sure the picture is stunning, but one is required to be wealthy and knowledgeable of the equipment and formats to truly obtain rewarding results for the money spent. Had one format been chosen, this might not be a pet peeve. This is like the Super Audio CDs from years back. I have no doubt many of you don't remember those. To make matters worse, the prices of these discs are so high that no person in their right mind should buy them. If you are standing in a store, and see Talladega Nights on Blu-Ray for $35, and then standard for $15, which would you pick. Is the picture and sound really worth getting a new film library? I think not.
4. Heelys (Shoes with Skates on Them) – Who in the hell invented these hazardous contraptions? It doesn't matter if I am strolling down the street, driving in my car, or shopping in a store, I see some brainless child using these things in all the most dangerous spots they can. These shoes should be outlawed, no question about it. Parents just permit their children to run wild and skate carelessly too. Who cares if they are in the middle of shopping mall with hundreds of people?! I feel like a middle-aged parent by including this pet peeve, but I swear these kids are rolling catastrophes waiting to happen. I'm just amazed that no lawsuits have surfaced after their kid has fallen and cracked their head open, or if some innocent bystander collided with a child who was using them. Honestly I would like to find the person that created them and beat them senseless.
3. Playstation 3 – For a couple years now I kept hearing about the glorious Playstation 3. All I heard about was how great it would be, and how terrific the graphics would be…blah, blah, blah. Now it is finally out, and people are being mugged for them. Is this what our society has resulted to? Hurting others for a damned video game console?! To start, the system does not even look that special. The graphics are a tad better, but the games look crappy, and the console is styled in an ugly unoriginal black casing. Surely this is not worth the steep price of $600. Truthfully, the system is not worth half that price. Haven't people learned that if they wait a year or two the price will go down and kinks will be worked out? I have heard numerous reports that the systems have had problems when they are used. A Best Buy display copy burnt out days after it was unveiled. People line up at the stores, and resort to violence because of some shitty console. How sad.
2. Rosie O' Donnell – I do not say this often about anything or anyone, but I truly hate Rosie O' Donnell. Aside from her role in A League of Their Own, she is a waste of space. Why is she allowed to air her opinions and outrageously unreasonable thoughts? I never liked her daytime talk show, and I certainly do not like her now that she is on the torturous View. First, she goes after Kelly Ripa for a Clay Aiken comment. She accuses her of being homophobic because of comments Kelly made after Clay put her hand over her mouth. To the best of my knowledge, Clay has not stated his sexual preference, and I don't care to ever know it actually. Now she decides to mimic the Chinese language for some unknown reason. Oh, and how can I forget hearing about how she held up a pair of her underwear. This is just a lousy human being with no likable bone in her body. I hate even the sight of this woman. I hope Barbara Walters fires her, but unfortunately the ratings of the show are fabulous right now. Rosie will just keep on making an a** out of herself with no consideration for others.
1. Britney/Paris/Lindsay – Must I even say anything here. I really don't have to anymore. These three deserve each other, and they could not make this list without being on it together. We all can easily think of reason why they are on this pet peeve list.
The Golden Globe Breakdown

64TH GOLDEN GLOBE AWARDS NOMINATIONS1. BEST MOTION PICTURE – DRAMA
a.
BABEL
b. BOBBY
c. THE DEPARTED
d. LITTLE CHILDREN
E. THE QUEEN
This is an easy choice for me. The Departed is definitely the best film of the year. The rest on this list are all very good films in their own right, but they can't touch Scorsese's latest masterpiece.
2. BEST PERFORMANCE BY AN ACTRESS IN A MOTION PICTURE – DRAMA
a. PENELOPE CRUZ — VOLVER
b. JUDI DENCH — NOTES ON A SCANDAL
c. MAGGIE GYLLENHAAL — SHERRYBABY
d. HELEN MIRREN — THE QUEEN
e. KATE WINSLET — LITTLE CHILDREN
I have not seen Volver just yet, but looking over the other choices, only two women deserve it. Kate Winslet and Helen Mirren. I'm going to go with Winslet slightly because her performance was a bit more memorable. Helen Mirren did a wonderful job, but Kate Winslet does excellent in just about every role.
3. BEST PERFORMANCE BY AN ACTOR IN A MOTION PICTURE – DRAMA
a. LEONARDO DICAPRIO — BLOOD DIAMOND
b. LEONARDO DICAPRIO — THE DEPARTED
c. PETER O'TOOLE — VENUS
d. WILL SMITH — THE PURSUIT OF HAPPYNESS
e. FOREST WHITAKER — THE LAST KING OF SCOTLAND
This is a tough one. All of these are tremendous performers that equally deserve the award, but this year just might be the year of DiCaprio. I don't know which role should get it, but either one is worthy. Forest Whitaker would be my second choice after Leo.
4. BEST MOTION PICTURE – COMEDY OR MUSICAL
a. BORAT: CULTURAL LEARNINGS OF AMERICA FOR MAKE BENEFIT GLORIOUS NATION OF KAZAKHSTAN
b. THE DEVIL WEARS PRADA
c. DREAMGIRLS
d. LITTLE MISS SUNSHINE
e. THANK YOU FOR SMOKING
Many people might disagree with me, and I know it won't win, but out of these films Thank You For Smoking was the best. Borat and Little Miss Sunshine were both hilarious, but Jason Reitman's comedy was just fantastic.
5. BEST PERFORMANCE BY AN ACTRESS IN A MOTION PICTURE – COMEDY OR MUSICAL
a. ANNETTE BENING — RUNNING WITH SCISSORS
b. TONI COLLETTE — LITTLE MISS SUNSHINE
c. BEYONCE KNOWLES — DREAMGIRLS
d. MERYL STREEP — THE DEVIL WEARS PRADA
e. RENEE ZELLWEGER — MISS POTTER
How did Annette Bening receive a nomination? It is absurd. Anyway, this category does not have much, but out of the nominees, Meryl Streep gave the best performance even though the movie wasn't good. Toni Collette would be a close second.
6. BEST PERFORMANCE BY AN ACTOR IN A MOTION PICTURE – COMEDY OR MUSICAL
a. SACHA BARON COHEN — BORAT: CULTURAL LEARNINGS OF AMERICA FOR MAKE BENEFIT GLORIOUS NATION OF KAZAKHSTAN
b. JOHNNY DEPP — PIRATES OF THE CARIBBEAN: DEAD MAN'S CHEST
c. AARON ECKHART — THANK YOU FOR SMOKING
d. CHIWETEL EJIOFOR — KINKY BOOTS
e. WILL FERRELL — STRANGER THAN FICTION
Although I love Johnny Depp, this one is simple. Sacha Baron Cohen is the only person who should win this. How did the guy from Kinky Boots get nominated? Some of these picks just confuse me.
7. BEST ANIMATED FEATURE FILM
a. CARS
b. HAPPY FEET
c. MONSTER HOUSE
All three were solid CGI offerings, but Cars remains the best. It was near perfect. Happy Feet had a flaw towards the end, and Monster House lacked enough power to top Cars.
8. BEST FOREIGN LANGUAGE FILM
a. APOCALYPTO (USA)
b. LETTERS FROM IWO JIMA (USA/JAPAN)
c. THE LIVES OF OTHERS (GERMANY)
d. PAN'S LABYRINTH (MEXICO)
E. VOLVER (SPAIN)
Apocalypto has no right being on the list, but even so this is plainly obvious who will win. Critics have been raving about Letters From Iwo Jima for weeks now. Even though I have not seen it, it should be better than these nominees with little effort.
9. BEST PERFORMANCE BY AN ACTRESS IN A SUPPORTING ROLE IN A MOTION PICTURE
a. ADRIANA BARRAZA — BABEL
b. CATE BLANCHETT — NOTES ON A SCANDAL
c. EMILY BLUNT — THE DEVIL WEARS PRADA
d. JENNIFER HUDSON — DREAMGIRLS
e. RINKO KIKUCHI — BABEL
I am pleased to see Rinko Kikuchi nominated, but it will only be a nomination I'm afraid. Again, everyone is going crazy about Jennifer Hudson's portrayal in Dreamgirls so I have no doubt she will win.
10. BEST PERFORMANCE BY AN ACTOR IN A SUPPORTING ROLE IN A MOTION PICTURE
a. BEN AFFLECK — HOLLYWOODLAND
b. EDDIE MURPHY — DREAMGIRLS
c. JACK NICHOLSON — THE DEPARTED
d. BRAD PITT — BABEL
e. MARK WAHLBERG — THE DEPARTED
This is a loaded category, but out of all of the top notch performances by these stars, Mark Wahlberg was by far the most notable. The only one that has a chance at winning besides him is Brad Pitt in Babel.
11. BEST DIRECTOR – MOTION PICTURE
a. CLINT EASTWOOD — FLAGS OF OUR FATHERS
b. CLINT EASTWOOD — LETTERS FROM IWO JIMA
c. STEPHEN FREARS — THE QUEEN
d. ALEJANDRO GONZALEZ INARRITU — BABEL
e. MARTIN SCORSESE — THE DEPARTED
If Martin Scorsese does not win this award and the Oscar for the same category, something is terribly wrong with the film industry.
12. BEST SCREENPLAY – MOTION PICTURE
a. GUILLERMO ARRIAGA — BABEL
b. TODD FIELD & TOM PERROTTA — LITTLE CHILDREN
c. PATRICK MARBER — NOTES ON A SCANDAL
d. WILLIAM MONAHAN — THE DEPARTED
e. PETER MORGAN — THE QUEEN
This is another difficult category to decide. I am torn between Little Children and The Queen. By a hair, I will give my vote to The Queen for so brilliantly displaying the Prime Minister and Queen Elizabeth II.
13. BEST ORIGINAL SCORE – MOTION PICTURE
a. ALEXANDRE DESPLAT — THE PAINTED VEIL
b. CLINT MANSELL — THE FOUNTAIN
c. GUSTAVO SANTAOLALLA — BABEL
d. CARLO SILIOTTO — NOMAD
e. HANS ZIMMER — THE DA VINCI CODE
The Fountain easily the finest score among these nominees. I do not see how any other film could realistically win. I loved The Da Vinci Code FYI and was startled to see it nominated at all.
14. BEST ORIGINAL SONG – MOTION PICTURE
a. "A FATHER'S WAY" – THE PURSUIT OF HAPPYNESS
Music by: Seal and Christopher Bruce
Lyrics by: Seal
b. "LISTEN" – DREAMGIRLS
Music & Lyrics by: Henry Krieger, Anne Preven, Scott Cutler and Beyonce Knowles
c. "NEVER GONNA BREAK MY FAITH" – BOBBY
Music & Lyrics by: Bryan Adams, Eliot Kennedy and Andrea Remanda
d. "THE SONG OF THE HEART" – HAPPY FEET
Music & Lyrics by: Prince Rogers Nelson
e. "TRY NOT TO REMEMBER" – HOME OF THE BRAVE
Music & Lyrics by: Sheryl Crow
"Never Gonna Break My Faith" is an uplifting track, but Dreamgirls will have no problems gaining a globe for this one. No other song comes close.
The News Bulletin

Smith Must Be Really Happy Now
Will Smith's credentials as a gold-plated draw took on added luster during the weekend as his new drama, Sony Pictures' "The Pursuit of Happyness," raked in an estimated $27 million to take the top spot at the North American boxoffice. 20th Century Fox also was a big winner on the weekend, earning an estimated $23.5 million for the fantasy actioner "Eragon," which checked in at No. 2 at the boxoffice. Made for a reported $90 million-$100 million — the biggest-budgeted project to come out of the studio's Fox 2000 division — the film adaptation of the Christopher Paolini book performed better then expected, establishing itself as a potential franchise. No amount of marketing for Paramount Pictures/Nickelodeon Movies' "Charlotte's Web" could lure moms away from the malls this pre-Christmas weekend. Debuting at No. 3, the live-action/animated version of the E.B. White children's classic garnered just $12 million, less than expected. (By comparison, Sony's "Stuart Little," also adapted from one of White's books, bowed to $15 million on the comparable weekend in 1999.)
These box office totals amaze me. I never expected Smith's new film to top the star studded Charlotte's Web, and I really didn't think so many people would go see Eragon. Charlotte's Web gets #3 after the other two new releases, and Happy Feet continues to do well. Elsewhere, Apocalypto fell 5 spots to #6, which is astounding, and The Holiday rests calmly at #5. In limited release, Dreamgirls did outstanding considering the tickets are $25, and the showing s were small in number. The Good German also performed strongly around $78,000 in 5 theaters. This coming week, Rocky returns and Robert Deniro's The Good Shephard tries to come out swinging.

Details on Bond 22!
The follow-up to "Casino Royale" will reportedly be based on the Ian Fleming short story Risico, which appeared in his 1960 book "For Your Eyes Only." The problem with "Risico" is that its basic plot and characters was already used for the 1981 film version of "For Your Eyes Only." In Fleming's "Risico", 007 is sent to Italy to investigate a heroin ring and crosses paths with the likes of Colombo and Kristatos, both of whom were featured in the Roger Moore movie.
It should be noted that, although "A View to a Kill" (another short story in "For Your Eyes Only") and "FYEO" have both been filmed, neither movie truly used the plots from their respective source novels. Fleming's "From a View to a Kill" saw 007 investigating the murder of a dispatch-rider; "FYEO" had M sending Bond on an "off the books" assignment to avenge the murder of his old friends, the Havelocks, by Herr von Hammerstein. The film featured the murder of the Havelocks and the inclusion of their vengeful daughter, but M's employing 007 as a means to fulfill a personal vendetta was not used. Fleming's short stories "007 in New York" and "Quantum of Solace" have never been referenced in any Bond film, and only a semblance of "The Property of a Lady" can be gleaned from the big-screen version of "Octopussy." 007's investigation of a female Secret Service double agent in that story could prove an interesting challenge for Bond in the next movie, especially in light of what transpired in "Casino Royale."
It seems plausible that screenwriters Neal Purvis and Robert Wade might use the gist of "Risico" — 007 in the Mediterranean to investigate a crime ring — while adding and adjusting other elements to fit with the series' newly adopted down-to-earth, character-driven approach. Wade recently advised the BBC, "In the next film the emphasis has to be on the unfinished emotional business at the end of "Casino Royale." It has to be dealt with in such a way that his character continues to have an arc. … It can't just be he's tough and he's tempered steel and totally impervious. There are things he still has to resolve. So that's the legacy of "Casino Royale" and it's important to have it so the actor has something to play." Eva Green, who played Vesper Lynd in "Casino Royale", recently revealed that Vesper's French-Algerian boyfriend may be the villain of the next film, while Daniel Craig advised IGN that the sequel will see 007 going after "the threat behind the threat."
I had completely forgotten that Ian Fleming short stories even existed. I am a fan of the series, but never thought of using his short stories as plots for future films. I am glad to see they have plenty if Fleming material to work off of. I was expecting and dreading the point when studios started conjuring up their own plots. Casino Royale was an awesome flick, and if they keep this up, the franchise will just keep climbing. I like how they plan to connect each of these new storylines in some way. At least movie lovers know that they have Bond to look forward to.
—————————————————————————–


The Wachowskis Continue To Speed
Producer Joel Silver will re-team with his "Matrix" mates Larry and Andy Wachowski for the big-screen version of the cartoon classic "Speed Racer." The producer recently said that the sibling filmmakers were drawn to the project because it offered them the chance to tackle lighter fare after "The Matrix" and "V for Vendetta", which the Wachowskis produced with Silver. "They said they'd never work again [after] the "Matrix" sequels," Silver advised Empire magazine. "At the end of the first couple of days the studio was able to forecast what ("V for Vendetta") would make domestically, which was $70 million+. That was great. The movie didn't cost very much, so everyone was very happy." He continued, "The next weekend "Ice Age 2″ opened with $70 million and the boys thought that was very interesting…They wanted to make a big family entertainment." As for the film's story, Silver would reveal that, "It's the story of Speed Racer, but in a way that you've never seen anything like that before in your life. The Wachowskis brought a tremendous sense of wonder and magic to that story. They just had a different way of seeing the story, in the way they do on everything they do. And we're going to shoot all of that in Germany."
I personally am happy that the Wachowski brothers decided to continue working after The Matrix sequels. V For Vendetta is a classic, and I have faith they can dazzle us once again when Speed Racer is released. It will be fun to see how they shape a family film with their unique style and approach. If all goes well, Matrix Revolutions will not be talked about nearly as much in the future. The Wachowski's can take an ordinary plot and make it ten times as attractive with their techniques.
—————————————————————————–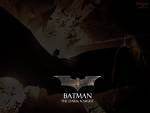 What's the Latest Fashion Batman?
With pre-production under way on "The Dark Knight", the rumor mill has been busy churning out buzz on all aspects of the "Batman Begins" sequel, including costuming. Christian Bale's Batman will sport a modified and more "fabricky" outfit than the version he wore in "Begins." The site expects the costume will still be rubber but sleeker than the version seen in the previous film. The Joker's garb will be "less cartoony", according to BoF's source. "[Since this film's Joker is] much more dark, sinister, and threatening, his costume is very much going to reflect that." BoF's insider added, "It's not going to be a suit that is tailored for him, but more something he acquired. I mean, what tailor would actually make a suit for The Joker?" "The Dark Knight" begins filming in March of next year for a 2008 release.
I like the way this is sounding so far. What I loved about the first film was how it altered so many small things about Batman's universe. The dark knight received a much needed makeover after Joel Schumacher's failures. After reading this newsbit, it sounds like that ingenuity will carry over to upcoming The Dark Knight, which is a neat title by the way. The Joker really has not been as menacing as he can be in the films generated thus far. I can't really say much about the Batman costume changes. I would have to see a picture of it to fully appreciate what they mean. The Joker should look bad ass.
—————————————————————————————


Tarzan Meets Guillermo
"Hellboy" director Guillermo Del Toro will soon be tackling tamer stuff than demonic heroes and twisted fairytales as he has signed on to direct a "Tarzan" flick for Warner Bros. According to Variety, Del Toro ("Hellboy," "Pan's Labyrinth") will direct from a script by "Master and Commander: The Far Side of the World" and "Happy Feet" writer John Collee. The Edgar Rice Burroughs-created stories of the jungle boy Tarzan have been remade into no less than fifty official big screen and television films since the character first appeared in Burroughs' 1912 novel "Tarzan of the Apes." But while Del Toro's version may turn out more kid-friendly than most of his filmography to date, be sure that the man who brought us "The Devil's Backbone" and "Blade II" will find all the edges and dark bits there are to find. Previous incarnations include: 1936's "Tarzan Escapes", 1983's "Greystoke", and 1998's "Tarzan and the Lost City" From Variety: "I'd love to create a new version that is still a family movie, but as edgy as I can make it," Del Toro said. "There are strong themes of survival of a defenseless child left behind in the most hostile environment." As always, let the long-haired, scantily-clad, cloth-wearing Tarzan casting speculation begin! Meanwhile, Del Toro's Golden Globes-nominated Spanish-language dark fantasy "Pan's Labyrinth" hits American theaters December 29."
I am growing tired of all the Tarzan adaptations. We have endured live action films, cartoons, and even television shows based on Tarzan. This story needs a long nap if you ask me. I suppose if anyone could fashion a worthwhile movie about an overdone character, it would be Guillermo Del Toro. He gave us Hellboy, so I know his selections have limitless potential.
—————————————————————————————


A Bizarre Top 10 List
AFI names top films of the year. Films in alphabetical order:
"Babel"
"Borat: Cultural Learnings Of America For Make Benefit Glorious Nation Of Kazakhstan"
"The Devil Wears Prada"
"Dreamgirls"
"Half Nelson"
"Happy Feet"
"Inside Man"
"Letters From Iwo Jima"
"Little Miss Sunshine"
"United 93"
I had to address this list. It has so many problems I don't know where to begin. First off to complain about is The Devil Wears Prada. This is one of the most overrated films of the year, and it wasn't even accepted approvingly by all the critics. I don't see how it ended up on their list, but whatever. Secondly, Inside Man was a superb film. I own it, but it definitely does not deserve to be in the top 10. Thirdly, calling Happy Feet one of the year's best is an insult to Pixar's Cars. Happy Feet was average at best, but nowhere near superior to Cars or Monster House. I think the employees at AFI were having a bad day when selecting these. The remaining choices are reasonable I'd say. I don't know if Half Nelson should be there, but many critics loved it. My list will be different, and it will most certainly include The Departed.
The 20 Second Sermon
Rumors have started bubbling that John Cena will follow in Arnold Schwarzenegger's footsteps and star in Predator 3. Cena attempting to be an Arnold caliber star makes me laugh uncontrollably. Ryan Reynolds is hesitating on his decision to be The Flash, and thank goodness for that because the thought of him as a superhero makes my stomach feel queasy. It appears as if Ben Stiller is planning on a Zoolander sequel, and that news really doesn't bother me too much. After her recent divorce from Kid Rick, Pam Anderson says she would have married just about anyone during her vacation. I knew that I should have bought a plane ticket to the French Riviera gosh darnit. The best news all week is the announcement that Resident Evil: Extinction will be the last of the series.
What's Coming to DVD….Buy or Avoid?
Little Miss Sunshine – This was a wonderful comedy. It might not land in my top 10, but it is still worth owning. Buy
Walt Disney Treasures: More Silly Symphonies (1929-1938) – Usually these releases are worth purchasing. They come in a nifty tin. These are music themed cartoons.
Step Up – I didn't see this, but I would like to just because some people have told me good things.
Invincible – This is one of the better sports offerings I have seen recently. Wahlberg gives a good performance. Buy
Walt Disney Treasures: The Complete Pluto, Volume Two – The sets that only have cartoons of specific characters are the best ones. Buy
Walt Disney Treasures: Your Host, Walt Disney – Compared to the others, this one doesn't look all that spectacular. The "Mickey Mouse Club featuring the Hardy Boys" is another set being released by the way.
Lady in the Water – Shyamalan's newest thriller was a dud. You'll ask yourself why you are watching it as it goes along. Avoid
A Scanner Darkly – This was a bizarre, but ultimately fascinating film with some terrific performances by the cast. Richard Linklater almost always supplies something imaginative. Buy
When the Levees Broke – This is Spike Lee's documentary which aired don television. I didn't get a chance to see it, but I'm glad it is now out on DVD.
My Super Ex-Girlfriend – I did not enjoy this movie one bit. It is not worth your time. It was just stupid. Avoid
Jet Li's Fearless – His "final" martial arts epic was average at best. It has some quality fights, and not much of a plot. Go rent it. Avoid
American Pie Presents: The Naked Mile – After doing a straight to video nightmare of the first direct-to-DVD sequel, I will most likely do one for this. I can't wait.
Gene Simmons-Family Jewels – I am a big fan of Kiss, and I heard this show was funny. I saw a segment from one episode which looked ok. Maybe I'll rent the DVDs.
The Wicker Man (2006) – This remake sucked big time. The original was mesmerizing. Go find that version and enjoy. Avoid
All the Kings Men (2006) – This was another remake that wasn't good. It was ambitious, but unsatisfying. Avoid
The Wicker Man (1975 – 2 Disc Special Edition) – This is the one you want to buy. This was a fabulous film that mixes multiple genres. Buy
The Critic's Quickee

Blood Diamond – If you want the scoop on this sizzling new thriller, read my full review by clicking here.
Apocalypto – For months now I have watched the trailer for Mel's newest offering and anticipated it despite his problems in the news. After watching it, I was more disappointed than I have been with any film this year. This is not horrible, but it is nowhere near as good as I expected from such an acclaimed filmmaker. The sights are intriguing and hypnotizing to view, but the plot is as thin as a sheet of paper. The story follows Jaguar Paw whose village has been invaded by a rival tribe. People are slaughtered, but not Jaguar's family. Jaguar Paw is taken with many other fellow friends to be ultimately killed. I became so angry because of the plot having action movie tendencies that I remember in Schwarzenegger flicks. Many times I would say to myself "that would never happen." The chase scene towards the end is so preposterous and unbelievable that one would think a novice director created it. This is an ambitious picture with plenty of fascinating gore, but it is so unrealistic in nature that I am amazed Mel Gibson made it. I enjoyed the glance at this ancient culture, but the bulk of the substance seemed overwhelmed with blood and suspense than of enlightening the audience. I would love to spoil specific portions that bothered me, but I will not. This is not worth your money. Final Rating = 5.0/10.0
The Holiday – Sorry Quickee fans. It has been an incredibly busy week for me. My girlfriend got a chance to see this, and she said it was really well done and that I would have loved it. Hopefully I'll see it sometime soon.
Unaccompanied Minors – Now that awards season has begun, I do not have time for material like this. Sorry folks.
Movie Dictionary: Word of the Week

Sound Film
– A sound film is a motion picture with synchronized sound, or sound technologically coupled to image, as opposed to a silent film. The first known public exhibition of projected sound films took place in Paris in 1900, but it would be decades before reliable synchronization was made commercially practical. The first commercial screening of movies with fully synchronized sound took place in New York City in April 1923. In the early years after the introduction of sound, films incorporating synchronized dialogue were known as "talking pictures," or "talkies." The first feature-length movie originally presented as a talkie was "The Jazz Singer", released in October 1927.
By the early 1930s, the talkies were a global phenomenon. In the United States, they helped secure Hollywood's position as one of the world's most powerful cultural/commercial systems. In Europe (and, to a lesser degree, elsewhere) the new development was treated with suspicion by many filmmakers and critics, who worried that a focus on dialogue would subvert the unique aesthetic virtues of soundless cinema. In Japan, where the popular film tradition integrated silent movie and live vocal performance, talking pictures were slow to take root. In India, sound was the transformative element that led to the rapid expansion of the nation's film industry—the most productive such industry in the world since the early 1960s.
Based on the Trailer…

Live Free or Die Hard
– This third sequel to the successful franchise does not look overly terrible. Maybe it will be shockingly good. Trailer Rating =
7.5/10.0
Perfume: The Story of a Murderer – This mystery thriller actually looks extremely absorbing and original. I will be looking forward to it. Trailer Rating = 8.5/10.0
Hannibal Rising – The text is in German, but the movie looks damn promising from this and the images I've seen. Trailer Rating = 8.5/10.0
Breach – Ryan Phillippe and Chris Cooper might make a good combination in this thriller. It looks like it has potential. Trailer Rating = 7.5/10.0
Notes on a Scandal – This movie looks weird despite great actresses like Dench and Blanchett. I'm still not sure. Trailer Rating = 7.0/10.0
Alpha Dog – Even though Timberlake is involved, this looks pretty damn awesome. Nick Cassavetes is a good director. Trailer Rating = 8.5/10.0
The Astronaut Farmer – A movie where Billy Bob Thornton builds a spaceship. The title sucks, and the movie looks average. Trailer Rating = 7.0/10.0
Miss Potter – The cast looks fabulous, but the acting seems a bit off to me. Oh well, maybe it will be worthwhile. Trailer Rating = 7.0/10.0
Harry Potter and the Order of the Phoenix – This is the best book in the series, and I am crossing my fingers that the film is fantastic. Trailer Rating = 9.0/10.0
The Hitcher – This horror remake is coming from the same morons who gave us remakes of Texas Chainsaw Massacre and The Amityville Horror. It will likely suck. Trailer Rating = 3.0/10.0
Curse of the Golden Flower – I loved both of this director's previous films, and this looks pretty solid, but not quite as perfect as his last two. Trailer Rating = 8.0/10.0
Zodiac – David Fincher's new thriller with Jake Gyllenhaal looks outstanding. I cannot wait for this. Fincher is a genius. Trailer Rating = 9.0/10.0
The Simpsons Movie – I am not the biggest Simpsons fan, but this trailer is hilarious. Maybe this movie won't be all that terrible. Trailer Rating = 8.0/1.0
Bridge to Terabithia – I realize this was a popular book, and I don't care which one came first, but this is so close to Chronicles of Narnia. I see no originality. Trailer Rating = 5.0/10.0
Hostel: Part II – If you have read my material for the past 10 months, you know how I feel about this. The first one sucked, and this one will also. Trailer Rating = 3.0/10.0
Reno 911: Miami – I have never really watched the show, but this looks very funny. Trailer Rating = 7.5/10.0
Evan Almighty – This sequel doesn't have strong plot. Evan is told to build an ark. Dumb, but Carrell is still funny. Trailer Rating = 6.0/10.0
Hot Fuzz – This is the new film from the Shaun of the Dead group. It looks very funny. I'm looking forward to it. Trailer Rating = 9.0/10.0
Night at the Museum – Ben Stiller's newest adventure looks like it will be a relaxing and enjoyable time this holiday season. Trailer Rating = 7.5/10.0
Dreamgirls – This is the film getting all the Oscar buzz? It looks admirable, but not Oscar caliber. Perhaps I am wrong. Trailer Rating = 7.5/10.0
The Good Shepherd – Wow, this looks outstanding. It has a great cast, Deniro directing, and Joe Pesci is back! You can't go wrong. Trailer Rating = 10.0/10.0
Black Christmas – Another remake. They never stop! This teaser really doesn't show a whole lot. This will be terrible. Trailer Rating = 5.0/10.0
Grindhouse – The unique offering from Quentin Tarantino and Robert Rodriguez will most likely rock, but the trailer makes it look quite bizarre. Trailer Rating = 8.0/10.0
Freedom Writers – I think I already saw this when it was called Dangerous Minds. It's like the exact same movie only with Swank as the teacher. Trailer Rating = 2.0/10.0
300 – This is a new film inspired based on another Frank Miller graphic novel. It catches my interest, but perhaps a bit too much CGI. Trailer Rating = 7.0/10.0
Norbit – Another movie where Eddie Murphy plays a zillion roles. Don't care. It's not funny anymore. Trailer Rating = 3.0/10.0
Home of the Brave – It is a war film with Samuel L. Jackson, Jessica Biel, and 50 Cent. It doesn't look terrible, but what an odd cast. Trailer Rating = 6.5/10.0
Children of Men – Alfonso Cuaron is a unique director, and I think this has a whole lot of potential. Trailer Rating = 9.0/10.0
Rocky Balboa – I don't care what people say, this movie looks incredible. This second trailer is slightly more terrific than the first. Trailer Rating = 10.0/10.0
TMNT – Since I grew up watching these guys, I will go see this movie no matter what. The trailer is average. Trailer Rating = 7.5/10.0
Spiderman 3 – Despite my dislike of the second one, this newer trailer is friggin awesome. I'll admit, I'm looking forward to this greatly. Trailer Rating = 9.0/10.0
Transformers – My initial reaction to this teaser was laughter, not like I thought it looked bad, but because it was totally unexpected. A little early to tell, but so far so good. Trailer Rating = 7.5/10.0
Ghost Rider – This looks decent to me. The special effects might be a downfall, but all in all I'm looking forward to Cage in this role. Trailer Rating = 7.5/10.0
Other Stuff to Read
411 November Roundtable – Matthew Craggs gathers the readers thoughts on the November releases and more!
Fact or Fiction – Matt Craggs gathers the thoughts of JT and Scott Rutherford this week!
Furious on Film – Arnold Furious gives you quick rundowns of interesting movies every week.
What!!-This-Column!?? – Bryan Kristopowitz continues his column about…stuff.
Scene Anatomy – George H. Sirois discusses Rocky III this week!
411 Top 5-Trevor Snyder returns and puts together everyone's Top 5 Surprisingly Good Performances!
Ask 411 Movies – Leonard Hayhurst answers all the questions in Ask 411 movies.
Forgotten Films – Tony Farinella fills you in on some movies you might not have heard of.
The Doctor in the Hallway – Ben Moser brings you the Wednesday news.
Don't Forget to Check Out The Staff's B-Movies Picks
The Top 10 Essential B-Movies: #10
#9
#8
#7
#6
#5
#4
#3
#2
#1
Make sure to check out all of this week's reviews of DVDs, Movies, Music, and more!
And of course read every movie review with the name Chad Webb attached to it.
Thanks for reading the whole way through, and make sure to tune in next week.
(All news sources from Hollywoodreporter.com, ign.com, and rottentomatoes.com definitions from Wikipedia.org)

NULL
comments powered by Disqus