B.o.B. – Strange Clouds Review
May 1, 2012 | Posted by
B.o.B. – Strange Clouds Review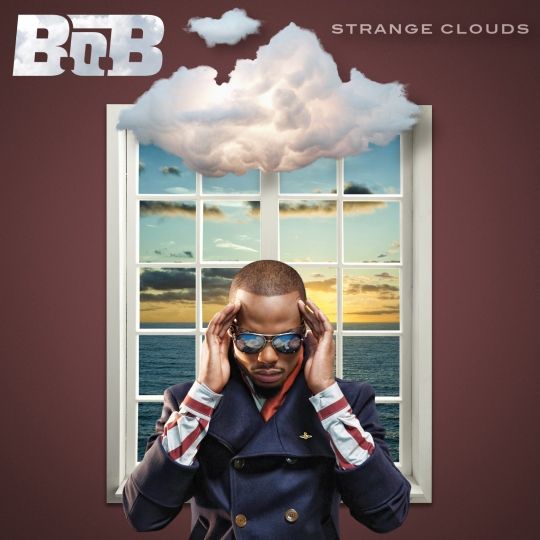 Coming off the success of his 2010 album The Adventures of Bobby Ray which went on to sell over 500,000 copies, B.o.B. has returns with his second official release, Strange Clouds. Featuring appearances from Taylor Swift, Lil Wayne, Chris Brown, T.I., Nicki Minaj, and more, can B.o.B. continue his meteoric rise, or are his days in the clouds numbered?
Be for we start, be sure to follow me on Twitter.
Tracklisting
1. "Bombs Away" (Feat. Morgan Freeman) produced by B.o.B
2. "Ray Bands" produced by B.o.B
3. "So Hard to Breathe produced by Alex da Kid
4. "Both of Us" (Feat. Taylor Swift) produced by Dr. Luke
5. "Strange Clouds" (Feat. Lil Wayne) produced by Dr. Luke, Cirkut
6. "So Good" produced by Ryan Tedder
7. "Play for Keeps" produced by B.o.B
8. "Arena" (Feat. Chris Brown & T.I.) produced by Dr. Luke
9. "Out of My Mind" (Feat. Nicki Minaj) produced by iSHi
10. "Never Let You Go" (Feat. Ryan Tedder) produced by Ryan Tedder
11. "Chandelier" (Feat. Lauriana Mae) produced by Frequency
12. "Circles" produced by Mynority
13. "Just a Sign" (Feat. Playboy Tre) produced by Kuttah
14. "Castles" (Feat. Trey Songz) produced by Benny Blanco
15. "Where Are You (B.o.B vs. Bobby Ray)" produced by B.o.B
B.o.B. continues the trend that many rappers are leaning towards nowadays, which is to release their harder, edgier tracks before the official album as a mixtape to please their hardcore fans, while keeping the softer, more 'pop' sounding tracks for the official album. B.o.B. started that trend with The Adventures of Bobby Ray, and damn near perfected it with this album.
Listening to the album I would say that over 80% of the tracks could be potential hit radio singles. Tracks like "So Hard To Breathe", which starts with a simple guitar playing and morphs into a drum heavy track that has B.o.B. telling a tale of his difficulty living with his success. "Both of Us" should be all over the radio shortly due to the hook work by Taylor Swift, added to the hard verses provided by B.o.B., telling his story of compassion and love. "Never Let You Go" features Ryan Tedder providing the hook work and is an upbeat song that features an acoustic guitar beat with some hard drums that has B.o.B. again proclaiming that you can take everything but you will never take his love. "Chandelier" features great chorus work by Lauriana Mae, who provides and 'Adele' like hook, which again could be a great single. There is a common trend here on all these songs, in that B.o.B. keeps the concepts simple sticking to lost love and success, while getting guests to provide a good portion of the hook work. The formula works amazingly well and added to the great production that B.o.B. selected (and even provided himself) provides a mesh of rap-pop radio friendly songs, that are somewhat simple and will appeal to a wide range of fans.
Even when B.o.B. does the hook work himself, he just seems to have that knack for creating catchy hooks. Songs like "Just a Sign", which is a slower track, but again has a great feel to it and could easily transition to the radio and catch fire. As well the track that is his top single right now, "So Good" is a fun loving track that appears to be gaining even more momentum.
B.o.B. does mix in some harder tracks for the hardcore fans, but they are few and far between. Tracks like "Play For Keeps" has B.o.B. going off on mic and shows that he can stand toe to toe with anybody, dropping lines such as "The game just ain't what it used to be, the quality is blurred/But a dying breed survives and a dynasty immerse/So put it in for out if you entirely concur/She call me hippie cause I live without any concern/Up on this green earth, I'm on them green herbs/Yeah yeah, yeah, I stay in them trees like the Keblers/And they say that I look higher in person/As a kid I played in the yard, but now I'm astro turfing". As well as the first single from the album "Strange Clouds" which features Lil Wayne, had fans hoping that he had returned to his verbal roots for this album (which unfortunately was untrue). As well the opening track, which starts off with an eerie narrative from Morgan Freeman, before Bobby Ray lets loose over a simply violin beat reminds everyone that B.o.B. has great skills on the mic, and does show that B.o.B. lay down the harder rap verses when he wants to.
There are some missteps on the album however. The track "Ray Bands" has a strange beat to it and even though the concept is interesting, the song just falls flat with boring lyrics from B.o.B. As well the track "Out of My Mind" is completely out of place from the album, and sounds somewhat like the B.o.B. who dropped the lethal verse on Tech N9ne's "Am I A Psycho". The track does not fit this album at all and is a complete waste of a Nicki Minaj guest spot.
All in all B.o.B. has pretty much managed to juggle the rap-pop mesh better than anyone creating an album that will appeal to a wide audience. Hardcore fans should not be expecting similar work to his recent mixtapes, but if they come in with an open mind, will likely be pleasantly surprised. The main issues I see with the album is although a lot of songs could be good radio singles, B.o.B. seems to have failed to create that one 'huge' single. It will be interesting to see how the record sales react to this and whether this album has more longevity because of this. All in all, despite a couple missteps, this is an album that a wide range of audiences can listen to from start to finish, and proves that as far as merging the lines between rap and pop, nobody is doing it better then B.o.B.
The 411: All in all B.o.B. has pretty much managed to juggle the rap-pop mesh better than anyone creating an album that will appeal to a wide audience. Hardcore fans should not be expecting similar work to his recent mixtapes, but if they come in with an open mind, will likely be pleasantly surprised. This album proves that proves that as far as merging the lines between rap and pop, nobody is doing it better then B.o.B.

Final Score:  8.5   [ Very Good ]  legend
comments powered by Disqus