Hammer of Doom News Report 01.28.13: 'If You Can Dodge a Draft, You Can Dodge a Ball' Edition
January 28, 2013 | Posted by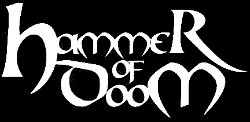 Welcome Metal Faithful, to the only place more exciting than finding Waldo, the HAMMER OF DOOM! I, as always, am your metal missionary, Robert Cooper. It's been a few weeks, sadly, my classes are all going well, though I still hate Spanish, but at least the gender ratio in my Chemistry class is 1 guy to 7 girls, not like it helps my chances. Anywho, enough about me. We have lots of news, though surprisingly, in about two week, there really hasn't been any HUGE news that I just had to talk about. But we still get tons of new songs to stream, and there have been a number of good albums to talk about. I also am going to be taking on the only comment I have left unanswered from my Top 50 albums of 2012. I also want to say this once, and I'll say it later in the column. Thank you all for commenting on my column, it meant a lot. And of course, we'll be getting the GLOBAL METAL pick of the week, from the land of cheese and surrender (I'm kidding, I've always wanted to go there), France!!
With my rambling out of the way, let us all go to a place where…
THE CRIES FROM THE CRYPT!
Hulk Hogan Says He Would Have Quit Wrestling In A Heartbeat To Join Metallica
Could anyone in here image in how awkward he would look in Metallica?, I sometimes think Robert Trujillo looks a bit off in the band, but Hogan?, give me a break! His ego with their egos also would have been something to behold, if he did join the band, I'd have given it a month.
GnR Guitarist DJ Ashba Says 'Production Issues' Are To Blame For Concert Tardiness
Right, if that were the issue, Axl would have gotten a new production crew years ago. The truth is, as a fellow procrastinator, he's a lazy bum who doesn't like to be on time, neither do I.
Dave Grohl, Taylor Hawkins To Induct Rush Into R&R Hall of Fame
I guess they're a decent duo to induct Rush, the only other person I've heard that could do it would be Billy Corgan, but eh, still a good set of picks.
Authorized Peter Steele Biography In The Works
He's a pretty interesting dude, Type O Negative has always been a band that I've wanted to get deeper into their discography, so maybe through his biography I can get more into the band. Plus, the guy loved cats, so he's a good dude in my book (though not every cat lover is a good person).
The Sword Frontman says Metallica 'Actually Care' About Their Support Bands
That's cool!, Good to know that some big bands still care for the smaller ones.
Former Arch Enemy Guitarist Seeks Vocalist For Resurrected Armageddon Project
I'm going to enter, what's the pain in trying. Chris Amott is now in Pennsylvania, that's only an 8 hour drive…or more, but it's worth a shot!
'Death To All' Schedules One-Off European Appearance At Netherlands' Neurotic Deathfest
Here you go Europe, your only show with Death To All (it's a Death cover band with members of Death) for the year. Let's hope for a killer US tour this year, that doesn't cancel dates!
Toxik To Make Another Reunion Attempt
Killer band, hopefully this time they actually release a new album.
Lostprophets Frontman Refused Bail Over Child Rape Charges
As I've said before, I don't like to deem someone guilty so fast, but if there is the thought that he might do what he did again, keep him locked up.
Bret Michaels Donates To Arizona Therapeutic Horse Ranch
Good on him, I give the guy endless amounts of shit, but when he does something good, I'll make sure to praise him.
Dee Snider Says Ted Nugent Was 'A Draft Dodger' and Ted Nugent Accuses Dee Snider Of 'Falling For The Big Lie'
Correct me if I'm wrong, but I just went on a 15 minute of long reading/Google search, that had interviews with the Nuge, and he said not only that he was a draft dodger, but how he did it was pretty impressive. To leave all the gory detail out, but to sum his own words, he made the dirty hippies look like a football player. So I don't know what the big lie was, unless he's ignoring the accusations and going straight for political jabs. But on a funny note, if Ted Nugent could dodge a draft, he could dodge a ball!
GWAR Records New Song For 'The Dan Patrick Show'
Dan Patrick is the man, and it's awesome that they wrote a song for his show. If you want more moments of GWAR, go check out my fellow Sunday night music zone columnist, Sean Comer's 411 3R's!
But don't leave the column quite yet, there are still songs to be sung from…
THE PSALMS FOR THE DEAD!
So close….yet so far
This news is more than old by now, but for all of those who have not heard it yet. Black Sabbath have now named their new album, and it's very original!…..Okay, it's really not, it's called '13'. I don't want to bitch too much about the name of an album, but it's kind of my "job." I'd hope for a more creative name, but eh, I've heard worse. This is album 19, so I guess we should be happy they didn't call it '19'. Behind the set in the studio will be Rage Against the Machine drummer Brad Wilk. He's a good drummer, not exactly the first one that everyone thought of, but still serviceable. The other thing that I'm sure if I said anything about this one yet, but Rick Rubin will be producing it. I'm not quite sold on this, I know it's a cool thing to dislike him because of his involvement with the really loud production job on, 'Death Magnetic'. I don't blame anyone for their dislike of him, and really hope that he doesn't screw up anything on the Sabbath album, because if he does, I will glare at him through the internet like it'll do anything. I've heard that it'll be coming out around spring or summer, but when the date hits, I will be here letting you know. Unless it comes in February, then you'll have to wait for the end of the month.
I'm Not Entitled, I Deserve It
I was looking at the news today and Kerry King says that new bands act like they are entitled. I do not disagree, but as a person of this generation (sadly) I am here to defend myself/explain why I think that is. Mr. King has been talking about how a lot of the bands that he meets that are new expect to be like their heroes in Slayer and should get a tour bus when they start out. He says that's not how things work. When Slayer started, they had a truck and a u-haul, then when they got big, they had a van and a u-haul. I can understand why he's annoyed at this, because that's how a lot of things are now. I can understand why they feel like they deserve a tour bus, the bands probably think that once they sell some albums that they deserve a bus, just like Slayer, because they think that everyone who sells album, like Slayer should get a tour bus. There is a fault to that logic, because they never paid their dues, but that is their logic. Kind of like how a lot of people my age think they are entitled to a phone and a computer, I know that I'm not, but at the same time, I've gotten used to having it, and it seems that most of the people around the world have, so thus, I feel like I need it and I should. Though just for note, I've been a civil war re-enactor for years and I can survive old school if need be.
MERRY CHRISTMAS, CHEAPASSES!
First is the OFFICIAL VIDEO for Lightning Swords of Death's "Baphometic Chaosium"
After that is Anthrax's cover of Rush's "Anthem."
Next is "Leave No Cross Unturned" by Darkthrone.
Finally is the new album from heavy metal masters Holy Grail. Find it HERE!
With a short bit of news, and good amount of free stream, I think now is time to enter….
THE TEMPLE OF THE DEAD!
January actually turned out to be a pretty solid month for releases, though for most of them, you had to go a little deeper than the way I find out about half of the albums I listen to, through advertisements.
I haven't listened to nearly as many albums as I'd got on my Spotify playlist. So to keep this from albums I've yet to hear, I'm just going to give you the albums that scored above an 80 on my personal scale.
5. 'Ritu'-Saille
4. 'Fleshcraft'-Corpus Mortale
3. 'Target Earth'-Voivod
2. 'Straight Out of Hell'-Helloween
1. 'Empyrean'-Mechina
Now that you have a great list of fucking great metal, walk with me to a quiet place…
WHERE THE RUNES STILL SPEAK!
To say that I was blown away by the response to my Top 50 Metal Album (okay, it was Top 46 metal albums+4 Hard Rock albums, but I digress), would be an understatement. Even if you did agree, or didn't, I say this from the bottom of my heart, THANK YOU, to know that I had people read, AND care enough to tell me what they think, really makes this all worthwhile (then again, I wrote metal columns that have been read by 10 people, and I run podcasts that are downloaded 5 times, so it's all about the art to me, but responses help!)The thing that surprised me the most was actually getting former 411 metal writer Dan Haggerty to come out of the woodwork, which made my day. I do have one comment that I need to tie up though. I had a guy named dj_bollocks asking me if I could give him about 10 albums of bands to get him back into metal. Because he's been out of the game for quite a while, but wants to get back in and would like to know some good entry points. I should have answered him earlier, but I had to think long and hard about it because while I'm fairly knowledgeable on metal, covering approximately 15 years of metal and condensing it into 10 good entry points is a bit difficult. At least I have some guidelines here; the guy loves your more mainstream thrash and stuff like Iron Maiden, Suicidal Tenancies, Pantera and System of a Down, he also digs some NWOBHM. That does help out quite a bit, because I know the time frame, as well as what the dude digs. Okay so dj_bollocks, if you're reading this, I'm not devoting a whole column to this, but I am devoting quite a chunk of my time to this, so tell me if any of this helps.
I don't know how much you've kept up with the old bands, I know some people still listen to metal, but don't keep up with new releases. But the 2000s were a great year for old bands with new albums. But before I get to that, Judas Priest's, 'Jugulator' was an album that I really dug, had a heavier sound to it, though if you're not quite sure about the singer during that era, Ripper Owens, you might want to come slowly into it. In the 2000s we had 'Brave New Worlds by Iron Maiden and 'Angel of Retribution' by Judas Priest.
Another group of old bands are the thrash bands. Anthrax had a return to their old school form with my favorite album of 2011, 'Worship Music'. Megadeth also had some of their best work in years with, 'Endgame'. Another band that really deserves a mention is Overkill, their past two albums have been stellar.
New thrash bands to love are Warbringer, Evile and Havok.
For your ST fan, I think new bands that really fit the crossover thrash mold are Municipal Waste (though their old stuff is the best), Toxic Holocaust, and Gama Bomb.
I think some good bands for Pantera fans are Down, which had Phil Anselmo, and Crowbar, which are a doomier version of Pantera, though if you didn't like those more doom laden vocals, they might not be for you, but at least give them a shot.
I think that fits the bill for a start, tell me what you think dj_bollocks!
For our GLOBAL METAL SONG OF THE WEEK (or month), I have found some very interesting black metal from France, they have a progressive nature to them, but they also have vocals that sound like you got a zipper stuck in your testicles, though it adds to their charm.
Alright, so if you have any opinions on the column, some genre or country that you want me to feature in the global metal column, or if you just want to talk metal you can e-mail me at [email protected], tweet me at @themetalcoop or comment below!
Don't forget to check out my review for Tomahawk's 'Oddfellows' tomorrow, as well as my podcasts with Mr. Mark Radulich, the mandated reporter, and quite frankly, he's mortified. We'll be doing the new Hatebreed the Tuesday after the upcoming one, then the new Tomahawk sometime later in the month.
Also don't forget to check out the Sentai Rider podcast, my friend Hunter and I talk all things tokusatsu!
Until next month, my metal faithful, in the words of Chuck Schuldiner…KEEP THE METAL FAITH ALIVE m/
NULL
comments powered by Disqus