Hammer of Doom News Report 09.24.12: Stealing is Bad Edition
September 24, 2012 | Posted by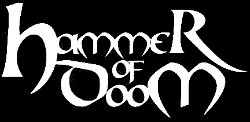 Welcome Metal Faithful, to the only place that is more vile than a French woman's armpit(I jest), the Hammer of Doom! I, as always, am your metal missionary, Robert Cooper, and I must say that I am running low on time so I'll tell you that I went and saw "Ted" and it was awesome. As for metal this week, we have some news, 2 downloads this week, I answer YOUR reader comments, and the Global Metal pick of the week goes to one of the hotbeds for metal in South America, Chile!
But why should I tell you about it, when I talk over…
THE CRIES FROM THE CRYPT!
Former Arch Enemy Guitarist Christopher Amott To Debut New Band In Philadelphia
Apparently this new band includes Matt Wicklund of God Forbid, Matt Bachand of Shadows Fall, and Van Williams of Ashes of Ares and Nevermore, solid backing band for an awesome musician!
IRON MAIDEN To Headline Next Year's DOWNLOAD Festival
Lucky British bastard, an opportunity to see Maiden is one that needs to be taken, though I wish I'd have taken that advice myself earlier in the summer.
DIMMU BORGIR To Be Featured On German TV
On a comedy sciene show called "Es Geht Um Mein Leben", should be interesting to see what happens, if you do live in Germany, that is.
ANVIL Completes Writing Nine Songs For Next Album
Anvil are a killer band that I am happy have found a small amount of fame, because without that documentary about them, I'd have never heard of them probably, a new album by them is something that everyone should jump for joy about.
Joe Stump Joins Raven Lord
Joe Stump is a guitar boss, so any band that can get him is a lucky band indeed!
Belphagor Pulls Out Of 'Barge To Hell'
This was due to them wanting to honor their March 2013 release date for their newest album, and they're already behind on many things, so they had to cut the "Barge" plan.
Joe Lynn Turner Shoots Down Michael Anthony 'Supergroup' Rumor
Apparently over the last week, a rumor that the two of them were starting a super group with Carmine Appice and an unknown guitarist.
Sabaton's 'Carolus Rex' Certified Gold In Sweden
This album is an epic cheeseball, go buy it, now!
Mick Mars Says 1994's Self-Titled CD Is Mötley Crüe's Best Album
Excuse me while I go laugh….
The Sword's 'Apocryphon' To Be Made Available On Limited-Edition Cassette
LOLOLOLOL….okay, sorry, now where was I, oh yes!,Is it incredibly sad that I am seriously looking forwards to this album more now that I know that I can get a free cassette of it.
Speaking of cassettes, do you think they have one for….?
THE PSALMS FOR THE DEAD!
The Rolling Stone Is Yet Again Clueless
So Rolling Stone had a reader poll where they rank the Top 10 Heavy Metal albums of All Time….SPOILERS AHEAD!!
!
!
!
"The Greatest Heavy Metal Albums Of All Time," according to the online
readers of Rolling Stone magazine:
01. "Master Of Puppets" – METALLICA
02. "Paranoid" – BLACK SABBATH
03. "Black Sabbath" – BLACK SABBATH
04. "The Number Of The Beast" – IRON MAIDEN
05. "…And Justice For All" – METALLICA
06. "Reign In Blood" – SLAYER
07. "Appetite For Destruction" – GUNS N' ROSES
08. "Metallica" – METALLICA
09. "Led Zeppelin II" – LED ZEPPELIN
10. "Ride The Lightning" – METALLICA
At face value, this is a respectable list, and to be honest, it is okay, I've seen much worse, like that one time, SPIN magazine put Skrillex as No.100 in the best guitarists of all time list. But here are my nitpicks, the first one is, 'Ride' at Number 10, which is not terrible, but when you consider that they have the far inferior(but still good) 'Black Album' in front of it, and Led Zepplin, which I don't exactly see why it should be on this list, GnR either, but perhaps my young age clouds that, and for the sake of arguing, let's say that they stay on this list. I would have put '…And Justice' down at ten if this list were to be in this order. I think the rest of the list is straight, except I'd have switch 'Master' and 'Paranoid'.
Now for the part where I bitch about what they missed, first off, I would have dropped '…And Justice', because while it's a great album, I think 2 of one band is more than enough. I would honestly not have GnR or LedZep, because I see them more as hard rock. I also would have Slayer up a bit higher(with the list they have, no.6 is right placement in my list), I also would argue that instead of Sabbath's debut, you put in 'Sabbath Bloody Sabbath', but with early Sabbath, there is no bad album, until you hit the robots getting it on. I would have put either 'Powerslave' or 'Somwhere in Time' in place of 'Number of the Beast', while I know that is where the singles come from and that is the album that everyone knows, I find the other two albums to arguably be better. I also would have put 'Ride' above 'Master', because I still see that as the better album. I also find it kind of odd that this list is missing Megadeth and Judas Priest.
Now that I've though about it, I would edit their list to look like this….
1. "Paranoid" by Black Sabbath
2. "Ride the Lightning" by Metallica
3. "Rust in Peace" by Megadeth (this is really low for me, because I'm a MegaDave fanboy and adore this album, but I recognize that the other two should be above)
4."Sad Wings of Destiny" by Judas Priest
5."Sabbath Bloody Sabbath" by Black Sabbath
6."Reign in Blood" by Slayer
7."Powerslave" by Iron Maiden
8."Master of Puppets" by Metallica
9."Somewhere Back In Time" by Iron Maiden
10."Peace Sells…But Who's Buying?" by Megadeth
That list was hard to make, and I'll bet you that when this column gets turned in, I'll be kicking myself for not putting 'Among the Living', or 'Stained Class' in there. I really wanted to put in some Death, Immortal, and things of the heavier ilk, but I decided that I would make thrash the heaviest thing that got put in there, to at least keep the limitations that Rolling Stone put out there to be a guide.
Remember kids, stealing is bad, m'kay!
According to NorthJersey.com, a New Jersey attorney has filed lawsuits on behalf of Century Media Records that collectively target more than 7,000 people for allegedly using peer-to-peer networks to unlawfully distribute "Dark Adrenaline", the most recent album by the Italian band LACUNA COIL, and "Dystopia", the 2011 album by ICED EARTH.
In a typical illegal-downloading case, a lawyer hires a company to search for Internet protocol (IP) addresses associated with the use of file-sharing software such as BitTorrent. Once the IP addresses have been harvested, the lawyer's clients file suit naming defendants as John Doe. They then seek to have mass subpoenas issued for the Internet providers associated with the harvested IP addresses in order to obtain the name and address of the owner of the IP address on the date it was harvested. Once identified, an Internet account holder typically faces the prospect of settling the case for a few thousand dollars or hiring a lawyer to fight the charges.
I hate these types of cases, because while I can see the argument by the people who do download music illegally, I also can see why the record industries want to sue their asses into oblivion. Now granted, I will fully admit that I have illegally downloaded a few albums in my day, I have stopped due to shit like this. Stuff like this scares the ever loving bejeezus out of me. The main thing that scares me is not that they catch you, but they charge you tons more than you would pay to buy an album, I guess to send a message to the people who do illegally download.
I would join this whole, "is an IP address really a person" type of thing, but I don't have any information to arm myself with at the moment, and if I did something like this with no ammo, I'd just look like some jackass on blabbermouth. I hope that the people who did get caught don't have to pay too much, because I know that anything over a hundred for some families can mean that they have to eat from bean cans out on the street because they don't have rent money. I can say that this has scared me away from illegally downloading any music ever again…for now, all I torrent right now anyways is tokusatsu.
I Hope Nobody Was Planning On Ordering Wacken Tickets
It sold out in a bit over a month, which is nuts. Though I can see why, so far the line-up is AMORPHIS, ANTHRAX, ARCH ENEMY, ASP, BOB WAYNE,CANDLEMASS, DEEP PURPLE, DIE KASSIERER, DORO, ESKIMO, CALLBOY, HAGGARD, HATE SQUAD, IHSAHN, LEPROUS, NIGHTWISH, RAGE, RAMMSTEIN, SABATON, SCOTT IAN (ANTHRAX) (spoken word), SOILWORK, SONATA ARCTICA, and SUBWAY TO SALLY.
To be honest, I would beat a hitchhike all the way there if I could, just to see Candlemass, because they are one of my most favorite bands of all time. Though, I can't fly, so that might be a problem, and how does one hitchhike an airplane anyways? Wacken is like heavy metal Chritmas (or whatever you like), where the best bands, and crazy bastard metalheads from around the world meet in one gigantic festival of pure winning.
If King Had a Say It'd Have Been Named ABIGAIL!
In THE COOLEST NEWS OF THE WEEK!!!!! King Diamond has had a fossilized worm named after him.
Dr. Mats E. Eriksson, Associate Professor of Paleontology – Department of Geology at Lund University in Lund, Sweden explains: "A cirka 420 million year old fossil organism was recently discovered from Silurian rocks of Sweden and Estonia. It is the remains of a marine worm with jaws. The critter was baptized Kingnites diamondi in honour of Danish metal maestro King Diamond. So, in addition to his obvious place in the history of heavy metal music, Diamond now also has left an eternal imprint in science. Father of this fossil is Mats Eriksson, a metal-loving professor of paleontology from Sweden."
While that is incredibly odd for a scientist to name a fossil after a metal musician, then I looked up who in the name of Chuck Schuldiner this guy was ,and apparently in 2006, he named a 428-million-year old worm Lemmy Kilmister, how fitting….I jest! Now all we need is a brain damaged worm named Ozzy Osbourne(I reallly do love the guy), and I think science will just hang up the gloves and call it a day.
MERRY CHRISTMAS, CHEAPASSES!
First off we have a stream and download from Alt-Metal band Deftones, this song is called "Leathers" from their album "Koi No Yukan"
After that is a stream of the song "Blood of Saints" by Ragnarok
Finally, is a download of "Confessor" by the 1000000% awesome Black Country Communion, the download is in the youtube description
THE TEMPLE OF THE DEAD!
First is 'Awakened' by US metalcore band As I Lay Dying, I typically don't like to include metalcore, but this band is one of the better metalcore bands, in my opinion.
Second, is 'Broken Bones' from LA "metal" band Dokken
Next is 'Dark Rising' by Portguese Heavy/Gothic Metal band Enchantya
Following that is 'Birth Control' by US Atmosperic Sludge/Doom band Fight Amp
Next is 'Wheel of Impermanence by Canadian Prog Metal band Heaven's Cry
After that is 'CloudRiders Part 1: Road to Skycity' by French Symphonic Metal band Kerion
Up to bat next is 'Wiedergänger' by German Heavy Metal band Macbeth
After that is 'Aletheia' by Finnish Melodic Black Metal band Nihil Mortum
Following is 'The Time of Great Purification' by US Grindcore band Pathology
After that is the EP, 'For the Bear' from Canadian Folk Metal band Scythia
Next is 'British Lion' by Iron Maiden's bassist Steve Harris
Afterwards is the EP, 'Temple' by US Groove/Thrash band Thy Will Be Done
Trailing behind is 'Exile' by UK Progressive Metal band To-Mera
Finally is 'The Threnody Of Triumph' by UK Black Metal band Winterfylleth
Import for this week is Power/Folk metal from Italy, the album is 'Era' and the band is Elvenking
As for the ALBUM OF THE WEEK!, I choose "…And Don't Deliver Us From Evil" by Black/Doom Metal band Forgotten Tomb
So as for what I listened to while typing this baby up, I listened to
"Epicloud" by The Devin Townsend Project, which was kind if poppy, but it works, the songs I liked were the redone version of Kingdom, Grave, and More!
I also listened to the new Down EP, which was great and every song is worth a listen.
So now that you have your fill of worms and new music, walk on down to…
WHERE THE RUNES STILL SPEAK!
Headbangers Ball is pretty crap. They always play way too much European metal and not enough classic and new stuff.
Posted By: Ryan Haseldine (Guest)
Greetings, Mr. Haseldine
I can definitely see what you're saying, they do have a bit of a crush on European metal on Headbanger's Ball.
That remake of Kingdom is something else.
Posted By: Guest#3484 (Guest)
I agree, Mr. Guest, for the longest time I didn't know what you were talking about until I sat down and listened to 'Epicloud'
Metal Evolution was shite, although i never watched it because i knew they wouldnt have episodes on death or black metal.
Should have just done a Documentary film on Death Metal lasting between 90 mins to 3 hours, get some labels to get their artists to contribute, and then another on Black Metal, doing one on the umbrella term of Extreme Metal will limit the number of bands you can interview and indeed the subgenres that have been created, and with death metal, there are any, melo death, tech death, grindcore, goregrind, deathgrind, death/doom, blackened death, and i bet they wouldnt mention doom or stoner either.
Anyway, the first 3 episodes have been covered repeatedly, and have only been made for the posers!
I would have made a feature length film and not have allowed myself to be restricted to 1 hour film, less because of commercials, you can explain so much, for the creation of Metal just use, Sabbath, Priest, Motorhead and Saxon, and reference lesser known bands, and compare them with the other bands that contended their status as legends of metal, including Glam, Slipknot and Nu Metal!
2nd should be about NWOBHM
3 Thrash
4 Death Metal
5 Black Metal
6 Folk Metal
7, in many parts, Worldwide metal, focussing on a different continent each time, explaining the various metal scenes, attitudes and cultures inthe various countries of that region, such as your South of the Border segment, which i find very interesting!
Posted By: Emil (Guest)
Emil!, what's up brother?
I could see that doing quite well, we know that Sam and his gang know about both genres, so a tribute to death and black and it's roots and branches would be quite interesting. I felt that their first 3 episodes were a good refresher for rusty fans or new ones, but I though it could have been trimmed down. The 40 minutes(Approximately) that each episode got was kind of sad, because there is a large amount of stories to tell and bands to talk about, and I felt that they could have done much more had they had more time. I like that list that you have, because I feel like it could all be covered quite well, and that order makes a good progression for a film, and as for their version of my "South of the Border" segment, I kind of stole that idea, I even used the name, Global Metal, though a more regional look at some of the lesser known countries would be pretty cool.
So this week, we continue our "South of the Border" tour with one of the three hotbeds for metal in South America, Chile, and with a total of 1,205 bands listed on metal-archives for this country, I decided to do some Death/Black Folk Metal, the band is Paghania, the demo that this song comes from is called 'Historias Paghanas', and this is two songs in one, the songs are "Bosque de Alerce" and "Resistiendo la Invasión".
Alright,so if you have any opinions on the column, some genre or country that you want me to feature in the global metal column, or if you just want to talk metal you can e-mail me at [email protected], tweet me at @themetalcoop or comment below!
KEEP THE METAL FAITH ALIVE m/
NULL
comments powered by Disqus