Hammer of Doom News Report 8.20.12
August 20, 2012 | Posted by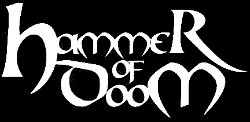 Welcome Metal Faithful, to a place more heart stopping than a Waffle House kitchen, the Hammer of Doom! I, as always, am your metal missionary, Robert Cooper, and I started a new semester at college, which is time consuming, that being said, I still have the time to write this thing, and I went and got front row seats at the Carolina Panthers game, for free, and had a ball! Now this week, we will have plenty of metal news, some that you may have even heard before reading this column, we have a very small around of new albums and free music this week, we also have my respsonses to YOUR comments and the Global Metal Pick of the Week, this week from Costa Rica.
But why should I keep yelling about what you will be reading when you could just be reading it, so turns your ears and hear….
THE CRIES FROM THE CRYPT!
Stephen Pearcy's Book To Include 'A Ton Of Sex' And 'Mind-Boggling Amounts Of Drugs'
I would expect nothing less, Sebastian Bach said the same thing about his book this week, except he said that his would make Motley Crue's "The Dirt" look clean.
Mayhem Working On New Material
Their legend made them more than their music does, but regardless, they are a great band and more music from them is welcome, though I do have to wonder who is on guitars for them at the moment.
Anti-Defamation League Apologizes to Hatebreed
Good on them to admit they messed up, don't want your average uneducated jackass thinking that Hatebreed(no matter if you love them or hate them) are a white power band.
New Black Country Communion Album Due In October
I absolutely adore this band, so the fact that for this year will be a third straight year of new releases is just pure win!
Lottery winner wants to reunite GNR
Good luck, buddy, not many things could get that merry asshole, Axl Rose to get his head out of his ass to do the reunion, then agian, he'd still show up three hours late.
Soundgarden's new album due in November
I dig this band, recently got the last three of their studio albumsplus the extra disc on Motorbadfinger) for a total of $5, thank you, Goodwill!
Gary Moore's Grave in Bad Shape
Apprently his grave is poorly marked and hard to distiguish from the others, I think this sucks, but I've heard a headstone is being made for the grave.
Anthrax's 'Got The Time' Used To Wake Up Mars Rover 'Curiosity'
This is probably the news that I found to be the coolest this week, the fact that the NASA people use Anthrax as a wake up song makes me think they're that much more awesome!
Now that we know that the Mars Rover is woken up by Anthrax, I wonder if it's ever read anything from….
THE PSALMS FOR THE DEAD!
Baroness In A Bus Crash
In news that could have been much much worse, Baroness wrecked their bus, here's the news report
"At around 11:30 a.m. today (Wednesday, August 15) at the junction of Brassknocker Hill and the A36 in Bath, the band's tour bus crashed and fell 30 feet over a viaduct.
Seven people were taken to the Royal United Hospital in Bath, while two others — who were trapped and had to be rescued by firefighters using hydraulic cutting equipment — have been transported to Frenchay Hospital in Bristol. "Those people are now being treated by ambulance staff," a fire service spokesman told BBC News."
Thirty feet is a LONG drop in a big bus, that can really hurt the person in the bus, as we are about to find out how much, straight from their PR people….
"The band members of BARONESS and their crew are recovering from injuries sustained after their tour bus crashed outside of Bath, England early on Wednesday morning.
"John Baizley [rhythm guitar, lead vocals] has broken his left arm and left leg. Allen Blickle [drums] and Matt Maggioni [bass] each suffered fractured vertebrae. All three remain in the hospital as of this writing. Pete Adams [lead guitar, vocals] has been treated and released from the hospital.
"Three of the five crew members who were on the bus have also been treated and released. One member is still undergoing testing. The driver of the bus remains in critical condition.
"Please stay tuned for further updates. Thank you for all the support during this extremely difficult time."
When I first saw this headline on Wednesday, I was crossing my fingers and saying as I was reading, "PLEASE NOT LIKE CLIFF BURTON", and luckily, the band is not dead, while fractured vertebrae are not life threatening usually, they suck major ass. As do broken arms and legs, but I'd take all of those over death. I hate it also that their tour is suspended, because their new album is a fairly good album(that I reviews for this very site, right HERE!). But what matters right now is that the band gets healthy and they get a better bus driver or at least better driving conditions. Here's to a speedy recovery!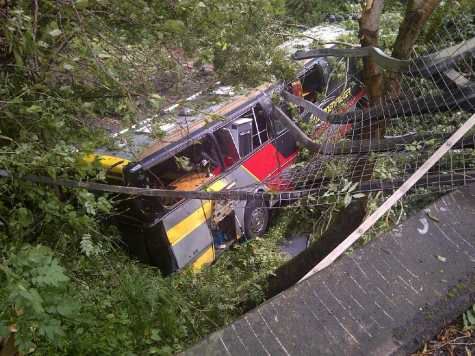 Damnit, Dave!
I really do like to keep politics out of my metal, because while metal is a positive thing for me, I see politics as a bunch of jackasses stating their opinions as facts and running with it. This, is just a story that I can't ignore, Dave Mustaine (along with some people that I know here in the real world) thinks that the shootings in Aurora, Colorado, as well as the shooting at the Sikh Temple in Wisconsin has been all an inside job, and that it was all done so that they could pass a small arms treaty in the UN. Since I'm not in the US government, I don't know if these conspiracy nutjobs, like Mr.Mustaine here, are right, but one thing I do know is that it is a bit too soon to start spouting theories about the situation, considering it has barely been a month since it happened. Granted, I was in 4th grade at the time, but I remember 9/11, and I didn't hear anything about it being an inside job until years later. But I guess some people have to get their conspiracy theories out before the election hits, don't they?
He also said that the United States is becoming Nazi America, which is his right to declare, but I don't see any similarities between modern America and 1930-1940s Germany. But I'm not as enlightened as Dave Mustaine, or had as much hard drug use; the guy is my second favorite guitarist of all time, but sometimes the things he says makes me wonder why I like the guy in the first place.
She Should Have Sued Gravity
So a woman has decided to sue because she slipped in barf….here's the report…*Facepalm*……..
"According to South Wales Argus, a WHITESNAKE fan is suing the Newport, Wales, United Kingdom council because she was injured after slipping and falling in a puddle of vomit while attending the band's December 2011 concert in Newport.
Lindy Butcher, 39, who claims that she was not drinking at the show, tells the paper, "It was horrifying, you don't expect to fall in someone's vomit."
As a result of the fall, Butcher claims to have suffered bruising and soreness to both of her knees, as well as muscle spasms between her ribs.
The Newport council says they did what they could to prevent this incident. "It would appear the presence of vomit was reported to staff by a member of the public," a letter from Newport council's legal representatives said. "One of the bar staff tried to call for a cleaner. However, it was extremely busy in the bar and cafe areas. In the absence of any detail concerning the actual whereabouts of the vomit and with so many people in the bars, it was difficult to pinpoint immediately where the vomit was located."
This story, while not as dumb as the last, but damn is this one silly. So a woman slips in vomit at a show, and obviously she has been so badly traumatized by this incident, that it requires her to get compensation from the UK council. If she had asked for an apology, it'd be fine, but it looks to me that she just fell on her ass, and noticed that there wasn't a sign, so she sued. People like these are the reason that we have some really stupid warnings on packages, such as "DO NOT any person in this washer", because you know someone sued over them not having that warning label.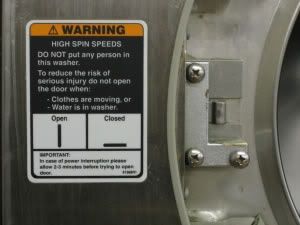 So is this going to be like L.A. Guns
So apparently Geoff Tate is going to be touring in some form as a member of some version of Queensryche. Here's the report…
"Tate's personal web site, GeoffTate.com, was recently upgraded with a new banner that reads "Geoff Tate: The Voice Of QUEENSRŸCHE." He is also billed on the web site for booking agency Monterey International as "QUEENSRŸCHE Starring Geoff Tate: The Original Voice." The band's lineup isn't listed. A request from Billboard to Monterey to verify Tate's responsible agent was not returned by press time.
I know that isn't as bad as L.A. Guns, where you couldn't tell who was what, but this is why I like it when people in bands do what Max Cavelera did and do his own band, instead of trying to use the band name for the band that your ass got kicked out of. I think they're still suing the band so that the band has to use a name like they had before Tate left, like Rising West, but I guess until that verdict comes in, everyone gets to use the name. I think I'll go start my own version of Queensryche once I get finish writing this thing!
Kyuss Lived! to Die Once More
We have lots of bullshit and court drama in the world of metal, don't we? Finally, the drama over the use of the Kyuss name is over, what the judge over in California ruled is that Josh Homme and Scott Reeder have won their case against their former Kyuss bandmates, John Garcia and Brant Bjork using the name KYUSS LIVES! The project had been going since 2010, if I'm not mistaken, and the lawsuit was filed by Homme earlier in this year when he found out that Garcia and Bjork were going to try and get a hold of the Kyuss name. That backfired, because now they can only use Kyuss Lives! for live shows, they can not record a compact disc of any form under the name Kyuss Lives!, which basically means that they will probably have to start a new band, which I think would probably benefit them, start a new legacy, since it seems they have a problem with Homme. According to Brant Bjork, is the fact that they(meaning Mr.Homme and Mr.Reeder) want control and money from their Kyuss Lives! project but don't want it to exist, much less participate. It is all a bit of a he said on the defendants side, with accusations of Homme being power hungry, and a she saidthough I think they have documentation), with the prosecution saying that the other side tried to steal the Kyuss name.
It's all a big cluster of crap and I just think they need to finally lay Kyuss to rest and start another band.
MERRY CHRISTMAS, CHEAPASSES!
No downloads this week, but for streams we have 2 tracks from Cryptopsy
A song from doom metal band Witchcraft, and it can be found HERE!
and finally we have a song from the legendary Katatonia
Now that you have some free music in your system to equal out all of that surprise at the fact that I haven't reported on Gene Simmons suing anyone, walk with me as we enter…
THE TEMPLE OF THE DEAD!
This week, after such a really strong week of releases and European imports, you would think that this week would be a decent week. But it is not, there is not a single album coming out this week, as far as I can tell.
But as I was typing, I listened to 'Sin and Bones' by Fozzy, I really did like the album, Jericho sounds as good as ever, songs I dug were the heavy "Blood Happens", "Inside My Head", and the awesome closing track "Storm the Beaches".
I also listened to 'Manala' by Korpiklaani, it was a very enjoyable album, and different than what I was expecting, great tracks were "Kunnia", "Tuonelon Tuvilla", and "Sumussa Hämärän Aamun".
The third album that I listened to was 'The New Elite' by Master, great death/thrash, top 2 tracks(because I only made it halfway before I ran out of links for the other songs) were "The New Elite" and "Rise Up and Fight".
Final album I listened to was all the way from February, 'Eulogy for the Damned' by Orange Goblin, absolutely great stoner metal, best tracks were the opener 'Red Tide Rising', 'The Fog', the epic 'Death of Aquarius', and 'Eulogy for the Damned'.
Now that you know my listening habits for last week, walk into the room…
WHERE THE RUNES STILL SPEAK!
This week we had only one comment, it was from the man, the myth, the Emil…
Good column again Coop!
No I am not the Devil, but i am one of his many minions!
I don' really care about what position Testament get but reading about Tankard who are relatively obscure is quite cool!
Schizoid are bloody brilliant!
Oh and one of my neighbours is a metal fan so the neighbourhood is quite safe!
Posted By: Emil (Guest)
Thank you yet again, Emil.
I had to make sure, but being a minion does sound like quite the barrel of monkies.
That is a point that I didn't think of, how obscure Tankard are, and the fact that even that obscurity is not enough to keep good metal down.
Schizoid were pretty damn awesome, and you're lucky, I don't have any metal neighbors, so I have to torture the rest of the road with heavy music.
So continuiung on our South of the Border Tour, we have reached Costa Rica, which had a lot more bands than I thought it would. I decided to choose Melodic/Progressive Speed Metal to represent the country, the band is called Sepulcro Vacio, and the song I chose to use is called "Seres Inmortales"
Alright,so if you have any opinions on the column, some genre or country that you want me to feature in the global metal column, or if you just want to talk metal you can e-mail me at [email protected], tweet me at @themetalcoop or comment below!
And in the words of the legendary band leader, Chuck Schuldiner,KEEP THE METAL FAITH ALIVE m/
NULL
comments powered by Disqus