Lords of Acid – Deep Chills Review
April 28, 2012 | Posted by
Lords of Acid – Deep Chills Review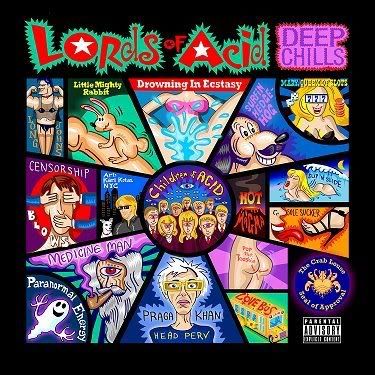 Metropolis
Release Date – 4/10/12
Arranged By – Erhan Kurkun
Arranged By [Additional] – Glenn Engelen
Artwork By – Karl Kotas
Bass – Murv Douglas
Drums, Percussion [Electronic] – Kirk Salvador
Guitar – Virus (30)
Vocals – DJ Mea*
Vocals, Synthesizer, Programmed By, Producer – Praga Khan
1 – Little Mighty Rabbit – Writer(s) Praga Khan, Erhan Kurkun – 4:37
2 – Drowning in Ecstasy – Writer(s) Praga Khan, Erhan Kurkun – 4:54
3 – Long Johns – Writer(s) Praga Khan, Glenn Engelen – 4:56
4 – Sole Sucker – Writer(s) Praga Khan, Glenn Engelen – 4:16
5 – Pop That Tooshie (featuring Alana Evans) – Writer(s) Praga Khan, Glenn Engelen – 4:35
6 – The Love Bus – Writer(s) Praga Khan, Erhan Kurkun – 3:20
7 – Children of Acid – Writer(s) Praga Khan, Erhan Kurkun – 5:34
8 – Hot Magma – Writer(s) Praga Khan, Erhan Kurkun, Glenn Engelen – 4:23
9 – Medicine Man – Writer(s) Praga Khan, Erhan Kurkun – 7:06
10 – Censorship Blows – Writer(s) Praga Khan, Erhan Kurkun – 4:33
11 – Slip 'n Slide – Writer(s) Praga Khan, Erhan Kurkun – 3:31
12 – Mary, Queen of Slots – Writer(s) Praga Khan, Erhan Kurkun – 3:10
13 – Paranormal Energy (featuring Zak Bagans) – Writer(s) Praga Khan, Glenn Engelen – 4:34
14 – Surfin' Hedgehog – Writer(s) Praga Khan, Erhan Kurkun – 12:47
14.1 – Paranormal Energy (Remix) – Writer(s) Praga Khan, Glenn Engelen
Hide the children and put your earplugs in! The Lords of Acid are back with fourteen plus electronica jams about sex and drugs. The censors are probably getting almost as excited about banning the album as Lord of Acid's fans (known as Children of Acid, one of the song titles on the album) are about grooving to the jams!
Lords of Acid's brand of hyper sexed-up lyrics are as entertaining as always. But given that we're in 2012, one can truly say that nothing is shocking (nod to Jane's Addiction…). There is a somewhat dated feel to their music. It's almost like hearing a soundtrack to "Basic Instinct". However, if something is working (um, Motorhead, anyone?), don't fix it. The electronic beats and mixed-in hard guitar really are fun and energetic when they are firing on all cylinders.
The Lords of Acid really hit the mark on "Children of Acid". The song simply rocks. It's a very up-beat track with a great mix of rock guitar. This decadent song is like a soundtrack to a hallucinogenic lost weekend at a club in Gomorrah. You can almost sense the depravity in the air. On "The Love Bus", the Lords of Acid manage to pull off something resembling a pop song thanks to a great hook. The fun nature of the song is infectious. "Long Johns" (gotta love the subtlety, although it's actually about cross dressing) contains some nice thick, and funky beats. "Drowning in Ecstasy" simply reeks of sex. There's just enough guitar to give it an edge, but the beats are the selling feature.
Sadly, there are some cuts on "Deep Chills" that fall a bit flat. Foot worshipping jam, "Sole Sucker" is just blah at best. It just doesn't draw one in. "Little Mighty Rabbit", while a fairly fun little ditty about a piece of plastic that pleases, just isn't strong enough musically to balance out the funny and entertaining lyrics. (My, how we've progressed from Prince's "Darling Niki"…or is that, regressed?) "Paranormal Energy" is the weakest track on the album. It's the closest thing to drum and bass, but its long intro, and uninspired overall sound make is erasable. "Surfin' Hedgehog" (about porn legend, Ron Jeremy) is simply a decade or two too late to be truly funny. It's basically a pop song fail. The blatant surf jam should have never made it to disc, or at least been a hidden track. Speaking of hidden tracks, at about 7:54 on "Surfin' Hedgehog", we are given another remixed version of "Paranormal Energy". One was enough thank you!
While "Deep Chills" may not be perfect, there is certainly enough good that makes it worthy to give it a listen. Sure, you'll want to fast forward past the duller moments. But, the strong moments really do please. So if you want to get into the electronica scene, but want it to have some rock soul to it, "Deep Chills" just may deliver the goods.
Lords of Acid – "Children of Acid"

Lords of Acid – "Love Bus"


The 411: Lords of Acid's newest release of industrial/techno/electronica, "Deep Chills", is a solid but flawed effort. There is a fair share of strong songs, but there are a bit too many clunkers. Overall, they manage to deliver enough fun and energy. There's just enough good to outweigh the not so good.

 
Final Score:  6.5   [ Average ]  legend
comments powered by Disqus