The 411 Music Top Five 11.27.12: The Top 5 Holiday Music Gift Ideas
November 27, 2012 | Posted by
THE TOP 5 HOLIDAY MUSIC GIFT IDEAS
GINA BORTOLUSSI
5. Little Mix's Autobiography Ready to Fly
It's fun! It tells the story about how the British girl group got started and their rise to fame after winning The X Factor UK in 2011. These ladies can actually sing, they're beautiful, and are the answer to the absence of any good girl groups out there. Just think the Spice Girls 2.0. Even though it's only been a year since the girls have been in the spotlight, they have an interesting story to tell.
4. Michael Jackson – Bad25 Deluxe Edition (3 CDs/1 DVD, Legacy)
Released in September of this year, this collection contains a reissue of Jackson's Bad to celebrate the album's 25th anniversary and a DVD of Jackson's stop at Wembley Stadium on his Bad tour. The CDs are filled with never before heard outtakes in the studio as well as the original tracks from the album. This is perfect and essential for any Michael Jackson fan.
3. Peter Gabriel – So 25th Anniversary Immersion Box (4 CDs/2 DVDs/2 LPs, Real World)
I love Peter Gabriel. "In Your Eyes" is my jam. The cool thing about this collection is that it comes with a re-mastered CD, "So DNA," that gives the listener an audio tour, explaining the story behind each song. A fun extra with this collection is a coffee-table book filled with never before seen photographs!
2. Johnny Cash, The Complete Columbia Album Collection (63 CDs, Legacy)
Every single Johnny Cash album is now available in one place and in CD form, for those of you who don't own a record player. The collection also includes 55 songs that were never put on the original albums put out by Columbia! Among the countless Cash songs in this collection, there are also collaborations with Bob Dylan, Earl Scrugss, and of course June Carter Cash on the CDs. Johnny Cash is the man (in black) and this will make an awesome gift.
1. Beatles Stereo Vinyl Box Set
My heart just skipped a beat and something else just got added to my Christmas list. This 16-LP vinyl box set is literally everything you need as a Beatles fan. It's also packed with original album artwork and fun surprises that any Beatles fan will appreciate. This is the ultimate gift for a Beatles' lover like me, and it makes a beautiful collector's item.
SEAN COMER
5. Rage Against The Machine: XX
Despite reuniting five years ago for a series of off-and-on shows up to today, Rage Against The Machine have been puzzlingly oblique about releasing new material. Zach de La Rocha and Tim Commerford have both hinted since the politically combustible quartet's reunion that new music has been in the works, or at least discussed positively, for a while. Guitarist Tom Morello said recently that there are no such plans for the bands to lay down any fresh tracks.
If we never again hear a new Rage track, the band has at least left us with ample still-frames of them at the height of their powers on which we can all reflect. This 20th-anniversary boxed set commemorating the band's eponymous debut album's 1992 release boasts much more than the original LP in all its glory. This four-disc set comes packaged with three discs of music including the remastered original album with three collectible B-sides, demo tape once available only at live Rage shows; a DVD chronicling the band's 2010 "Thank You" free concert in the U.K. at Finsbury Park; and another DVD revisiting the band's 1991-1994 live performances that coincided with the release of the album. The whole set is topped off with new liner notes penned by Public Enemy's Chuck D.
The set retails for $95.49 on Amazon.com.
4. Slowhand 35th Anniversary Edition
Try as I might not to batter the dead horse of well-timed re-issues as gifts, this one is a challenging last-minute idea to pass up.
Hitting stores Dec. 18, Clapton's solo masterpiece hits shelves in a two-disc set that features the original album in a remastered, 13-track format that includes not merely the classics "Cocaine", "Wonderful" and "Lay Down Sally" among other stellar songs, but a live 1977 performance from Hammersmith Ballroom on the second disc.
Considering that this is currently going for $21.40 on Amazon in advance of its near-Christmas release, this makes one damn fine cherry-on-top stocking stuffer.
3. DIY Guitar Pick Punch
I'd elaborate, but … why?
Not all of us merely sit back and critique the music. Some of us actually play. I'm a saxophone man myself, but still, I relate easily to the similarity between woodwind reeds and guitar picks in propensity to break and/or disappear.
It works pretty simply: pick your plastic, insert in punch, press and play. Opportunities about to experiment with thicknesses to create a custom 351-style pick that coaxes just that perfect tone, up to 0.9 mm thick. As recommended by ThinkGeek.com, where this baby goes for a scant $24.99, you could even punch some particularly thin picks and glue them together into a composite that suits a feel no store-bought pick will. At a scant 6-inches-long by 4-inches-tall, this baby fits any gig bag.
2. Retro iPhone Case
Nope. Whatever your argument against it, it's invalid.
Embrace the awkwardness of this 80's-style oversized iPhone case to appreciate Apple's compact, flat, shiny dynamo to its fullest. The big, sturdy, Zach Morris-inspired bastard will indeed guarantee that no harm will come to your iPhone, even standing it right up vertically for easy viewing and access. Best of all? It's cheap. As in, $14.99 "cheap."
Though ThinkGeek.com refuses to promote this assuring bonus, it is reportedly also Paul E. Dangerously Bludgeoning Institute endorsed.
1. Cheap Earbuds
No, seriously. Has anyone else ever noticed the pathetically brief lifespan that earbuds typically have? Set aside even the grime that accumulates from our respective hearing holes on the exterior. Even the best buds can seemingly short out at potentially any moment, and go bust all the easier when under the duress of misplaced footsteps, crushes beneath books and briefcases, and occasionally being sat on carelessly.
That's to say nothing of the worthlessness both in sound quality and durability of Apple's standard earbuds. Packaging those things with their products sometimes feels almost like a punishment.
That being said, I dipped a ways back into my own background, to a comprehensive little piece written by my very good friend Scarlett for her affiliate website GeekGems.com back in 2011, running down the best of the best in affordable audio accessories. I'm personally partial to the bass-heavy, super-durable Skullcandy INK'D buds currently retailing for about $15 on Amazon. However, she also advocates a pair of $29.99 (at time of original writing) Sennheiser CX300-B stereo headphones.
ROBERT COOPER
5. Judas Priest Complete Albums collection
Judas Priest is awesome, that goes without saying. While searching for things that I thought would be pretty good to put on this list, I stumbled upon this box set on Amazon. This has all of Judas Priest's albums from their beginning until now. That is, if you ignore the albums with Ripper. 'Jugulator' was awesome, but 'Demolition' was forgetful, so they even out. But I don't feel like it's complete without those two albums. Regardless, this is a great buy for any metalhead that loves Priest and doesn't have any (but who doesn't own any Judas Priest?). $265 via Amazon.com
4. Rush – Clockwork Angels
From July till November, I thought that, 'Dark Roots of Earth' by Testament would rule the top of my metal/hard rock spreadsheet until the day where I make my list. But this album managed to change that. This is Rush at their finest, the album never gets boring, there are plenty of catchy sections, as well as great solos and small bits of prog every which way. A great buy for anyone, this album is that awesome.
$6.69 is cheapest you can find it new off of Amazon.
3. Kiss Monster book
If you have someone that you love like no other, this book is for them. This book has a fitting title, it apparently is handmade, limited to 1,000 copies in this first run. It also has never before seen photos, and signatures and other fun things. But this thing costs more than my tuition this year for community college. It costs…$4250, but hey, there is free shipping!
2. Slayer "Ugly Sweater"
This is just a hilarious thing for Slayer to release. There is a love right now for really ugly looking sweaters, and what do you know, Slayer has decided to join in on the fun. This, of course, is for your metalhead with a sense of humor, because it takes one to pull off this sweater. They'd better like it, too, because $70 isn't exactly cheap, but it's worth the awesomeness that comes with the sweater.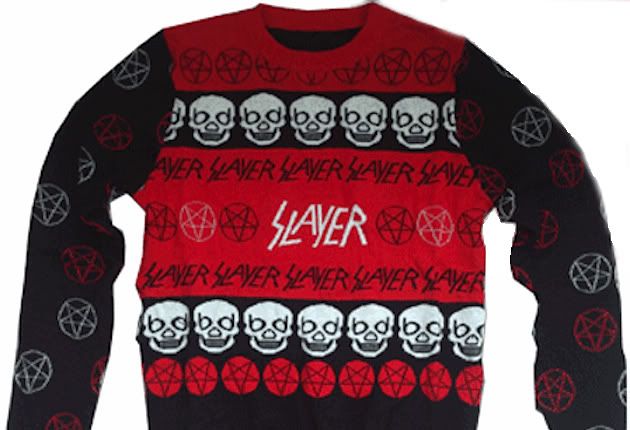 1. Death 'Spiritual Healing' Limited Die Hard Fan Pack
This is no surprise for anyone who knows me (MORNIN!), but I have been drooling over this for quite a while. It is limited to only 500 orders, but it's pretty damn win! It costs $100, but it's well worth it. The set comes with the 3 disc edition of 'Spiritual Healing', which is worth $25 alone. A 36×36 artwork flag of the album. An exclusive blue t-shirt with the 'Spiritual Healing' album cover on it. It also has numerous other awesome goodies, and the album, of course, is a classic. If you have someone who loves classic death metal, buy this for them, they'll love you forever!
JEREMY THOMAS
5. The History of Rock and Roll
This is a nicely in-depth documentary series consisting of ten episodes that examines rock music from the pre-rock days of the blues, jazz and R&B all the way through the late 1990s. There are perhaps a couple flaws with this to real music connoisseurs, there is something for everyone to enjoy. The series, which is available on DVD, may not go incredibly in-depth on every topic but it does give get a lot of great coverage on the watershed moments of the genre. If nothing else, this is a great introduction to get people invested in rock and look deeper into parts that intrigue them, and that's good for music and for music fans old and new who may receive this as a gift.
4. Led Zeppelin – Celebration Day
In 2007, a benefit concert to commemorate the life of music executive Ahmet Ertegun was set up, with a reunited Led Zeppelin as the main act. That concert, the last time that the group would perform together, broke records for ticket demand and anticipation for the home video release was just as high. Due to various reasons, it didn't come out until last week, just in time to become one of the hottest potential musical gifts of the year. The concert is pretty much legendary and just about anyone with even a remote interest in rock should love this.
3. The Rolling Stones – GRR!
This is the recent Rolling Stones compilation album. I know, I know…the immediate reaction is, "what's the point of another compilation?" Well, aside from the fact that it's the Stones' 50th anniversary set, there is the unfortunate fact that not everyone has a good selection of Stones music. This three-disc set is incredibly reasonable in price for just $25 on Amazon right now and includes their essential hits, as well as two new tracks, the first new Stones songs in seven years. That's worth a purchase.
2. Johnny Cash: The Complete Columbia Album Collection
I promise, I had this on my list before I got Gina's list. Few people would deny that Johnny Cash is one of the all-time musical greats, and getting all of his albums at once is like musical Nirvana (no, not the Kurt Cobain band). Don't get me wrong, folks; I acknowledge that you have to have a serious love for someone (or a lot of money to blow) to drop $260 on music for them, but if you can, this would totally be what I would suggest.
1. Spotify Gift Subscription
I can't think of any gift that gives as much for so little. Hell, I can't think of any gifts that give so much for a lot. I mentioned last week that the rise of Spotify is one of my most thankful things about music in 2012, and I really feel that while artists may have a legit issue with its pricing structure, it can't be topped in terms of consumer value. Giving someone a Spotify gift subscription is like giving someone tens of thousands of albums, more or less. How can you beat that for $4.99?
The Final Word
As always, the last thoughts come from you, the reader. We're merely unpaid monkeys with typewriters and Wikipedia. Here's what you need to do: List your Top Five for this week's topic on the comment section using the following format:

5. Artist – "Song": Why you chose it
4. Artist – "Song": Why you chose it
3. Artist – "Song": Why you chose it
2. Artist – "Song": Why you chose it
1. Artist – "Song": Why you chose it
NULL
comments powered by Disqus