The Lonely Island – The Wack Album Review
June 13, 2013 | Posted by
The Lonely Island – The Wack Album Review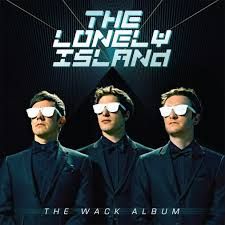 The Lonely Island, a consists of three comedians, Akiva Schaffer, Jorma Taccone, and Andy Samberg, have come a long way in terms of their music. Their third album, The Wack Albumis following on the success of Incredibad which debuted at number 13 on the billboard chart and Turtleneck and Chain which debuted at number 3 on the billboard chart. Can the group keep their humor and satire going, or has the group run its course in terms of popularity?
Tracklisting:
1. "Dramatic Intro"
2. "Go Kindergarten" (featuring Robyn)
3. "Hugs" (featuring Pharrell Williams)
4. "Diaper Money"
5. "YOLO" (featuring Adam Levine and Kendrick Lamar)
6. "Spell It Out"
7. "Semicolon" (featuring Solange)
8. "Where Brooklyn At?" (Interlude)
9. "You've Got the Look" (featuring Hugh Jackman and Kristen Wiig)
10. "I'm a Hustler" (Interlude)
11. "Spring Break Anthem"
12. "I Run NY" (featuring Billie Joe Armstrong)
13. "I Don't Give A Honk"
14. "3-Way (The Golden Rule)" (featuring Justin Timberlake and Lady Gaga)
15. "Meet the Crew"
16. "I Fucked My Aunt" (featuring T-Pain)
17. "We Are a Crowd"
18. "The Compliments" (featuring Too $hort)
19. "We Need Love"
20. "Perfect Saturday"
The Lonely Island has always been a group that strives to entertain at all costs. Whether their humour is crude or completely absurd, the group really does not care as long as they are getting a reaction from their audience. The Wack Album starts out with a somewhat entertaining intro, going over the groups popularity and taking it to the extreme and even absurd before jumping into the first track, "Go Kindergarten". The track is somewhat comical, telling the listener to act like when they are in kindergarten, and basically hits on the fact that most crowds will do whatever the person on stage tells them to do. These somewhat 'inside' hip hop jokes are sprinkled throughout the album and poke fun at many common trends in hip hop music. Tracks like "Hugs" (which is being used instead of sex) and "Diaper Money", which mocks rappers who talk about their money, in addition to "Spell It Out" (where the entire track is the group spelling out a sentence) take it to the extreme and are good for a small chuckle. However, the question becomes if the casual listener will get the joke, if they are not familiar with the reference material.
The best part of Lonely Island is that they do not take themselves seriously. They know they are a comedy group, and they do their best to make their album entertaining as well as have somewhat of replay value. While they were mostly successful at accomplishing this on their previous two efforts, this time around they may find that most listeners are not coming back for more. Most tracks will provide a few smiles or chuckles and are mostly entertaining, but after listening to the album once, there was not really a single track, where I wanted to go back and listen to over again. The album is simply not as good as their previous two albums, both in terms of overall quality and in terms of pure popularity in their singles. There are no real standout tracks, like there were in previous albums, and nothing that you would want to play in front of your friends at a party in order to get a laugh.
There are some above average tracks, such as "Semicolon", which mocks the new type of rap flow that has become popular utilizing one line metaphors. The group does a good job of getting the point across and comes up with some good metaphors that would make some mainstream rappers jealous. "YOLO" mocks the popular phase You Only Live Once and take it to the extreme to justify all the absurd things they have done. "Spring Break Anthem" also is slightly above average, but does not seem to work as well without the video (but the fact is that most of these tracks are much funnier in video form).
At the end of the day, Lonely Island accomplished what they set out to do. They made another 'spoof' hip hop album. The problem is that they have done it before and have done it better before. While the jabs at current hip hop music are mildly amusing, it will likely be missed by the masses and there is nothing that the group does on this album that is that memorable.
Be sure to check out some of our exclusive interviews as well as follow me on Twitter.
Exclusive 411wrestling.com Interviews
M.O.P.
Jedi Mind tricks
Evidence
Slaine
Apathy
Tech N9ne
Atmosphere
Saigon
Swollen Members

The 411: Lonely Island accomplished what they set out to do. They made another 'spoof' hip hop album. The problem is that they have done it before and have done it better before. While the jabs at current hip hop music are mildly amusing, it will likely be missed by the masses and there is nothing that the group does on this album that is that memorable.

 
Final Score:  7.0   [ Good ]  legend
comments powered by Disqus