The Love/Hate News Report 01.24.13: The Inauguration, Taylor Swift, More
January 24, 2013 | Posted by
Welcome to The Love/Hate News Report, a weekly roundup of six news items from the music scene that I think may or may not change the world.
President Obama Sworn in For Second Time
LOVE
This is pretty important stuff and I obviously only report on the important stuff…
The highlights of the Inauguration, for me, were as follows:
– Katy Perry's hat.
She made a mini Aretha Franklin Bow Hat (that's what I'm officially calling it). I love mini things.
-Sasha telling her dad, "You didn't mess up!" after President Obama is officially sworn in.
-Sasha, Malia, and Michelle all looking like fashionistas. Sasha and Malia always look adorable, and the Inauguration was no exception. Michelle looked stunning in a red Jason Wu dress as she danced with her husband at the Commander in Chief Ball, and her new haircut, a sleek bob, and bangs, looked fresh and sophisticated.
-Malia throwing up deuces to her iPhone as she takes a picture of her and her sister. Family bonding at its finest.
-Beyonce lip synchs through the whole thing.
Okay maybe this isn't a highlight of the Inauguration, but it is one of the biggest stories to come out of the day. Now correct me if I'm wrong, but isn't it your job to sing live if you're a singer? That's like a farmer letting a child drive a tractor…or something like that.
Adrienne Maloof and Sean Stewart Are Dating
HATE
Um, I don't get it, I don't know what's happening. This literally makes no sense to me. I could just stop here, but I'll keep going I suppose…
I'm sorry I just see this as one big photo opportunity because I'm considering the source. Adrienne Maloof is on The Real Housewives of Beverly Hills, a reality show that thrives on drama and scandal, and she's kind of boring so I think she needs some new material for her storyline so she doesn't get fired by Andy Cohen. And then there's the other half of the new couple, Sean Stewart, who I'm pretty sure doesn't know which way is up, so there's that. This relationship, or whatever you'd like to call it, is just another example of a to gain some sort of relevancy in Hollywood.
Michael J. Fox and Taylor Swift Have a Little Tiff (Because Why Wouldn't They?)
HATE
Michael J. Fox did the unthinkable and actually spoke out about Taylor Swift's serial dating and basically said that he wouldn't want his son, Sam, and her to get together after Tina Fey joked about the possibility at this year's The Golden Globes. He also made it clear that he didn't agree with the way that Swift has built up her fame in the music world saying, "What a way to build a career." Fox's worry seems to stem from the way Swift portrays her ex boyfriends in her songs, and of course Fox doesn't want that to happen to his son. He doesn't want his son to be portrayed in a certain way or scrutinized if the two were to have a relationship and then break up, and you know they'd break up because then Swift wouldn't have anything to write about and her whole career would be over.
Of course Swift fans freaked out after they read Fox's words and harassed him on Twitter, but apparently she defused the situation by letting the world know that Fox reached out to her and the two are "good." I'm glad she spread the word before her fans knocked down Fox's door and torched his home, but I can't help picture her smug face behind her keyboard as she typed her tweet to her followers, knowing that she kind of has the power. Her ego is too much!
Why do I feel like this girl runs the world, and why do I think that she thinks she runs the world? Oh because she does. It's a little disheartening. I know fans are supposed to stand up for the artists they love, but they know that people are allowed to have opinions, right? I don't think they do, and I don't think Swift does either. She is straying a little too far away from the sweet, humble girl she used to be when she first started her career and that's what really bothers me. (Did you guys see the GIF of her bitchy giggle at The Golden Globes after she lost to Adele? I'll post it. Don't worry). We're talking about Michael J. Fox. He's Marty McFly. Marty McFly should have all the power.
Justin Timberlake's New Single Is Pretty Good
LOVE
Justin Timberlake released his new single "Suit and Tie" sometime last week, but this week I finally heard it for the first time on the radio. My favorite thing about this single is the announcement Timberlake made about announcing a new single. I thought it was really funny, and not in a laughing with you kind of funny, but then I I realized that a Timberlake and Jay-Z collaboration kind of deserves it's own commercial. There was very little time between the announcement and the release of the single so there wasn't much of a build up of anticipation, but I think fans had already waited long enough. It would have been a lot cooler if Jay-Z had made the announcement, but whatever.
The song itself is good. I was a little worried that there'd been all of this waiting for nothing, but I was not disappointed with Timberlake's first single in seven years. "Suit and Tie" is everything you'd expect from a Justin Timberlake song. It's catchy and sexy and something *Nsync would have never sang.
New Kids On the Block, Boys II Men, and 98 Degrees Are Touring Together
LOVE
I mean, I could stop right here. This is the greatest thing to come out of the boy band world since Zayn Malik of One Direction; seriously, he's gorgeous. I'm don't really like 98 Degrees, I was strictly an *Nsync girl and an occasional Backstreet Boy fan, but you've sold me on Boys II Men and New Kids On The Block. I saw New Kids On The Block when they went on tour with the Backstreet Boys a number of years ago, and they were great! To see Donnie Wahlberg dance about in a tight fitted t-shirt is both comical and something you should witness if you ever get the chance, I don't know if I really want to see Nick Lachey do that. Can they please do a medely of Invisible Man (the only 98 Degrees song I really like), "Hangin' Tough," and "Motown Philly"?
Lindsay Lohan Is a Jerk
HATE
File this one under "OH NO SHE DIDN'T."
Lindsay Lohan tweeted the following on Wednesday, the anniversary of Heath Ledger's death and I think it's disrespectful and tacky, but what else would we expect from our favorite red haired, coke head?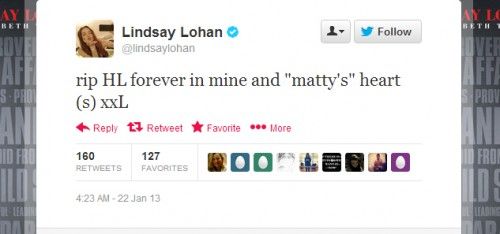 Lindsay is allowed to mourn the loss of Ledger's death, that's not what I have the problem with, but I don't think that she should have ever mentioned Matilda, or "Mattie" as she has misspelled in her tweet, because bitch didn't give birth to her. Matilda is not Lohan's daughter with Ledger, and it seems like she's trying to make it sound like she is which is creepy and bizarre. Lohan does not get to play pretend with someone else's daughter and the memory of Ledger. I really hope Michelle Williams has something to say about this, but she's too classy to probably say anything, unlike someone.
What I'm Listening To:
Right now I am hooked on Macklemore and Ryan Lewis, they made that catchy song that's everywhere right now, "Thrift Shop." They also wrote the song "Same Love" which is a beautiful song in support of marriage equality. I'm in awe of how well Macklemore can string words together. His sound is so effortless. Some people might think that "Thrift Shop" is not a very intelligent song, but listen to "Same Love" and then tell me that this guy doesn't have a way with words. I just ordered "The Heist" by this duo and I am so excited for it to get here so I can blast it in my car and feel really cool driving around.
NULL
comments powered by Disqus