The Savage Animal 02.13.13: The Album Covers of The Smashing Pumpkins
February 13, 2013 | Posted by
This pay per view is interesting because the few matches they've announced seem REALLY obvious. I know as a super fan of wrestling it's easy to say how predictable things are in the WWE these days. I have a hard time thinking that they'll just go the completely obvious route. They HAS to be a change-up thrown at us…. Right? …. Right?…. Shit.
I went 1-3 for the four predictions I made for Royal Rumble 2013. The only match I got right was picking Alberto Del Rio to retain his belt. Now for this show, he's defending the belt against the Big Show AGAIN. It doesn't have any special stipulations at all, which makes it weird. They had a Last Man Standing match last month and now they follow up with a normal match? Seems a little backwards. I want to pick Alberto Del Rio, but I have a feeling that his title run is going to end sooner than later. Because of this, I'm going to go with Big Show to win. Then there's a chance Dolph Ziggler will cash-in, but I don't want to hold my breath about it anymore. I keep thinking… and hoping… that it'll happen, but noooo! Hopefully this time I'm duped and caught off guard.
I think it's safe to say that John Cena is going to need all the push he can get going into WrestleMania. There might be some shenanigans like Ryback and Sheamus getting into it, leading to them having a random match at Mania but I doubt it. I'm going to say that Ryback, John Cena, and Sheamus will defeat The Shield.
The Elimination Chamber match for the World Title shot is kind of lame. Jack Swagger will not win this. Kane and Daniel Bryan will eliminate each other. Chris Jericho seems to be potentially gearing up for a match with Dolph Ziggler at Mania. This leaves Mark Henry and Randy Orton for the logical picks. Mark Henry is fresh off a return and despite there being plenty of supporters for him I don't think the company will put him in a WrestleMania title match. This leaves me to pick Randy Orton for the win.
In the main event is The Rock defending his newly won WWE Title against CM Punk. I think everyone expects The Rock to get the easy win leading into the match with Cena at WrestleMania 29. It all just seems too obvious. I think we're in for a curve ball. I think by hook or crook that CM Punk will get the win. The next step would be to "rectify" the situation by putting The Rock into the match at WrestleMania as well. This all leads to a Three Way at WrestleMania…. I guess.
Tune in next week to see how wrong I was! (hopefully)
---
THE ALBUM COVERS OF THE SMASHING PUMPKINS
Pumpkin Carvings…
The Smashing Pumpkins trail-blazed in the early 90's and represented the Midwest very nicely during the grunge era. They put out numerous hits during their heyday. Once the band started to dismantle a little by little Billy Corgan held it together and kept bringing the hits. The mid-90's videos were stellar. I can't think of many music videos that were as breath taking and magical as their "Tonight, Tonight" video. Then we can fast forward to the late 90's where
"Adore"
hit the scene. It was darker, more electronic, and eerie.
"Machina"
gave us "The Everlasting Gaze", which had one of the coolest breakdown bridges possibly ever.
There is tons of great music, videos, and content from The Smashing Pumpkins we can all dig into and enjoy. They were never a band I sought out every album of, but when I heard a single, saw a video, or borrowed a CD I appreciated the hell out of it. The one aspect of The Smashing Pumpkins I want to look at today is the cover art of all nine albums…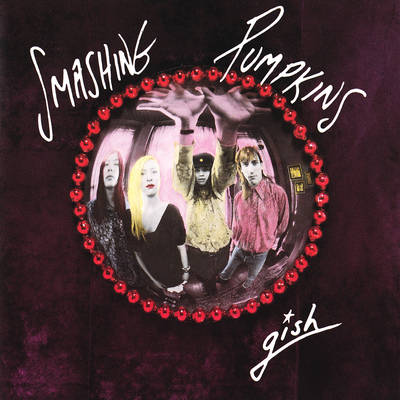 Album: Gish
Release: 1991
The debut cover is pretty cool. It's classic, simple, and really gets over the vibe of "the times" without being cheesy and dated. The font is simple "handwriting" and reminds me of SNL's old scratchy logo. The picture is what rocks about this one. When I see a band that looks like they do, wearing what they wear, with the filtered picture looking the way it does I INSTANTLY think of early "pre-grunge" 90's. That's not a bad thing, but that few year time period always interested me. Then crushed purple background, the red balled border, and the picture in the middle works.
Rating: 7.5
---

Album: Siamese Dream
Release: 1993
This has to be on the "Top 10 Most Memorable 90's Album Covers" list (Coming Soon!) The album had tons of hits and the band really broke out with this release. Rightfully so. The exposure of the album made the cover a big deal. It features two conjoined twins having fun outside. In 2007 the band reached out to find these two little girls again and after some time it was said they both, separately met Billy Corgan in 08. This is also where that cool ass font they used for years seemed to start.
Rating: 8.0
---

Album: Mellon Collie and the Infinite Sadness
Release: 1995
Just like
Siamese Dream
, this album was a huge. This double album sold like a billion copies and it's arguably the best album released by The Smashing Pumpkins. It's just a grand piece of art. The cover captured the tone with a delicately weird illustrated piece. It's space and a Madonna-like woman comes out of a star. It's really well done. The colors are vivid but it still has that old school iconic vibe to it. The font and text layout compliments this all very nicely. Album art like this makes me miss big ass vinyl covers.
Rating: 8.5
---

Album: Adore
Release: 1998
For this one, we got a black and white shot of a creepy woman posing and lurking forward. I really dig the photographer's eye on this one. The look in the woman's eyes and the "in motion" pose is really alluring and almost seductive. The background is hard to figure out. It looks like an array of sheets or fabric, kind of like webs, or maybe it was shot through a dirty window or a dirty lens. Either way, it supplements the image flawlessly. At this point it seemed the band was going with a darker and more macabre tone so this was perfect.
Rating: 8.0
---

Album: Machina/The Machines of God
Release: 2000
This cover and packaging was nominated for a Grammy. You can understand why pretty easily.
This cover is pretty intense and you can easily spent more than a few minutes taking in all of the artistic madness going on. There was a whole mythos to the go along with this album based on some writings by Corgan. The cover has an offering plate in the middle that seconds as a cup and a womb. Meanwhile it's said to be Adam and Eve in the middle of this. Hands are above and below the womb plate and then there are subtle layers of information sprinkled and hidden all over. The texture is vibrant and it's a really solid piece of art. It's almost too intense to casually encounter. It needs to be taken in and absorbed.
Rating: 7.5
---

Album: Machina II/The Friends & Enemies of Modern Music
Release: 2000
All of the covers up until this point were artistic, bold, and represented the work it packaged nicely. This album was never really put out there, but was rather released digitally and on the DL. It didn't garner much love musically and I can't say the cover does anything good for it either. It's a black background with printed images layered and overlapping. It's like a really bad attempt at Warhol-like "pop art" and I love me some "pop art". I'm just not feeling this one.
Rating: 4.0
---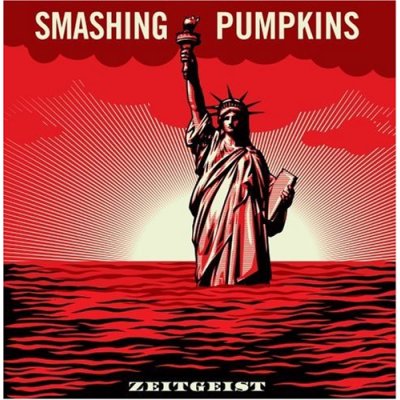 Album: Zeitgeist
Release: 2007
The main thing that was interesting about this cover was the criminal hoopla around it. Angry fans broke in to a studio and stole 39 photographs and three guitar picks. They leaked a few of the images and then got busted. This cover is cool. I'm sure there is some political message with the Statue of Liberty in high waters. The coloring is simple. It's simply shades of red, white, and black. It's bold, easy to look at, has familiar imagery and works well. I appreciate the craftsmanship, but it's just not a memorable cover to me.
Rating: 6.0
---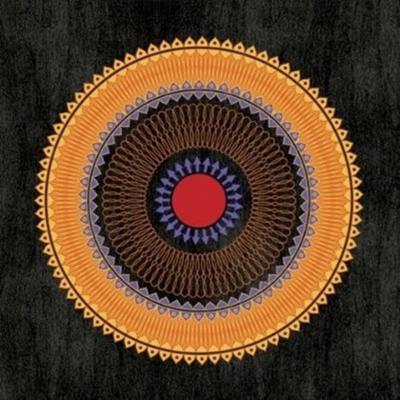 Album: Teargarden by Kaleidyscope
Release: 2009
I dug what they did here. The concept was to deliver the music and art in different ways. One way was with a box set. The cover of the box set (above) is a cool design. It's a symmetrical circle design with really complimentary colors. There is nothing too crazy or innovative going on. Just solid art. The other method was digital. It's the same mentality, but a different circle design. Nothing too innovative, but progressive nonetheless.
Rating: 6.5
---

Album: Oceania
Release: 2012
I like this cover a lot. It's a photograph of the North Shore Sanitary District Tower in Highland Park, Illinois that was taken by Richard Shay, son of Chicago icon Art Shay. I like the upward angle, the chaos of the empty tree branches, the empty sky, and the deep contrast. Normally it would be cool, but what really does it is the coloring of it. The fade from the greenish teal to the deep blues is really easy to look at. You're welcomed into the image and given room to fully take it in. Good stuff.
Rating: 7.5
What is YOUR favorite Smashing Pumpkins album cover?
---
"TO ROME WITH LOVE"
Woody Allen is a mad man. He puts out a new movie every year and 10 out of 9 times, they're good movies. Woody's stuff can be hit or miss in terms of greatness, but it hits every single time in terms of a quality, well done and enjoyable film. They'll say "even bad pizza is good because it's pizza", but I've had some bad and unenjoyable pizza. Of the thirty plus Woody Allen movies I've seen it's always good. This latest 2012 movie continues the streak. In "To Rome with Love" Woody takes his storytelling to Rome with a multi-storied collage of different kinds of love. Basically, the formula and set up is like one of those Gary Marshall "Valentine's Day" movies with little stories put together. The difference is that Allen's stories are good. One story covers the everyday Rome man, played gracefully by Roberto Benigni. He has a weird and surreal touch with fame that's kind of the light hearted side of the movie. Another story sees Woody Allen play a recently retired music producer who is in Rome with his wife, Judy Davis, who goes to Rome to meet their daughter's fiancé and family. While there Allen's character discovers the fiancé's father has an amazing singing voice. Bizarre hilarity ensues. One story sees a man have to pretend that a hooker played by Penelope Cruz is his wife meanwhile dealing with young and untested love. Then there's a story involving Alec Baldwin, Jesse Eisenberg, Ellen Page, and Greta Gerwig that is introspective, retrospective, and full of hearty amusement. There is A LOT going on, but you never feel overwhelmed or uninterested. It's a mutli-layered and surreal romantic comedy. What seems so simple and cutesy on paper is actually one of the best written and collage-type movies I've seen in a long time. The loaded cast put their A-games on the camera and Woody's writing is as sharp as ever. It's really "art" in the way that the more I think about it the more I appreciate it. There really wasn't a weak link between the four stories captured and the style it was presented in was remarkable. A lot of people heralded "Midnight In Paris" in reviews and award nominations. I was one of those people. That and this are different movies for sure, but the quality is on the same level. I went into it not really expecting much and was blindsided with reminder of the fact that Woody Allen is the king of the screen. This is a movie that needs to be seen and appreciated. It's better than pizza. A
---
"Worst Case Scenario" is a new take on the concept of "fantasy booking". For years professional wrestling fans would spend endless hours of thinking up the coolest things that could happen. Why waste the energy? This only leads to high expectations. "Worst Case Scenario" flips that. Instead of looking through rose colored glasses, let's take a bi-weekly look at the worst possible scenarios in professional wrestling. I'm not going to be malicious or anything too mean, but I will not refrain from letting my brain come up with the worst possible shit I can. Sadly, it seems the writers and producers of mainstream TV wrestling and the mainstream iPPV level indies are doing the same thing but charging us for it. And now…

"The Worst Sex Tape In Wrestling!"


In 2004 one of the first professional wrestling related sex tapes hit the scene in the "One Night In China" flick. This one starred Sean "1-2-3 Kid/X-Pac" Waltman and Joanie "Chyna" Laurer. They hang out, have sex, and do weird things. If you've seen this "session" then you cannot un-see it no matter how much bleach you put in your eyes. After this, Joanie Laurer would continue working in the adult film industry in other projects.

In 2012 one of the big wrestling tabloid news items was Hulk Hogan's "leaked" sex tape. He put out a lawsuit over it being leaked, but most people have their doubts. I'm most people. It feels a little too convenient to come out in a time when Hogan's celebrity status is fading. Each year that passes he oversaturates the reminiscent fans that have clung on. His accomplishments will never be taken away from him, but he is really hard to take seriously.

What happens when these two forces "come together"?

Imagine the TMZ buzz, the internet exploding, and the minds and stomachs being emptied at the thought of the ALMOST SIXTY (8/11/53!) year old Hulk Hogan having "intercourse" with Joanie Laurer. They'd both make tons of money just off the spectacle and at the end of the day that seems to be what matters most. Attention? Check. Money? Check. Uncomfortable for everyone else? Check. A big company like "Vivid" would put it out, the production would be subpar, horrible and cheesy promos would be used, and for some reason Hogan would continue to try to "run things". By this I mean he'll try to get his old WCW friends "work" on the project. Hell, would it be THAT shocking if he got Brooke Hogan signed on as well?

The sad part is that I don't get why this hasn't happened yet. Joanie has ventured into the business already and I doubt it would take much to get her to take the gig. Hogan is already in the "TNA" business. Hogan's sex life has been "leaked" on the tape with Bubba the Love Sponge's wifey. It just all seems really fishy. This seems like the natural progression of things.

In reality, is porn that much worse than TNA?
---
"THE LORDS OF SALEM"
Rob Zombie's movies are definitely his own. He has a certain style that's his. It's not so much of a "throw back" style, but full of influence and homage. Unlike other big name directors, he's not ripping off old school cult hits or "cool" foreign movies. Not everything is on the same level. I think "The Devil's Rejects" is easily his best movie. It's at least my favorite of the bunch. This movie could easily give it a run for its money. The idea behind it is pretty cool. We see a wacky local radio team get stuck into a world of evil witches. That's about it if we want to get general about it. Then you watch this trailer and you see just how intense and bizarre it is. THAT is what you want in a dramatic and artistic horror movie. This trailer is awesome.
---
That's all for now. This was a fun one. I never really took in some of these covers so it was interesting to see the band's visual evolution. Next week I'm going to check out the "first impression" of Grizzly Bear. Let's hope they don't suck because I'll be listening to all of their studio albums in a row. Fingers crossed. Until next time… Have a Great Week!
NULL
comments powered by Disqus