Tomahawk – Oddfellows Review
January 29, 2013 | Posted by
Tomahawk – Oddfellows Review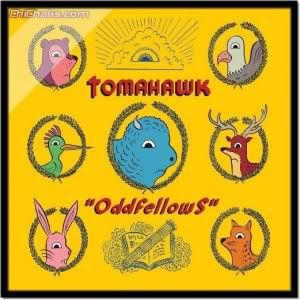 Hello there, Mike Patton, I see that we are finally meeting for a full album. Tomahawk are one of Mike Patton's 5 bands (not counting solo work, or his stuff with John Zorn, or his countless other collaborations), and I've only really heard of them through this friend of mine, Kevin. I love the guy to death, he is a disciple of the Patton, if Mike Patton were on fire, he would not piss on him to put it out, oh no, he'd jump on him to try and smother it with his body. Kevin has talked about Patton in great detail for all 3 years that I've known him (and does a damn good Mike Patton vocal cover, I even have proof HERE ), and while I've checked out Mr. Bungle and was it wasn't quite my cup of tea (but hey, I traded it for an Ihsahn CD; not bad, considering I found it at a Goodwill). I took upon reviewing this album just so I could tell Kevin I had the album before he did, that was the only reason, okay, maybe besides the fact that I'll never say no to a free album. It was a good decision.
For those of who don't know anything about Tomahawk (and I doubt anyone reading this does, Mr. Patton has a RABID fanbase), they're a supergroup featuring Mike on vocals, Duane Denison from The Jesus Lizard on guitar, former Helmet drummer John Stanier and new into the fold is the bassist, Trevor Dunn, who has worked with Mike Patton in Mr. Bungle. Dunn and Stanier work really well together; I really dig what they're doing together, I love a good rhythm section. I think my favorite moment of theirs on the record was on "Waratorium", because the song is pretty much driven by the two of them, with the bass groove and drum beat working in unison. It helps add to the goodness on one of the better songs on this album. Mike Patton does a stellar job on this album; he hits many different notes and his voice is as great as I've heard it built up to be.
This album was not what I was expecting, I expected some scat vocals and random dial tones or something in the middle of the album but no, this is a straight up rock album and not just one note of rock either. There are some sections where you get some 90s hard alternative (like from the title track "Stone Letter") that I like, because it has a bit of a edge to it; it's pretty damn catchy. Even a nice jazzy number in "Rise Up Dirty Waters" gives the listener a little something different to keep them interested. There are also some mellow moments, like the already mentioned "Waratorium." One that I like is "I.O.U.," just because the opening beat reminds me of the pause screen music from my childhood shooter 007 Goldeneye. It's not one that is exactly the most memorable song but is a fun listen.
That's another thing that I enjoy about this album: it has a real "pick up and play" feeling to it. You can hear any song off of this record and be happy. You can hear any song off of this record and want to hear the rest of the album; it helps that the songs are pretty short and easy to consume. That is great for building their already pretty nice fanbase. The very accessible nature of this album does have a bit of a down side for me. While all of the songs are fine and interesting, I don't feel like many of the songs really stick to me. That might just be me personally but even as I go through the album again, by the time I get to track ten I don't remember what track three sounded like. While I enjoy all of the tracks they aren't really in my usual listening realm, but then again maybe it's me needing to broaden my musical horizons out of their metal rut. It might be just me but I feel like that is something that hurts this album in the long run; it's a fun album that has fun songs, but those songs aren't the most memorable and there are a few songs that while still being good are not as good as some of the other songs. I think that things like this come down to personal preference; some people might like all of the songs a lot and some might like all of the songs a little. But without a doubt I can say that there is something to like in each of the other songs. I give Mr. Patton and his compatriots my applause because they've managed to actually make me a fan of theirs.
The 411: This album is lots of fun and has many different elements to it that add up to a satisfying experience. Pick a song on this album and you will be entertained and wanting more. This is a great quality, but I feel that it makes the songs not as memorable as they could be. But that's a matter of opinion, and this album has a real accessibility to it and I could even see a few songs getting some mainstream airplay--maybe wishful thinking, but this is a fun time and well worth a listen.

 
Final Score:  8.0   [ Very Good ]  legend
comments powered by Disqus