Twisted Sister – A Twisted Christmas Review
November 22, 2006 | Posted by
As you can probably tell by the tagline, I'm normally not one for Christmas albums. I've never been able to fathom why most artists think people would care about how they sing the same songs that get rubbed in our face every year around this time, anyway. It doesn't help that 99.44% of them do the songs with the same traditional arrangements and the same, slow, schmaltzy, faux-sentimental style that makes us think of Kathie Lee Gifford and wanna puke.
As odd as the idea initially sounded, I immediately have to respect Twisted Sister, then. First of all, they didn't care as much what people would think about their takes on holiday standards as much as it was just plain fun. Second of all, they discarded the traditional styles and arrangements, as you would expect (thank God). Third of all, if you've heard Twisted Sister, than you know what to expect. Now combine that with Christmas music. Sounds like a hell of a time already, aye?
Yes, we now know the legend about "Come All Ye Faithful" and "We're Not Gonna Take It" is true. Twisted Sister took that, a dash of homage and tribute, two parts fun, and one parts reverence to make a Christmas album that any good, rocking, fun-seeking, not-afraid-to-be-seen-not-taking-himself-too-seriously music fan can enjoy. Not only that, but you now have a reason to hum Christmas music at work.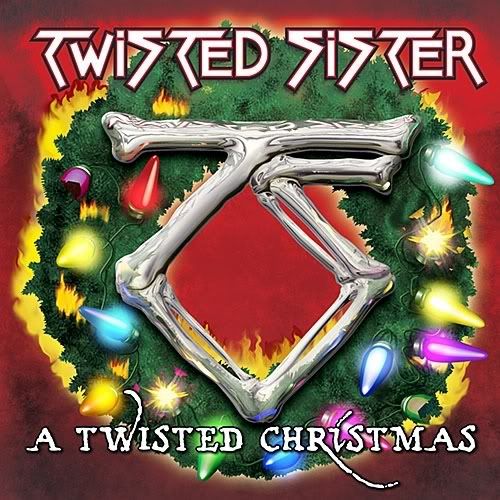 "Have Yourself A Merry Little Christmas" starts us off, and sounds like the band took the traditional route after all. It doesn't sound too bad until Dee hits the second verse, and it begins to sound every bit like the mistake that it would seem. Thankfully, Jay Jay French saves us at 50 seconds into the track to explain why the traditional route for Twisted Sister is all wrong and kick them into a more befitting version that incorporates a Ramones chant by the time it's said and done.
From there, it becomes more what an album like this would entail – hard rock versions of the classics. There's not much in the way of variety or surprises unless you're a diehard metal fan who can pick out the "Easter eggs", so to speak. The tempos and melodies differentiate from each other enough for some good variety, and that's where Twisted Sister's idea to do a Christmas album combined with a tribute album (of sorts) comes into play. As Jay Jay French explained it:
How would it sound with AC/DC, Iron Maiden, Judas Priest, all these other bands playing a Christmas song? But, we couldn't get those guys, so we did it ourselves. [Laughs] So we did it how we thought they would have done it. These were all bands we loved, anyway, so we thought about their styles and tried to adapt them to these songs, as well as add some parts in from their songs.
That adapting of styles is key to providing a deeper musical diversity in areas of hard rock and metal. Those that don't get it may dismiss the album as repetitive, but then they'd also be missing out on a fun holiday trip.

The 411: Tired of the same-old-same-old for the holidays? So are Twisted Sister. If you like the traditional route and are just dying to pick up the latest holiday record by some pop star simply looking to fill their coffers, then by all means carry on. However, if you're sick of seeing and hearing that and want something you're neither ashamed to play at the next holiday party or hum around town, then this is an excellent holiday record to pick up. Religion or creed aside, the holidays are all about fun and celebration; with guitars blazing and tongue planted in cheek, it's great to hear a band that knows that better than anyone.

 
Final Score:  7.5   [ Good ]  legend
comments powered by Disqus